You'll Be Able to Slumber in the Sky in Air New Zealand's Lie-Flat Economy Sleeping Pods From 2024 
The game-changing bunk bed-style economy skynest will feature on the airline's new Dreamliners, and will boast room for six sleepers.
No one loves long-haul flights. If you don't have the cash to upgrade your seat, no one loves trying to get some sleep when you're soaring through the air for nine, 13 or even 17-plus hours. But thanks to Air New Zealand's new economy skynest, getting some shuteye midair is about to get a whole lot easier — come 2024, when the airline's new Dreamliners will take to the skies.
First announced back in 2020, and now confirmed to come into operation in just two more years, Air NZ's economy skynest is a first-of-its-kind option that'll feature six lie-flat pods. Yes, they look like bunk beds on a plane, and you'll be able to slumber in them while zooming to your destination.
If it sounds like a game changer, that's because it is. Back in 2020, Air NZ announced the pods as part of filing patent and trademark applications, and noted that it'd make a final decision on whether they'd come into effect within a year. That go-ahead might've arrived a bit later — aka now, not in 2021 — but that doesn't make it any less exciting.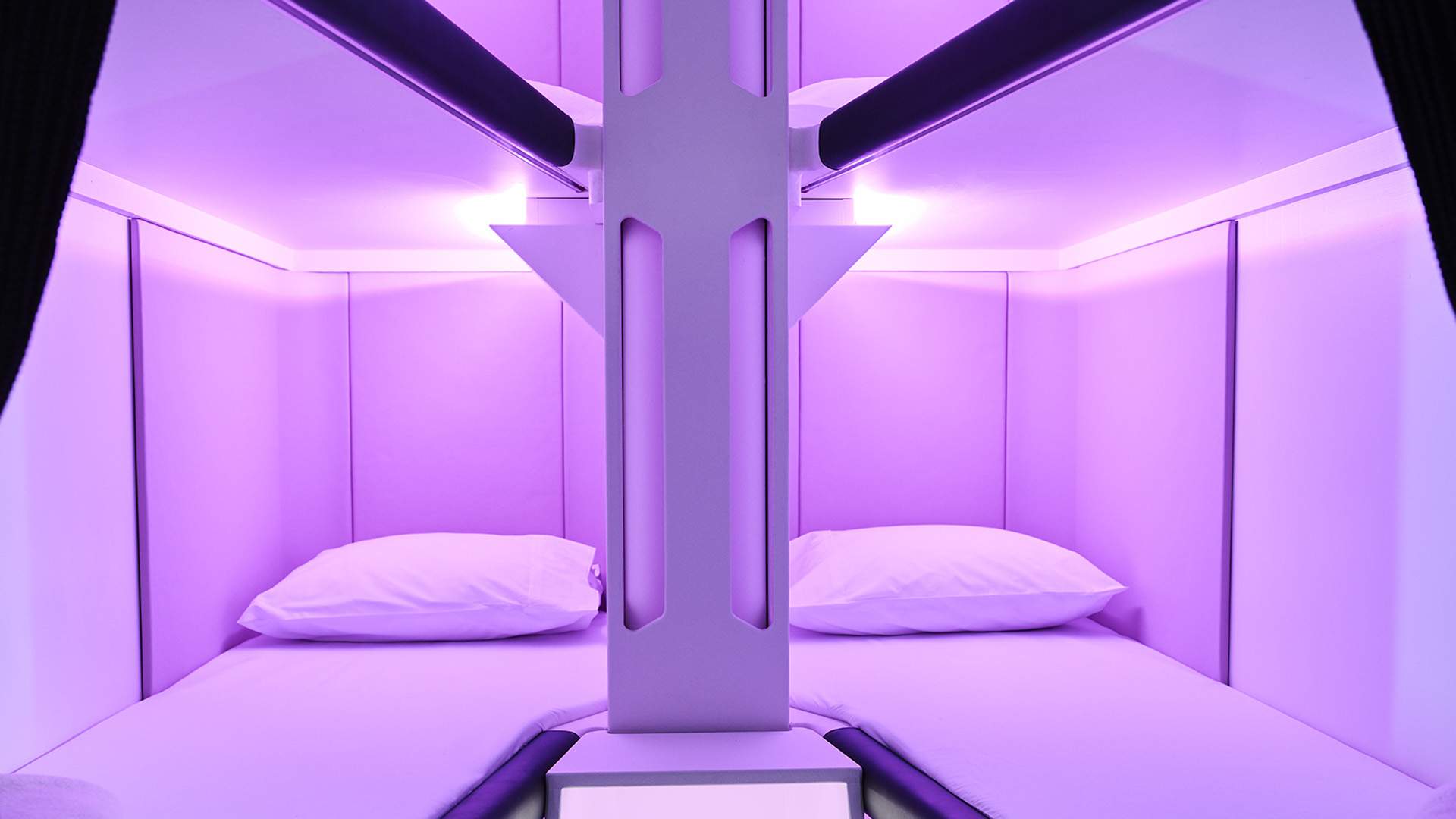 "New Zealand's location puts us in a unique position to lead on the ultra-longhaul travel experience. We have zeroed in on sleep, comfort and wellness because we know how important it is for our customers to arrive well-rested. Whether they are heading straight into a meeting or to their first holiday hotspot — they want to hit the ground running," said Air New Zealand Chief Executive Officer Greg Foran.
"It's a proud moment to finally unveil five years of hard mahi, in what truly is a cabin of possibility. One that will provide customers with options to get some shut eye wherever they're sitting."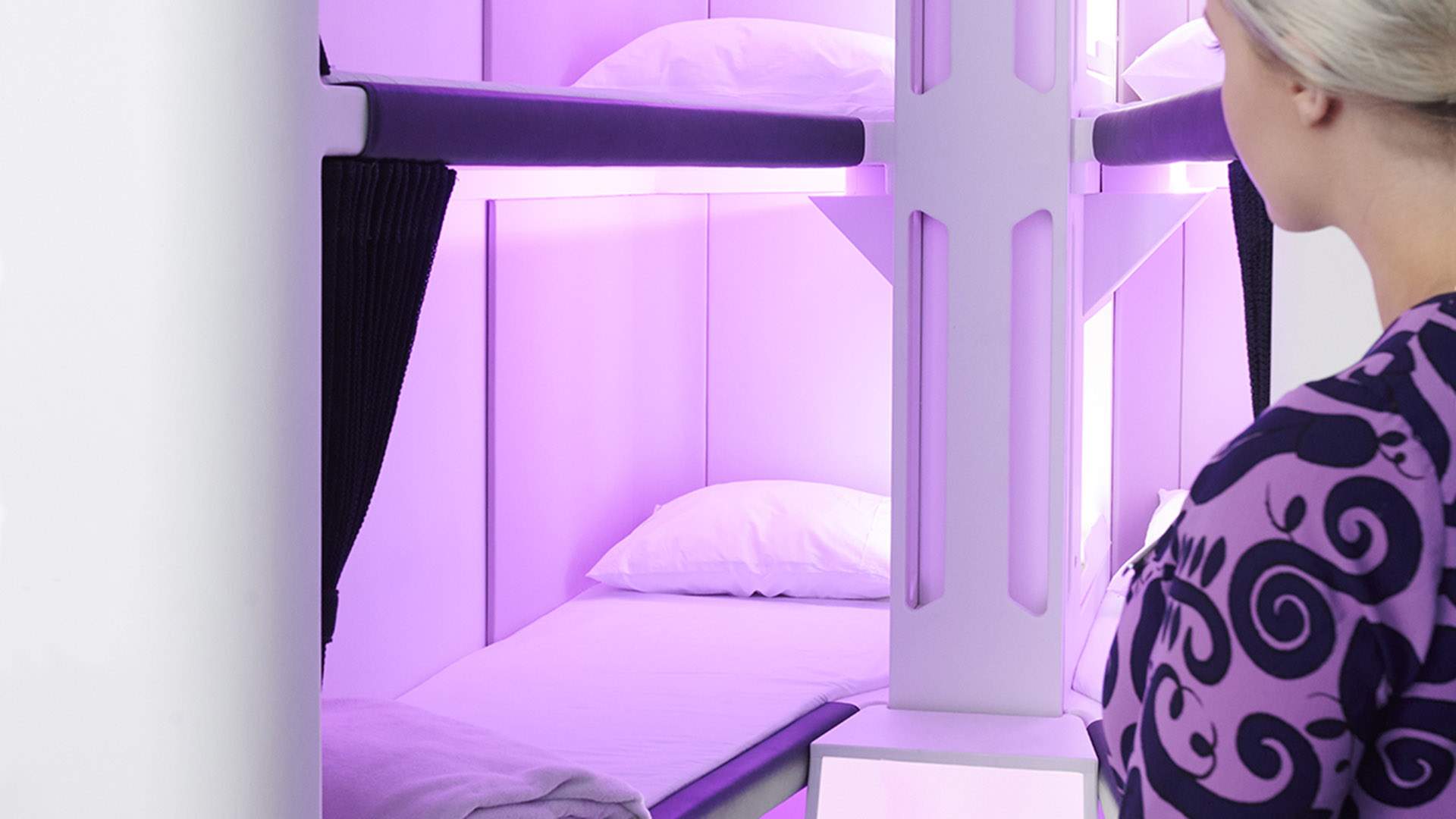 While the full details are yet to be revealed, when they were first announced, the pods were intended to include a full-size pillow, sheets, a blanket, ear plugs, privacy curtains and lighting designed for sleep. The airline also said it was exploring other features such as separate reading light, personal device USB outlet and ventilation outlet.
Also on the way: new business premier luxe suites and business premier seats, if you are flush with cash. The former will include a door that closes, plus a space to dine; the latter will let you share your nest with a friend if you're in the middle row.
The new Dreamliners will also feature premium economy seats, with more protected space to recline without annoying the person behind you; economy skycouch, so you can spread out, lie down and sleep; and economy stretch, with more leg room than a regular seat. And, those usual seats will get more storage space, a 50-percent bigger entertainment screen, and bluetooth audio and pairing.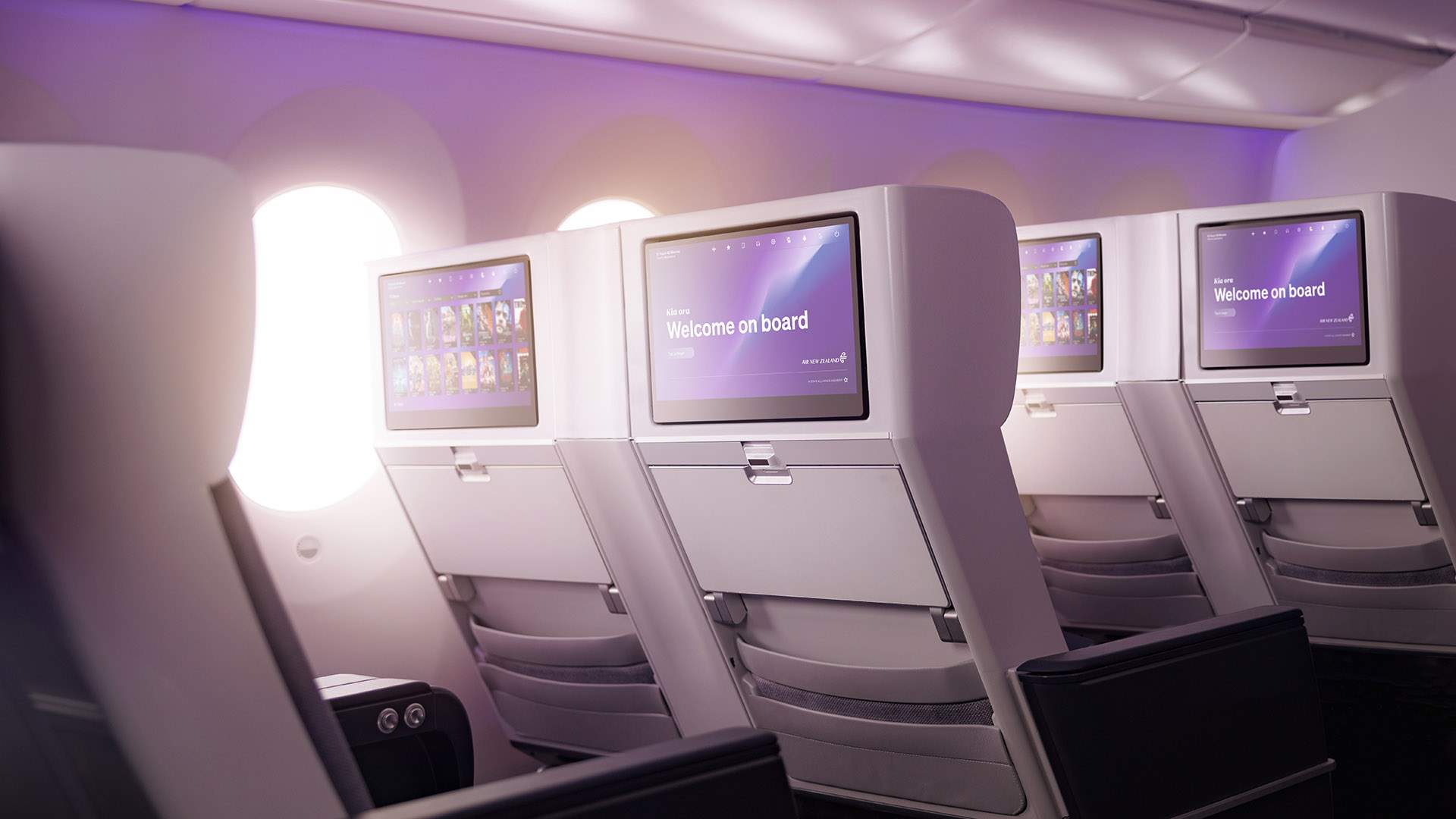 Also, the aircrafts will feature care stations in the premium economy and economy cabins, letting travellers stretch their legs, grab a bite to eat and get a drink whenever they wish.
Design-wise, the planes' interiors will take cues from Aotearoa in a number of ways, too — such as carpet inspired by the forest, and nodding to the tūī in the seats.
Air New Zealand's Economy Skynest will be available from 2024. For more information in the interim, visit the airline's website.
Introducing Concrete Playground Trips
Book unique getaways and adventures dreamed up by our editors