TRAVEL & LEISURE
Five Incredible New Zealand Islands for When You Want to Get Off the Mainland
You don't need to travel to Bali or Thailand to have an island holiday — these adventurous and relaxing spots are just off the coast of New Zealand.
Five Incredible New Zealand Islands for When You Want to Get Off the Mainland
You don't need to travel to Bali or Thailand to have an island holiday — these adventurous and relaxing spots are just off the coast of New Zealand.
Sometimes you just want to get away from it all. Luckily, New Zealand's watery borders are home to around 600 islands. Leave the mainland (and your worries) behind, and make a beeline for one of the below accessible island escapes. There are wildlife reserves where you can spot kiwi in their natural habitat, island dark sky sanctuaries perfect for stargazing, and islands that you can have entirely to yourself for the night.


Ever dreamed of owning an entire island for the night? For $4500 you and 29 friends can have free rein of Slipper Island (Whakahau), an island located three kilometres to the east of the Coromandel Peninsula. There are plenty of accommodation options once you arrive on the 224 hectare island, including two-bedroom chalets and five-star glamping tents. The western and southern sides of the island have white sandy beaches while the northern and eastern parts feature rocky cliffs and dramatic volcanic rock formations. The lighthouse at the eastern point of the island can be accessed by trail, while a shipwreck in the surrounding reef serves as a playground for underwater explorers. It can also be visited for day trips via water taxi or booked out for special occasions.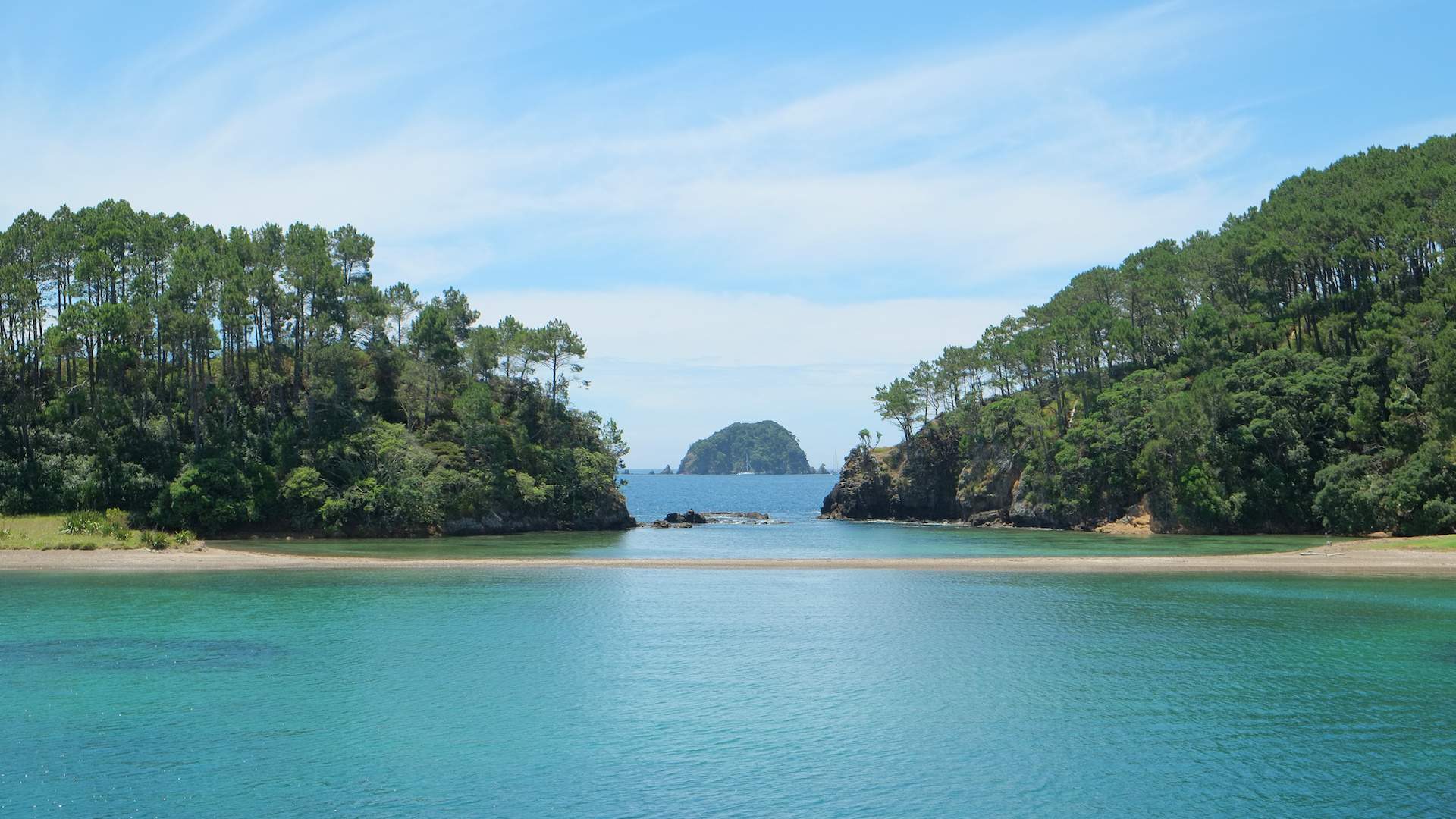 Just a three-hour drive, or a 50-minute flight from Auckland is the Bay of Islands, a breathtaking destination where you'll discover sleepy towns that roll on to crystal clear inlets and more than 144 undeveloped islands up for exploration. Roberton Island (Motuarohia) is a 20-minute boat ride from Paihia or Russell and is best known for its stunning blue water lagoons and snorkelling trail. The luxury Cook's Cove Retreat is one of five houses on the island that can be hired for overnight getaways. The eight-person resort is found in a peaceful private bay. From there you can bush walk to historic Māori sites, explore underwater marine reserves, or set off via kayak from the private jetty.


Great Barrier Island (Aotea) is the fourth largest island in New Zealand. A 30-minute flight or four-hour boat ride from Auckland will bring you to the rugged wilderness where spectacular fishing, natural hot springs and first-class surfing spots await. Away from the light pollution of Auckland, the off-the-grid island is also one of four dark sky sanctuaries, and the only officially recognised island dark sky sanctuary in the world. If you want to settle in for a night of stargazing there are a number of accommodation options on the island, from Department of Conservation campsites to shared hostels and secluded lodges right on the waters edge.

An escape to New Zealand's Waiheke Island feels miles away from the bustle of central Auckland, though it's only a quick ferry ride from downtown. It's an island of varying landscape, with the turquoise-blue waters of the coast giving way to rolling green hills inland. This gives visitors endless options, too — from bushwalks and beaches to art galleries and, most notably, the plentiful wineries on offer. The whole island is easily explored by bus or bike, and trips from the vines of one winery to the next take only a traipse through the vineyard. You could spend a week here and still not hit all of the artisanal producers dotting the island. Join an art walking tour, try your hand at archery or distil your own bespoke gin, just to name a few things waiting for you on this wine island. Waiheke is the most densely populated island with over 8000 permanent residents.


This wildlife sanctuary off the Kapiti Coast is home to the rare species such as the flightless takahē, white faced heron and kākā. You can visit the island for a self-guided day tour, or spend the night and enjoy local hospitality — while keeping an eye out for kiwi in their natural habitat. Kapiti is home to over 1200 little spotted kiwi, making it one of the most reliable opportunities to see them in the wild. There are three accomodation options including private glamping tents, native timber cabins and a Kiwi-style bach offering ocean views out across Waiorua Bay.
Top image: Slipper Island Resort.
Published on August 01, 2020 by Stephen Heard