Nature's Wonderland: A Definitive Guide For a Spectacular Trip to Australia's Coral Coast
Whether you're looking to dive into Western Australia's pristine underwater worlds or explore desert landscapes, this spectacular stretch of the state is a true winner.
in partnership with

Sometimes you just want to leave the city behind and get back to nature. Recharge and reconnect. Go off-road or underwater or deep into the outback. Where can you do it all? Western Australia's Coral Coast.
On this stretch of coast, you'll find everything from wildflowers and wonderfully weird geological sights to beautifully preserved coral habitats. See vibrant underwater ecosystems to rival those on the tropical east coast and swim with gentle giants of the sea. Take road trips through storied landscapes of deep cultural significance, stand up high for sweeping vistas across ancient formations and hike, hike, hike to your heart's content. Stay on family-owned cattle stations with luxe amenities or simply set up your tent by the river for a truly rustic getaway.
Whether you want a day trip from Perth (Boorloo) or a dedicated adventure north, underwater encounters or desert exploration, country home comforts or nights sleeping out under the stars, here's a few ways you can get in touch with nature during your Coral Coast trip. Get ready for a breath of fresh air — and a heavy dose of wonder and awe.
UNDERWATER WILDLIFE ENCOUNTERS
The western beaches are world-class — and, if you head offshore (and underwater), you can get up close and personal with a really special place. Ningaloo Reef (Nyinggulu) is a healthy, vibrant reef that plays host to some incredible marine life. To meet them, head out by boat from Coral Bay or Exmouth (Warnangoora). The whale shark is the largest fish in the world and swims by between March and August. You'd be silly to miss taking a snorkel tour to join these gentle and beautiful giants in their home. In this part of the world, you're also well-placed to catch one of the huge manta rays soaring gracefully through the water. Around 30,000 humpbacks pass through the marine park between June and October, and you can set off on a boat tour for a closer look at the pods of these gargantuan guests. For a glimpse of a rare species, take a cruise to see the sea lions in Jurien Bay playing in the ocean and resting on their 'haul out' islands.
CORAL VIEWING TOUR
It may not be as well known as the Great Barrier Reef, but Ningaloo Marine Park is a thriving World Heritage-listed area — and the world's largest fringing coral reef. The Coral Coast has more than 200 coral varieties and more than 500 species of fish; joining them is an abundance of charismatic mammals and seabirds. For what lies beneath the sparkling blue waves, you can't beat a glass-bottom boat tour — some even include fish-feeding. The clear, shallow waters make it a cinch to view these underwater worlds teeming with marine life; you never know what you're going to spy gliding under the glass. You don't have to be a coral expert when you've got one on board talking you through it, and with passionate guides operating out of a roll call of local businesses — like this one-hour coral-filled trip with Ningaloo Glass Bottom Boat — you'll be schooled on all the ins and outs of the reef. Plus, many are eco-certified, so you know your guides love the reef and are dedicated to preserving it for future generations.
YAMAJI DRIVE TRAIL
The Yamaji Drive Trail near Geraldton (Jambinu) is an epic 195-kilometre stretch of road where history, art and natural wonders are entwined. Featuring 14 significant Aboriginal sites, this experience takes its name from the word meaning 'human' or 'man' in the language of the Wajarri people. You'll traverse a diversity of landscapes in this patch of the world, from idyllic beaches, tree-lined rivers and red, red dirt to midden sites, meeting places and stellar wildflower-spotting places to wander. There's no need to keep yourself cooped up in the car: there are numerous walking trails through parks and reserves along the drive. See native quandong trees on the Warlgu trail, go bird-spotting along the Greenough River nature trail, and visit Ellendale Pool, watched over by Bimarra the serpent. Depending on how often you'd like to stop and explore, the whole trip can take between one and two days. Looking to break it up with a stay? We recommend Geraldton, Greenough or Mullewa as overnight pitstops.
NAMBUNG NATIONAL PARK
Only a few hours' drive from Perth, Nambung National Park feels a world away from the shining city. Explore this mesmerising area via dedicated walks or drives through the desert. Visit the Pinnacles, the famous ancient limestone rock formations, standing stark in the sandy flats like some alien landscape. Take the boardwalk at Lake Thetis and learn all about the curious geology of the place — and the unique rock forms known as thrombolites. From August to October, the oceanside dune vegetation flowers beautifully, covering the sandy scenery in life and colour. The park also has beaches perfect for swimming, snorkelling and surfing from the white sands and blue waters of Kangaroo Point to Hangover Bay in Jurien Bay Marine Park and the rocky shoreline of Grey beach area (if you brought a fishing rod, this is the spot). Head to the Desert Discovery Centre to find out more about the history, significance and ecology of this fascinating park.
KALBARRI SKYWALK
The Kalbarri Skywalk (Kaju Yatka) offers an unbeatable view of the 80-kilometre expanse of the Murchison River Gorge. Formed millions of years ago, the gorge is part of an ancient landscape replete with fossils and fascinating geology. The cantilevered platforms sit 100 metres above the gorge, making it feel like you're really floating in the sky. Look down or gaze out and take in the vast view of scrub, sand and stone below, with the river snaking through. There are a few more spectacular places to catch a sunset around here, too. If you want to get a bit closer, take a hiking track down to the gorge to catch the seasonal wildflowers blooming in the rugged terrain. Learn about the flora and fauna, the history of the place and of the Nanda Aboriginal people from sculptures and helpful signs. Stay a while and refresh yourself at the kiosk or set up a picnic at the table. You won't find a better lunchtime vista than this.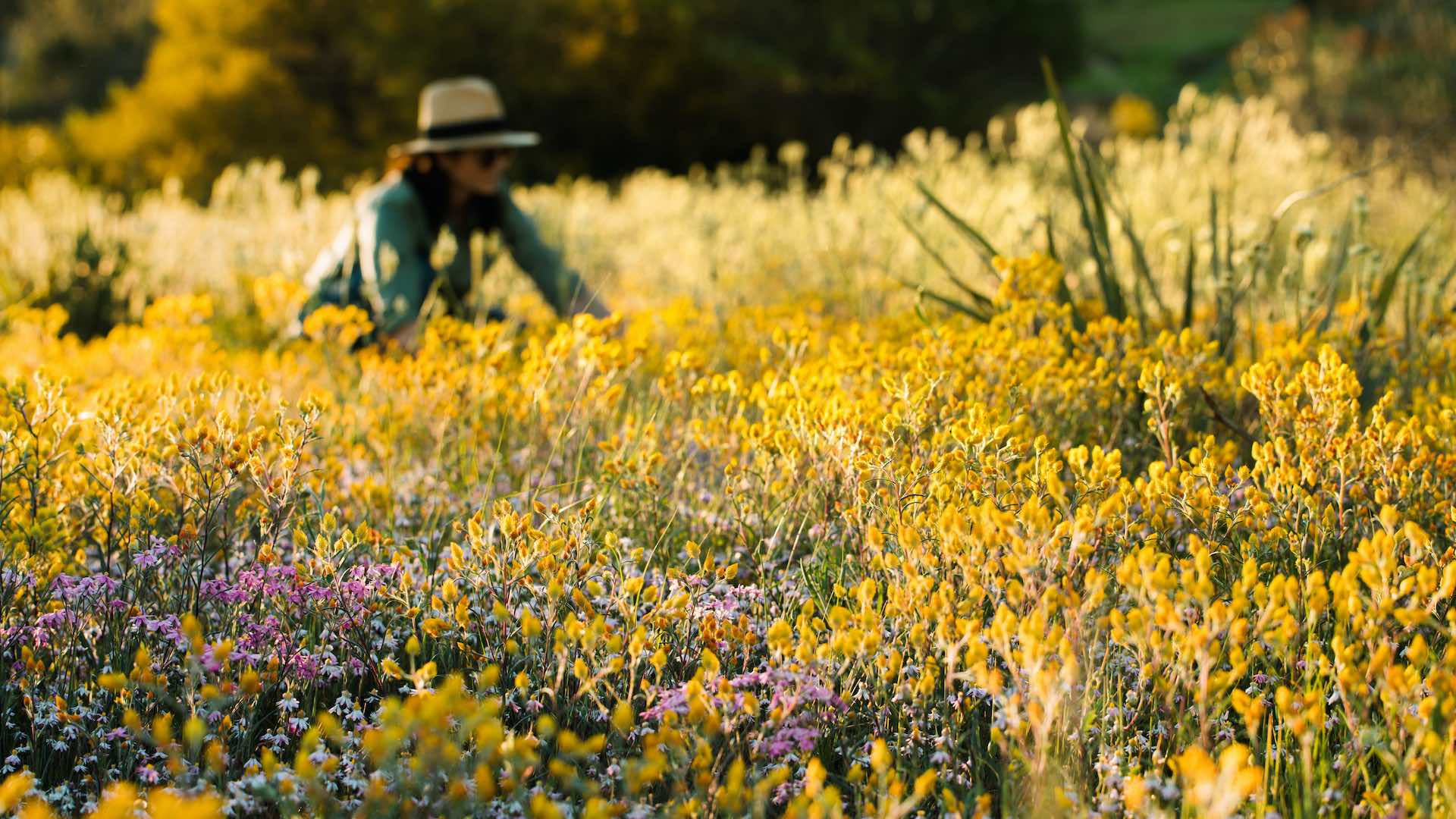 CORAL COAST WILDFLOWER TRAIL
Love wildflowers? Really love them? Then set off on this 11-day trail along a stretch of the Coral Coast in bloom. From late July to early October, this driving trail and its many points of interest burst into florals — with a few rare plant species to spot as well. Native wildflowers surround historical sites, tourist activities and places of cultural significance. Pick up a map and set out on an adventure. Each day on this road trip offers a new landscape, a different mix of wildflowers and wildlife, and a compact diversity of geological wonders, national parks and sweeping beaches. You can stop off in Carnarvon — the 'food bowl' — to sample delicious local produce while spotting the fuchsia dream parakeelya, delicate bluebells and seasonal everlastings. While you're on this adventure, you could opt to stay at Peron Homestead, relax in an artesian spa, explore 8 kilometres of walking trails in Mullewa, get amongst the gum trees, carpets of wildflowers and native scrub (and a few rare orchids) in Kalbarri National Park and visit historic buildings to discover the stories of the vibrant communities along the way.
OUTBACK STATION STAYS: BULLARA, QUOBBA, WOORAMEL
Want the real outback experience? Stay at a working station and see it all firsthand. Bullara Station (Punurrba; pictured above) lies between Coral Bay and Exmouth, offering an authentic cattle station experience complete with friendly country hospitality. Stay in a self-contained cottage or shearers' lodge, or on a bush-camping site. Take coffee and scones in the wool shed garden, join your host and guests for special meal nights, stay for the yearly muster, or just wander, stargaze, fish and recharge.
For an eco-certified option, head to Quobba Station instead. The Meecham family operates this 187,000-hectare station, which was established in 1898. You can stay in the original cottage outbuildings, including the blacksmith's workshop, stables or jackaroo quarters. You're close to the sea here, so make the most of fishing, whale watching and even snorkelling with turtles.
The station campground at Wooramel River Retreat sits on the banks of the Wooramel River. It's a delightful balance between the rugged outdoors and home comforts, with a private campfire, naturally heated artesian bore baths, walking trails and a cafe and nightly dinners. The family-owned outback station backs onto a World Heritage area and splendid surrounds that are hard to beat if you're looking to partake in wildlife spotting.
Whichever part of Western Australia beckons you over, Concrete Playground Trips is the ideal place to start planning. Ready to go? Head to the website.
Top images: Tourism Western Australia (Exmouth Adventure Co; Quobba Station; Bullara Station Stay; Bullara Station Stay; Ningaloo Reef; Coral Bay; Kalbarri Skywalk; Exmouth Dive).
Concrete Playground Trips
Book unique getaways and adventures dreamed up by our editors