TRAVEL & LEISURE
Ten Adventure Activities to Tick Off in New Zealand That Aren't Bungy Jumping
Whether you're looking to catapult across a ravine, ride underground rapids or drive on ice, there's no shortage of blood-rushing activities to complete across the country.
Domestic travel is now allowed under current COVID-19 restrictions in New Zealand, as long as you follow good personal health measures and keep track of where you've been and who you've been in contact with. Bookmark this for when you're ready to explore once again.
New Zealand's Henry van Asch and AJ Hackett famously put bungy jumping on the map, and subsequently created a snowball effect with adventure tourism in the Antipodes. If you've already leaped from one (or all of) the jump spots around the country, there's no shortage of adrenaline-rushing activities to tackle next — whether you're into catapulting across a ravine, ziplining through native forest or taking the wheel of a high-performance car on ice.


FLING YOURSELF FROM THE BIGGEST HUMAN CATAPULT IN THE WORLD
2018 welcomed the arrival of a human catapult that can reach 100 kilometres per hour in 1.5 seconds. Launched by the leaders of adventure tourism in New Zealand, AJ Hackett Bungy, the world-first Nevis Catapult is found in a pod alongside the Nevis Swing near Queenstown. The attraction, which has been called the "biggest and most extreme catapult in the world", sees thrill seekers shoot 150 metres out across a ravine before dropping towards the valley floor and experiencing a series of vertical bounces. From release to recovery the experience takes between three to four minutes.


FLOOR IT AROUND A SNOW-COVERED RACE TRACK
Ice Driving is considered the ultimate winter driving challenge. The high horsepower, tyre-sliding experience invites anyone with a drivers licence and a wad of cash to jump in the hot seat and hoon around more than 40 hectares of snow-capped alps. It happens in the deep south from July to August every year with participants invited to take the wheel of a high-performance vehicle on a snow-covered race track. The experience is held at the iconic Southern Hemisphere Proving Grounds on Mount Pisa, 1500m above sea level between Queenstown and Wanaka. The snow track is the winter test centre used to test cars around the world. It's suitable for groups of ten and up who are keen to learn what it takes to drift around a snow circle, weave around a slalom course and bury the accelerator on ice.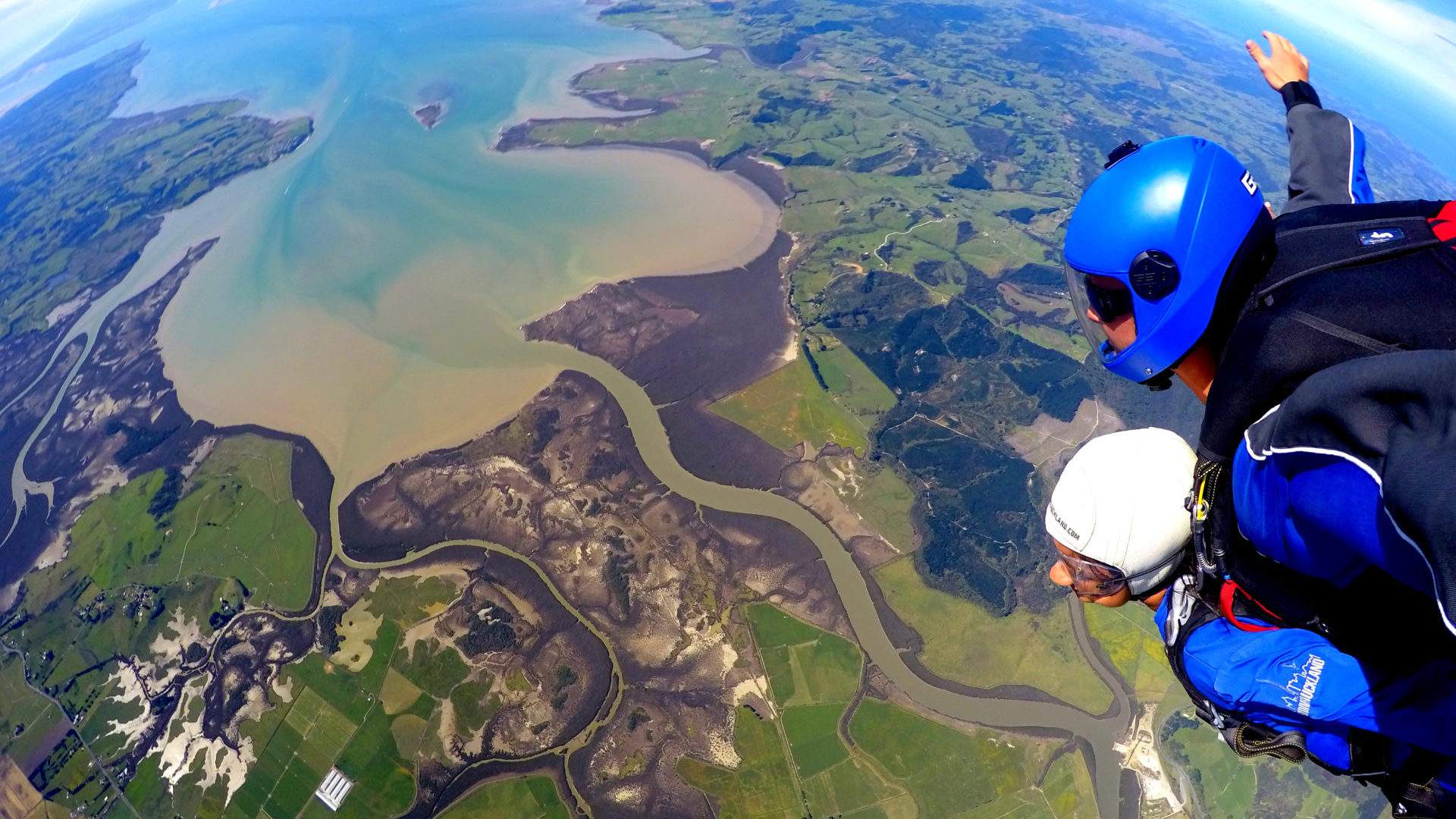 STRAP IN FOR NEW ZEALAND'S HIGHEST TANDEM SKYDIVE
The country's highest tandem skydive can now be found in Auckland thanks to Skydive Auckland. The experience sees thrill-seekers ascend to 20,000 feet before launching themselves into thin air for an insane 80-second freefall that reaches speeds of up to 200 kilometres per hour. Needless to say, the experience offers stunning views of Auckland's landscape, and as you gracefully float back to earth you can expect to see both black sand beaches on the west coast and views across Waiheke and Great Barrier Islands. The experience has no age limit — the company has previously taken people from 3 to 97 years old for tandem skydives — and it costs $595 per person. Free return transport is available from the city to the jump base in Parakai. Alternatively, it's a 45-minute drive.


HIT INTERMEDIATE-LEVEL WHITE WATER RAPIDS
Rafting New Zealand's Tongariro River tour consists of over 60 rapids of varying intensity. Across the grade three route there are several rocky outcrops that make for an exciting day out on the water. The names of each key rapid have been colourfully devised from previous incidents and the impact on the rafting experience. The anxiety-inducing names include the Cheese Grater, Leg Breaker, Earthquake Gully, Rock Garden, The Bitch, Helter Skelter, Pin Ball and Pile Up. Guests are guaranteed two hours on the 14-kilometre river route, with complementary hot chocolate mid-way through the river and a celebratory bevvy back at basecamp. Part of the proceeds from all Rafting New Zealand tours is put towards the preservation of the Tongariro landscape to allow future generations to appreciate the beauty.


SLIP DOWN THE COUNTRY'S LARGEST AQUATIC THRILL RIDE
Waiwera's beloved hot pools may be in an apocalyptic state and the world's longest waterslide may have been decommissioned, but you don't need to hang up your togs just yet. Thrill-seekers have an opportunity to launch themselves down a slippery tube with the opening of the country's largest aquatic thrill ride. After more than three years of planning and construction, the Conical Thrill officially opened at Hanmer Springs Thermal Pools and Spa last year. The mammoth ride sits 13.5 metres high and shoots riders on two-person tubes down a winding hydroslide, before going down a steep drop that propels them up a near-vertical wall for a moment of weightlessness. And then, they zoom back down and onto the slide's finish. The waterslide comes in tow with a collection of sustainable thermal pools, including five mineral-filled ponds connected by a series of waterfalls.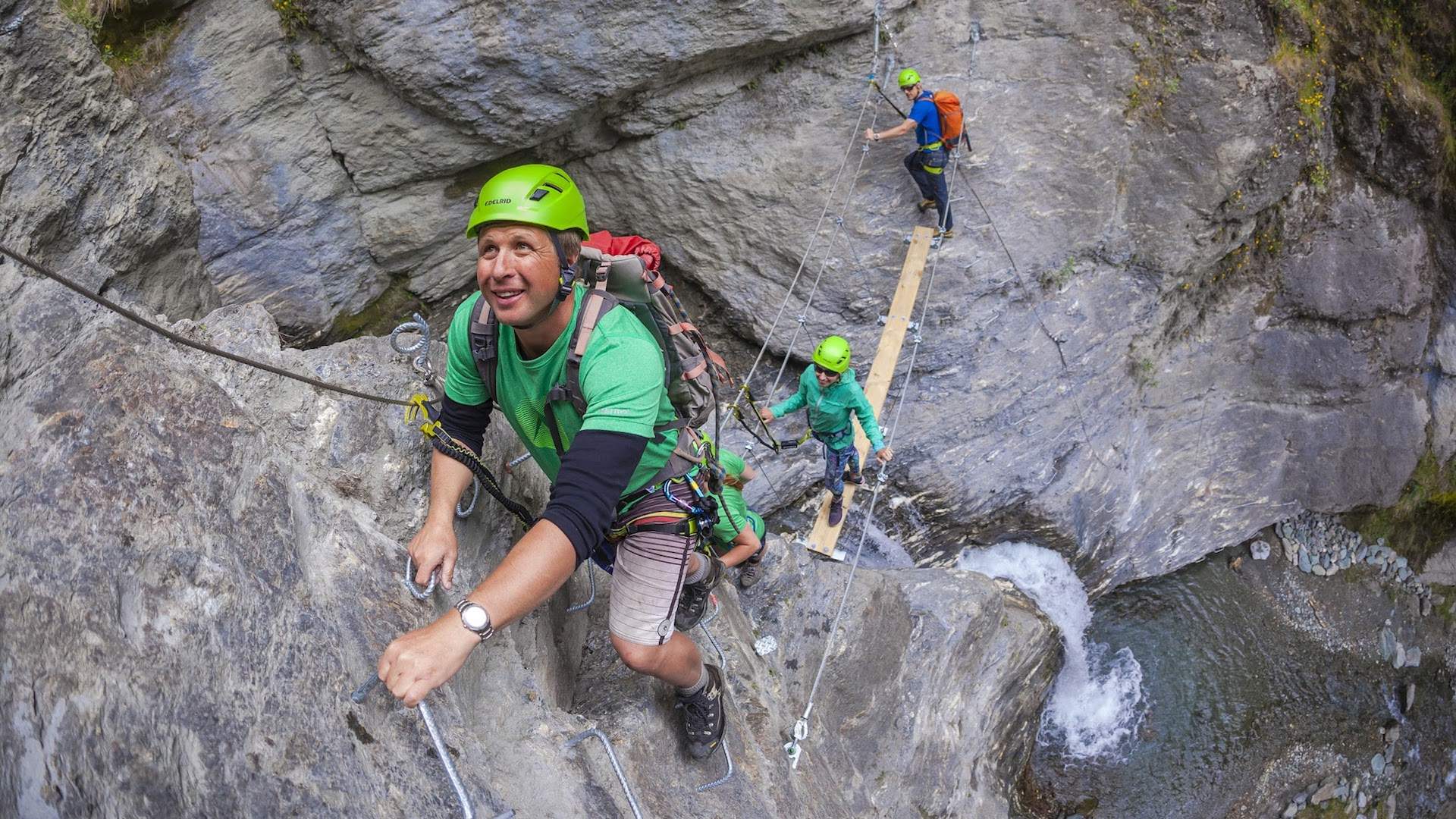 TAKE ON THE WORLD'S HIGHEST WATERFALL CABLE CLIMB
Wanaka adventure tourism company Wildwire operates via ferrata routes and structures through the region's hilly terrain, including the world's highest waterfall cable climb. The suitably titled 'Lord of the Rungs' climb sees thrill-seekers cross a three-wire bridge, go behind a 60-metre waterfall and climb 450 metres to an airy overhang. The five-hour journey finishes with a stunning helicopter ride. Additional adventures cross suspension bridges and traverse into the heart of the waterfall, where climbers uncover hidden pools. They range from one to three hours and are suitable for active beginners. Further, participants are provided with all climbing and safety equipment, an experienced guide, transport to and from Wanaka, plus snacks and lunch. Wildwire is now offering pay-what-you-can adventures to domestic tourists.


WHIZZ THROUGH NATIVE FOREST ON A 400-METRE ZIPLINE
Rotorua Canopy Tours offers high-flying journeys through the trees. Found at Dansey Scenic Reserve, a virgin native forest reserve just outside of Rotorua, the company offers New Zealand's only native forest zipline canopy tour. The Ultimate Canopy Tour is a three and a half hour ziplining experience which includes a 400-metre zipline, a 50-metre high, suspended cliff walkway and an 18-metre controlled abseil.


HELICOPTER TO A SECLUDED BREAK ON GREAT BARRIER ISLAND
For those big on adventurous spirit but small on time, Heletranz's Great Barrier Island Experience — a five-hour experience that could see you enjoying some of the best fishing or surfing spots New Zealand has to offer. Heading out from the heliport in Albany, you'll get a spectacular view of the region's stunning scenery — with eagle eyes likely to spot dolphins, whales and stingrays in the water below. The heli-surfing experience will transport you to epic waves in out-of-the-way surf spots. A gourmet picnic lunch on a private beach is provided, and if you want to top off your day with a trip to one of Auckland's top country pubs, for an additional fee you can stop off at the Sawmill Brewery in Leigh for a bite and a choice of 15 tap beers.


TAKE THE BACKSEAT IN A MILITARY FIGHTER JET
An outing with Tauranga's Fighter Jets NZ is not for the faint of heart, or one for those concerned about money. During the company's Top Gun Experience, you'll take the backseat in a Czechoslovak-built L-39C Albatross military training aircraft. Thanks to its twin-shaft jet engine and 3800 pounds of thrust, the aircraft has a maximum speed of 901 kilometres per hour — expect big G-forces with this one. The 30-minute experience has been designed for those who want to get serious about their aerobatic thrills. You don't have to take the controls; experienced pilots will take the jet through its paces while in the air. The experience costs $3788.


RIDE AN INFLATABLE TUBE DOWN BLACK WATER RAPIDS
Waitomo is typically considered a destination to leisurely spot glowworms, but the popular tourist destination also offers tours where participants can head 80-metres below ground and get up to all kinds of blood-rushing adventures. If you have five hours up your sleeve, The Black Abyss tour will see you abseil into a subterranean world, climb underground waterfalls, crawl through holes and hit fast-flowing black water rapids in an inflatable tube. You'll still get to see galleries of glow worms — only while ziplining through pitch-black cave systems.
Published on May 20, 2020 by Stephen Heard