FOOD & DRINK
Your Guide to Queenstown Part Two: Where to Eat
Celebrity chef Josh Emmett's Queenstown fort and a contemporary 'Polynasian' restaurant are just some of the foodie highlights of the town.
In part one of our guide to Queenstown we took you on a tour of the surrounding slopes, highlighting each mountain's pros and general atoms. Now we move downtown to Queenstown itself, looking at the best places fill your stomach while in one of the best cities in New Zealand.
See part one here: 'Your Guide to Queenstown: Where to Ski', and part three: 'Your Guide to Queenstown: Where to Eat and Where to Sleep'.

Where To Eat
I would venture that Queenstown has more high-end and delicious eateries per capita than any city in New Zealand. As such, every road is packed with options, so it can be a little bit daunting deciding which establishment to meander into. Luckily, we're here to help.
Most hotels, motels and backpackers come with a breakfast option, so we've moved on from that and straight to lunches and dinner - although if you're desperate for something to break the fast most of the lunch options also serve breakfast.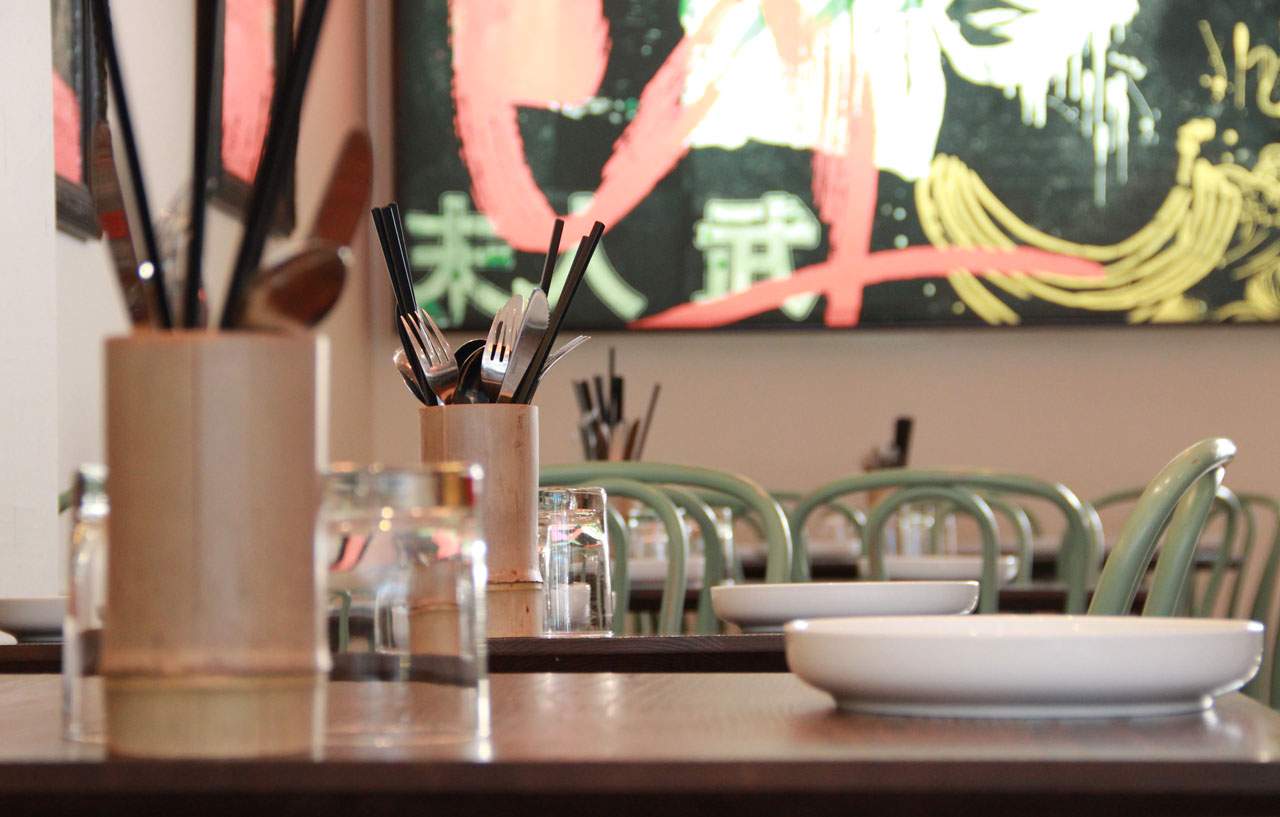 Madam Woo
Lunch
The Little and Friday of Queenstown, Vudu Café can do no wrong. A special Vudu highlight is its delicious range of cabinet foods (great to take up the mountain), juices and food off the menu. Okay, so everything at Vudu is a highlight. Hence the crowds.
Tip: If the café's busyness is a little claustrophobic for your liking, you could either grab your meal to go and enjoy it at the waterfront, or head over to Vudu's second location which is just around the corner and usually half as busy.
16 Rees Street & 23 Beach Street // Mon - Sun 7:30am - 5pm

About ten minutes' drive outside of Queenstown sits the stunning Amisfield Winery. The restaurant's architecture alone is all kinds of amazing. Inspired by their Central South Otago surroundings, Amisfield used materials from the area to create the building: the stone harvested from an ex-quarry in Glenorchy, the building's wooden beams from the old railroad tracks in Riverton, photography by local photographer Fiona Pardington. Put your trust in the chef and enjoy a five-course four-drink afternoon of wines and a surprising rotation of amazing delicacies, almost all from the surrounding Central Otago area. A perfect lazy afternoon.
Tip: Book a table, and if you're trying the trust the chef option, take a taxi there and back.
10 Lake Hayes Road // Mon - Sun 11:30am - 8pm

Co-owners Fleur Calton and Josh Emmett really created something special with their Cantonese-fusion cuisine and wunderkammer of Asian artefacts (including beautiful screen prints, bamboo shoots, little statues dotted around the cafe). A special mention has to go to the honey and soy tossed squid - which has some really nice little fiery kicks of chilli, and a few honourable distinctions need to be awarded to the refreshing woo salad, the eggplant hawker roll and the tiger prawn dumplings. Wash it all down with a tingle-inducing ginger mojito, or two.
Tip: Portion sizes are small and meant to be shared, so order a few different platters between friends.
5 The Mall // Mon - Sun 12pm - late

Open for 21 hours a day, Fergburger is the kind of burger joint that's there for you no matter what - a post-town carb-filled alcohol sponge, a filling lunch after a big morning on the mountain: anything. It's little bit more casual than your usual Queenstown eatery, but with arguably the best burgers in New Zealand, it's a must-visit Queenstown destination. Notorious for its cues, especially around 2am in the morning, the place serves up flavour worth every minute of your time waiting.
Tip: Try anything on the menu, seriously.
42 Shotover Street // Mon - Sun 8:30am - 5am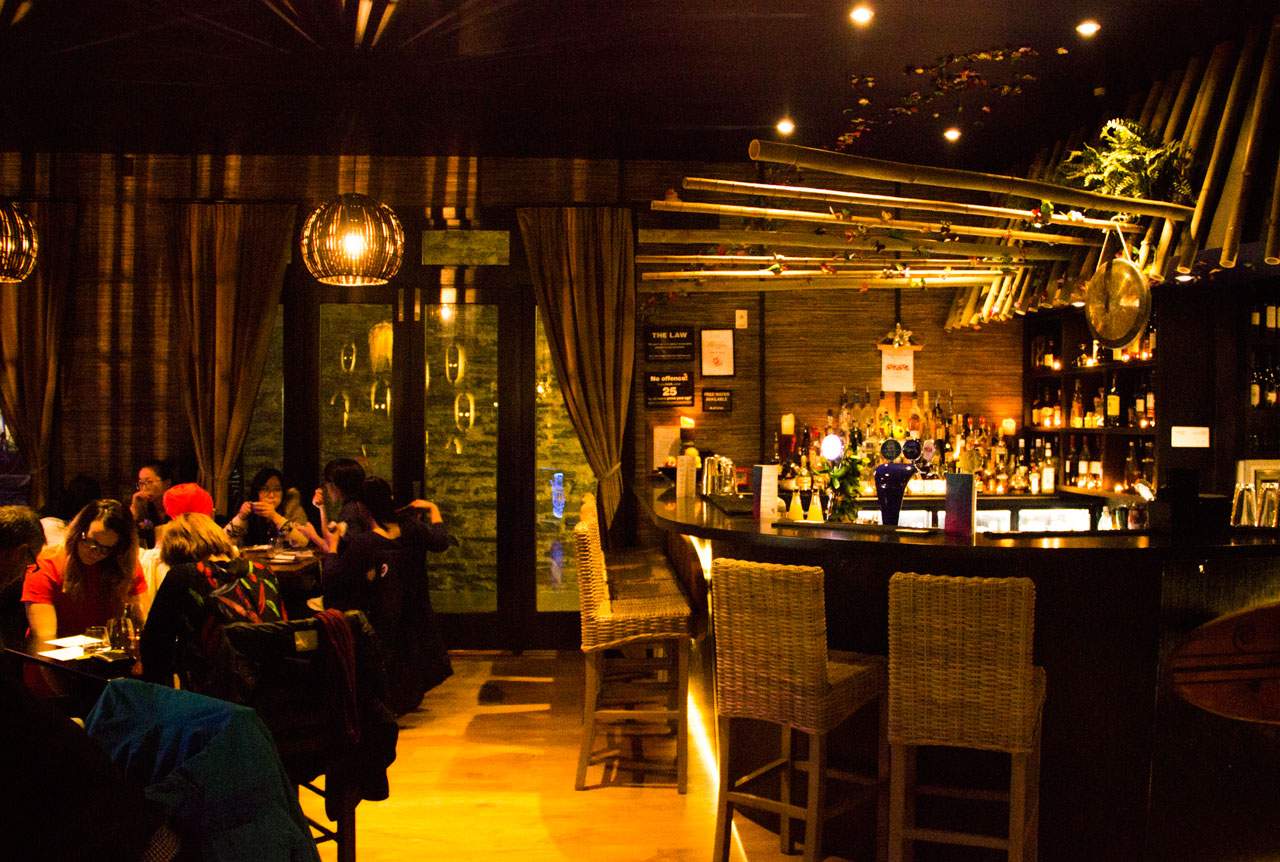 Blue Kanu
Dinner
The Blue Kanu is the brainchild of Karen Hattaway, an adopted Maori woman who, while in search of her identity, decided to amalgamate all aspects of said identity into one glorious contemporary 'Polynasian' restaurant. Fitted with bird cages, tiki roofs, butterflies, chopstick cutlery and bright fluoro Hawaiian shirt-wearing waiters, the place is a personification a very eccentric, very interesting and very cool woman. Don't dare come to Queenstown and not try their traditional Maori kumara bread with avocado oil side.
Tip: Try the Maori kumara bread, tempura oysters, seafood curry and the tempura tofu salad. Have an espresso martini for dessert, you've earnt it.
16 Church Street // Mon - Wed 5pm - late, Thur - Sun 12pm - late

Rata, celebrity chef Josh Emmett's main Queenstown fort, is a kingdom of deconstructed high-end meals. The restaurant falls firmly within the 'Contemporary New Zealand' genre, with amazing locally-sourced meals, as well as a very New Zealand-inspired interior design - the open dining restaurant tastefully decorated with a wall-spanning back-lit image of a fauna forest and beautiful and minimalistic wooden tables and chairs.
Tip: The Southland cheese roll, Merino lamb, and the oh-so-crispy Marlborough King salmon - which comes with shaved Bluff paua, leeks and Otago saffron potato, are Rata must-haves.
43 Ballarat Road // Mon - Sun 12pm - 11pm

The Spire's cosy in-house restaurant and bar makes some fantastically fresh Bluff oysters - served on a bed of rocksalt, and a flawless spice-rubbed and chargrilled Cadona lamb loin - served with a Jerusalem artichoke puree. Their token drink, Le Rouge Coco (a vodka house-made raspberry puree combined with vanilla, lemon juice and egg white), is one of the best cocktails in Queenstown.
Tip: Let Paddy the bartender fix you a drink to match your meal - his firewater and wine knowledge rivals the best.
5 Church Lane // Mon - Sun 4:30pm - late

For more information head over to Queenstown NZ.
Published on September 11, 2014 by Laetitia Laubscher