This Eye-Popping Installation Turns Japanese Hot Springs Into a Vivid Interactive Art Playground
It's the latest dazzling venture from teamLab, the folks behind Japan's vibrant digital art museum.
Whether it's opening a sprawling art museum, taking over a 400-year-old castle, turning old oil tanks into a digital waterfall or bringing waves of light to Melbourne, teamLab's digital installations are never less than dazzling. The term definitely applies to the interdisciplinary collective's latest venture, too, with teamLab: A Forest Where Gods Live transforming Japan's Mifuneyama Rakuen Takeo Hot Springs into its latest awe-inspiring artwork.
Currently on display on Kyushu, the third largest and most southern of Japan's islands, A Forest Where Gods makes the most of its huge site. Created in 1845, and featuring gardens, shrines, forests, rocks and caves, the hot springs stretch across 500,000 square metres — within which teamLab has placed 21 installations, all playing with light, colour and movement as the group's eye-popping attractions always do.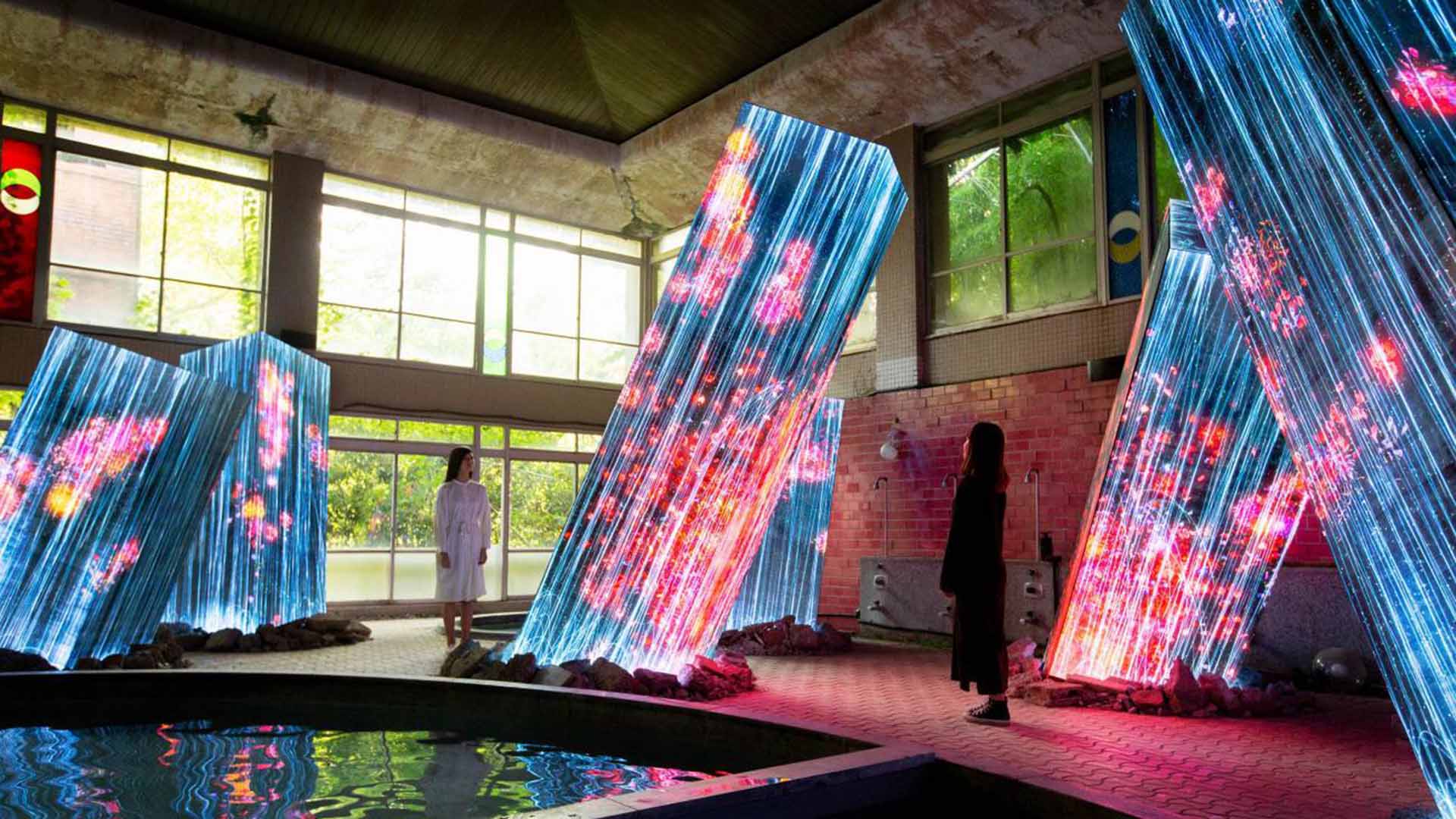 In Mifuneyama Rakuen Takeo's bath house ruins, visitors can watch flowers, people and water particles dance across huge megaliths, and feel like they're wandering through a place where time has stopped in the process. Or, over at the hot springs' pond, you can see the water's surface come to life with koi and boats, the former reacting to the latter.
Other highlights include floral displays blooming repeatedly on a 5.5-metre-high moss-covered rock, a digital waterfall falling on a shrine, lights fading and glowing across a valley of azaleas, butterflies fluttering through underground ruins, and multicoloured bulbs brightening up cherry blossoms and maple forests. And, it wouldn't be a teamLab site takeover without cups of tea filled with digital flowers, or without a sea of rainbow-hued lamps — both floating on a lake and suspended from above in spiral patterns.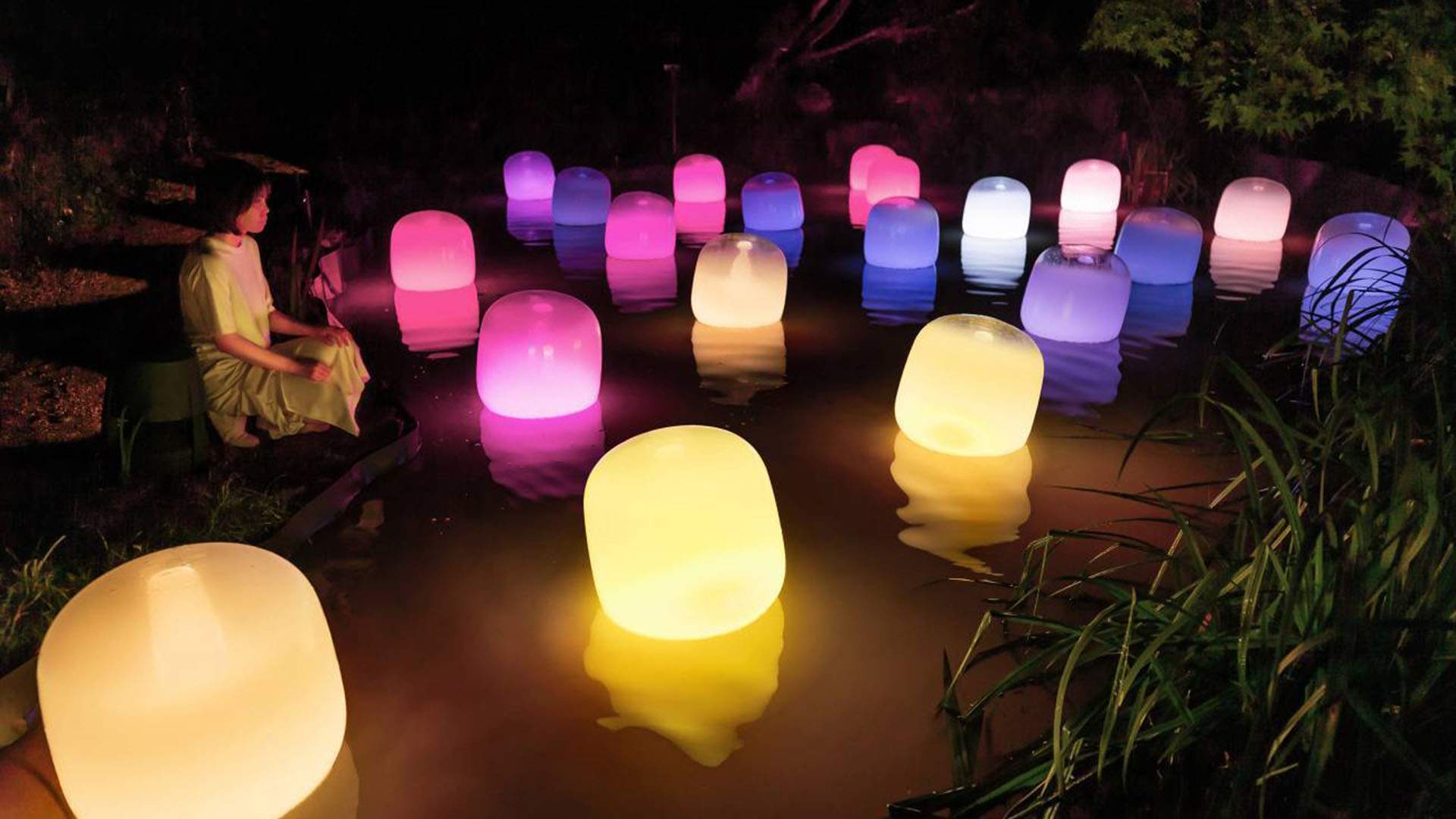 The interactive exhibition is split into two parts, with The Nature of Time running from 11.30am–sunset, and Earth Music & Ecology kicking in from sunset–10.30pm. The daytime element has a greater focus on Mifuneyama Rakuen Takeo's existing wonders, while the evening session lets teamLab's shine under the night sky.
Whichever you're keen on, if you're going to be in the vicinity and want to head along, you'll want to book a ¥500–1400 (AU$6.95–19.55) ticket in advance — unsurprisingly, teamLab's gorgeous work is always popular.
teamLab: A Forest Where Gods Live runs until November 4, 2019 at Mifuneyama Rakuen Takeo Hot Springs, Kyushu, Japan. For more information, visit the exhibition website.
Images: teamLab.
Concrete Playground Trips
Book unique getaways and adventures dreamed up by our editors