'Aunty Donna's Coffee Cafe' Will Bring Its Cups of Morning Brown to the ABC in April — and It Has a Trailer
In this six-episode sitcom, Mark, Zach and Broden open their own neighbourhood coffee spot, deal with bad reviews and fend off evil spirits.
Playing corpses revived from the dead in upcoming big-screen release Dungeons & Dragons: Honour Among Thieves, Aunty Donna don't drink any morning brown. They will when they next hit the small screen, however, because their new ABC sitcom is all about the topic. Well, it's set in a cafe. Indeed, the show is called Aunty Donna's Coffee Cafe. And that eponymous brew-slinging spot? It's named — you guessed it — Morning Brown.
Get yourself a cup of laughs when the series hits ABC this April, starting screening weekly on TV at 9pm on Wednesday, April 12, and dropping all of its episodes via ABC iView at the same time. The show was initially announced in 2022, and unveiled a first sneak peek at the end of last year. Now, there's an official trailer and that just-revealed release date.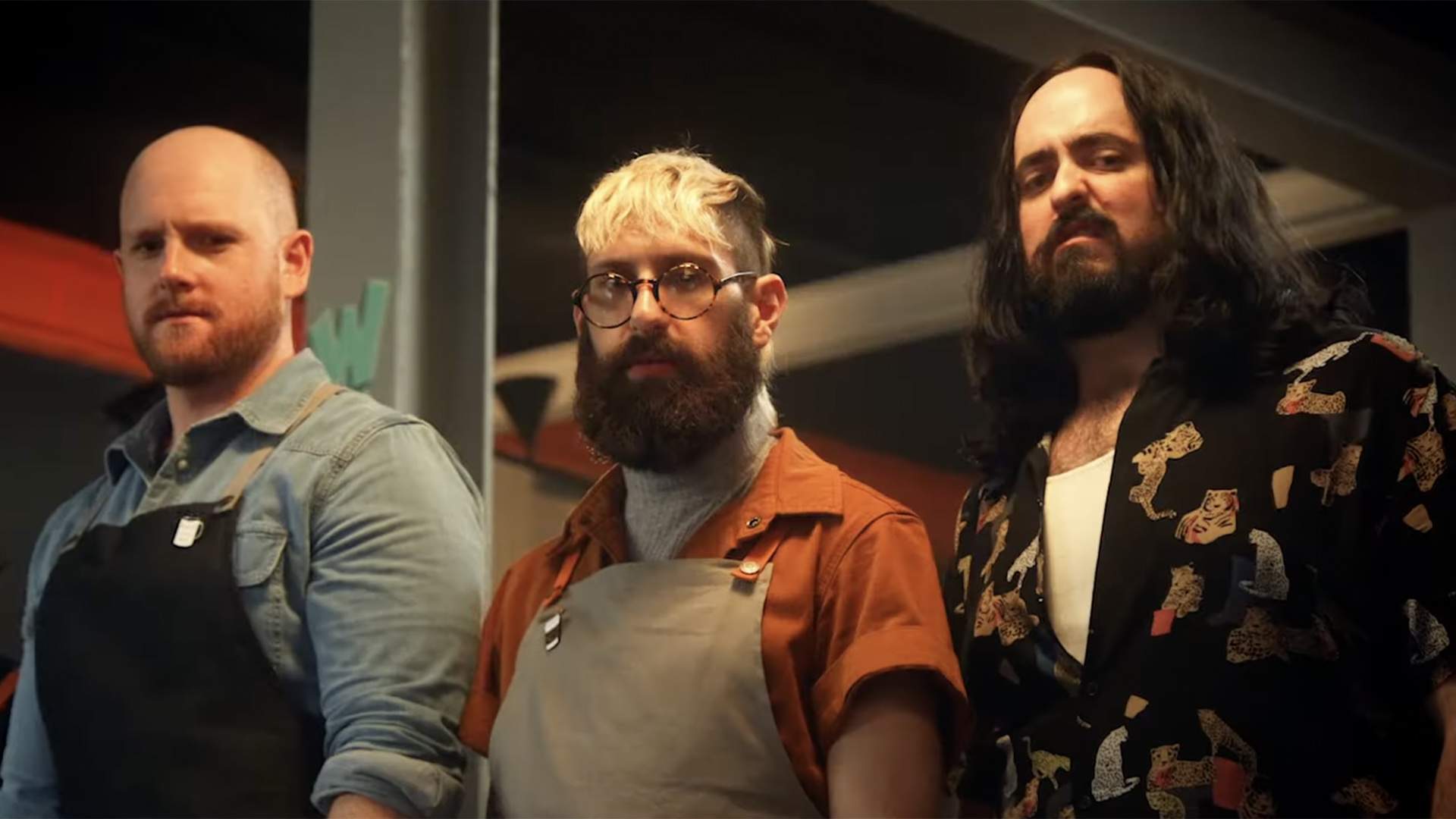 Consider Aunty Donna's Coffee Cafe prime viewing with Aunty Donna's $30 bottle of wine, after you're done reading the Always Room for Christmas Pud picture book, and if you've already watched Aunty Donna's Big Ol' House of Fun — aka one of 2020's best new shows — more times than you can count. It stars Mark Samual Bonanno, Broden Kelly and Zachary Ruane, of course, who fittingly return to the network nicknamed Aunty after Aunty Donna's Fresh Blood hit iView back in 2014.
Aunty Donna's Coffee Cafe's premise: three best mates run a cafe in one of Melbourne's laneways. Their coffee-slinging establishment is trendy, but the stretch of pavement it's in on isn't. Also, they don't quite have the experience or skills to do the job, but that definitely isn't stopping them.
As well as cups of morning brown — and hopefully the song about them getting a whirl — will the cafe be open on Christmas and serve up a little bit of pud, too? You'll have to watch to find out. But, there will be bad reviews to deal with, court dates, and evil spirits who have a fondness for Gardening Australia. Oh, and Aunty Donna's absurd sense of humour remaining firmly intact, naturally.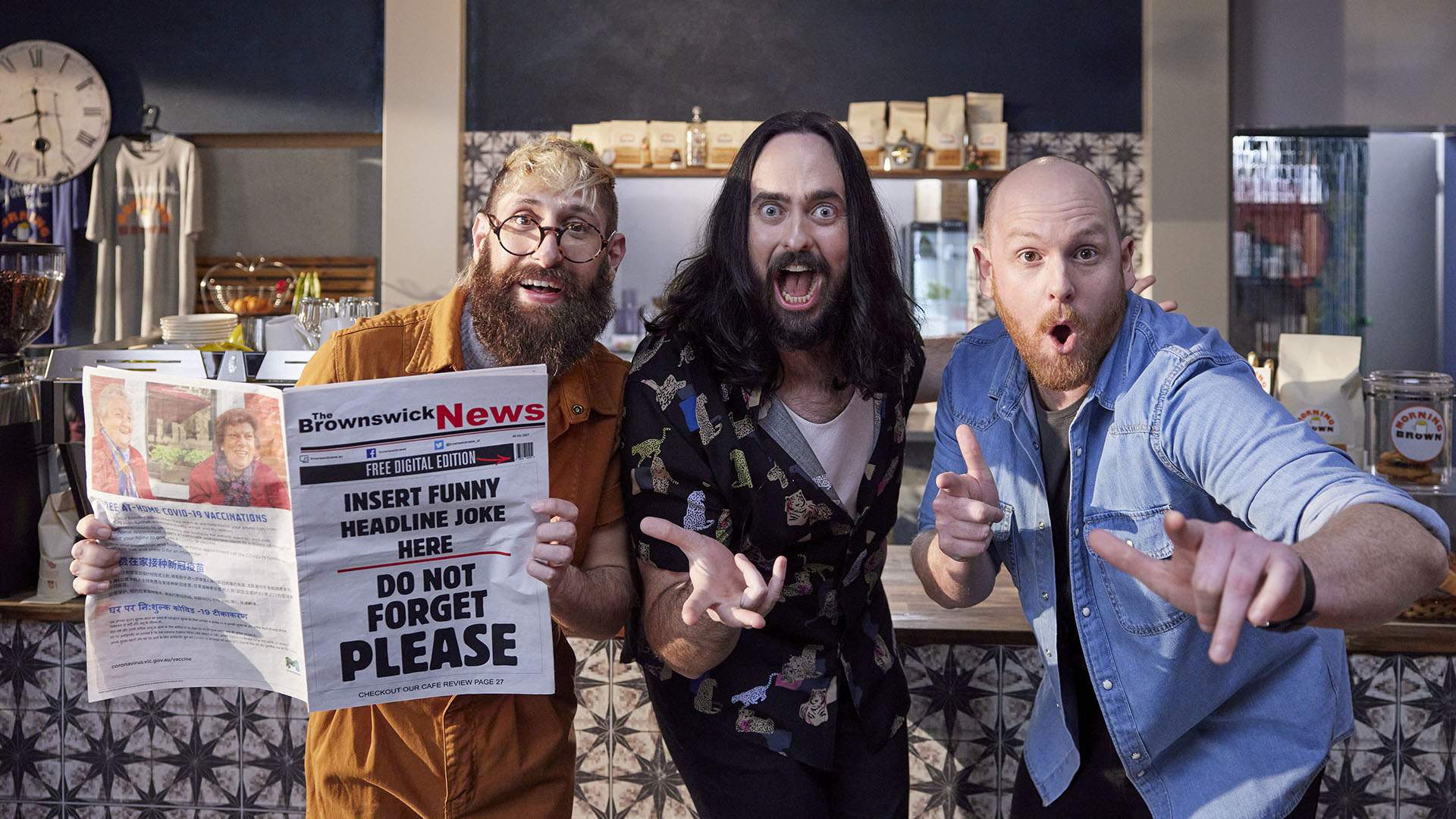 "Hello it is us Aunty Donna, and not an evil robot that has taken Mark, Zach and Broden hostage. We are so excited for all the humans to see our new comedy program Aunty Donna's Coffee Cafe," said the comedy troupe.
"We are especially thankful to the entities known as ABC and Screen Australia and Vic Screen, but mostly we are thankful to all the machines that work tirelessly for us with no thanks. We are fine and do not need help nor rescue."
Aunty Donna's Coffee Cafe will also feature a heap of guest stars, including Miranda Tapsell (Christmas Ransom), Pia Miranda (Mustangs FC) and Richard Roxburgh (Elvis). You'll also spot everyone from Shaun Micallef and Tony Martin to Melanie Bracewell, Nazeem Hussain, Steven Oliver and Sam Pang.
Check out the trailer for Aunty Donna's Coffee Cafe below:
Aunty Donna's Coffee Cafe will start screening on the ABC at 9pm on Wednesday, April 12, with all episodes available to stream via ABC iView at the same time.
Concrete Playground Trips
Book unique getaways and adventures dreamed up by our editors