The Gorgeous Full Trailer for Pixar's 'Elemental' Goes All 'Romeo and Juliet' with Fire and Water
When the film hits cinemas, it'll screen with 'Carl's Date', a short follow-up to 2009 classic 'Up'.
Opposites attracting is a basic romantic-comedy staple. When it comes to folks from different worlds falling head over heels even though they're told they should stay apart, Romeo and Juliet and West Side Story have long been singing that tune, too. So, focusing two different elements — the fiery Ember (voiced by Leah Lewis, Nancy Drew) and go-with-the-flow Wade (Mamoudou Athie, Archive 81) — who cross paths and enjoy sparks flying, Pixar's upcoming Elemental obviously follows in some hefty footsteps.
"Elements cannot mix," Ember is told sternly in the animated flick's just-dropped full trailer, which arrives after a first sneak peek back in late 2022. From there, of course Ember and Wade keep floating and sizzling in each other's orbit, all while living their daily lives as Captain Planet-like characters in the gorgeously rendered world that is Element City.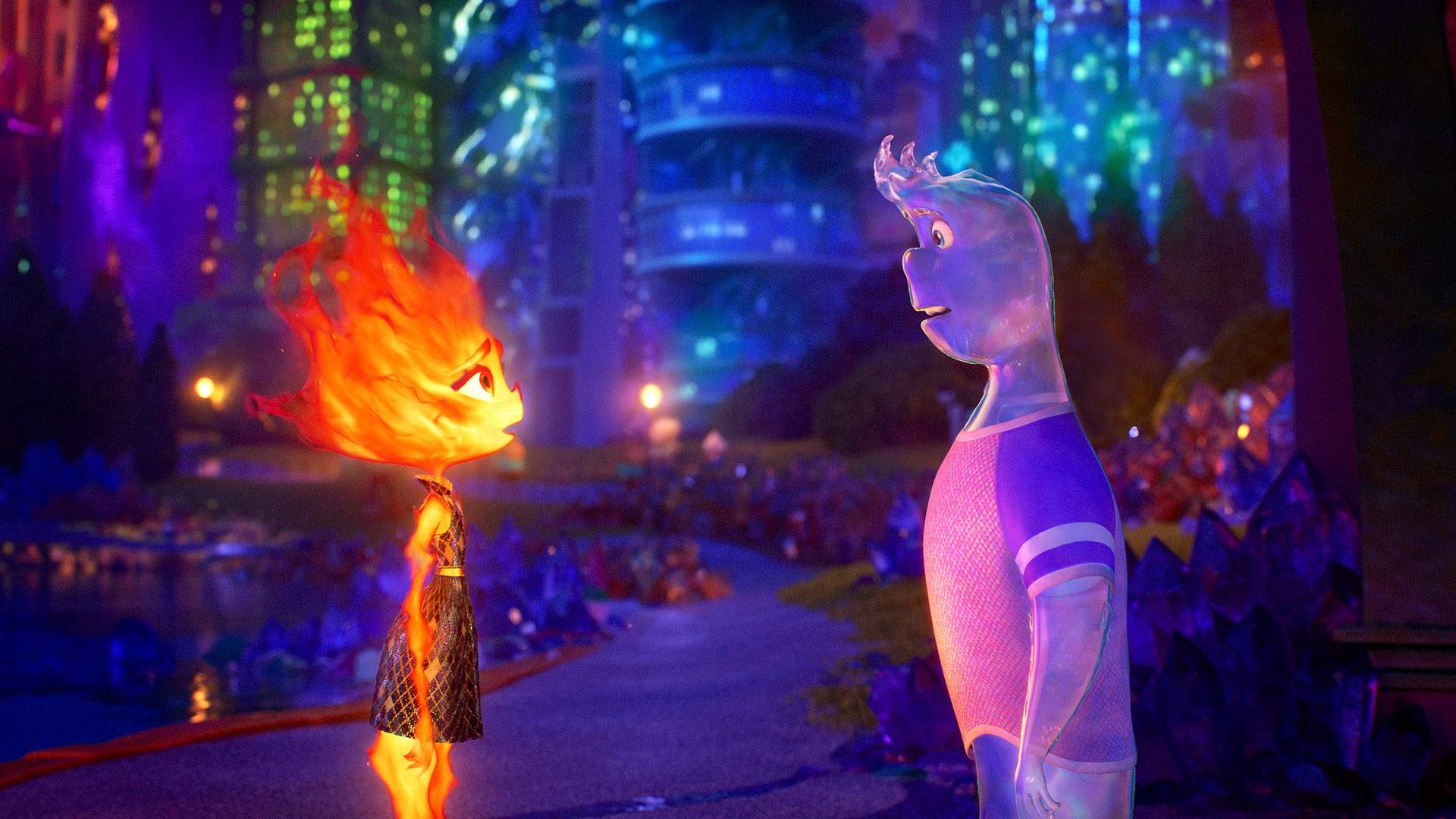 The setup is classic Pixar, however, because the Disney-owned animation studio knows what it likes and what it does well — usually to heartfelt and delightful effect. So, add this to the pile of movies about whether toys, fish, monsters, feelings and more have feelings. The question this time: what if the elements, aka fire, water, land and air, had emotions?
The film dubs its characters fire-, water-, land- and air-residents, but getting big Inside Out and Soul vibes comes with the territory. That said, the new full trailer plays up the romance angle, including walk-and-talks that could've jumped straight out of the Before franchise.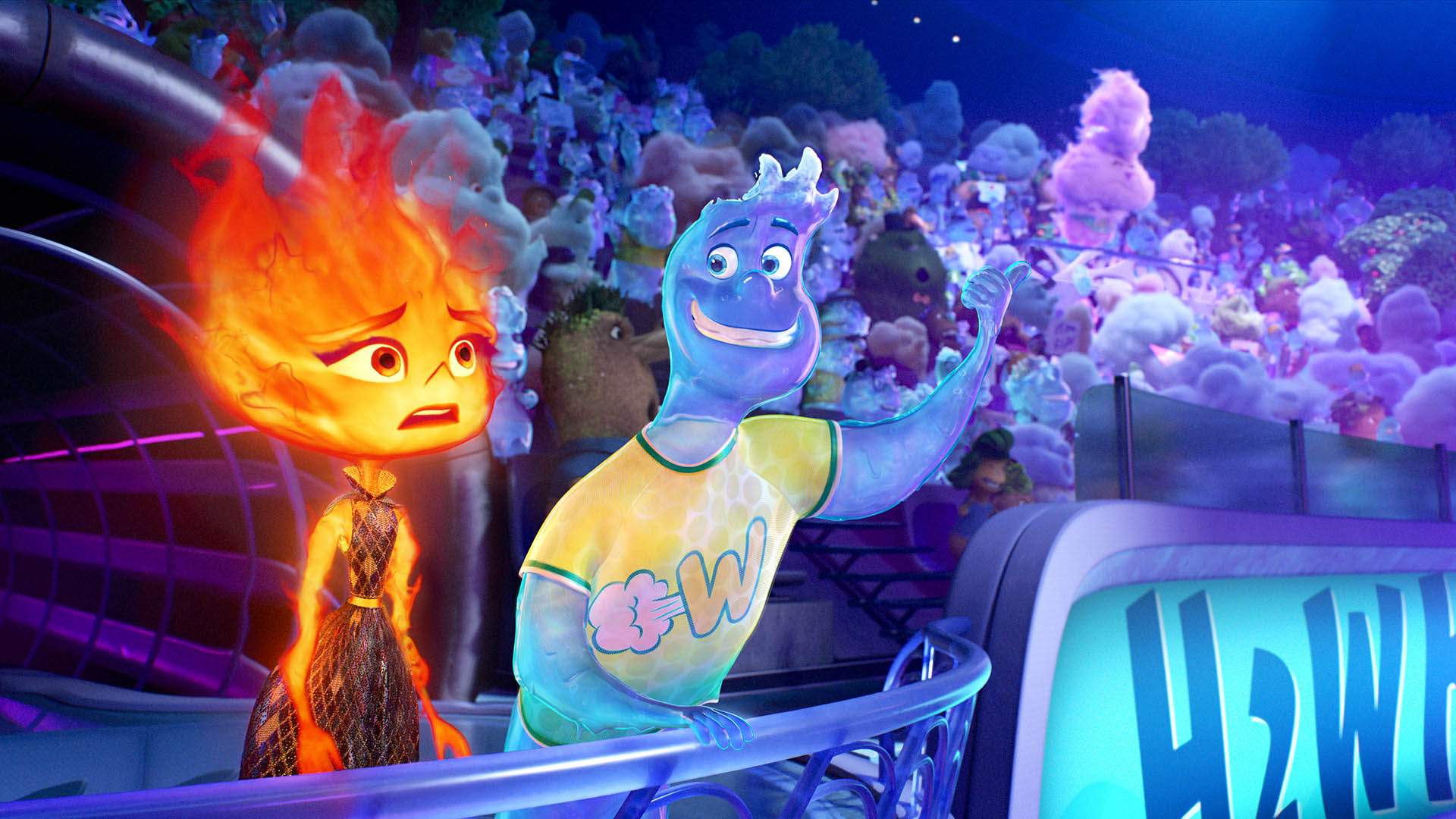 So far, it all looks as adorable as you'd expect, too, even if you've ever just seen one frame of a Pixar picture. Big on pastel hues, that animation springs from director Peter Sohn (The Good Dinosaur), and hits cinemas on June 15.
Literally a story of water and fire trying to get along — maybe Pixar is staffed by George RR Martin fans? — Elemental also features Ronnie del Carmen (Soul) as Ember's dad Bernie, Shila Ommi (Tehran) as her mother Cinder, Wendi McLendon-Covey (The Goldbergs) as Wade's boss Gale, Catherine O'Hara (Schitt's Creek) as his mom Brook, first-timer Mason Wertheimer as Ember's neighbour Clod and Joe Pera (Bob's Burgers) as city bureaucrat Fern.
And, when it hits the big screen, it'll come with a Pixar short that links back to 2009's Up. In Carl's Date, it's time to catch up with Carl Fredricksen (the late Ed Asner) and his talking dog Dug (writer/director Bob Peterson) after the former reluctantly agrees to go on a date, but is out of practice and needs the latter's help.
Check out the first trailer for Elemental below:
Elemental releases in cinemas on June 15, 2023.
Images: © 2023 Disney/Pixar. All Rights Reserved.
Concrete Playground Trips
Book unique getaways and adventures dreamed up by our editors