Eleven Must-See Films at the 2018 Melbourne International Film Festival
Including a Bill Murray documentary, an unsettling 3D flick and the best performance of Jaden Smith's acting career.
It's that time again, Melburnians: time to rug up, rush from the Forum to the Comedy Theatre to Melbourne Central (and back again), and spend 18 days sitting in a cinema. For its 67th year, the Melbourne International Film Festival is back with its usual feast of features, documentaries, shorts, talks, experiments and more — although, given the enormous variety evident in each and every program, there's really no such thing as a 'usual' MIFF.
Running from August 2 to 19, the lineup includes 254 feature films, 120 shorts and 19 virtual reality experiences; however, the numbers don't quite do it justice. Amidst the wealth of movies and events on offer, you'll find an all-night Nicolas Cage movie marathon, a screening of Drive with a live soundtrack and an in-conversation session with Arrested Development's Alia Shawkat. And that's just the beginning.
Dreamy coming-of-age skateboarding flicks, searing explorations of sexual assault and perhaps the world's most loveable film star — they're all on the bill, plus a heartbreaking tale of a teen and his horse, Mads Mikkelsen getting frosty and an origin story of the Colombian drug trade, too. In fact, they all earned a spot in our must-see picks of the festival. Happy viewing.
ANGELS WEAR WHITE
Underneath a giant beachside statue of Marilyn Monroe, the residents of China's Hainan Island etch out a living serving the tourist trade. It's one that teenage maid Mia (Wen Qi) has fought for, and it's the only option that she has — but when she witnesses an incident involving two 12-year-old girls and a middle-aged man, more than her livelihood is placed in jeopardy. Producer-turned-director Vivian Qu (Black Coal, Thin Ice) may helm a poised and perceptive crime drama, but she doesn't hold back in layering Angels Wear White with anger, passion and a distinctively female perspective on corruption, power and sexual assault. Every frame leaves an imprint, both visually and emotionally, while actors Qi and Zhou Meijun (as one of the schoolgirls) play their parts to heart-wrenching perfection. Pro tip: we highly recommending watching Angels Wear White in close proximity to You Were Never Really Here, but prepare to feel absolutely shattered afterwards.
SKATE KITCHEN
Three years ago, Crystal Moselle's The Wolfpack was the talk of the film festival circuit, courtesy of its true tale of home-schooled teenage boys brought up by cinema and remaking their favourites every chance they got. Skate Kitchen proves a fitting follow-up, this time stepping into a skateboarding sisterhood on the streets of New York — a world Long Island 18-year-old Camille (real-life skater Rachelle Vinberg) yearns to belong to as an escape from her otherwise lonely existence. Drawing upon the talented members of the skate collective that gives the movie its name, Moselle turns her street-set coming-of-age effort into a dreamy portrait of kick flips, kicking around skate parks and carving out a place in a male-dominated realm. The struggle to fit in, find yourself and fight back against gendered expectations has rarely rolled by with such empowering energy, or with such an ethereal air either. And as an added bonus, Skate Kitchen also features the best performance of Jaden Smith's acting career.
PROTOTYPE
Almost seven decades since the first 3D film was screened to an audience, the format isn't going away. Forget the red-and-blue lenses needed to see the three-dimensional images of old, and forget items and arms reaching out of the screen towards viewers — that's not what Blake Williams' Prototype trades in. Rather, depth, experimentation, immersive spectacle and one hell of a head trip drives this stereoscopic effort, which starts with the Galveston hurricane of 1900 and then rides an astonishingly realised wall of water into its aftermath. A disaster becomes a sci-fi dreamscape when a glowing TV-like object starts projecting images, and the rest is best experienced by letting it wash over you. An example of 3D at its most inventive, artistic and adventurous, it's an audio-visual assault of the mesmerising type (but if the format gives you a headache, or you're sensitive to strobe lighting, consider yourself warned).
LEAN ON PETE
When 15-year-old Charley (Charlie Plummer) first meets Lean On Pete, it's friendship at first sight — the kind of unconditional, unspoken bond that can only spring up between a person and their favourite animal. In his third exquisitely tender and affecting effort this decade alone, writer/director Andrew Haigh charts the boy and steed's path as the former graduates from grappling with isolation to coping with tragedy, and the latter disappoints his owner (Steve Buscemi) at the racetrack. As he did in Weekend and 45 Years, Haigh's eye for internalised performances shines through once again, with Plummer rightfully earning awards for his sensitive portrayal. Indeed, the empathy the film shows not only for its protagonist and the titular animal, but for life in the margins in America's midwest, lingers long after Lean on Pete stops rolling.
STRANGE COLOURS
"You're not just bouncing around the country like a tennis ball, are you?" the ailing, cantankerous Max (Daniel P. Jones) asks his estranged daughter Milena (Kate Cheel) when she makes the 18-hour trip to visit him in hospital. She says she's en route to Alice Springs, but there's a mesmerising air about Lightning Ridge — as alluring as the opals Max and the community's other male inhabitants mine in the locale's peaceful bush surroundings, and as inimitable as the unmistakable sound of the Australian vernacular dripping off Max and his buddies' tongues. The same can be said about this debut feature from Australian writer/director Alena Lodkina, which premiered at last year's Venice Film Festival. Shot with striking poetic naturalism worthy of its title, Strange Colours is as much about the mood of its characters and of the distinctive Australian landscape as it is about its slight but rewarding and revealing narrative.
BISBEE '17
After combining fact with fiction in Kate Plays Christine, filmmaker Robert Greene tells another true tale in an untraditional way. It's another account of darkness, dating back to 1917 when the townsfolk of Bisbee, Arizona held guns at nearly 2000 striking workers, rounded up the mostly Mexican and European group, and forcing them out into the desert. Interrogating the obvious horrors of the incident, as well as recognising its parallels with some of the behaviour and rhetoric present in American society today, Greene works with Bisbee locals to restage the event. The results are as powerful to watch as they clearly are for those taking part, in a multi-layered documentary that uses everything it can to excavate the past — music, re-enactment and a probing approach included.
BIRDS OF PASSAGE
Forget Narcos, Sicario and every other vision of the South American drug trade — with Birds of Passage, Colombian-born filmmakers Ciro Guerra and Cristina Gallego explore the origins of the country's illicit industry. If they bring even half the detail and artistry to this as they did to Embrace of the Serpent (which the former directed and the latter produced), then audiences are in for a stunning tumble into territory that might sound familiar on paper, but is certain to prove otherwise on-screen. Narrative-wise, the film tells the tale the Wayúu family. It's the 1970s, marijuana is a booming business, but their traditional ways start to crumble in the face of their pot-plying success. Guerra's work is usually something to experience, rather than a movie to merely see, and his latest promises just that once again.
FIRST REFORMED
Ethan Hawke is all over this year's MIFF. No, we're not complaining. He stars in Nick Hornby adaptation Juliet, Naked. He directed music biopic Blaze. And he's also at the centre of First Reformed, in what's being called the best performance of his career — or one of them, at least. In the latest film by writer/director Paul Schrader (screenwriter of Taxi Driver and director of Light Sleeper, among others), Hawke plays a pastor asked to help a parishioner, only to become haunted by his own past. Crises of faith might be a surprisingly common topic on-screen, but this contemplation of spirituality's many soul-shattering complexities has been earning rave reviews on the festival circuit for almost a year now.
ARCTIC
The survivalist film genre gets another entry with none other than Mads Mikkelsen leading the charge. As Overgård, the Danish star crashes his own plane, watches the helicopter sent to save him also plummet to the ground, and is then tasked with not only trudging his way out of the ice to save his own life, but taking a wounded woman with him. It's the first film by Joe Penna, the man behind YouTube channel MysteryGuitarMan, and Arctic comes complete with Mikkelsen at his finest, a gripping mood of tension and a jaw-dropping frosty setting. And if there's one thing that all of these survivalist movies keep proving, it's that there's a reason the powers-that-be keep bringing compelling tales of human endurance and perseverance to the screen.
THE FUGUE
Ravenous singing mermaids might've filled Agnieszka Smoczyńska's last feature, The Lure, but The Fugue jumps into another pool completely. Still, it's the sheer ambition and unhinged nature of her first film that makes anything this Polish filmmaker dreams up worth watching. This time around, she spins a story of an amnesiac woman trying to remember her identity, and trying to work out her feelings about the person that she discovers. Written by star Gabriela Muskała, it's actually inspired by a true story, which also promises to ensure this suspenseful take on the psychological thriller genre transcends its ostensibly seen-before set-up.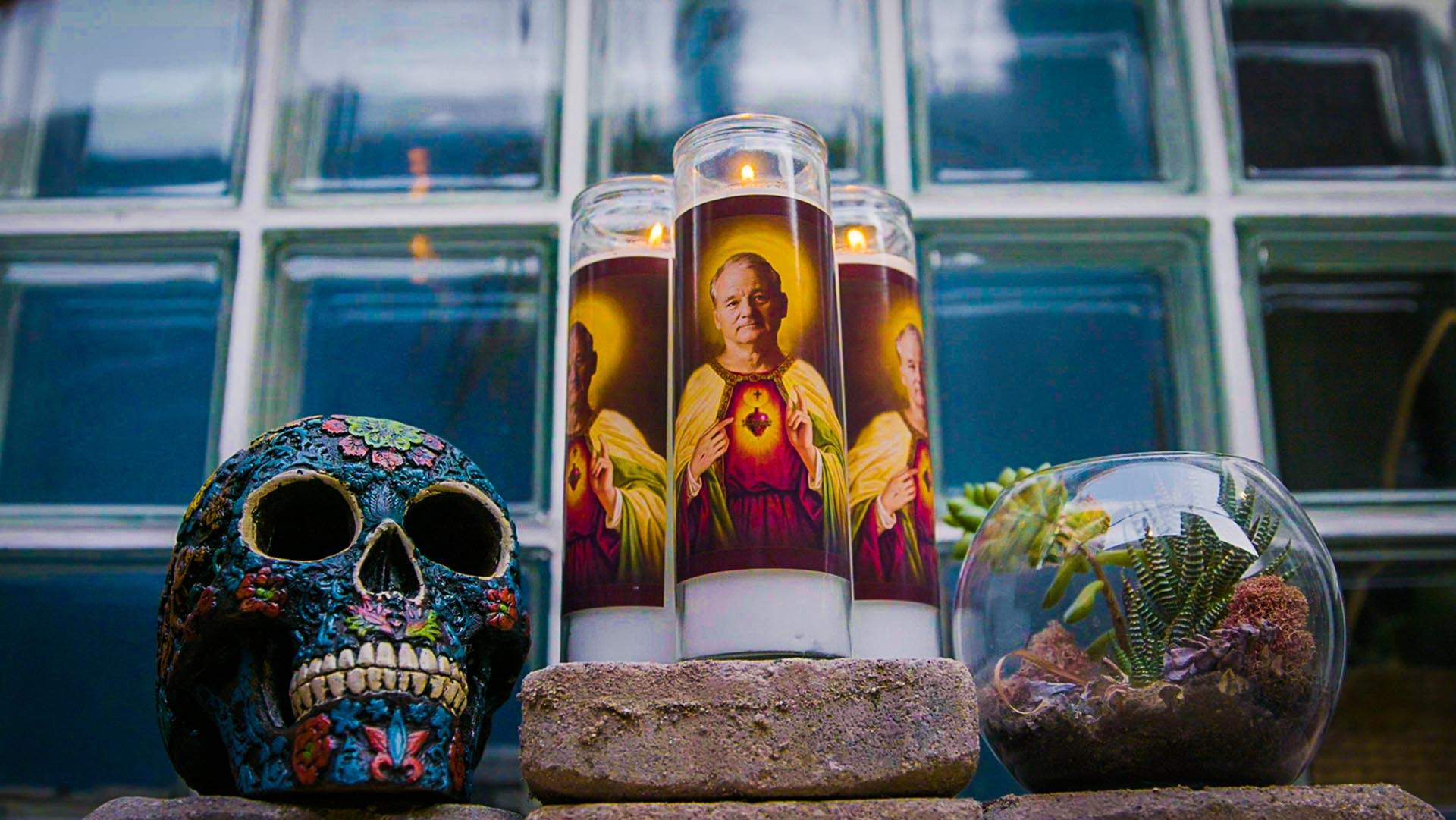 THE BILL MURRAY STORIES: LIFE LESSONS LEARNED FROM A MYTHICAL MAN
Admit it, this film just jumped to the top of your must-see list for a very obvious reason. Who doesn't want to watch a documentary about Bill Murray — the man, the myth, the master — after all? When he's not voicing animated dogs and preparing to hit Australia's stage, the actor has amassed quite the collection of tales about his activities, with accounts of his everyday antics with everyday folks popping up frequently. It's these urban legends that director Tommy Avallone examines as he follows in the star's supposed footsteps. And if you're wondering what's true, what isn't, and how much Bill Murray is too much (if that's even possible), then let The Bill Murray Stories: Life Lessons Learned From a Mythical Man answer that for you.
Still need to fill a few spots on your mini pass or passport? We've already cast our eye over plenty of other films from this year's MIFF program. 1% and Undertow made our list of Australian highlights for the year, while Damsel, The Tale, Kusama - Infinity, Pity and Mandy ranked among the films we were most looking forward to from Sundance.
From the Berlinale, we recommended The Green Fog, Profile, An Elephant Sitting Still, Transit, Museum and Aga, and Happy as Lazzaro sparked excitement in our Cannes rundown. Before the Sydney Film Festival, we eagerly anticipated [CENSORED], Mirai, Juliet, Naked, Jirga, Rafiki and I Used to Be Normal: A Boyband Fangirl Story. During the fest, we loved Cold War, The Miseducation of Cameron Post and Piercing. And afterwards, Leave No Trace, The Rider, Burning, Shoplifters, The Guilty, Climax and Tyrel ranked among our highlights.
Plus, there's also Let the Corpses Tan, You Were Never Really Here, Caniba, Zama and Diamantino, which were all among our Queensland Film Festival picks.
The Melbourne International Film Festival runs from August 2 to 19. For more information and to buy tickets, visit the MIFF website.
Concrete Playground Trips
Book unique getaways and adventures dreamed up by our editors