The Must-See New 'A League of Their Own' Series Gives the Beloved 90s Movie a Worthy Extra Innings
Brought to the small screen by 'Broad City' star Abbi Jacobson, this heartfelt remake broadens its playing field, exploring race and sexuality in 1940s America.
The year: 1943. The place: America. The sport: baseball. Misty faces: apparently not allowed. Yes, there's no crying in baseball, again — and yes, after proving a hit on the big screen back in 1992, A League of Their Own is back as an eight-part streaming remake with those firm thoughts about waterworks still intact. That said, in both versions, there definitely are tears in the sport. Someone proclaims there shouldn't be, although Tom Hanks doesn't do the honours the time around. And, when it arrives in Prime Video's series, which is streaming its first season in full from Friday, August 12, that line isn't code for the entire perspective that A League of Their Own is rallying against: that the bat-swinging pastime isn't for women anyway.
The new A League of Their Own's characters are still forced to deal with that abhorrent view, however. The same storyline, and the same societal journey — starting with horrified newspaper editorials about the masculinisation of women, then building to excited crowds embracing the All-American Girls Professional Baseball League — slides through the show's frames, too. Indeed, much is familiar, including a small-town star catcher chasing her lifelong dream while her husband serves in the Second World War, a ragtag group of other women living their fantasies as well, a world that sees them as a joke and a male manager who used to be a major star but is only in this gig to restart his own career. But Broad City's Abbi Jacobson, who leads, co-writes and co-created this A League of Their Own, helps ensure that the series broadens its playing field. Bringing the show to fruition with Mozart in the Jungle's Will Graham, she anchors a do-over that covers a far wider range of bases.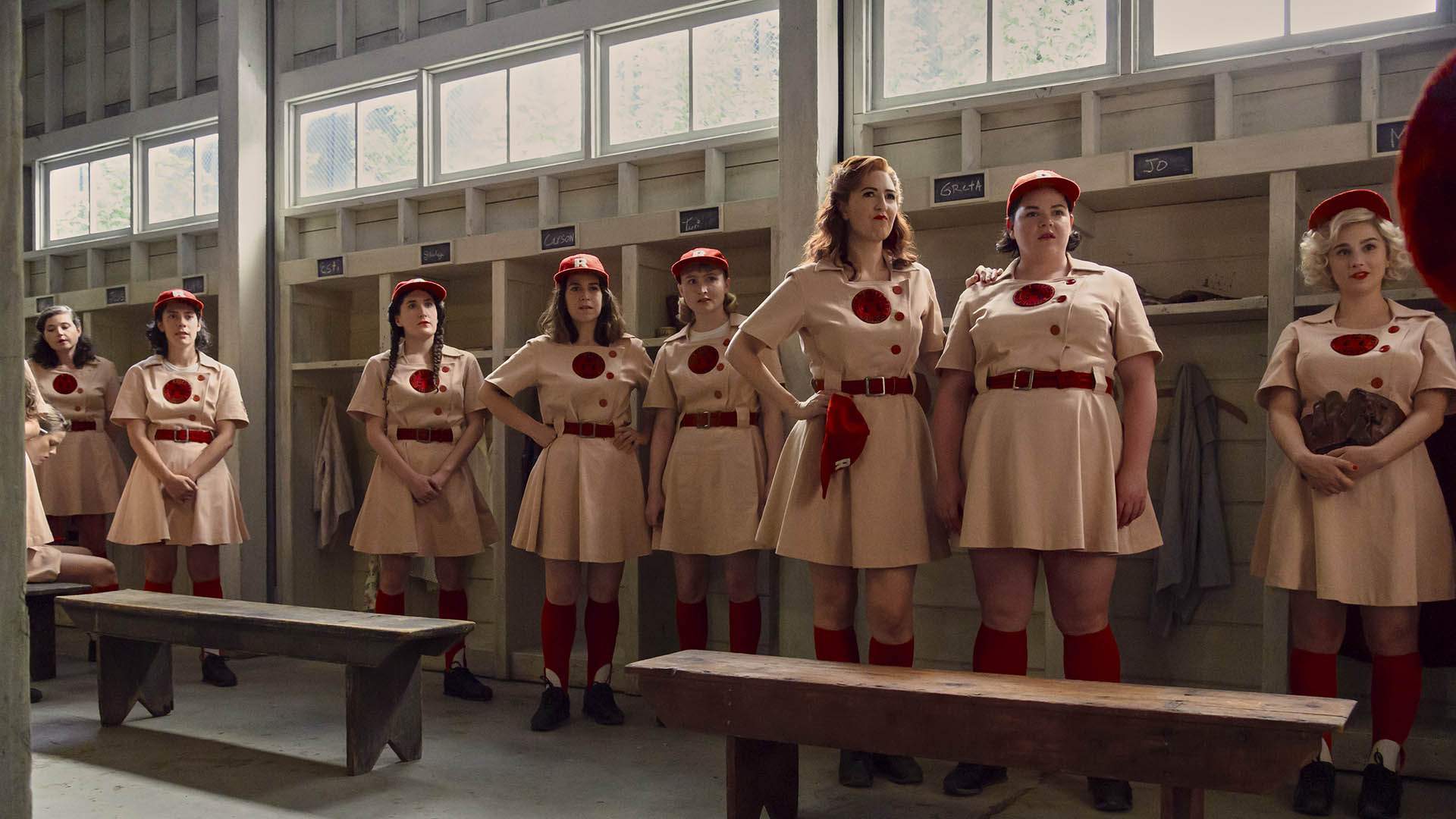 In the original Geena Davis, Lori Petty, Madonna and Rosie O'Donnell-starring film — which did initially spark a short-lived TV spinoff in 1993, continuing the movie's story but without its best-known stars — a pivotal moment happens early. Alas, it lasts mere seconds and doesn't go anywhere. At the Chicago AAGPBL tryouts, a Black woman (DeLisa Chinn-Tyler) tosses back an overthrown ball, and it's clear that she isn't permitted to be a part of this realm. A League of Their Own circa 2022 takes this idea and keeps lobbing it, dedicating half of its time to Max Chapman (Chanté Adams, Voyagers). While an immensely talented pitcher, she isn't allowed to audition, let alone play, due to her race. Back home in Rockford, she can't get a game either because she's a woman, even when she takes a job at the town screw factory in the hopes of joining the company team.
Max's attempts to even get on the mound, a quest that's supported by her comic book-loving best friend Clance Morgan (Gbemisola Ikumelo, The Power) but frowned upon by her salon-owning mother Toni (Saidah Arrika Ekulona, Better Call Saul), are as much a focus as the Rockford Peaches' on- and off-field exploits. That's the team that the anxious Carson Shaw (Jacobson) is recruited to alongside lifelong pals Greta Gill (D'Arcy Carden, The Good Place) and Jo De Luca (Melanie Field, The Alienist) — plus everyone from non-nonsense pitcher Lupe Garcia (Roberta Colindrez, Vida) and the similarly dedicated Jess McCready (Kelly McCormack, George & Tammy) through to fellow teammates Esti González (Priscilla Delgado, Julieta), Maybelle Fox (Molly Ephraim, Perry Mason) and Shirley Cohen (Kate Berlant, Search Party).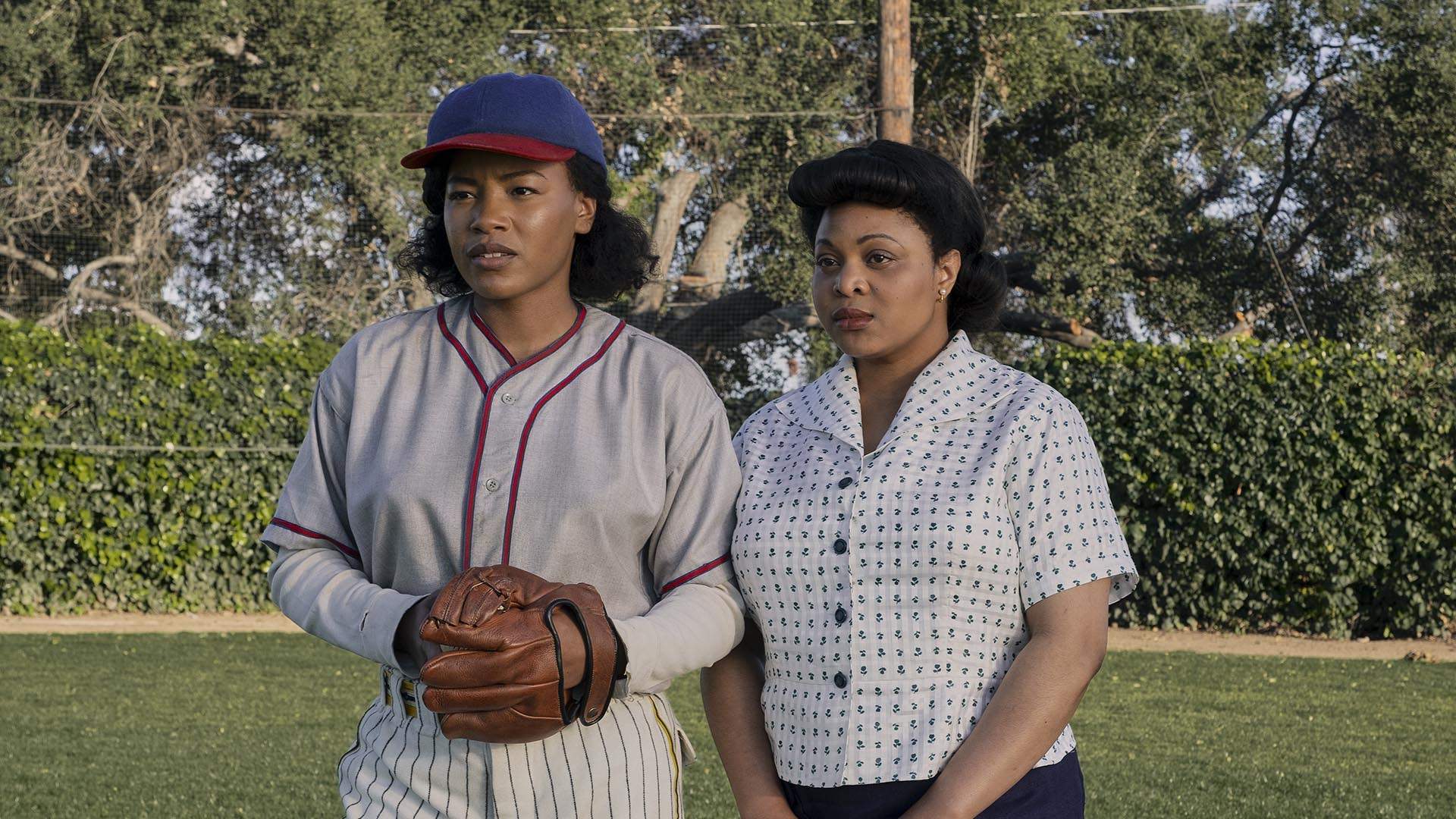 Just as in the OG movie, the Peaches' path to baseball success is bumpy. A chaperone (Dale Dickey, Palm Springs) oversees their every move, enforcing rules about drinking, dating and not wearing pants in public — and manager Dove Porter (Nick Offerman, The Resort) mightn't be the drunk that the film's equivalent was, but he also doesn't take the team seriously. Deportment lessons and makeovers are more important to the higher-ups than gameplay, and the whole league just a way for a candy bar mogul (Kevin Dunn, King Richard) to sell tickets to his baseball field while male baseballers are off at war. That's A League of Their Own's overall framework, which tweaks specific character beats but sticks to the same general match plan as its predecessor. Fleshing out the details couldn't be more important, thankfully, including exploring the reality of being a queer woman in the era.
Again, that's a glaring omission in the 1992 feature — a beloved sports comedy by director Penny Marshall (Big) that's warm, spirited and charming, yet only nods to queer players via subtext. The new series is determined to redress that gap, exploring same-sex relationships across both Carson and Max's halves of the show, and painting a clear portrait of how fraught life was at the time if you were anything other than a straight, white, married and stereotypically feminine homemaker. Being more inclusive and honest can't lift a remake all on its own; however, it gives this batch of A League of Their Own characters more depth and emotional resonance. In all of its guises, this has always been a story about finding and owning your own park, and surveying the wide array of obstacles in these women's ways — not just sexism, but racism and homophobia as well — is crucial in providing the full picture.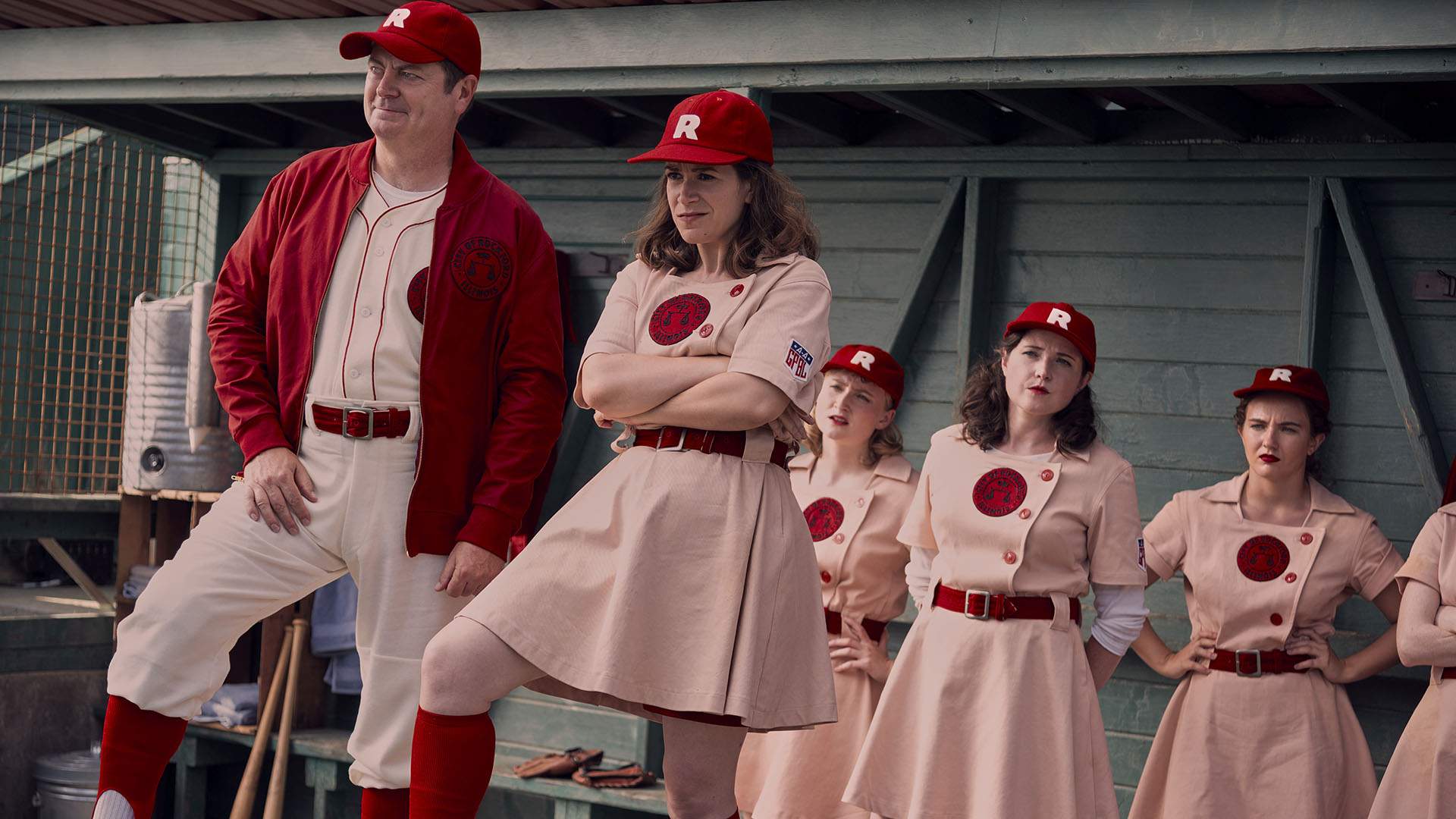 Making A League of Their Own today but keeping 1990s or 1940s sensibilities would've been pointless, of course. In what proves a worthy extra innings, there's never any doubt that the new series is firmly a 2022 creation, as echos through in its dialogue. Rather than feeling anachronistic, even in big speeches that encourage the team to make things epic, it helps build the sense that Carson, Max, their respective pals and their individual plights weren't ever allowed to fit in neatly at the time. It also befits a show that reconsiders as much as it remakes its source material, and that has more than a little in common with another unrelated streaming effort about women finding themselves while navigating a traditionally male-dominated sport: the cancelled-too-soon wrestling-focused Netflix gem GLOW.
A League of Their Own's gorgeous ladies of baseball span an impressive cast — so much so that the series deserves a second season to bring them all back. Jacobson's first starring role after Broad City isn't a stretch, but her brand of awkwardness and uncertainty also wasn't a twenty-first century invention, something else this show implicitly acknowledges. A separate program could've been made around Adams and the scene-stealing Ikumelo, even without the A League of Their Own brand attached. And Carden continues to improve everything she's in, including when it's already excellent (see also: The Good Place, naturally, and also Barry and her one-episode part in Killing It). Colindrez, McCormack, Dickey, Berlant: they hit it out of the park, too. Being glad that A League of Their Own has a heartfelt show of its own with them in it, and roving fresh eyes over the past, is as easy as cheering for a home run.
Check out the trailer for A League of Their Own below:
A League of Their Own streams via Prime Video from Friday, August 12.
Concrete Playground Trips
Book unique getaways and adventures dreamed up by our editors