'Prehistoric Planet' Is As Spectacular As a David Attenborough Series About Dinosaurs Should Be
Welcome to... an informative, David Attenborough-narrated look at dinosaurs roaming the earth, all thanks to Apple TV+.
Five nights, one familiar and comforting voice, and a time-travelling trip back 66 million years: that's the setup behind new five-part series Prehistoric Planet. Dropping one episode per evening on Apple TV+ between Monday, May 23–Friday, May 27, it's a feels-like-you're-there dive into natural history that's thoroughly remarkable. Having none other than David Attenborough narrate the daily activities of dinosaurs really seems like it should've happened already, of course; however, now that it finally is occurring — and landing in your streaming queue, too — it's always both wonderful and stunning.
The reason that a show like Prehistoric Planet hasn't existed before? Given the astonishing footage that usually accompanies Attenborough's nature docos, replicating those visuals while jumping backwards to a time when dinosaurs roamed the earth was always going to be a tricky feat. But if photorealistic versions of The Jungle Book and The Lion King can bring talking animals to life — one more convincingly than the other — then the same technology can make ancient creatures look as if they're roving across the globe now. Indeed, after helming that pair of features, filmmaker Jon Favreau is one of the Prehistoric Planet's executive producers. Also, the effects company behind the two Disney movies does the CGI honours here.
That task isn't a simple one. If the Cretaceous-era dinosaurs rampaging across the screen didn't appear like they genuinely could be walking and stalking — and fighting, foraging for food, hunting, flying, swimming and running as well — the magic that typically comes with watching an Attenborough-narrated doco would instantly and disappointingly vanish. Thankfully, Prehistoric Planet never looks anything less than spectacular. You won't quite forget that the creatures it surveys no longer exist, but you won't feel as if you're simply watching pixels crash into pixels (or like you're sitting down to a new entry in the Jurassic Park franchise, either).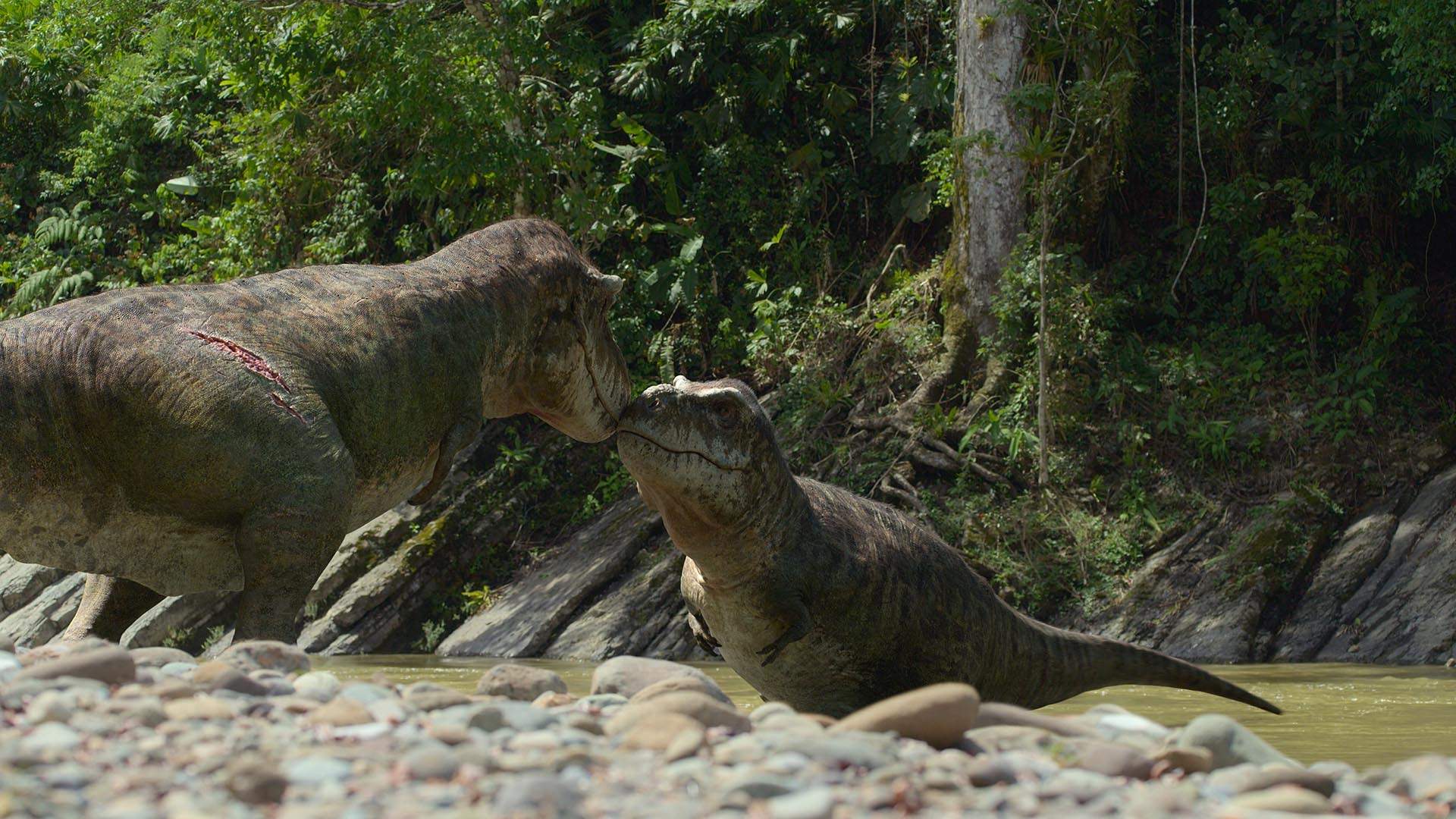 Prehistoric Planet starts each episode with the same introduction, including the only glimpse of humanity that ever graces its frames. In its opening two-minute clip, David Attenborough stands in front of a Tyrannosaurus rex fossil. Unsurprisingly, the now 96-year-old couldn't seem more excited. He doesn't ever utter the words "welcome to...", as his brother Richard Attenborough did almost three decades back in the first Jurassic Park film. The world has heard that phrase far too many times since for it to pop up here and play like anything but a gimmick. But he's as overjoyed as his sibling was at the beginning of that now-classic feature. Luckily, things turn out better in this streaming series — there's no human casualties, obviously — than they have in cinemas.
Welcome to... your new insight into Tyrannosaurus rex foreplay, your latest reminder that velociraptors really don't look like they do in the Jurassic Park and Jurassic World flicks, an entertaining time spent with al kinds of animals, and your next favourite dinosaur project with an Attenborough attached. Each of Prehistoric Planet's five instalments focuses on a different type of terrain — coasts, deserts, freshwater, ice and forests — and chats through the creatures that call it home. Set to a spirited original score by Hans Zimmer, fresh from winning his latest Oscar for Dune, there's a formula at work. That said, it's no more blatant than in any David Attenborough-hosted show. Viewers watch as some dinos look after their young, others try to find a mate, plenty search for something to eat and others attempt not to be eaten. The same kinds of activities are covered in each episode, but the locations and dinosaurs involved all change.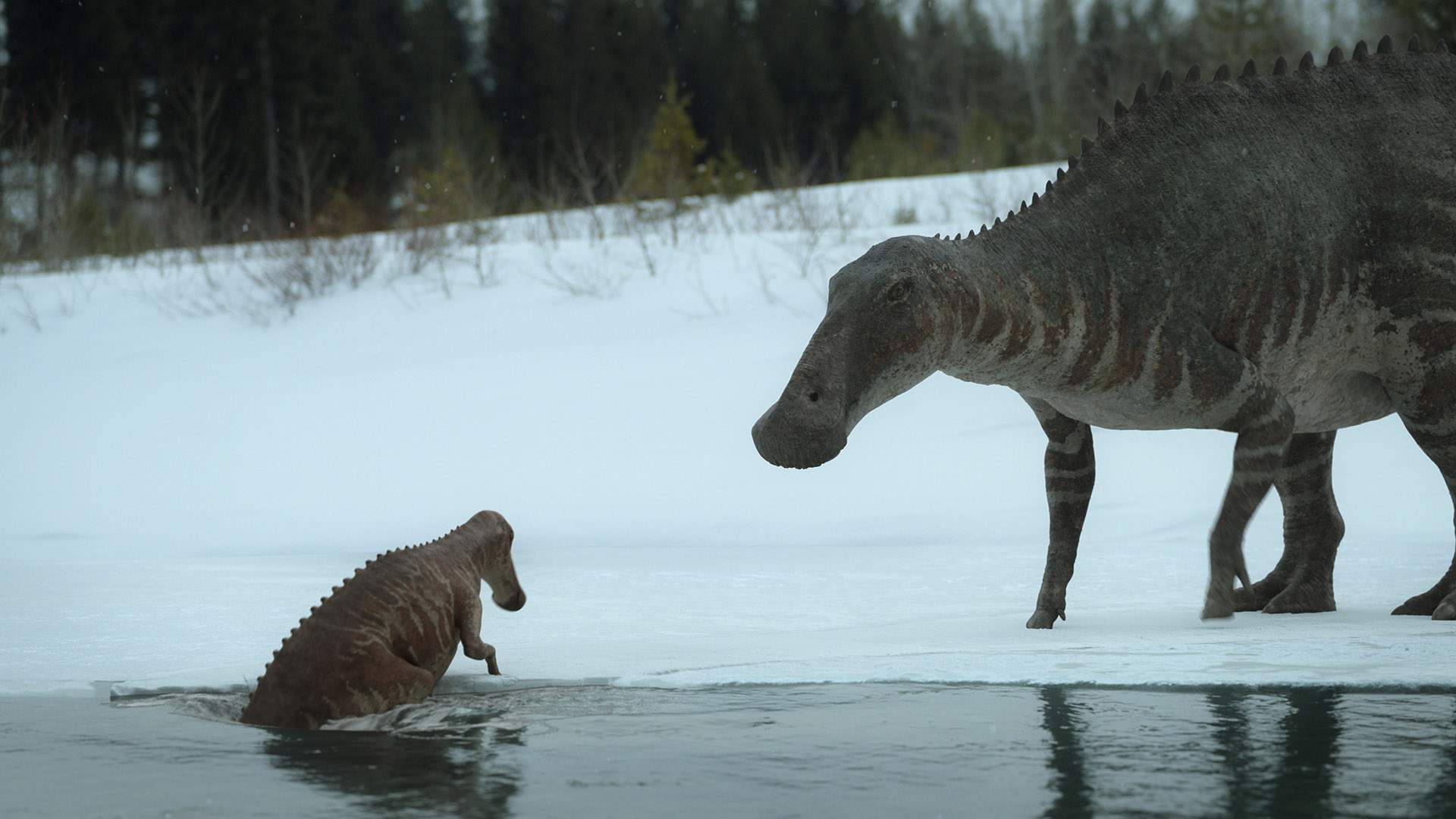 The result: as engaging a series as Attenborough has ever fronted, and one that's frequently astonishing. And yes, given the broadcaster, biologist and natural historian's impressive on-screen resume — including past shows The Living Planet, State of the Planet, The Blue Planet, Frozen Planet, Blue Planet II, Our Planet, Seven Worlds, One Planet, A Perfect Planet and Green Planet, plus Planet Earth and Planet Earth II, and documentary David Attenborough: A Life on Our Planet — that's saying something.
Attenborough is as careful and educational in his observations as ever here. This far into his career, with credits spanning eight decades, he could've just nattered away on autopilot — but that's never his approach. He's as respectful of the critters he's talking about as he's ever been, too. And, he's clearly as keen to provide viewers with the type of details that wouldn't resonate with anywhere near as much power and importance if they were to simply read them themselves.
Sometimes, Prehistoric Planet is amusing, with Attenborough's wry sense of humour shining through. At other times, it's ridiculously cute, as watching any kind of animal can be. It's thrilling and eye-opening as well — and, a plethora of times per episode, it makes it easy to see how behaviours we see today, both in people and in the animals we presently share the earth with, have their foundation in these ancient beasts. Of course, in that repeated introduction, Attenborough stresses that Prehistoric Planet hails from scientific learnings about dinosaurs. Accordingly, the series doesn't merely look naturalistic, but actively works to serve up a meticulous nature documentary about its creatures of choice in every single way it can. That's an aim it easily achieves; no dive into the lives of dinos has felt as gloriously immersive as this.
Check out Prehistoric Planet's full trailer below:
Prehistoric Planet streams via Apple TV+ across Monday, May 23–Friday, May 27, with a new episode available to watch each day.
Concrete Playground Trips
Book unique getaways and adventures dreamed up by our editors