ARTS & ENTERTAINMENT
Ten Must-See Films at the Melbourne International Film Festival 2017
From Tribeca Film Festival's best doco to Greek weird wave, Melbourne-set coming-of-age horror and an animated account of sexual taboos in Islamic society.
"There's nothing to watch" is something Melburnians can't reasonably utter in August. When the Melbourne International Film Festival rolls around for its 66th instalment between August 3 and 20, it'll bring with it a whopping 358 films in total, representing 68 countries, and including 251 features, 88 shorts, 17 virtual reality experiences and 12 talks.
Indeed, this year's lineup offers up everything from tense wilderness treks to science fiction retrospectives and all-night marathons, plus all of the Cannes hits and virtual reality aplenty. And, that's just a taste of the jam-packed program that'll be taking over the city's screens. As for what else you should feast your eyes on while you're ostensibly living in a cinema come MIFF time, here are our must-watch recommendations.

If we could only see one film at this year's MIFF, this would be it. One of the Greek weird wave's leading voices, Yorgos Lanthimos makes the kind of movies that audiences either love or hate — Dogtooth, Alps and The Lobster — but if you fall into the first category, his films are compulsory viewing. Dark, absurd, scathing and insightful is his niche, which The Killing of a Sacred Deer promises to fit into nicely. Reuniting with Colin Farrell, and enlisting Nicole Kidman, Alicia Silverstone and Dunkirk's seafaring Barry Keoghan as well, Lanthimos' latest charts a strange friendship between a doctor and a teenager. Thoroughly intrigued.
After making the best Australian documentary of 2014 — skating effort All This Mayhem — filmmaker Eddie Martin returns with another distinctively local story. This time, he's jumping into quite the creative juxtaposition in Brisbane, where street artist Anthony Lister was once encouraged to paint dozens of the city's traffic signal boxes, only to be taken to court by them on graffiti-related charges 15 years later. The tale that unravels between those two extremes is one of ups and downs, which Martin captures in candid detail. Whether you've seen his Brissie work, his large-scale gallery pieces or are new to Lister's output, this probing portrait is essential viewing.
If rare chances to see seldom screened classic films is your idea of film festival fun, then coming-of-age horror effort Celia should definitely be on your MIFF list. Newly digitally restored by the National Film and Sound Archive, the Melbourne-set movie takes '50s communist paranoia, a rabbit plague and a grief-stricken nine-year-old, throws in visions of scary monsters, and comes up with a politically astute examination of growing up and navigating Australian suburbia. The debut feature from Aussie filmmaker Ann Turner, it screens as part of MIFF's ace Pioneering Women retrospective.
Trailblazer Agnes Varda is a genuine filmmaking treasure. The Belgian-born director made her first feature in 1955, was an instrumental part of the French New Wave, and turns in her latest documentary at the age of 89. Called Faces Places, it whisks the delightful Varda and street artist JR on a tour of rural France, with the duo not only taking photos — and driving around in a van kitted out as a mobile photography lab — but leaving them wherever they go. The end result shapes up as a snapshot not only of the countryside they're travelling through and its inhabitants, but of the pair at the centre of the doco.
Think Japanese animation, and Studio Ghibli instantly comes to mind thanks to their gorgeous visuals, expert handling of story and emotion, and all-round enchanting vibe. In This Corner of the World isn't a Ghibli film, but saying that it feels like one really is the highest praise we can muster. Indeed, writer/director Sunao Katabuchi was an assistant director on Kiki's Delivery Service, however, his latest effort is all his own. Exploring the life of a teenager wed to a young naval clerk in Hiroshima, the World War II-set movie is as poetic as it is perceptive as it combines a coming-of-age tale with a personal account of times of combat.
Director Miguel Arteta and writer Mike White last joined forces on acclaimed TV series Enlightened, so saying that their latest collaboration is eagerly anticipated is a bit of an understatement. And, they're just some of the talented folks involved with Beatriz at Dinner, which stars Salma Hayek as the titular character, and also features John Lithgow, Chloë Sevigny, Connie Britton and Jay Duplass. As the name gives away, an evening meal is on the menu — and as anyone who has seen a dinner-set flick can predict, so is quite the social satire. Come for a great performance by Hayek, stay for a timely comedic look at the state of modern America.
Twin Peaks fans, rejoice. MIFF mightn't be screening the best thing to hit TV this year, but it does have the big screen Harry Dean Stanton and David Lynch collaboration you didn't know you needed. Directed by actor turned first-time filmmaker John Carroll Lynch (Zodiac), Lucky follows an elderly man's interactions with his fellow residents in a small desert town. It shouldn't come as a surprise that it was actually written with the now 91-year-old Stanton in mind.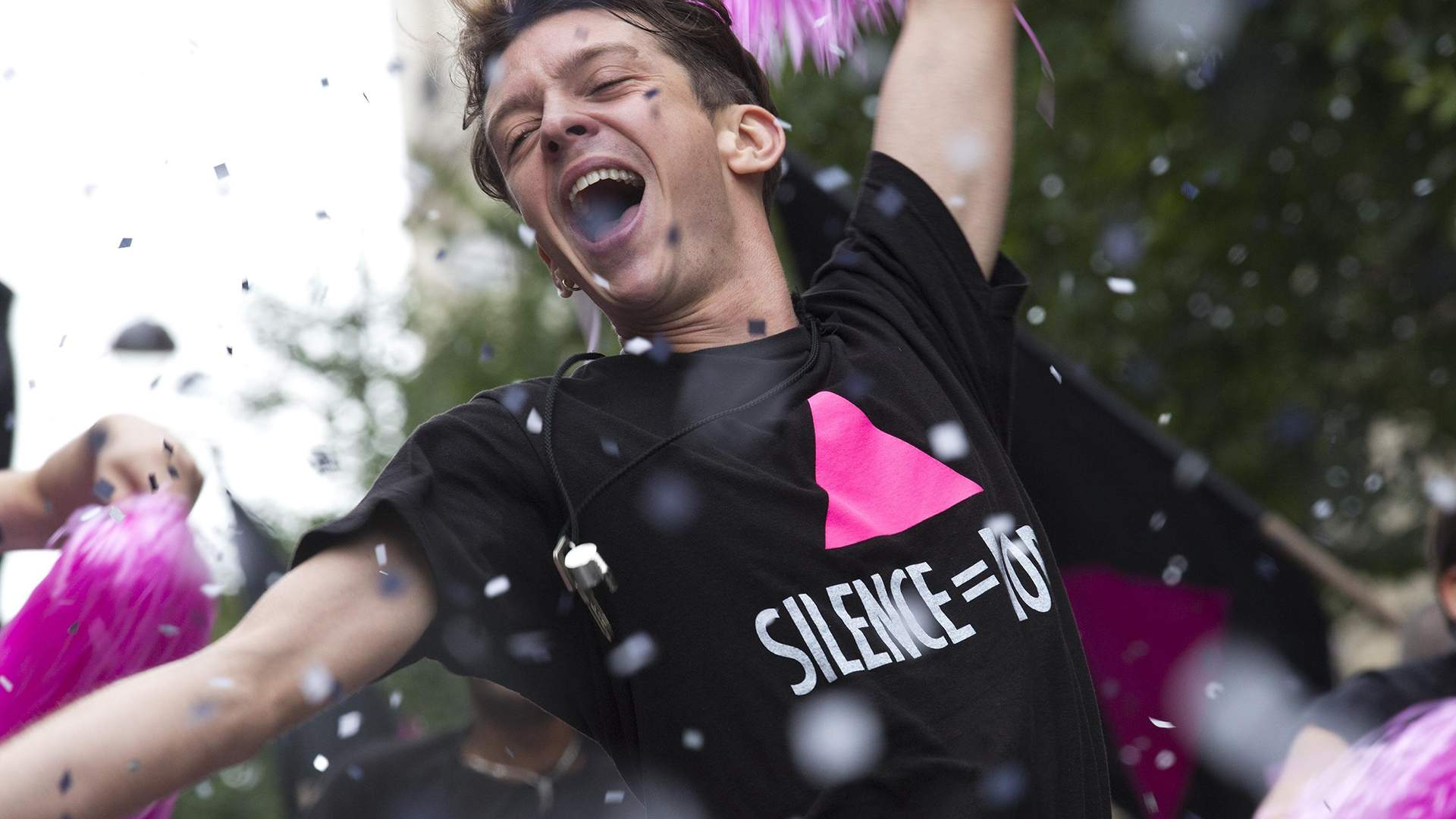 Taking out two top awards at this year's Cannes Film Festival — the Grand Prix and the Queer Palm — BPM dives headfirst into the world of '80s AIDS activism. Drawing upon his own experiences as a member of advocacy group Act Up-Paris, Eastern Boys filmmaker Robin Campillo steps back into the fight for recognition, medical treatment and fairness, charting the changes that spring when a new member joins the group. Given the writer/director/editor's personal ties to the material, and the general topic, expect a film seething with passion, authenticity and urgency.
It's not every day a filmmaker crafts an animated account of sexual taboos in Islamic society — and it's not every day that audiences get to see one either. The first film by Iranian-born, Germany-based director Ali Soozandeh, Tehran Taboo lifts the veil on the reality of life for three women coping with everyday oppression. Here, a sex worker, a trapped wife and a struggling musician share their stories, in a feature that shines an unblinking light on repression, corruption and double standards through the use of abstract animation.
Named best documentary at this year's Tribeca Film Festival, and receiving awards for cinematography and editing as well, Bobbi Jene dissects the story of American dancer Bobbi Jene Smith. A star at the Batsheva Dance Company in her teens, her life proves significantly different a decade later as she endeavours to chase new dreams and find her place in the world. While that might sound familiar, it's the intimacy and honesty of Elvira Lind's doco that has won the film fans — and is helping this dance-focused portrait pirouette its way to the top of the genre.
Still have some room on your mini-pass or passport? Don't worry, we have more picks. We've been buzzing about quite a bit of MIFF's program for a while now — and we've already seen some of it — but we'll try to keep it brief.
From the international festival circuit, Sundance titles we've been keen on include Ingrid Goes West, Beach Rats, I Dream in Another Language, Marjorie Prime, Step, Patti Cakes, Tokyo Idols, Axolotl Overkill, 78/52 and The Nile Hilton Incident, while SXSW's Song to Song and Most Beautiful Island also have our tick of approval. And, we saw and loved Call Me By Your Name, A Fantastic Woman, The Party, On Body and Soul, Spoor, I Am Not Your Negro, On the Beach at Night Alone and God's Own Country at Berlinale. We've also been eager for Wonderstruck since it played at Cannes.
Closer to home, we were bubbling over about The Untamed, Spookers, Mountain, In the Fade and Otherlife before this year's Sydney Film Festival — and about Ali's Wedding, Good Time, The Square, Austerlitz and Brigsby Bear afterwards. Queensland Film Festival's Claire's Camera, The Endless and Nocturama got us running to the cinema, while Melburnians can catch the Scandinavian Film Festival's Sami Blood at MIFF as well.
Plus, don't forget opening night's Jungle and Michael Haneke's Happy End too. Yes, we've just added even more flicks to your MIFF must-see list — but you do have 18 days of cinema viewing to fill.
The 2017 Melbourne International Film Festival runs from August 3 to 20. To view the complete program and buy tickets, visit the MIFF website.
Published on July 25, 2017 by Sarah Ward