A Look Down the Rabbit Hole at ACMI's Wondrous World-First Wonderland Exhibition
Yes, there's a Mad Hatter's Tea Party – and there's also much, much more than that.
Head down to the Australian Centre for the Moving Image in the coming colder months and chances are — short of actually falling down a rabbit hole, because there are health and safety measures in place — you'll spend a couple of hours flitting about in Wonderland. Now on display at ACMI until October 7, the new exhibition celebrates Lewis Carroll's timeless Alice in Wonderland stories.
Running as part of the Victorian Government's Melbourne Winter Masterpieces series, Wonderland casts a wide net over the history and evolution of Alice, both in literature and on our screens. Sailing all the way back into the late 1800s to mark the very first sketches of the character, which led in turn to the first silent, black-and-white film of Alice in 1903, the exhibition leads a strollable path all the way through until Tim Burton's 2010 take.
Visitors are handed a 'Lost Map of Wonderland' to navigate their way around: both a physical guide and a digital prop, it unlocks interactive parts of the exhibition — so keep it handy. From getting lost in the Hallway of Doors, perusing old prototypes and ancient scribbles that became Carroll's tangible character, to sitting yourself down at an entirely digitally projected Mad Hatter's Tea Party, there's be something to see here even if you're not an original Alice fan.
Here's a list of the best five somethings we stumbled on while walking the wonderland trail — some will make you laugh, some might make children cry, but we think they'll all confirm Alice's role as an adventurous and enduring screen and literary icon of our time.

EARLY ALICE SKETCHES THAT PAVED THE WAY FOR WONDERFUL FILMS
The first section of the exhibition, Hallway Of Doors, contains — as you can probably imagine — more doors than strictly necessary. The idea here is to open, shut and explore, and you'll find yourself stumbling into rooms containing a plethora of late-1800s preliminary sketches by John Tenniel, who illustrated the original edition. You'll also find photos of the real-life Alice Liddell, who was said to be Lewis Carroll's inspiration for the stories.
A couple of things to note: the real Alice had brown hair, so the blonde was a later fictive addition, and don't forget to open the drawers in the walls too — they're also full of interesting nuggets. As part of Alice's development throughout modern times, Tenniel's sketches helped lead to Cecil Hepworth's 1903 silent film Alice in Wonderland. Playing in a movie room you'll find yourself walking into (through, of course, another door), it's a fascinating look back not only at the Alice canon, but at early film as well.

THE MAD HATTER'S TEA PARTY
You're beckoned into a white room and sat down at a white table filled with white cups and saucers. Looks like a bit of a beige tea party, really. But then the projections start: a stunning digital display sets up the walls as lurid forestry, and the table as stuffed full of food and treats.
It's all projected — a trail of ants across the settings included — and it'll leave your head spinning, especially when you factor in the plates turning into clocks at the end. There was always going to be a tea party at this exhibitio, but this proves weird, wonderful and very clever.

THE UNSETTLING SIDE OF ALICE
Just like some aspects of what Alice has encountered in Wonderland, it's not all sunshine and roses at the exhibition. Next you'll enter the section "The Rabbit Sends in A Little Bill", and any children you're walking through with will probably be hushed.
A demonstration of the darker places that filmmakers have taken Alice, the most intriguing pick of the bunch is Jan Švankmajer's take on the tale. The Czech director and his wife Eva collaborated on his Alice in 1988, creating some terrifying imagery including strange skulls, teethy fish in wigs and creepy dolls (nope), as well as giving a whole host of young children with some enduring nightmares. It's fascinating though, and certainly on the darker side of the scale versus the Disney-esque, whimsy laden interpretation of Alice.

YOUR MAP IS PART OF THE EXHIBITION
A guide you will definitely want to hang on to, you scan your map at the very start to see which pal will be accompanying you through the exhibition: mine was the Cheshire Cat, and at particular places I got to match my map up to the checkpoints and see the cool cat projected onto the actual map digitally. It's a cleverly used motif — and it's a pretty nice bonus to see your own character dancing around on a piece of paper.
For those wishing there was even more interactivity and the chance to have a bit of a craft throwback, when you get to the Queen's Croquet Ground, you can cut out a character from disembodied parts and stick it onto your map, which then gets digitally fed into a projected screen of rose bushes. Next, your created character — with your real head, photographed and stuck on top — dances across the screen painting roses. It's great fun, and kids and adults alike will have a grand old time.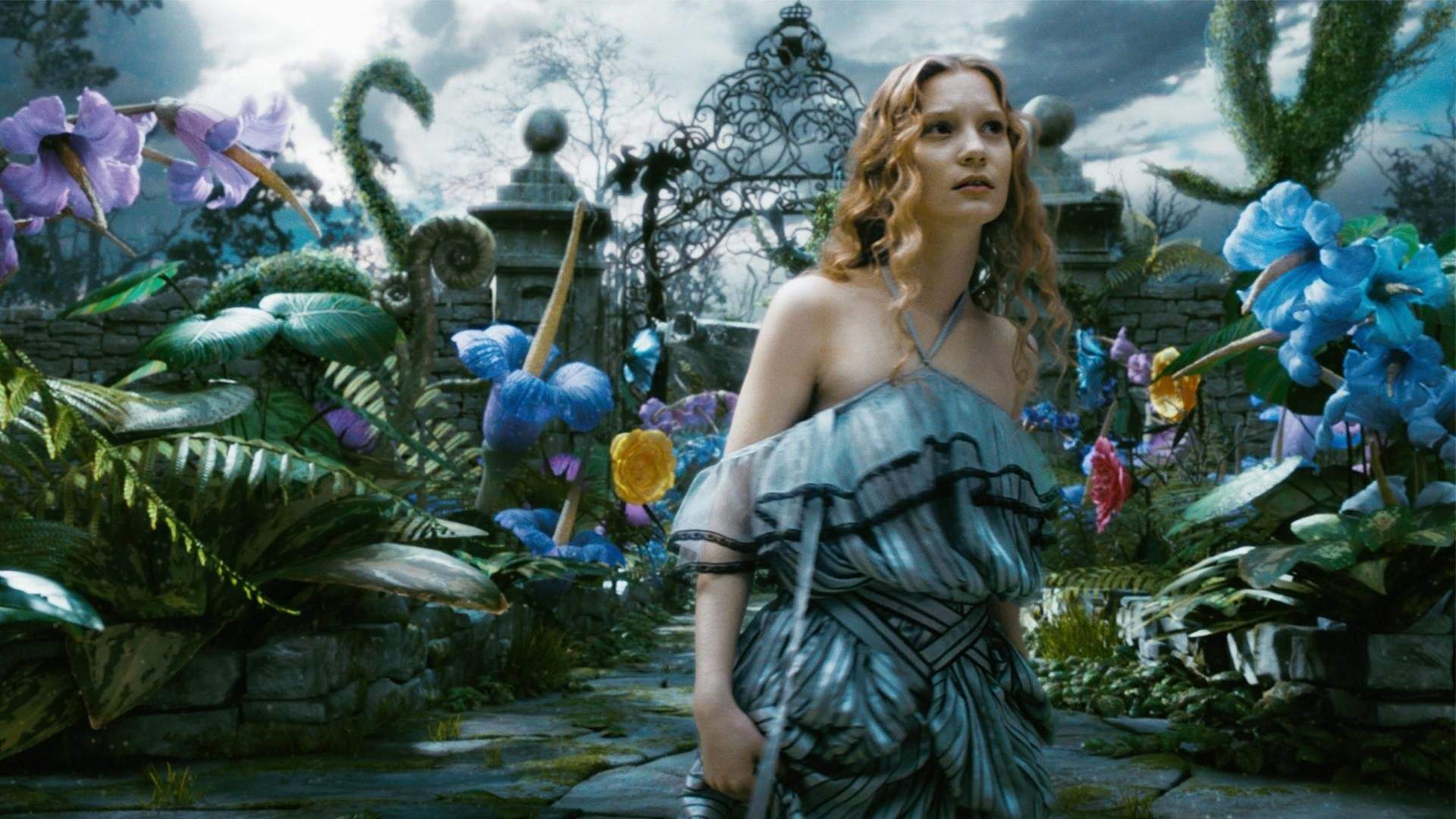 MODERN-DAY ALICE AND THE COOL WOMEN THAT BROUGHT HER TO LIFE
There's a lot to be said about the 2010 Alice in Wonderland and 2016 Alice Through the Looking Glass (and none of it about Johnny Depp). Mia Wasikowska was a more than fine Alice, giving the character just enough feyness yet pluck for audiences to still follow her willingly down holes and through doors more than 100 years after the character first appeared on screen. But the cool thing here is the fact that — Tim Burton, the first flick's director and both films' producer, aside — a lot of the work was done by some pretty awesome ladies.
The exhibition showcases costume designer Colleen Atwood, whose incredibly intricate outfits for the first movie won an Academy Award — and the armour costume Wasikowska wore is a particular highlight. Then there's the contributions of the woman who gave a voice to these incarnations of the character in the first place: Linda Woolverton.
Writing the screenplays for both recent Alice films, she was also the first woman to write an animated feature for Disney back with Beauty and the Beast in 1991. And for Alice? Woolverton was the first woman to be credited as a sole writer on a billion-dollar film. Perhaps Alice, all these years later, has now taken a tumble into the realm of girl power.
Published on April 07, 2018 by Kat Hayes