'Guillermo del Toro's Cabinet of Curiosities' Is a Chilling and Thrilling Horror Anthology Must-See
The Oscar-winner's new Netflix series features eight eerie tales helmed by eight fellow filmmakers, including 'The Babadook' director Jennifer Kent and Panos Cosmatos of 'Mandy' fame.
Sometimes, Guillermo del Toro dallies with vampires. Sometimes, he saunters into haunted houses, creepy carnivals and eerie orphanages instead. Encounters with kaiju and romances with amphibious creatures also dot his filmography, as do untraditional superheroes and twisted fairytale realms. With all of the above, across a career spanning three decades now, the director has thoroughly proven himself an avid collector. You don't amass a resume like his without actively endeavouring to curate an on-screen compendium — with his movies stuffed full of ideas, themes, motifs and images that just keep fascinating the acclaimed filmmaker.
So far, the proof has beamed into cinemas for movie-goers to revel in, starting with Cronos and most recently gifting the world Nightmare Alley. From film to film, del Toro delves into gothic horror staples. He splashes around haunting tales over and over, and works through his obsession with horror's — and life's — go-to contrasts (think: light and dark, pleasure and pain, and the macabre and the magical). He has an Oscar or his troubles for directing The Shape of Water, and he isn't done adding big-screen features to sit beside two Hellboy flicks, Mimic, Blade II, The Devil's Backbone, Pan's Labyrinth, Pacific Rim and Crimson Peak yet. But, now streaming via Netflix, new TV horror anthology Guillermo del Toro's Cabinet of Curiosities is a natural fit for someone so eager to collect and dissect the unsettling, unnerving, mysterious and curious.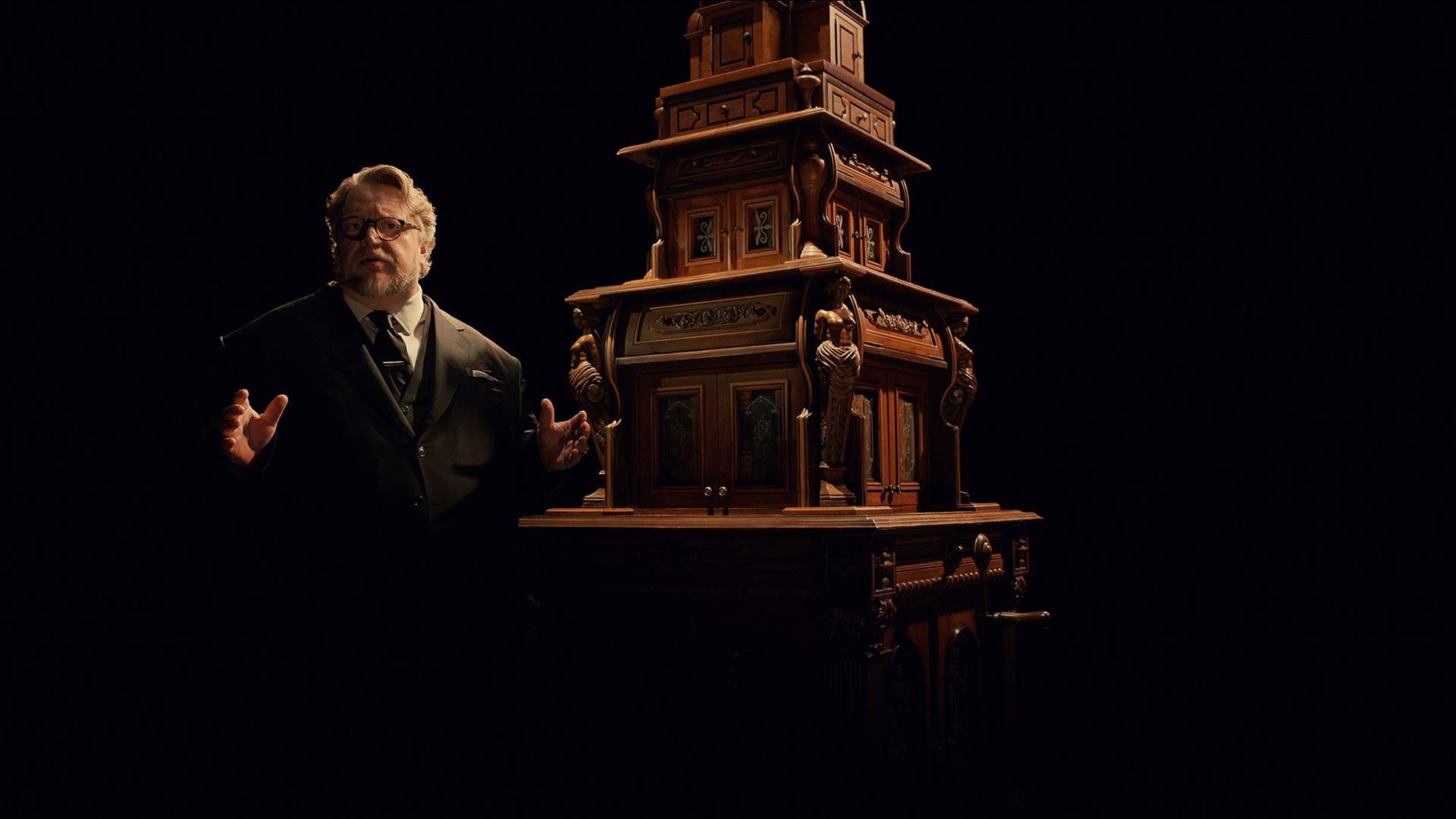 The first season of the series starts as other iconic anthologies have: with its central figure offering a mood-setting introduction to the stories to come. Alfred Hitchcock did it in the 50s and 60s. Rod Serling and Jordan Peele have done the same with different versions of The Twilight Zone. Now, it's del Toro's turn. His addition to the fold shares its name with his own 2013 book, which collates notes on and sketches for his films till then, details about unfinished projects, and observations by peers such as James Cameron and Neil Gaiman — and, fittingly, sports an introduction entitled "the world as cabinet". With this show, though, del Toro assembles anew rather than surveys his past. Also, he has filmmakers such as The Babadook and The Nightingale's Jennifer Kent, Mandy's Panos Cosmatos, A Girl Walks Home Alone at Night and Mona Lisa and the Blood Moon's Ana Lily Amirpour, and Cube's Vincenzo Natali on hand, with eight directors helming an episode apiece in this must-see collection.
Sometimes, Cabinet of Curiosities gets grim and cautionary. At other times, it's stomach-churningly gory and grotesque, particularly if you're not fond of rats, guts or pondering your own mortality. It can sport soulful restraint, unleash a stunning display of phantasmagoria and delight in being off-kilter. No matter what mode it's in, it always heads back to the past, giving the show's eight-episode initial run a timeworn feel. That vibe also flows through in del Toro's intros, where he announces each instalment beside the titular structure. Given wooden form and resembling a multi-level mansion, it's always matched with a corresponding handcrafted piece that represents the episode to come. There he is, collecting again — and inviting his audience to collect these lovingly assembled narratives, and their thrills and chills, along with him.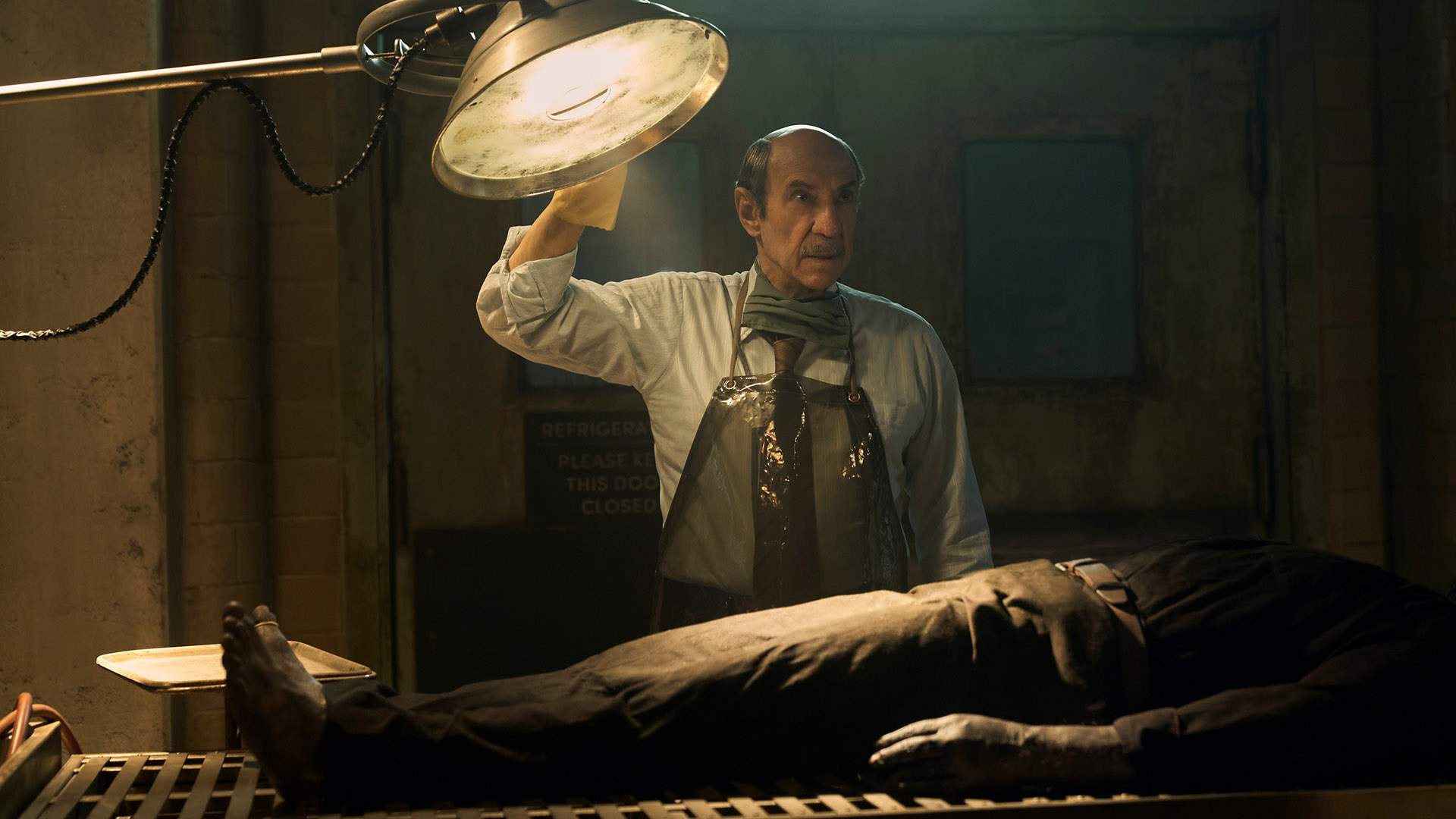 Cabinet of Curiosities' debut chapter hails from the only director without their own past horror flick to their name. As a cinematographer, however, Guillermo Navarro has lensed six of del Toro's features, plus the likes of From Dusk Till Dawn, Jackie Brown, two Night at the Museum movies and two Twilight films, too. Navarro gets the series off to a promising start with Lot 36, about a right wing-sympathising veteran (Tim Blake Nelson, Nightmare Alley) who purchases storage units to hawk their contents when their owners default on payment. His latest acquisition comes from someone with a shady past, bringing nerve-rattling repercussions. In the process, this stylishly shot 90s-set affair ruminates on xenophobia, and the world views that find comfort — and power — in being horrific and discriminatory.
Next, the show's two most grisly episodes follow: Natali's Graveyard Rats and David Prior's (The Empty Man) The Autopsy. The first adapts Henry Kuttner's 1936 short story, follows a cemetery caretaker (David Hewlett, Clarice) who robs coffins as a side hustle, and has him fighting rodents in an underground labyrinth for his spoils — and the result is stressful and squirmy. The second also springs from the page, from Michael Shea in 1987, and plunges deep into viscera and entrails. Mythic Quest and Moon Knight's F Murray Abraham is the coroner doing the splicing, but what he discovers among the victims of a mine explosion spans well beyond squishy internal organs.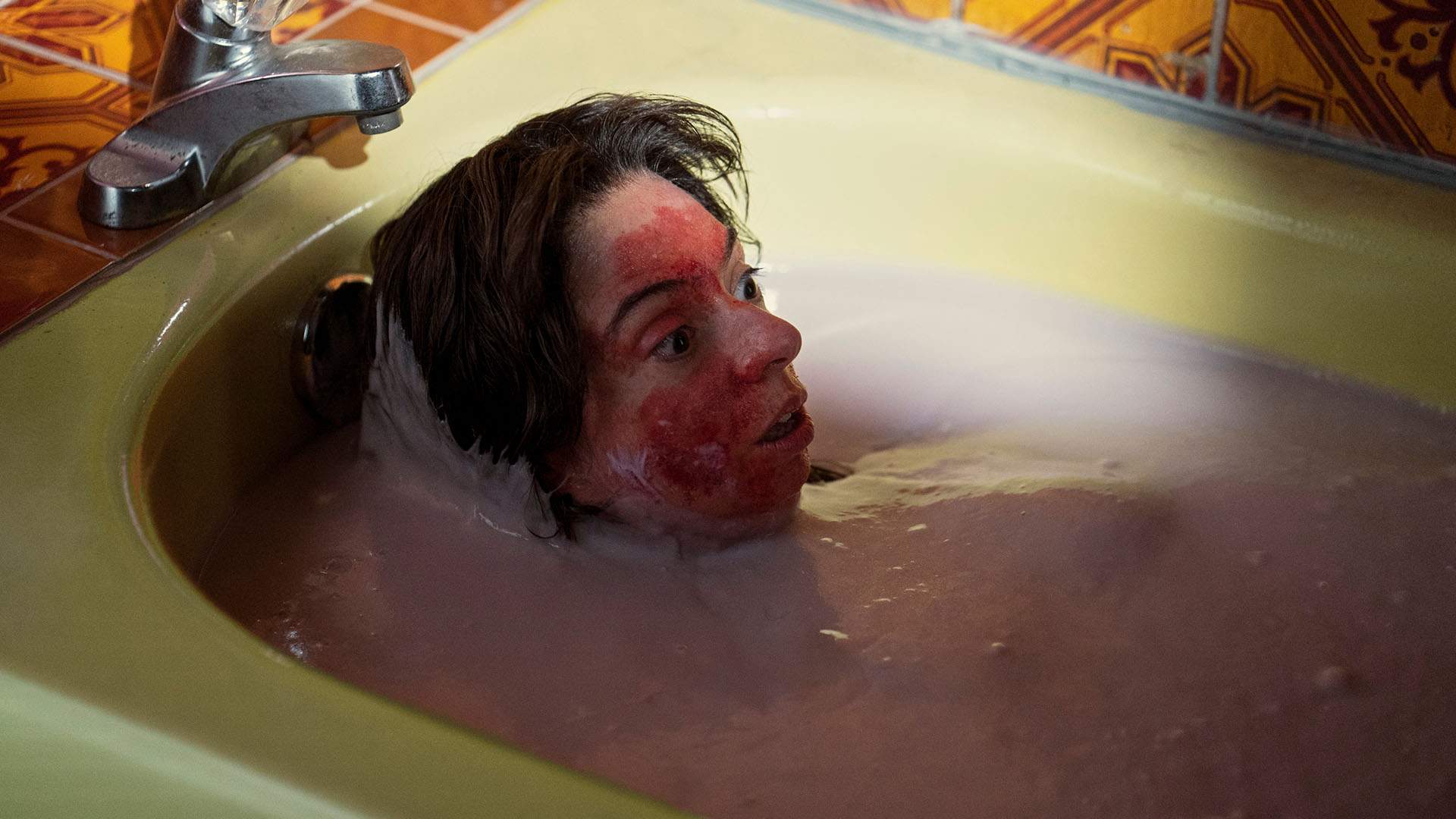 There are no disappointing drawers in Cabinet of Curiosities; the tone varies, but del Toro and his colleagues are committed to contemplating what scares us and why. So, while Amirpour's The Outside is noticeably lighter than its counterparts, squeezing out a satirical, The Stuff-esque, Christmas-set satire on consumerism, conformity and beauty, the Kate Micucci (Clerks III), Martin Starr (Spider-Man: No Way Home) and Dan Stevens (I'm Your Man)-starring chapter is as sinister and disquieting as the rest of the series. Cabinet of Curiosities next gets Lovecraftian with two takes on the author's stories: Pickman's Model and Dreams in the Witch House. One sees The Vigil and Firestarter's Keith Thomas explore art's function as a mirror, the other has original Twilight director Catherine Hardwicke spirit Harry Potter's Rupert Grint into a dance with ghosts, and they both drip with unease in their respective ways.
Cabinet of Curiosities does save two of its shiniest treasures until last, however — and what gleaming treasures they are. Wishing that both had graced the silver screen and stretched out to feature length is an instant reaction. No one is currently making movies like either the aforementioned Cosmatos or Kent, who go to completely opposite extremes with their stellar anthology instalments. The former's The Viewing, focusing on four 70s-era celebrities summoned by a rich eccentric (RoboCop's Peter Weller) for a night of drugs, conversation and staring at a secret discovery, is a wild, dazzling, synth-scored trip in the best possible way. As for The Murmuring by Australia's own Kent, it reunites her with The Babadook's Essie Davis for another stirring and striking haunted-house tale about grief and motherhood, this time working with a story by del Toro himself.
Check out the trailer for Guillermo del Toro's Cabinet of Curiosities below:
Guillermo del Toro's Cabinet of Curiosities is available to stream via Netflix.
Concrete Playground Trips
Book unique getaways and adventures dreamed up by our editors