Targaryens, Runaway Teens and Becoming a TV Sensation: Milly Alcock Talks 'House of the Dragon' and 'Upright'
Playing a Targaryen princess made Milly Alcock an international star — and homegrown comedy 'Upright' helped her get cast in HBO's hit 'Game of Thrones' prequel.
Imagine that you're 22, you're settling into your chosen career and you're suddenly the name on everyone's lips. Imagine you've gone from never seeing an episode of the past decade's biggest TV sensation to starring in its prequel, in fact. In other words, imagine that you're Australian actor Milly Alcock, who has had a better, brighter and more chaotic 2022 than the rest of us. Before August, the Sydney-born talent was best known for an impressive resume of homegrown parts. Now, she's forever the young Princess Rhaenyra Targaryen in HBO's Game of Thrones prequel House of the Dragon.
Ask Alcock what the year has been like and she's candid. "It's all weird. One day you're you, and then suddenly someone places value on you," she advises. "And you're like 'why me? Why me? Okay, I guess I'll take it. I guess I'll run with it'. So life's been weird, wacky and wonderful, basically, but yeah, it's been such a big year. This year feels like the longest year of my life but in the best possible way."
Alcock is chatting with Concrete Playground on the phone from the UK, where she shot House of the Dragon in 2021, and where she's now based as her international career takes off. But after working her way through roles on Australian shows such as Wonderland, Janet King, A Place to Call Home, Pine Gap, Fighting Season and Les Norton, she knows the part that made 2022's dreams happen: her AACTA-nominated role on Upright. Created by Chris Taylor from The Chaser, the show's' first season cast her as Meg, a 13-year-old pretending to 16 who literally collides with Tim Minchin's Lucky while she's running away across the country. An odd-couple dynamic ensues, and so did one of 2019's Aussie TV standouts. Three years later, a second season is here.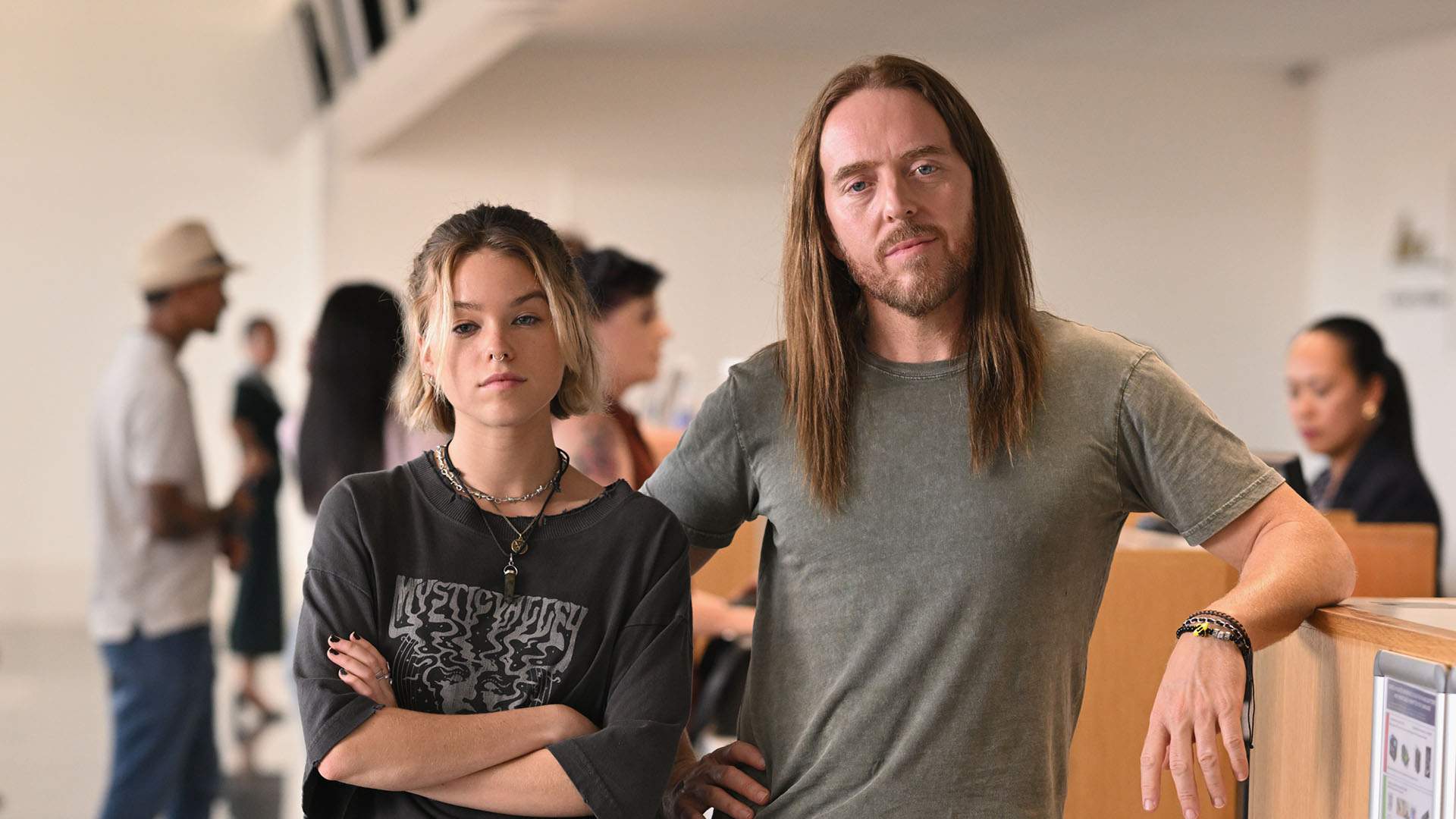 This time, the headstrong, whip-smart Meg is 17 and no longer speeding across the desert. But Upright wouldn't be Upright if it didn't send Meg and Lucky on another soul-searching, life-defining road trip, this time to Far North Queensland to find Meg's mum. The old adage proves true once again: it isn't just about the destination but the journey. At the heart of the show is a sense of connection and solace, as two lost souls forge a bond that helps them process their individual struggles. That means that Upright's lead performances couldn't be more pivotal; indeed, without Alcock and Minchin as Meg and Lucky, it wouldn't be the success it is, let alone have returned for season two.
With Upright's second season now airing on Foxtel and streaming via Binge, Alcock fills us in on the series that helped bring her to attention, making the leap to 2022's biggest TV blockbuster, playing determined young women and handling everything that House of the Dragon's fame has brought her.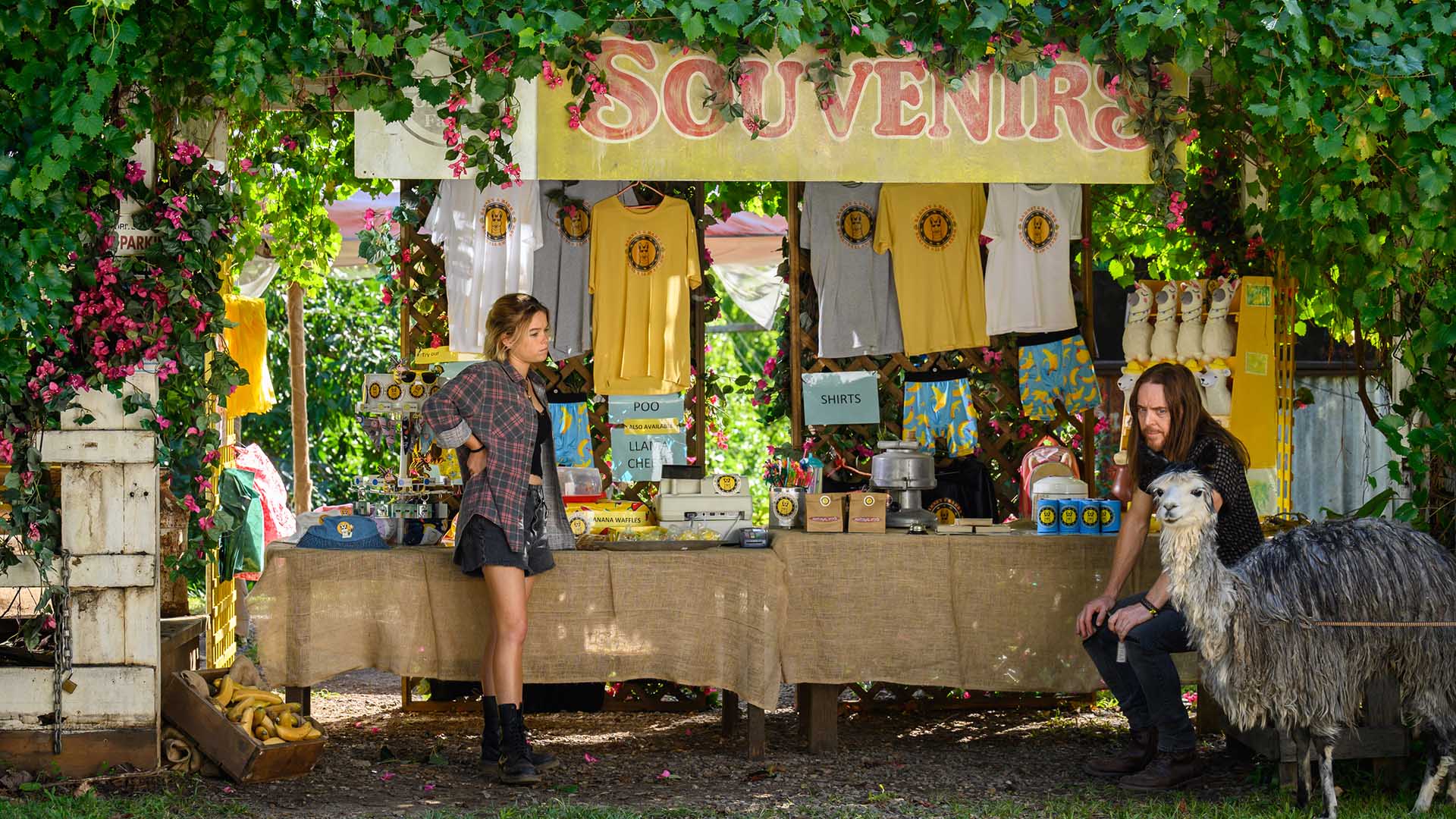 ON INITIALLY GETTING CAST IN UPRIGHT
"You just read the audition scene for Meg and you're like: 'I want to play this character'. You don't even usually see those types of characters on Australian telly at all, and I felt such a kinship with her as soon as I read her on the page.
Then when I met Tim, I was like 'please hire, please hire me, this is incredible!'. I owe my Upright my career, because it gave me such a beautiful body of work at such a young age."
ON MAKING UPRIGHT'S FIRST SEASON
"It was incredibly exciting. I was 18, I just dropped out of school, and I went and travelled around Australia for three months shooting a TV show. I'd never worked like that in my life — I'd never gotten a part like that ever, and I just wanted to do it so well. 
I just remember being like 'I can't fuck this up, I have to do it right, I have to do it right, I have to nail it, I have to make sure I'm making all the right choices and looking after myself and everything'. I was travelling around and I was without my family, and it got a bit difficult, but it was a massive learning experience."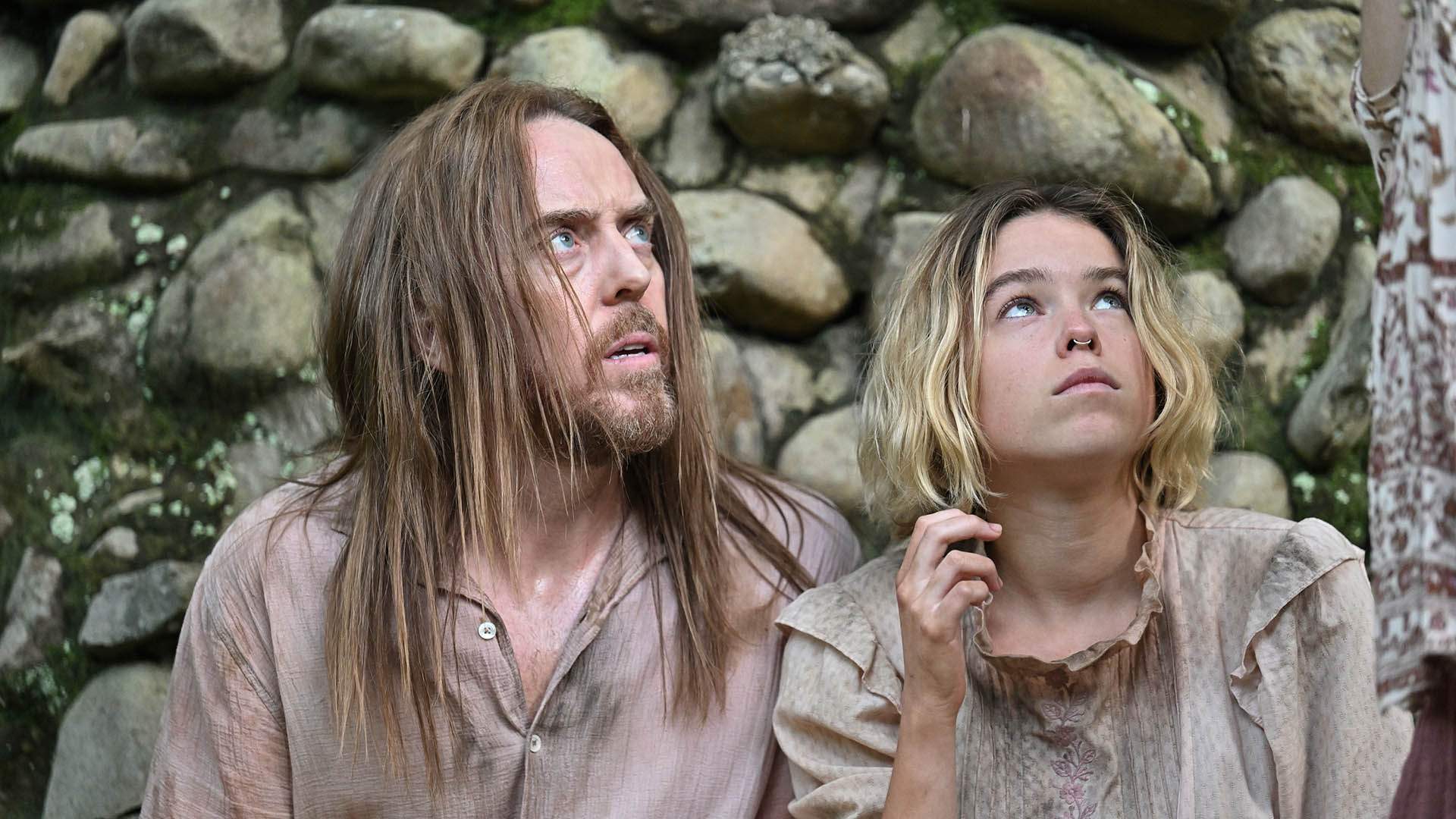 ON RETURNING FOR UPRIGHT'S SECOND SEASON
"I didn't think that a second season was going to happen because of the way the story wrapped up — and the time passes. I was like, 'oh it's been three years, we're not going to do another one'. But we did. 
Meg is such a beautiful person and I'm always excited to talk about Meg, and play Meg."
ON CO-LEADING UPRIGHT WITH TIM MINCHIN
"We're friends; we just get on and act. And we just go 'these people have chemistry, let's give them the kind of chemistry that this scene warrants because of where they're at in their heads'. 
I think that Lucky is a bit of a mentor to Meg without her wanting to admit it. He's the only parental figure in her life that kind of guides her in any way. I think Tim and I's relationship reflects that narrative a bit, and we pull from that."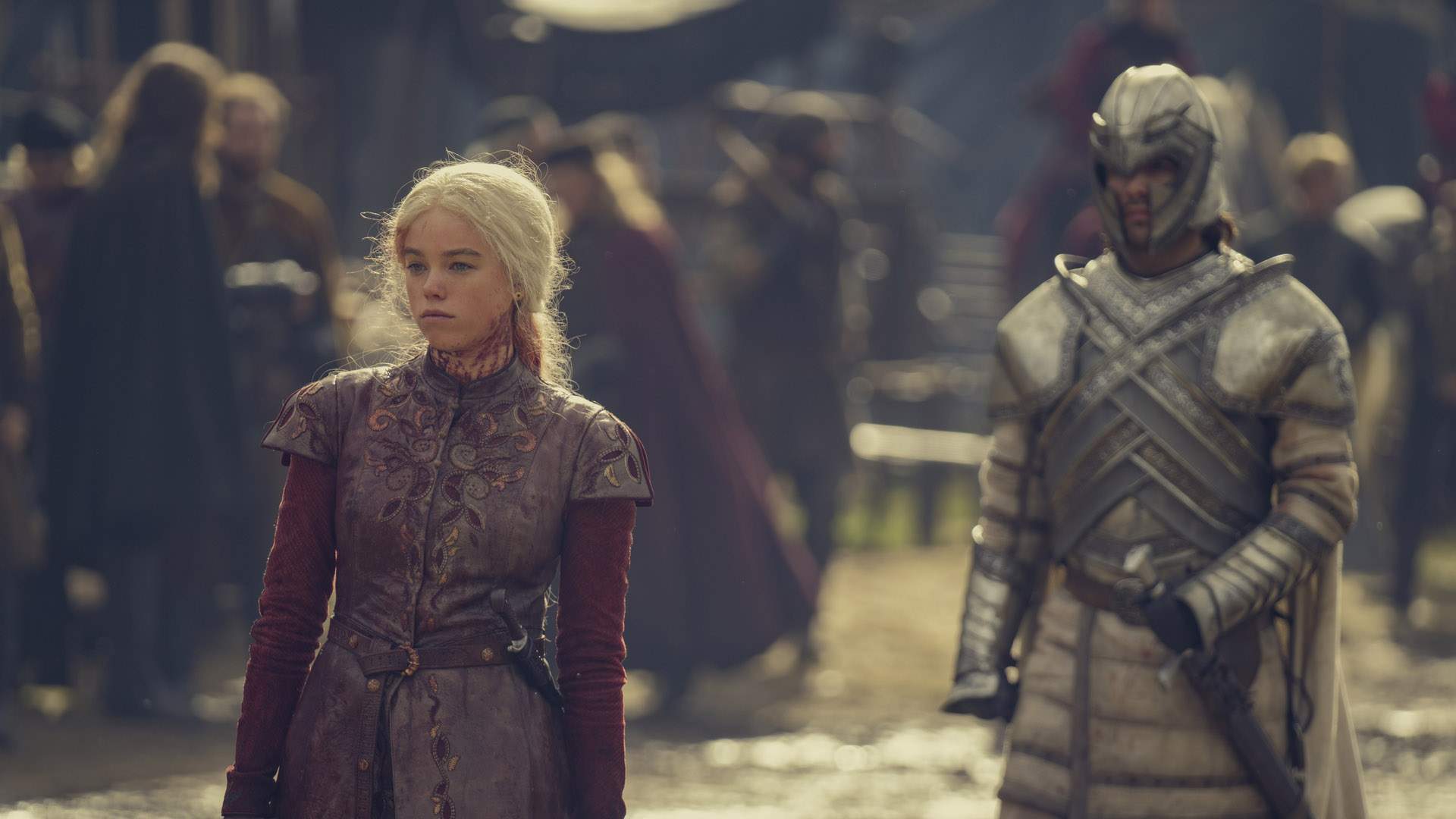 ON JUMPING FROM AUSTRALIAN TV TO A HUGE HBO PRODUCTION
"It was incredibly daunting. It was the most amount of fear I've felt in my entire life because I was like 'if you fuck this up, you're not going get to another chance'. It really felt like I had to prove myself very quickly, and I wanted to. 
I was Australian. Everyone was British. It was the pandemic. I didn't get to see my family while we were shooting. I didn't know anyone in London. So I really focused on my work because it was why I was there. I was there to do a job. But quickly, you realise that it's all the same, people are lovely and they're the same — and just the way that it functions is different and bigger because there's more cogs in the machine than there is in a smaller production like Upright, and like other jobs I've done before. 
I met a lot of amazing people and a lot of beautiful people, and they saw me and were like 'okay, we've got to look out for this one because she's a long way from home'.
I was mortified for the first three months, basically. Yeah, absolutely mortified."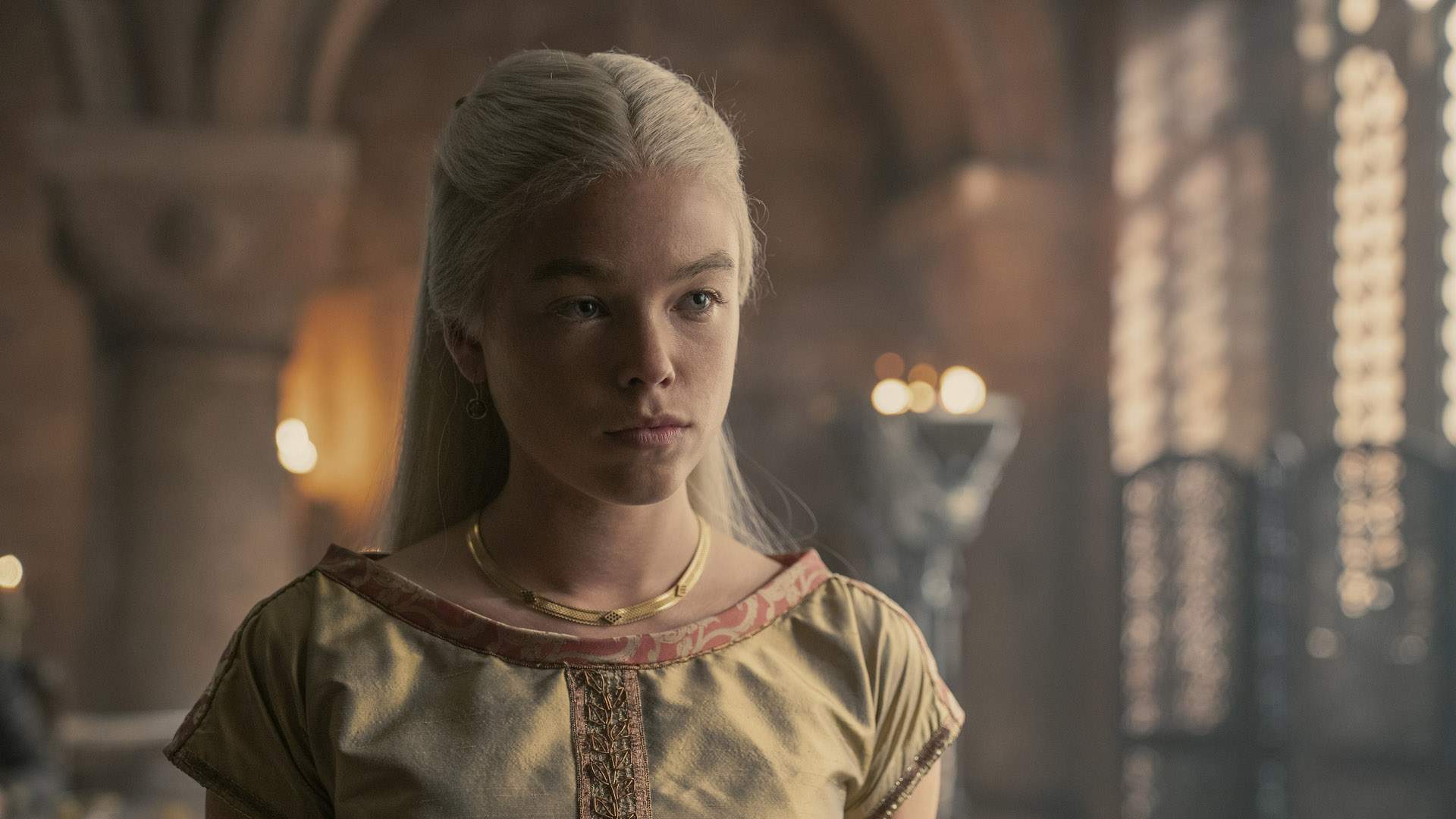 ON NOT WATCHING GAME OF THRONES UNTIL BOOKING HOUSE OF THE DRAGON
"When Game of Thrones is like 'we're doing prequel auditions', and you haven't really done a lot of acting before like I had, you're like 'oh yeah, of course I'm going to audition for this'. It's a massive show — not only a big show, but a very well-written show. It had great characters, and a great story, too. I was like 'yeah, of course'.
But I hadn't seen the show before. I knew of it. I knew the accolades, I knew the reputation it had, I knew the status of it, but I hadn't seen it until I booked the job.
It was incredibly exciting but also incredibly daunting, because I was like 'oh fuck, I have to do this. I have to live up to that. I don't know if I can do that'. It was exciting and scary. It was a rollercoaster, but you just keep going up. I haven't gone down yet.
Then I read a bit of Fire & Blood. I wanted to really get an understanding of what was at stake in this world and be able to contextualise it into the world that we live in on earth. I would go to the library and just kind of study, basically. I would make graphs on what the houses are, what that means, what their titles were, what their status was like in our kind of world — all to understand it."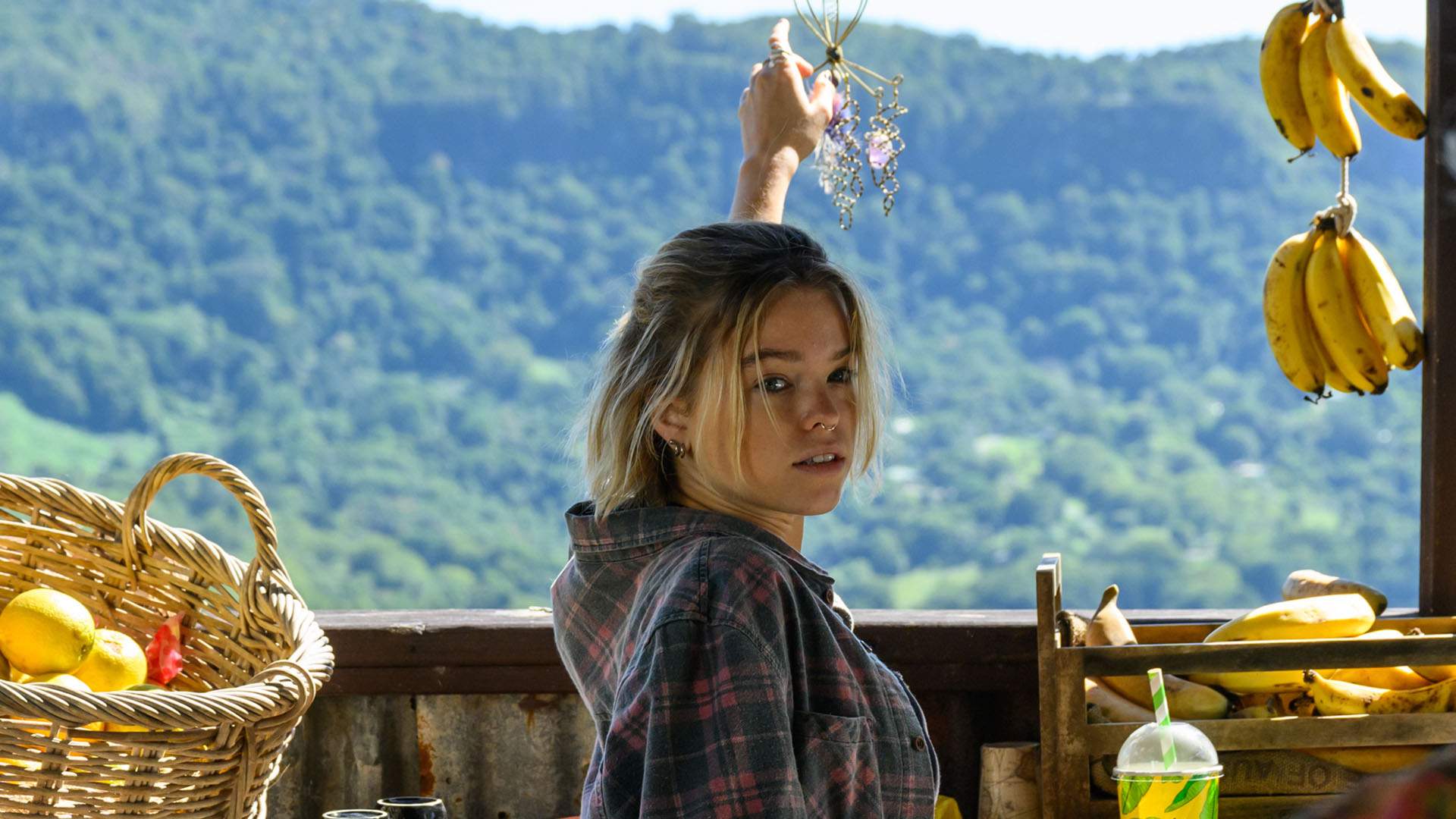 ON PLAYING STRONG, DETERMINED YOUNG WOMEN
"That's the way the jobs have landed because until House of the Dragon, I haven't been able to pick and choose — I still can't really pick and choose. I'm so young, I'm still starting out. 
With House of the Dragon, I was working against amazing actors — Paddy Considine and Rhys Ifans and Matt Smith — who have had a very big and beautiful and broad careers that I admire.
I think that it's difficult because on one side, I want to play everyone. But then on the other hand, I know I'll read a script and be like 'this is a great part but I know I'm not that girl'. You just read a part and you're like 'I just can't play her, I'm just not her. In my heart and in my soul, I know I'm not her'. 
Unless you're a phenomenal character actor like Paddy, like Meryl Streep, like all those kind of legends, you kind of have to lean into parts of who you are. I think that I've been so lucky that there's parts of me that people have picked out and been like 'you can play that role'."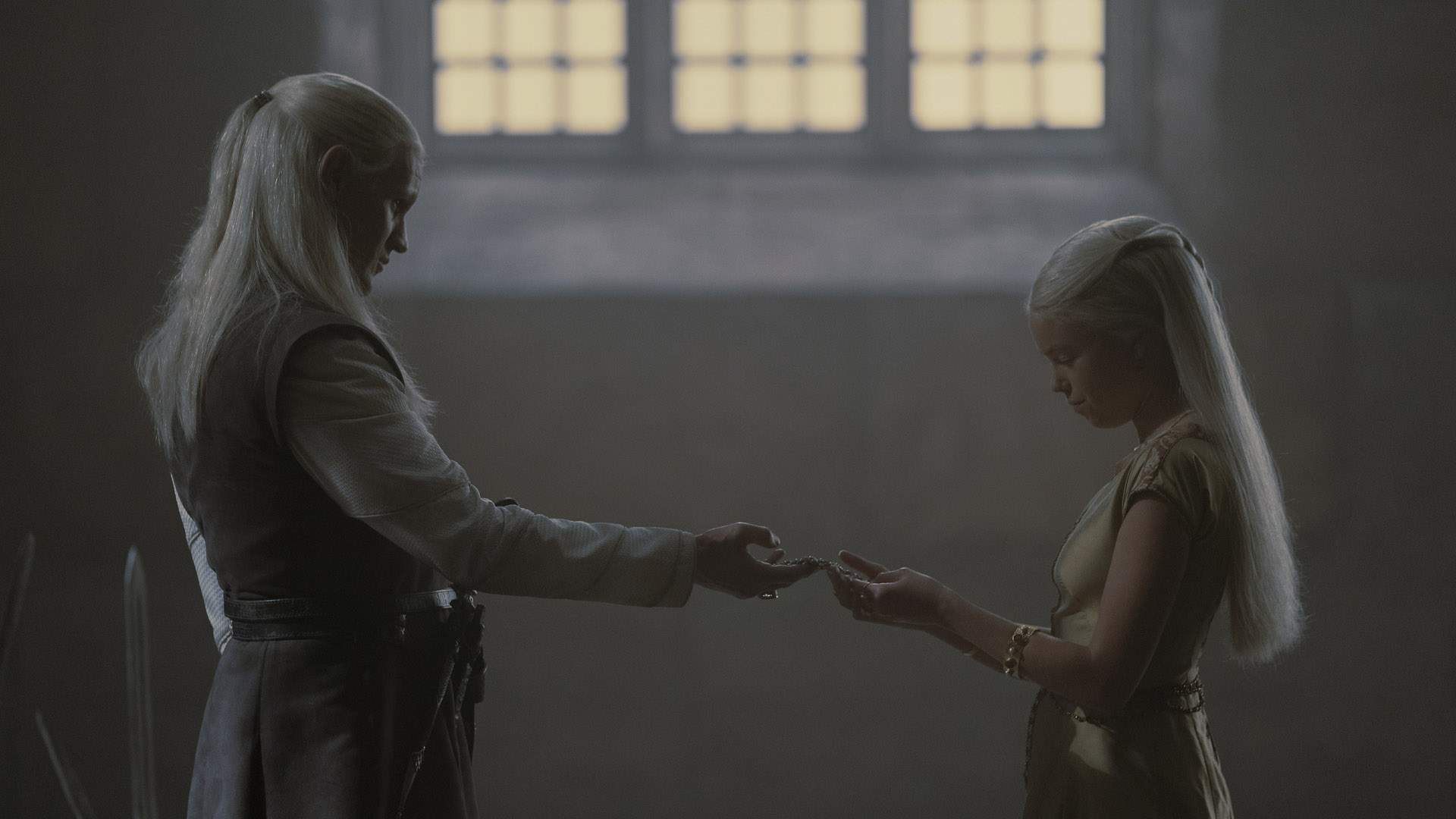 ON THE CHANGE THAT HOUSE OF THE DRAGON HAS BROUGHT
"I didn't expect anything. I didn't go in expecting anything with this. I think I was protecting myself, because everyone was like 'it could be a flop because it's a prequel'. But I think very early on, we realised that it had a lot of potential just from reading the script alone — but no, I didn't prepare myself at all.
I just thought that if nothing comes of this, my life stays exactly the same. If something comes of it, everything changes. I think that for me to be able to do the work while we were shooting, I needed to not get swept up in what could happen because I needed to really focus.
The opportunities have changed massively. People around me have changed. A Pandora's box has been opened, and I got to have a little peek inside. I think that just the way that people treat me is a bit different, which is the hardest thing to grapple with. It's weird.
One day you're just you and then you're not. And you're like 'why am I chosen, what made me so special?'. I don't see it because I see me every day, I can feel the good bits and the ugly bits — especially the ugly bits, because you're stuck with yourself.
It's just tricky. I mean, I'm 22 — I still can barely use a washing machine, let alone [process] what all of this is. But the most important thing is just keeping the right people around me and keeping my head on my shoulders, having that screwed on right — which I think I'm doing."
Upright screens on Foxtel and streams via Binge, with both seasons available to watch in full.
House of the Dragon's first season is available via Foxtel and Binge.  Read our full review.
Introducing Concrete Playground Trips
Book unique getaways and adventures dreamed up by our editors