FOOD & DRINK
The Best Ice Cream and Gelato Joints in Melbourne
Whether you like your scoops creamy, salty, vegan or ensconced in a fairy floss cloud, you can find them here.
The Best Ice Cream and Gelato Joints in Melbourne
Whether you like your scoops creamy, salty, vegan or ensconced in a fairy floss cloud, you can find them here.
---
While there will always be a soft spot in our hearts for corner store Paddle Pops and Golden Gaytimes, it's hard to pass up hand-churned gelato from one of Melbourne's many boutique vendors.
So, to help you make the difficult decision as to just what ice cream to eat today, we've compiled a list of our favourite ice cream and gelato joints in Melbourne. Venture forth on this icy sojourn and work your way through this list over summer.

A firm neighbourhood favourite across town, Piccolina now has stores in Hawthorn and Collingwood and St Kilda. All stores sport a Hecker Guthrie-designed fit-out that makes playful nods to the 1950s in southern Italy. At the St Kilda store you can get your mitts on 20 of Piccolina's all-natural handmade flavours, as well as four granita varieties. And prepare to go a little bit nuts with the chocolate and hazelnut — it has its own liquid chocolate fountain, drizzling signature house-made Nutella-style sauce 24 hours a day.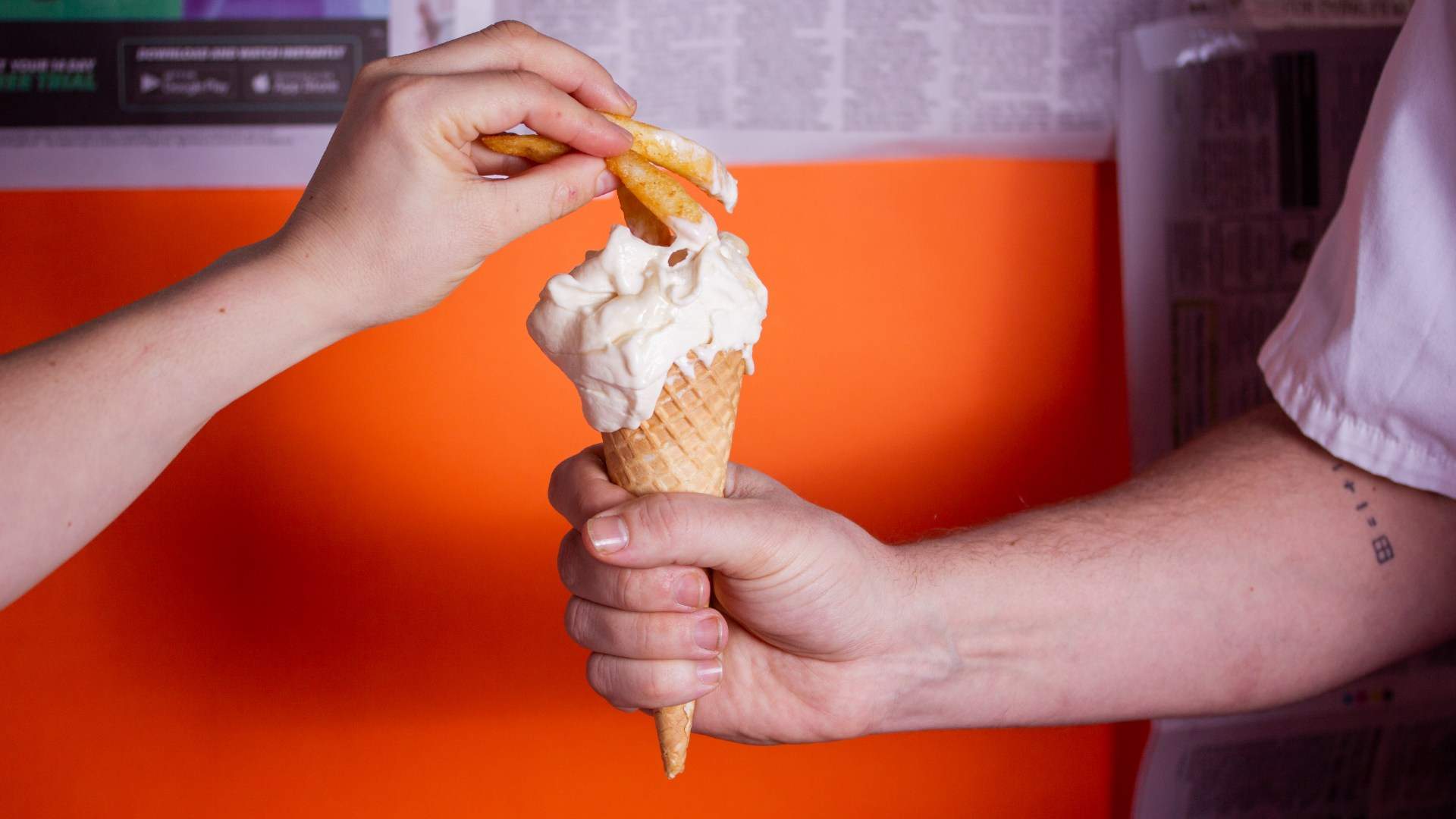 Kenny Lover is the nostalgia-fuelled new project from Tom Peasnell (Peaches, Dexter, Cheek), and Henry Sugar's Mike Baker and Daniel Mason, with styling and design by Maria Angelico. It's dishing up 70s Australiana vibes, alongside an offering of unusual ice cream and sorbet flavours, sure to stir up some good old-fashioned childlike excitement. The half-vegan menu features plenty of native flavours like wattleseed and malt, and ginger with Davidson's plum. Even more creativity flows through quirky, yet considered combinations including white chocolate and kalamata olive, watermelon with olive oil, and even an ode to soy sauce.
Tried-and-true classics will sit alongside these contemporary hits – popcorn caramel ice cream, anyone? – all freshly churned on the daily. And your inner kid is sure to be stoked about the offer of hot chips for dipping ($6) and three spiders: rhubarb soda with coconut, cola with blackberry ripple and blood orange with pistachio. Ice cream will set you back $5 for one scoop, $6.8 for two and you can add on sprinkles or crunch for an extra $1.


GELATO MESSINA, FITZROY, WINDSOR AND RICHMOND
It was with open arms that Melbourne welcomed the much-hyped (and well-deserved hype, at that) Sydney gelateria onto Smith Street back in 2013. Now, Gelato Messina has stores in Windsor and Richmond too. The wait is notoriously lengthy — in heatwaves and chilly nights alike, lines can snake down the road. The epic cabinet is always stocked with 40 flavours — 35 regulars and five specials — that are all made in-house and with Messina's own milk.
Some flavour suggestions: the apple pie ice cream (it contains real home-baked cinnamon spiced apple pies), the tiramisu (a must try for any self-respecting coffee addict), salted coconut and mango (vegan and fresh) and the salted caramel and white chocolate (a crowd favourite).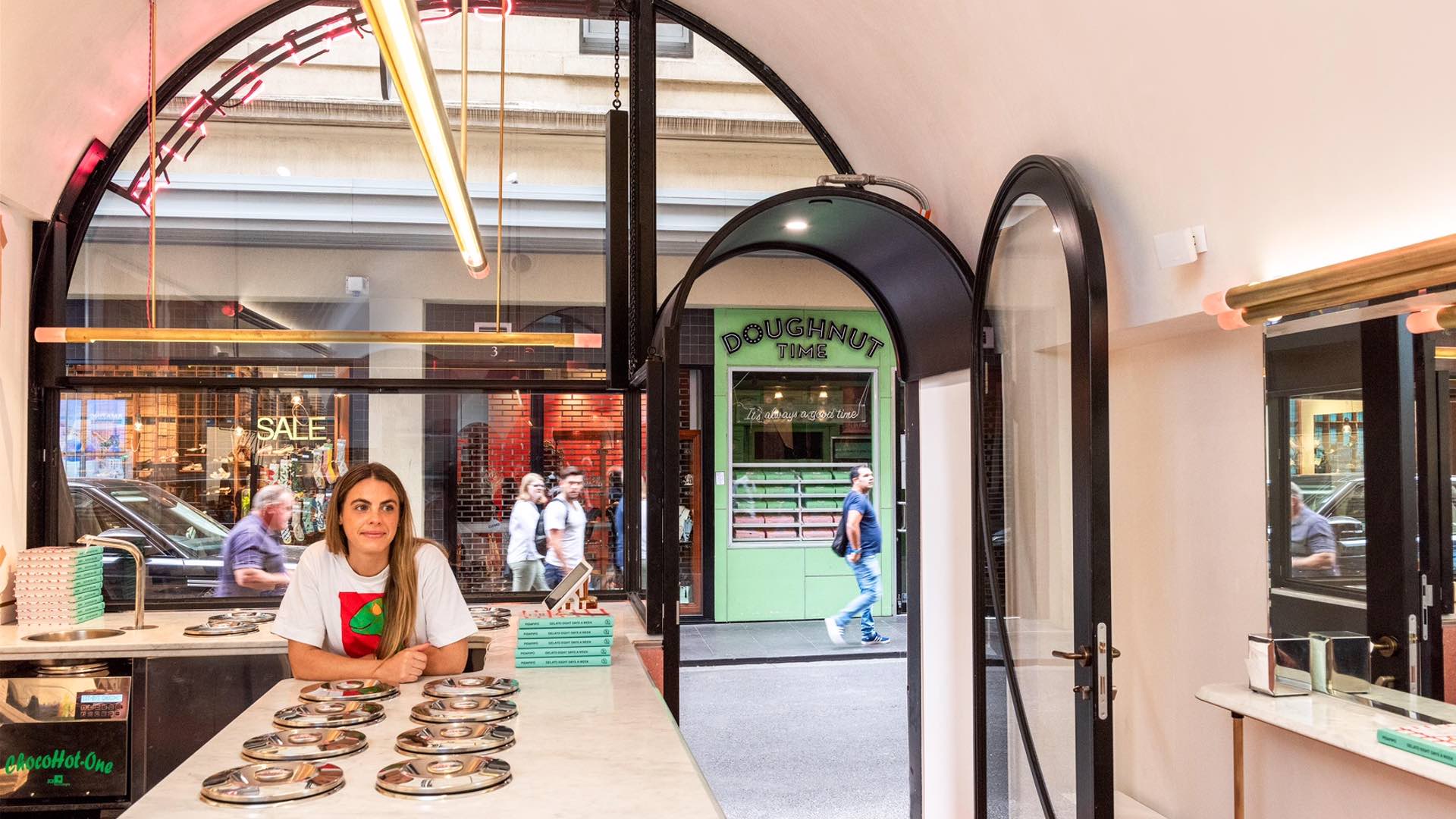 PIDAPIPO, CARLTON, WINDSOR AND CBD
All along the Italian side of Lygon Street we're used to seeing the bright colours of gelato overflowing their containers in glass-covered fridges. At Pidapipo you will not see any gelato until it is sitting in its cone, in your very own hand. Lisa Valmorbida, the owner of the Pidapipo, has brought in a stainless steel Italian-built pozzetti fridge — meaning literally under the lid — where the gelato is kept hidden away at an optimal temperature so you know you're tasting the gelato at its best. Twelve rotating flavours are available with classics you would expect from any Italian gelateria and, as the name suggests, a few experimental test combinations. The hazelnut, tiramisu and pistachio are some of the best out there, but if you are feeling adventurous, try one of the test lab creations constantly on rotation.
Pidapipo also now has stores in Windsor and Degraves Street in the CBD.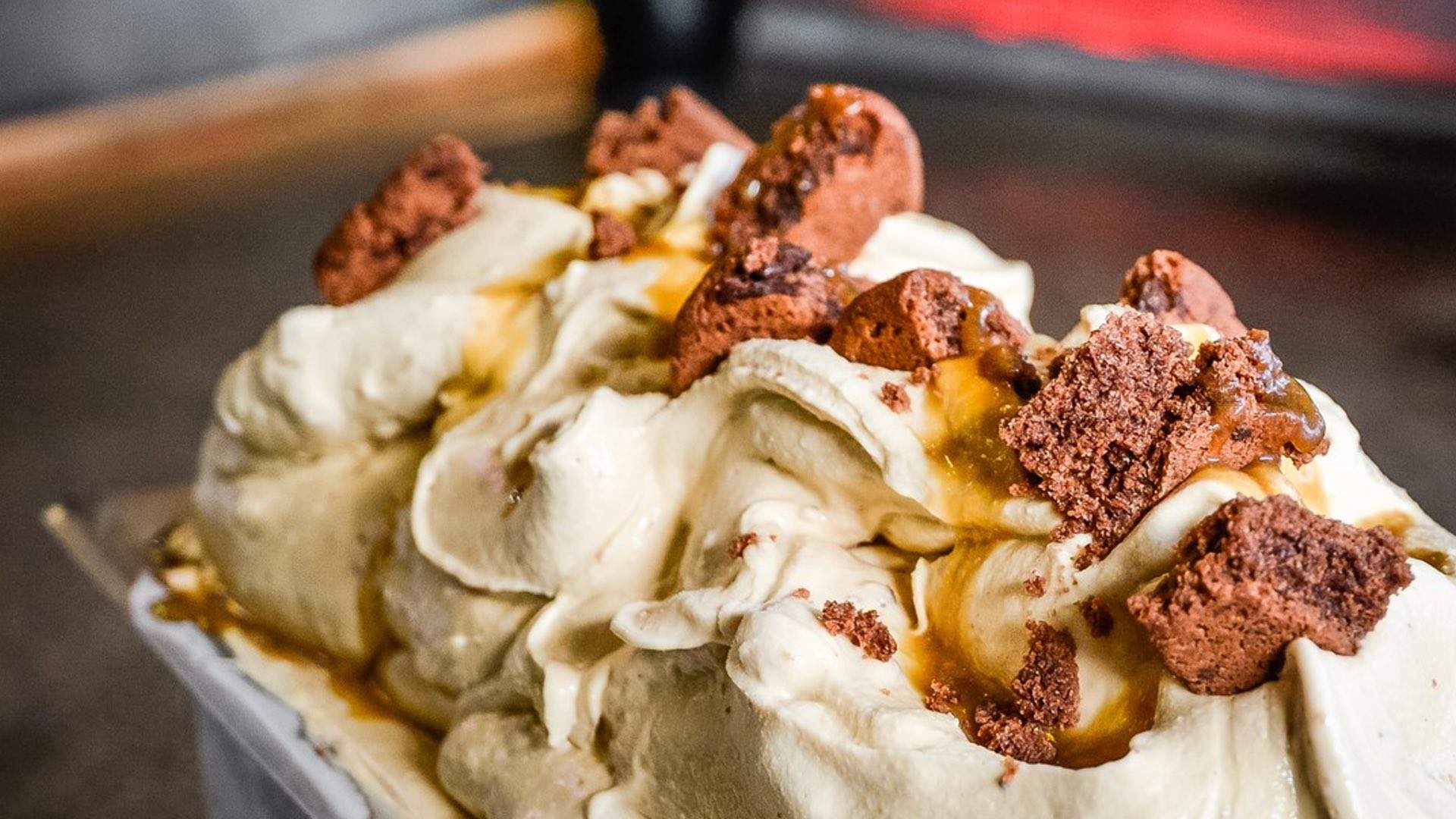 Most visitors to Fitzroy's Vegie Bar would be more than familiar with the eatery's vegan sweet treats, and now you can get them straight from the source at Girls & Boys, a 100 percent plant-based dessert bar that's opened in an adjoining Brunswick Street space. The shops sells its tarts, doughnuts and other baked goods — but the jewel in its crown is its house-made vegan gelato. Flavours change seasonally, but might include raspberry and rose, peanut butter or macadamia, coconut and mandarin. Vegans will be overwhelmed by choice — especially as you can get your scoops in a cookie sandwich, topped with chocolate or layered in a decadent sundae.

Sitting quietly on the Parliament end of the city inside Spring Street Grocer, Gelateria Primavera has held down a reputation as one of the best artisanal gelaterias in Melbourne for some time now. Similarly to Pidapipo, it uses the pozzetti storage tubs to house the gelato out of sight and ready to be eaten at the best possible temperature. The menu changes daily, though you can be sure to always find something to suit your tastes. Past favourites include the salted caramel and chilli, watermelon and fresh mint, goats' curd with walnut and honey and young coconut and ginger.

From Carl Foderá and Marco Enea, the guys behind Northcote's popular (and mentioned on this list Il Melograno), this bright little spot specialises in artisan gelato and sorbetto. It's made traditionally using long-held family recipes, with a splash of new-school flair — all of it a nod to the colourful Italian province of Sicily. A third-generation gelato chef trained in Sicily, Enea's knocked up a top-notch range of flavours with zero preservatives, artificial flavourings or commercial essences, and, rather than using one gelato base across the whole range, each flavour is crafted separately from scratch, with recipes adapted seasonally.
Try them in a to-go cup or cone, or get really traditional with a gelato-filled cannoli, or a fresh brioche roll stuffed with your pick of flavours. The boys are also slinging wood-roasted Ricci Method coffee, to be enjoyed the Italian way, at the stand-up espresso bar.

Karina and Clinton Serex, the minds behind Caulfield North's beloved Tuck Shop Take Away, are serving up another big dollop of nostalgia at Sundae School. A quick stroll down Hawthorn Road from its retro burger-slinging sister venue (and perfectly located for a post-dinner dessert fix), the shtick here is ice cream — specifically, the crafty, small-batch dairy delights Karina learnt to master during a recent stint at New York's famed OddFellows Ice Cream Co. The freezer here plays host to ten rotating flavours, alongside treats like ice cream sandwiches, old-school malted shakes crafted on house-made soft serve, and pimped-out sundaes, loaded with various textural additions and house-crafted sauces (think, salted choc fudge and raspberry ripple). The flavour lineup is anything but boring, running everything from a bacon, brown butter and banana number, to a strawberry black pepper sherbet. And you can get your scoop covered in sprinkles.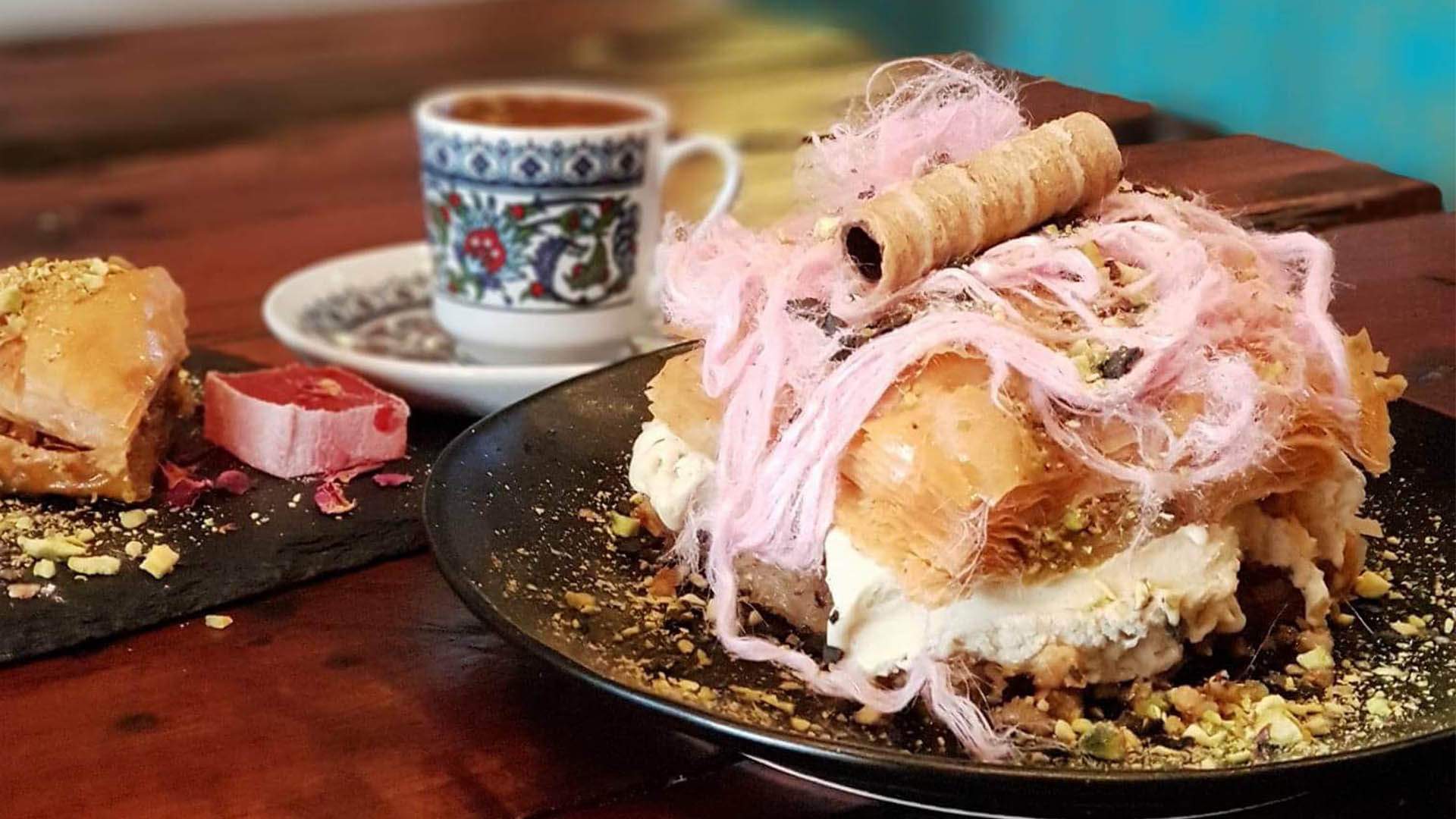 Once you've tried a Turkish-style ice cream sandwich, you may never go back to a "regular" one. Using stretchy Maras ice cream (the stuff can be eaten with a knife and fork) Northcote cafe Cuppa Turca serves the icy treat between two slices of crispy hand-rolled baklava. It's then topped with hot pink Persian fairy floss. For those who are after something a little less extra, there's a more tame version served between two thin wafers. Or you can just have a scoop on its own. Whatever you pick, order it with a cup of coffee made on hot sand.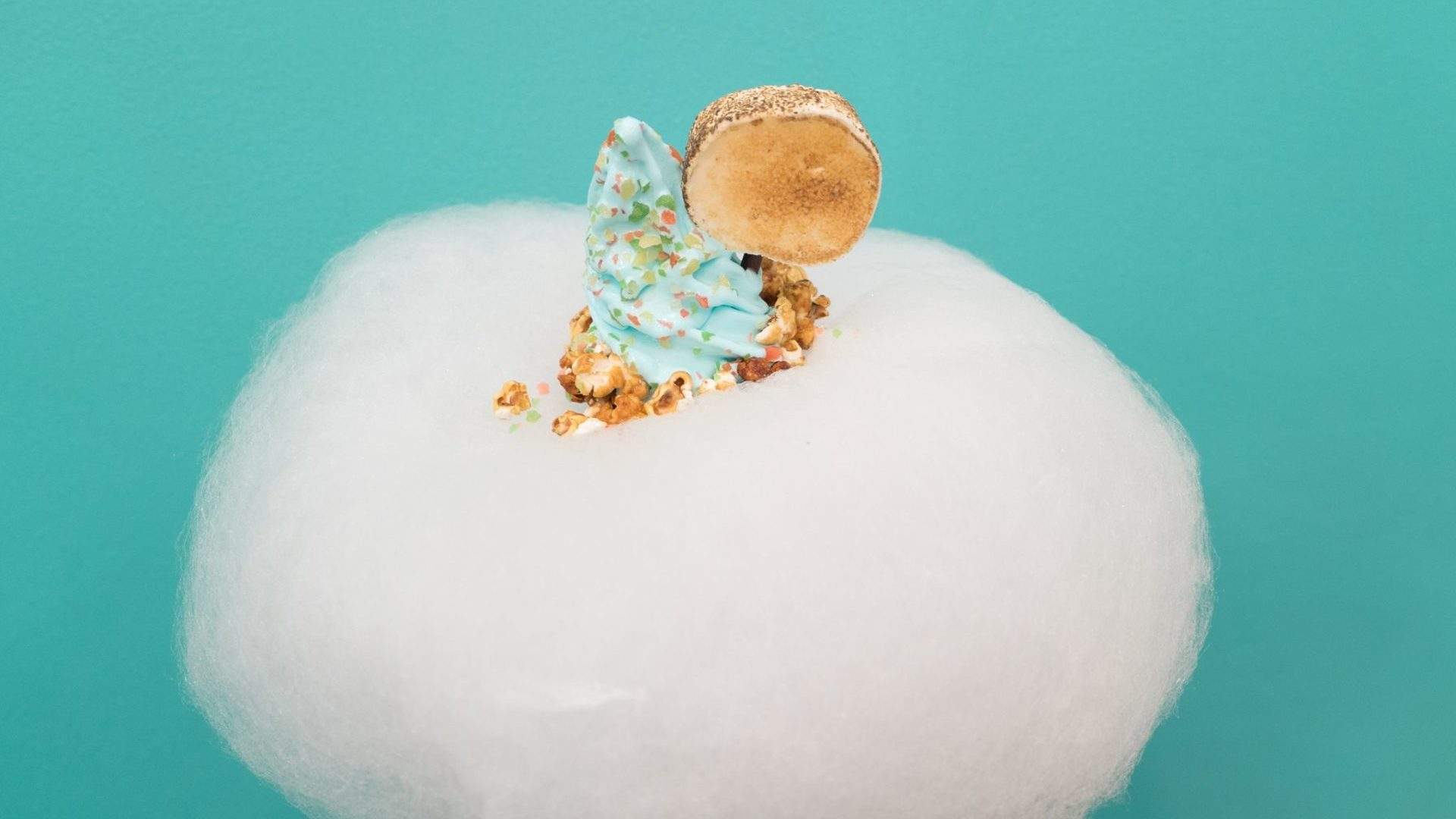 Sweet tooths looking for the ultimate Instagrammable treat should look no further. Aqua S ticks the boxes of both taste and novelty. It serves up sea salt-flavoured soft serve, topped with a pillowy bed of fairy floss, sweet popcorn, popping candy and a grilled marshmallow. And looks like an actual cloud.
If you're not down for sea salt soft-serve, you can choose from two other flavours, which change every two weeks. Rotating flavours include Oreo, vietnamese coffee, mango cheesecake, matcha, creme brûlée and pandan — but you'll just have to see what's available on the day. Keep things simple with a single soft-serve 'scoop', or blend up those flavours with a blend of two — and you can pick and choose from those OTT toppings.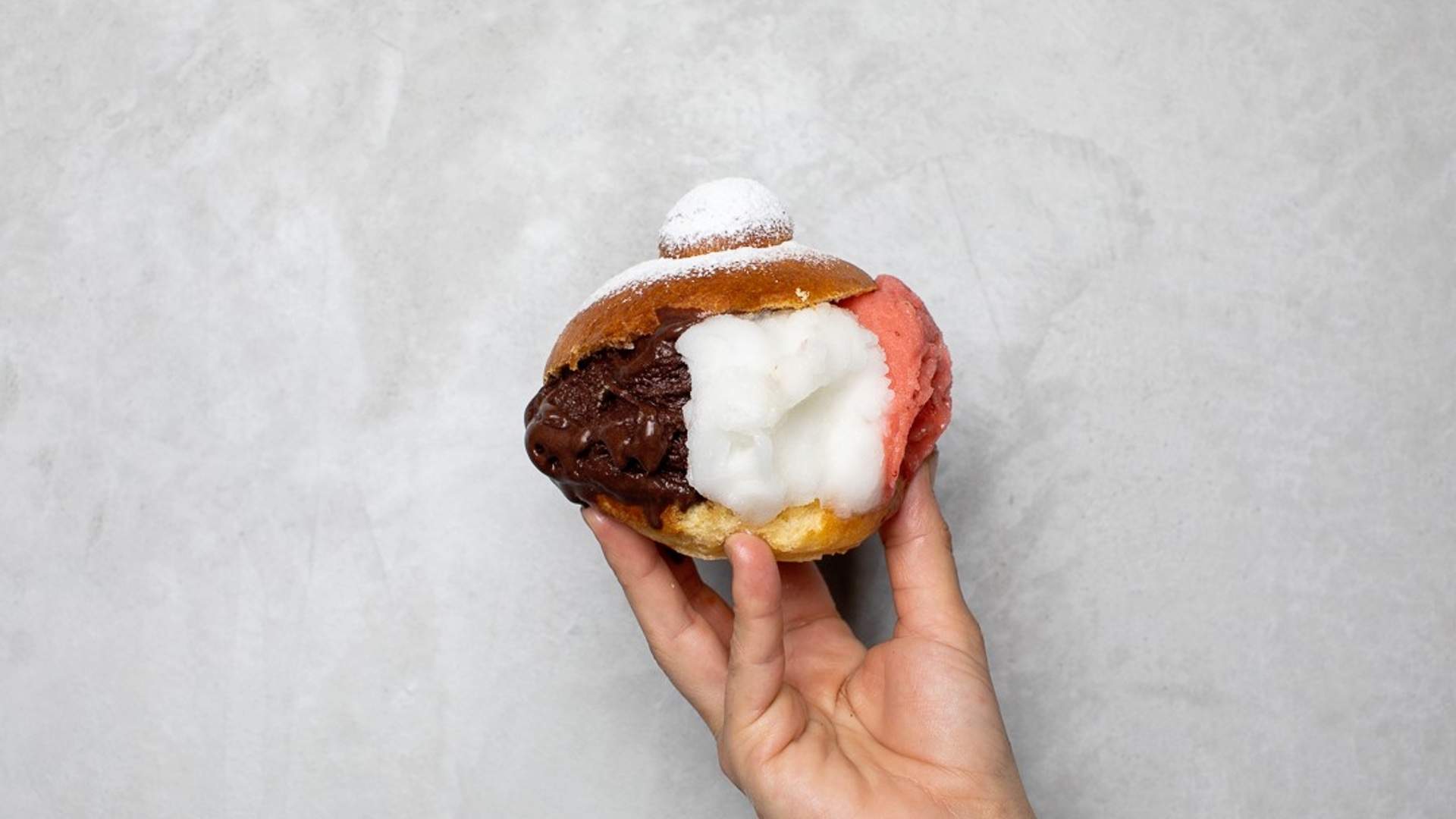 Westgarth's answer to Sicily is hiding inside the concrete cool of Il Melograno – and its gelato really is un poco taste of heaven. Flavours such as the Iranian pistachio are made using actual smashed pistachio kernels — it's out of this world good and goes perfectly with the chocolate and rosemary. Have it sandwich-style in a Sicilian brioche bun ($9.60) or get mouthy on the gluten-free waffle cones ($1 extra). Because of the natural, preservative free character, the scoops do have to stay out of sight in metal wells that keep them fresh — but you'll be able to suss out daily offerings such as their lemon, ricotta and cardamom on the chalkboard to the side.
Gelato is available all day, but the cafe also serves brekkie and lunch up until 3pm; after that, it continues to pump out coffee, along with crepes and other Italian desserts like Sicilian doughnuts (served with a scoop of gelato, of course).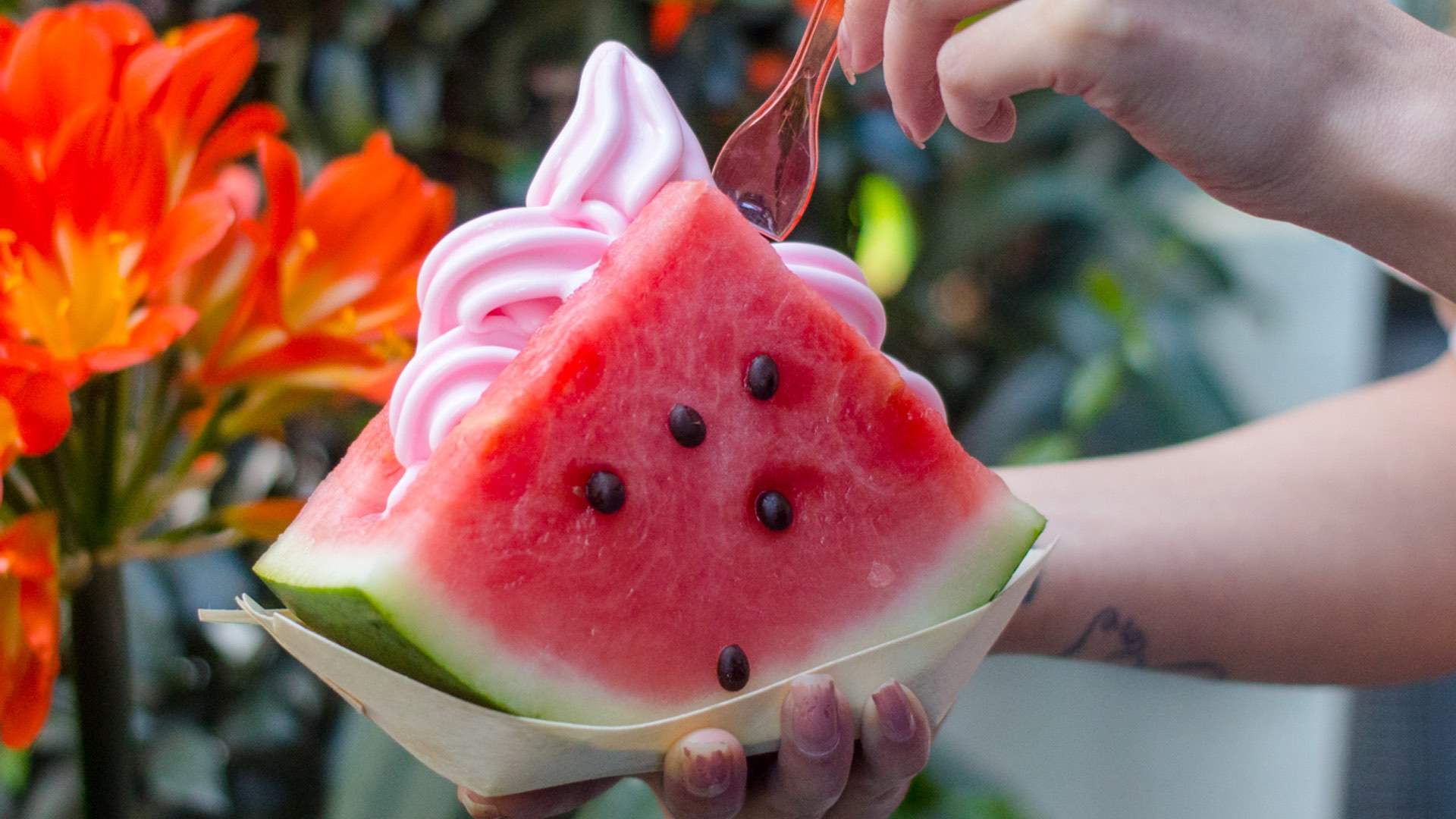 Soft serve might seem like the something reserved for children and late-night Maccas runs, but Milkcow has proven that isn't the case. The South Korean-born soft serve joint creates epic desserts — like its very Instagram-worthy watermelon wedge. The treat — which is currently available, but only for a limited time — is filled with vegan watermelon ice cream and sprinkled with Himalayan pink salt. If that wasn't enough, the seeds adorning the outside are made from chocolate chips. Order it, Instagram it, eat it before it melts.

Because conquering the pizza world isn't enough, 400 Gradi also has its own gelateria. Zero Gradi is home to traditional Neapolitan-style gelato. Classic and rotating flavour specials include pistachio, salted caramel and espresso, and they have Nutella and chocolate taps if you want to kick things up a notch. Good luck narrowing your choices down to just one. Granita, Italian pastries, cakes and coffee are also on offer.


How Billy Van Creamy manages to churn out some of Melbourne's finest ice cream from a truck is a mystery. But as well as roaming the city in their ice cream van, BVC have also opened a store which is always parked at Best Street in Fitzroy North. All gelato is made by hand with all natural ingredients like organic milk, crunchy nuts and vanilla beans. The rotating selection of flavours includes the salted caramel, espresso and an incredibly rich vanilla bean ice cream. There are also a host of vegan flavours, of which you can't go past the peanut butter choc chip. 

Top image: Piccolina by Carly Ravenhall. 
Published on November 25, 2019 by Concrete Playground