An Immersive Cate Blanchett-Starring Film Installation Will Fill Melbourne's Town Hall for RISING 2023
Hailing from artist and filmmaker Julian Rosefeldt, 'Euphoria' unpacks capitalism — and also features 'Breaking Bad' favourite Giancarlo Esposito.
Already in 2023, Cate Blanchett has scored her seventh Oscar nomination. Thanks to her phenomenal performance in conductor drama Tár, she's likely to win her third Academy Award, in fact. However her luck pans out on Hollywood's night of nights in March, she'll be towering over Melbourne in June regardless — in a historic space built in 1867, across a film installation spanning an array of huge screens, and in one mighty impressive 360-degree display.
The first event announced for this year's RISING, Melbourne's major annual arts festival, will feature Blanchett in her latest starring role for artist and filmmaker Julian Rosefeldt. The duo reteams for Euphoria after working on 2015's stunning installation Manifesto together. Set to take over Melbourne Town Hall from Friday, June 2–Sunday, June 18, their new multichannel work doesn't just focus on the acclaimed Australian actor playing multiple parts, however, instead honing in on the weighty topic that is capitalism.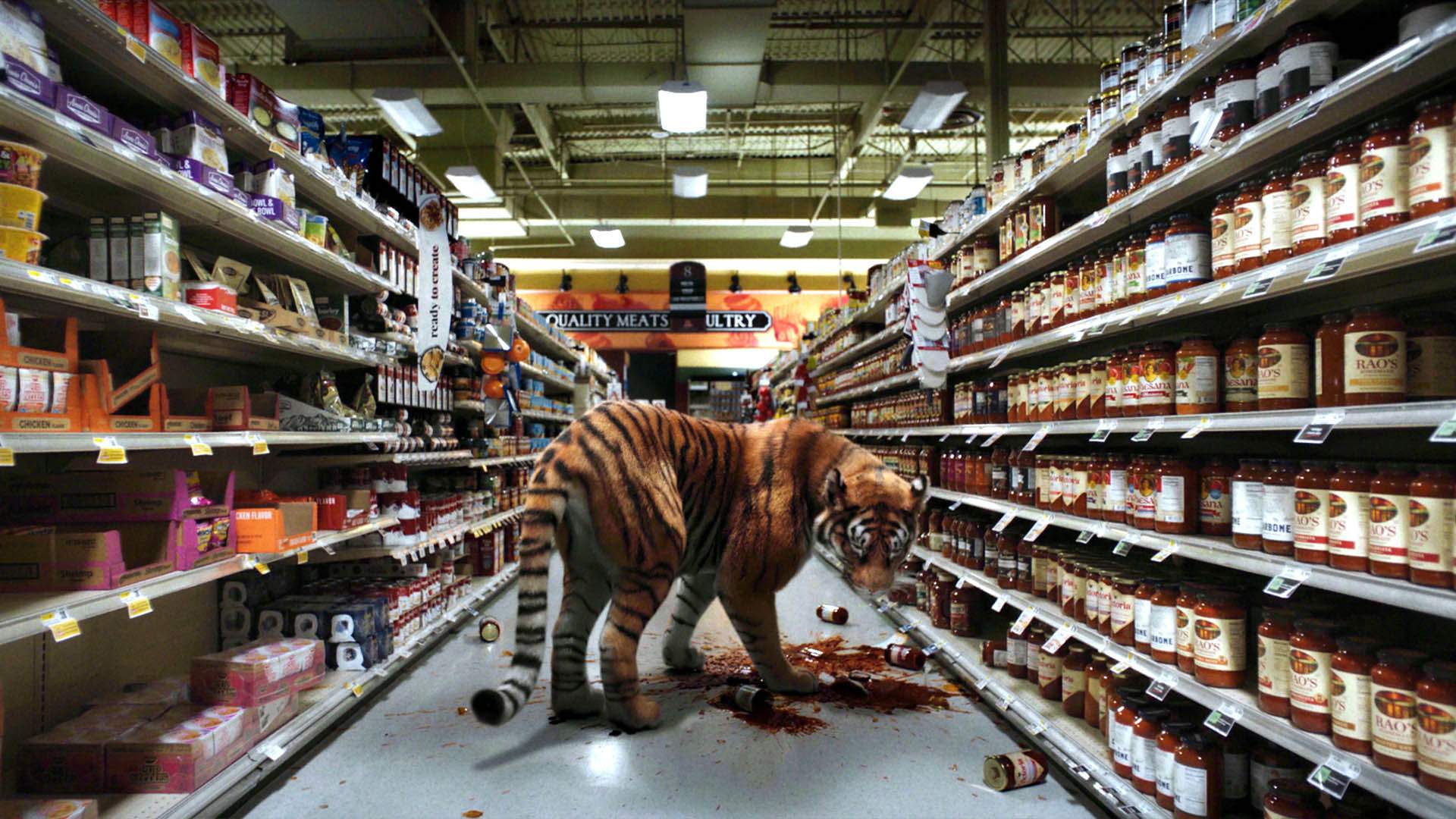 The Berlin-based Rosefeldt tackles his current topic — aka two thousand years of greed and the effect that unlimited economic growth has — via a spiral of screens that'll sit throughout the venue. On the ground floor, 24 screens will showcase a life-sized choir of Brooklyn Youth Chorus singers, while five jazz drummers will duel on the screens above them. And, there'll also be five theatrical vignettes looping above, too, which is where Blanchett playing an anthropomorphic tiger stalking supermarket aisles comes in.
Those drummers? They include Grammy Award-winning drummer and composer Antonio Sánchez, who also composed the score for 2014 film Birdman. And those vignettes? They'll also feature Breaking Bad and Better Call Saul favourite — and recent Kaleidoscope star — Giancarlo Esposito among a cast that'll speaking thoughts penned by economists, writers and thinkers like Warren Buffett, Ayn Rand, Angela Davis and Snoop Dogg.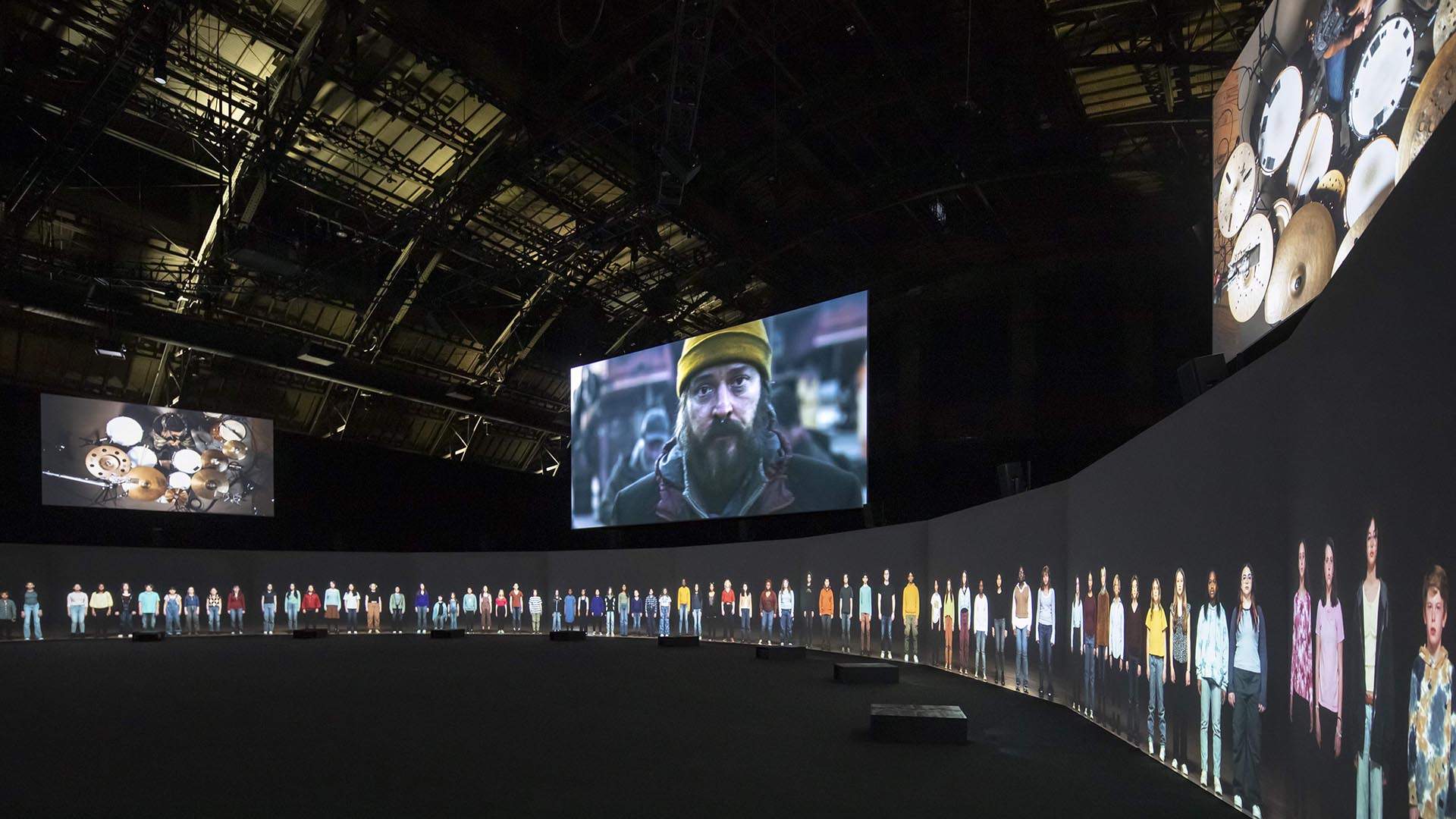 As well as Blanchett as a jungle cat, RISING's first major international commission — which hits this year's fest as an Australian exclusive, and enjoyed its world premiere at the Park Armory in New York back in November 2022 — features homeless men chatting about economics, executives getting acrobatic in a bank lobby, and an all-round unpacking of capitalism via its own excess. Paired with it, Euphoria's original score by Canadian composer Samy Moussa and British saxophonist Cassie Kinoshi goes big on jazz, the tunes sung by the children's choir and those uttered ideas.
Befitting the theme, the installation will run with a pay-as-you-can pricing model, and welcome in visitors for free on Fridays during its season.
2023 is turning out to be a stellar year for spectacular takeovers of town halls by citywide arts fests, after Sydney Festival turned Sydney Town Hall into an indoor beach — temporarily, of course — for an opera performance back in January.
Check out the trailer for Euphoria below:
RISING 2023 will take place across Melbourne from Wednesday, June 7–Sunday, June 18, with Euphoria displaying at the Melbourne Town Hall on from Friday, June 2–Sunday, June 18. Tickets for Euphoria go on sale to RISING subscribers from 12pm on Tuesday, February 14, with general sales from Friday, February 17.
First top image: Katja Illner.
Concrete Playground Trips
Book unique getaways and adventures dreamed up by our editors