ARTS & ENTERTAINMENT
This Deserted 1930s Mansion in the Dandenongs Has Been Transformed Into a Haunting Immersive Installation
Melbourne street artist Rone has created a multi-sensory decaying world throughout 12 of the mansion's rooms.
UPDATE: APRIL 4, 2019 — Unfortunately all tickets to Rone's Empire sold out extremely fast so, unless you are one of the ticketholders, you won't be able to see it IRL. But you can still look at the pictures here.

Melbourne's acclaimed street artist Rone has launched his latest beauty-meets-decay installation — and this time, it's taken over a deserted art deco mansion in Victoria's Dandenong Ranges. Empire has transformed the 1930s estate into an exhibition combining art, vision, sound, light and VR (as well as scent and botanical design) to take visitors on an immersive multi-sensory experience.
Empire is set in the 'decaying glory' of the Burnham Beeches mansion, which is now owned by the Vue Group but has been vacant for over 20 years. The exhibition spans 12 (previously empty) rooms over multiple storeys and centres around a series of the artist's signature 'Jane Doe' monochrome portraits — the muse for which is actress Lily Sullivan (Mental, Picnic at Hanging Rock).
Apart from the murals, the art deco-era furnishings are courtesy of interior stylist Carly Spooner (Fitzroy's The Establishment Studios), who also worked on Rone's The Omega Project. The rooms have been furnished with over 500 antique pieces, including a moss-covered grand piano — which was left exposed in the open garden for several weeks to attain an aged effect.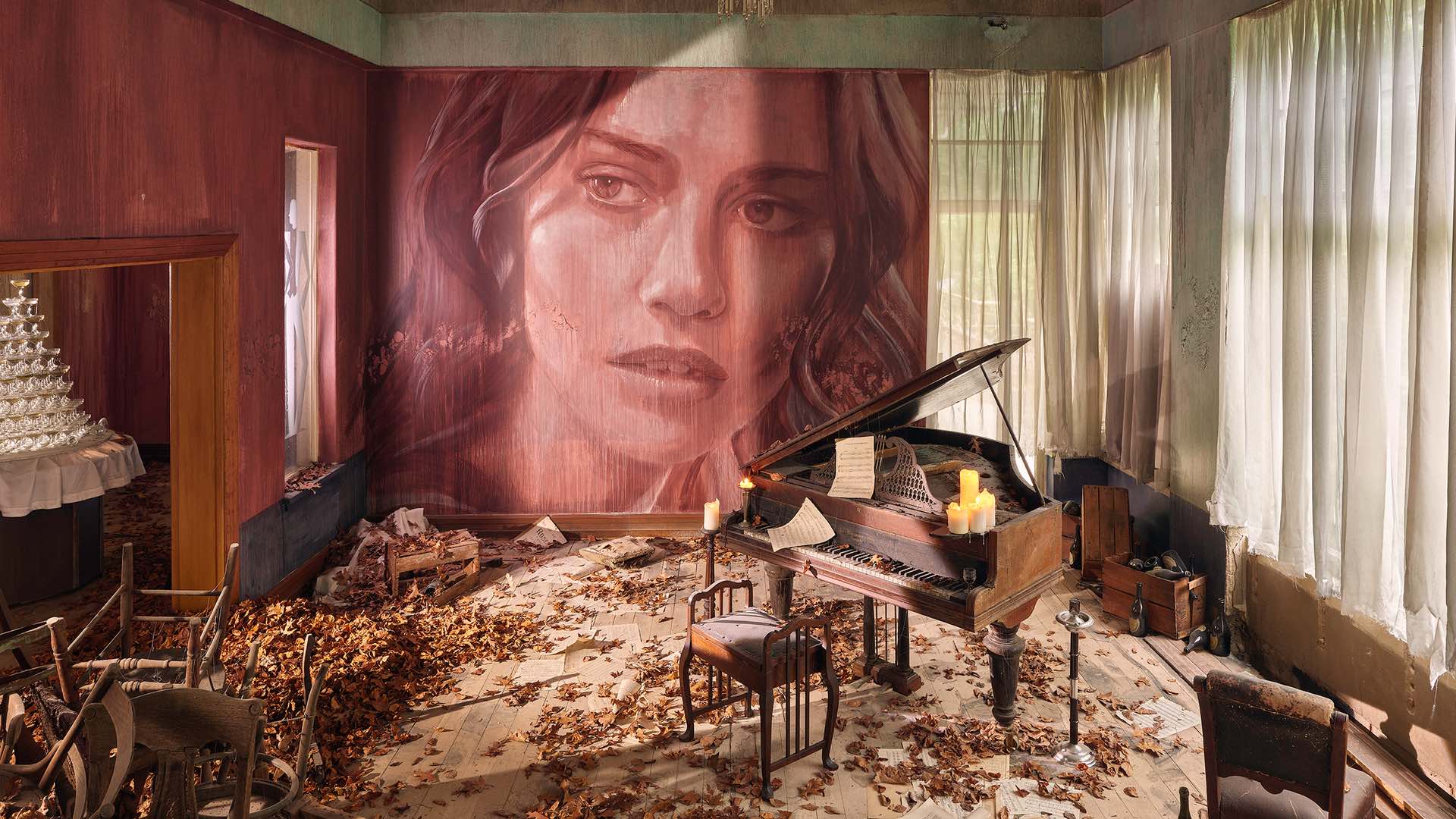 The four seasons play a major role in Empire, and this varying atmosphere was accomplished by a team of specialists. These include seasonal botanical installations by design studio Loose Leaf, scent design by Kat Snowden and lighting design by John McKissock. These go alongside a multi-channel sound work by composer Nick Batterham, who recorded ambient audio in the estate's gardens across different seasons.
Expect a hauntingly beautiful vibe of an era gone by, as Rone seeks to create an ambiguous storyline that can be felt by each guest individually. Rone takes personal inspiration for the space from the Mark Romanek-directed music video for the Johnny Cash cover of Hurt (originally by Nine Inch Nails) — which should give a sense of what you're in for.
The mansion began as the family home to wealthy industrialist Alfred Nicholas, before becoming a research facility, then a children's hospital, luxury hotel and finally falling into disrepair in the late 1990s. It was bought, along with the estate, by Shannon Bennett's Vue Group in 2010 — while the mansion has remained deserted, the group has opened a cafe and bakery on the property.
The project took one year to complete and is Rone's largest yet. It's a follow up of sorts to the artist's 2017 installation The Omega Project, in which he similarly created an exhibition in a condemned family home in the inner north just before it was demolished.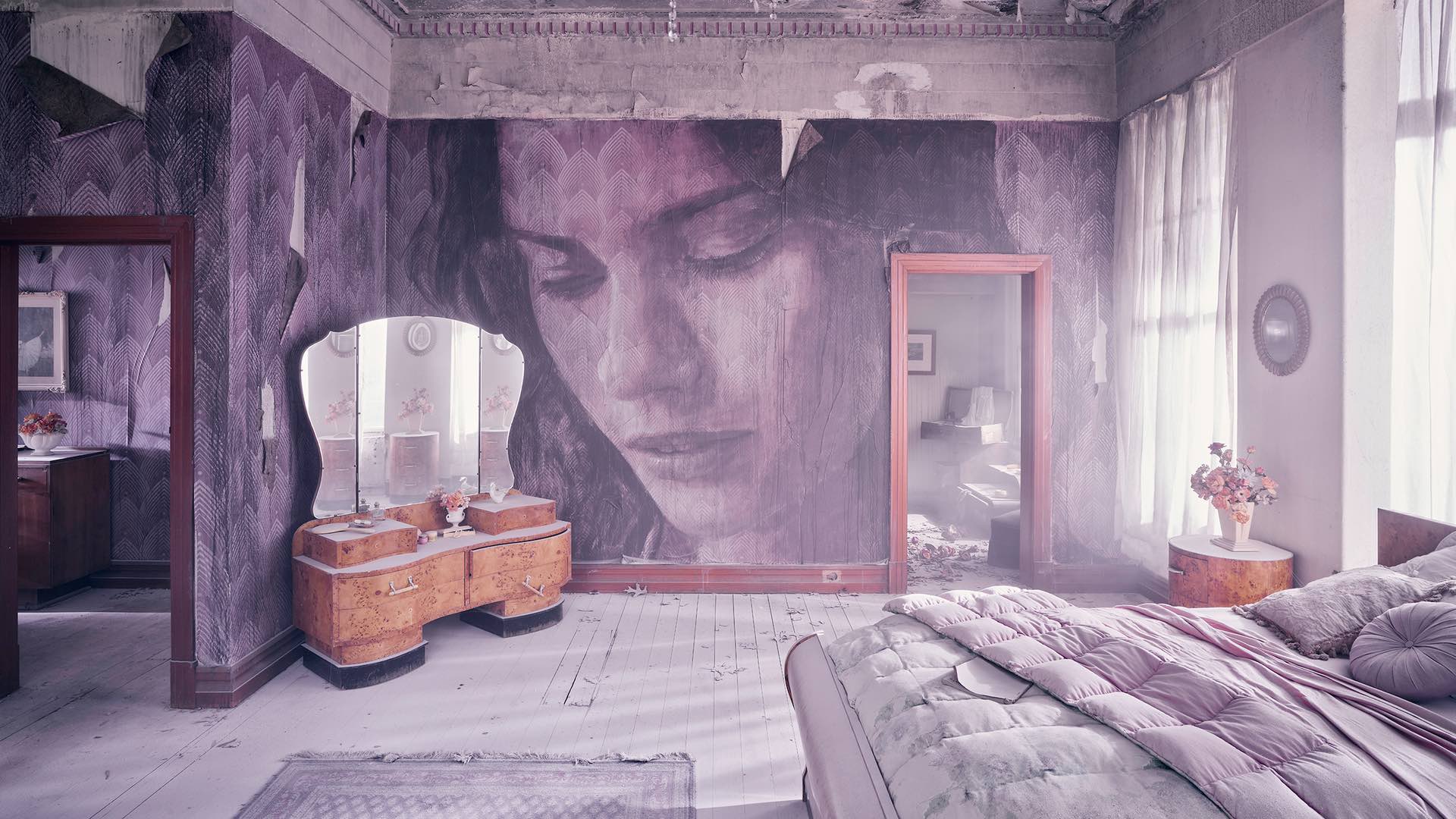 Empire by Rone will be on display from March 6 until April 22 at Burnham Beeches, 1 Sherbrooke Road, Sherbrooke. All tickets are unfortunately sold out. 
Published on February 21, 2019 by Marissa Ciampi