ARTS & ENTERTAINMENT
Darwin Is Now Home to an Illuminated Sculpture Trail from the Artist Behind Uluru's 'Field of Light'
Bruce Munro's 'Tropical Light' is his first-ever city-wide exhibition.
Darwin Is Now Home to an Illuminated Sculpture Trail from the Artist Behind Uluru's 'Field of Light'
Bruce Munro's 'Tropical Light' is his first-ever city-wide exhibition.
He might hail from the UK, but internationally renowned artist Bruce Munro is leaving quite the impression Down Under. He's the creative mind behind Uluru's stunning Field of Light installation – which has pulled over 450,000 visitors and been extended three times since launching in mid-2016 – and, more recently, he illuminated Albany's tree-lined Avenue of Honour for ANZAC-inspired work Field of Light: Avenue of Honour.
Now, the artist has taken on the Top End for Bruce Munro: Tropical Light, his third Australian installation and first-ever city-wide exhibition, which opened in Darwin last week.
Free to visit and running until April 2020, the Northern Territory installation features eight large-scale illuminated sculptural works, inspired by Munro's own travels across the region. Peppered through the CBD and Darwin's waterfront precincts, they make up a self-guided 2.5-kilometre sculpture trail audiences can enjoy at their leisure.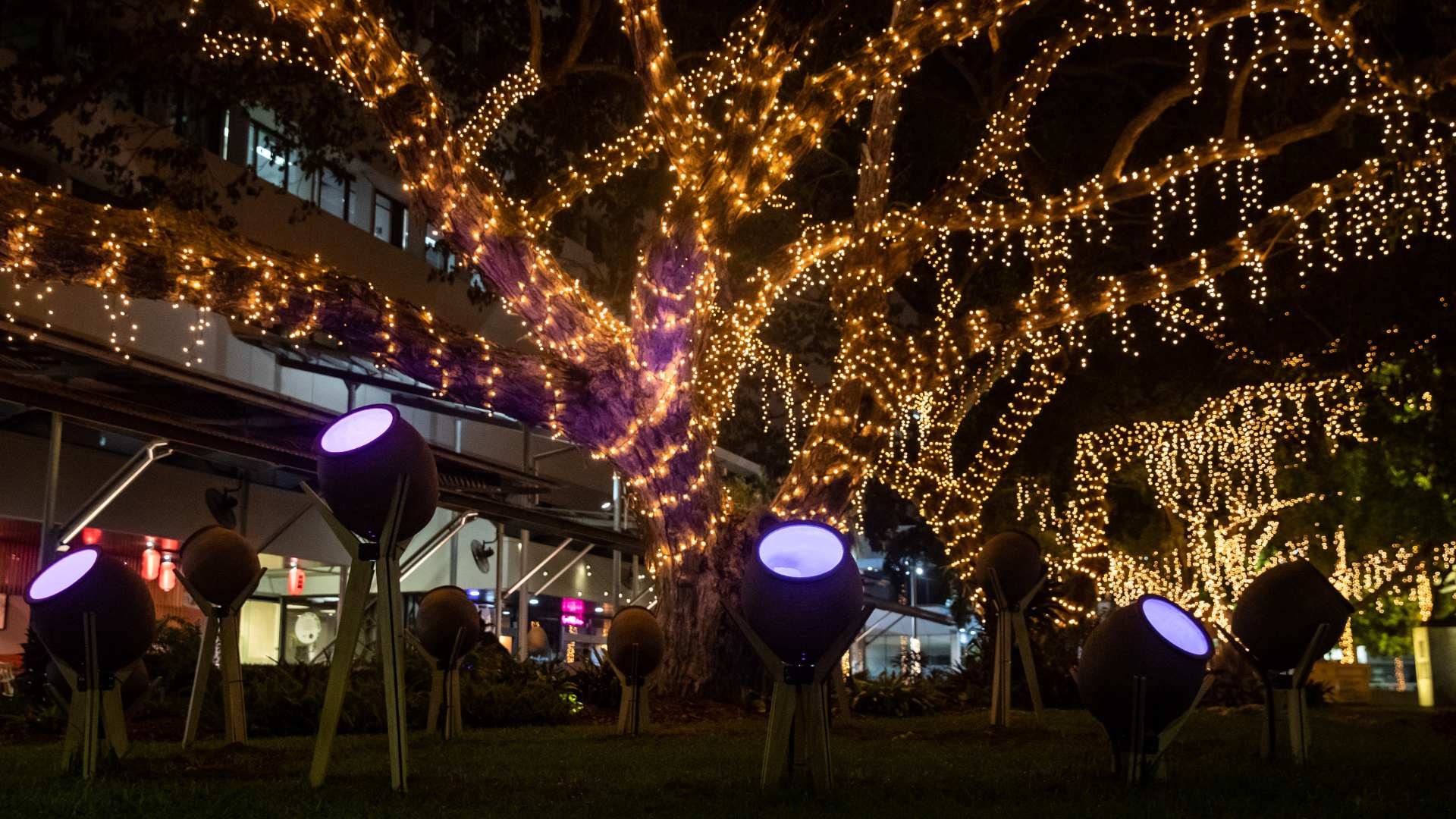 Bruce Munro, Pukul Lima
Expect to find plenty of pieces referencing the Top End's vivid sunsets and native creatures, along with many an ode to Mother Nature, all showcasing Munro's strong affinity for light. There's Light Shower, Wave Lagoon Canopies, which features 3000 drops of light; the spherical Green Flash in the Old Town Hall Ruins; and Time and Again, Palm Tree Grove — a waterfront piece made up of 37 radiant, stainless steel lilies.
Munro's sculpture trail is accompanied by works from five local artists, including acclaimed aerial photographer Paul Arnold and a series of solar jellyfish lights by Bev Garside.
Bruce Munro: Tropical Light runs until April 30, 2020, across Darwin. It's illuminate from 7–10.30pm every night.
Published on November 04, 2019 by Libby Curran