DESIGN & STYLE
Eastern Market Murder is Melbourne's New Augmented Reality Smartphone Game Based on a True Crime
Download the app and step back in time to solve a real local murder mystery from 1899.
Remember a few years back when Pokemon Go took the world by storm and had people out in the streets hunting down augmented reality monsters with their phones? Well, similar technology has been used by local company True Crime Games to craft its latest creation, Eastern Market Murder — an augmented reality whodunnit game centred around a real crime from Melbourne's Victorian-era past, set in 1899.
"We are really into true crime, history and technology, so we smooshed the three together into a game that we wanted to play," explains Emma Ramsay, one half of the husband-and-wife duo behind True Crime Games. After first learning the story of the infamous Eastern Market Murder on Melbourne-focused history podcast Dead & Buried, the pair knew they'd found the perfect topic for their second game — their debut creation, Misadventure In Little Lon, launched in 2019 as part of Melbourne International Games Week. Dead & Buried host Carly Godden joined the team as a historical researcher and co-writer, and the creators got busy bringing their new idea to life.
Released earlier this month, Eastern Market Murder is an app-based game that users can play either at home or on the ground. The latter option takes you on a self-guided tour of the actual crime sites involved in the historic murder case, covering around 2.5 kilometres and taking between 60 to 90 minutes of playing time. Similar to other AR games, it uses your smartphone camera to layer 3D scenes and characters onto real-world settings, and geo-location technology to guide you between the 10 sites you'll need to hit in order to collect evidence, solve clues and question witnesses. You can play solo or flex your teamwork skills as you dive into a sinister slice of Melbourne history, discovering wild stories and learning about some questionable real-life characters. You'll encounter fortune-tellers, tales of sketchy business rivalries and more as you attempt to solve the eerie mystery.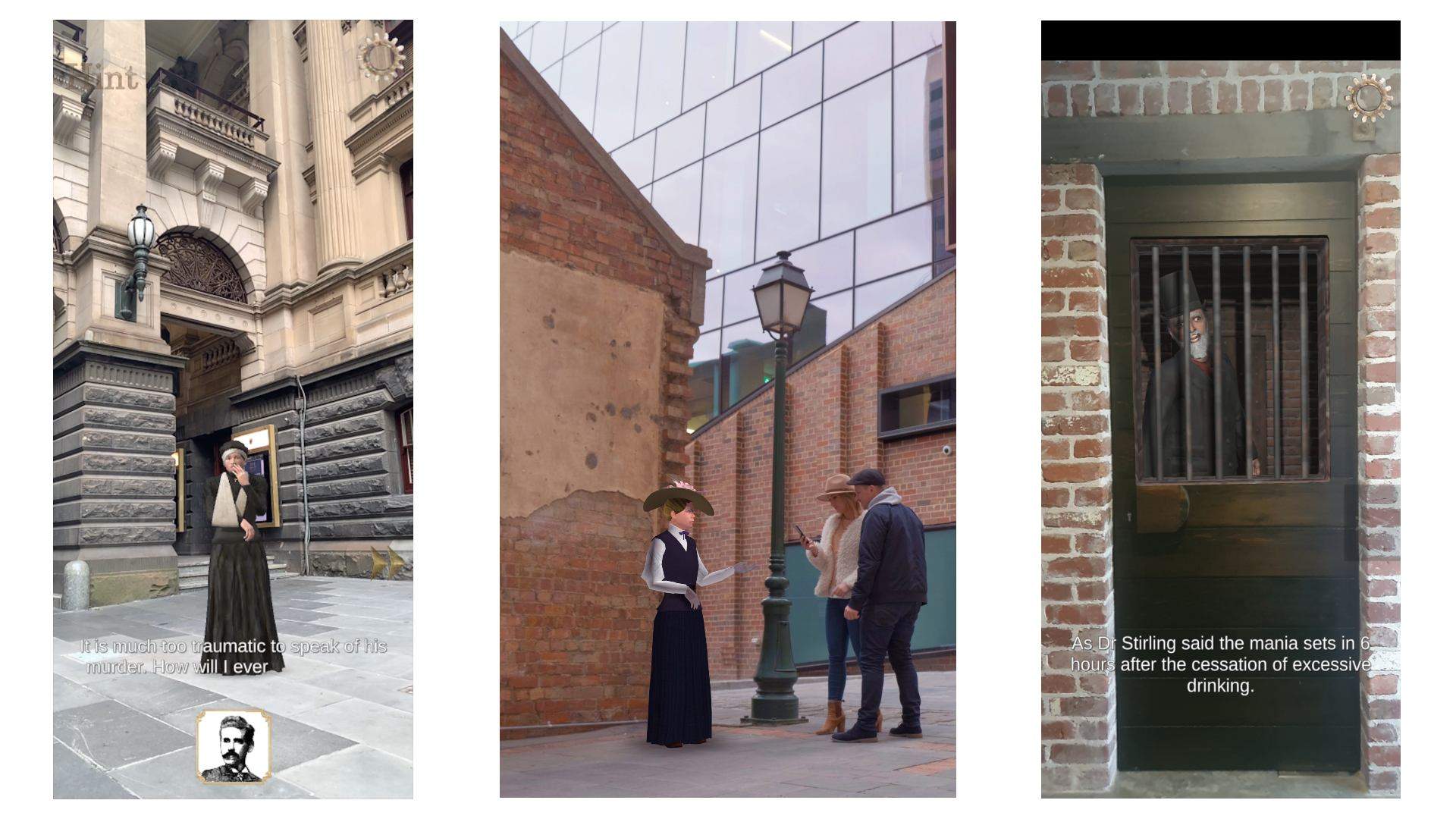 During the production phase, Eastern Market Murder saw Ramsay and co-founder Andy Yong conducting extensive research, using historic documents to guide the game's interactive script, and modelling many of its characters and scenes from original photographs. And after the year that was, it might be the perfect excuse to get out and experience Melbourne IRL.
"We want you to explore places you've never been, discover the stories that form the bones of Melbourne, recognise the injustice of the crime and feel it reflected in society today," says Ramsay. "It's pretty amazing watching people finish the final scene, where they've confronted the killer using all of the evidence they've accumulated during the game. It's a lot like they've just stepped out of some sort of crazy time machine."
Eastern Market Murder is now available for both iOS (via the App Store) and Android devices (via Google Play), priced at $4.99.
Published on May 11, 2021 by Libby Curran