DESIGN & STYLE
Five Everyday Changes to Make If You Consider Yourself an Animal Lover
Big fan of four-legged friends? Here's a handful ways you can look after them — and yourself.
in partnership with

Love hanging in your local park and patting all the good boys that run past? Do you find the cool demeanour of cats cute? And don't get you started about rabbits doing zoomies, right? If you've answered yes to all of the above, we're guessing you're a big animal lover. Or, even if you wouldn't say you love animals, we're guessing you don't want to cause them harm.
That's why factoring critters, both great and small, into your daily decisions is important, from the clothes on your back to what you eat. To help you out, we've teamed up with the animal-loving folks at nutritious plant-based meal delivery service Soulara to bring you five simple swaps to introduce to your daily life. Because you shouldn't have to choose between yourself and adorable animals.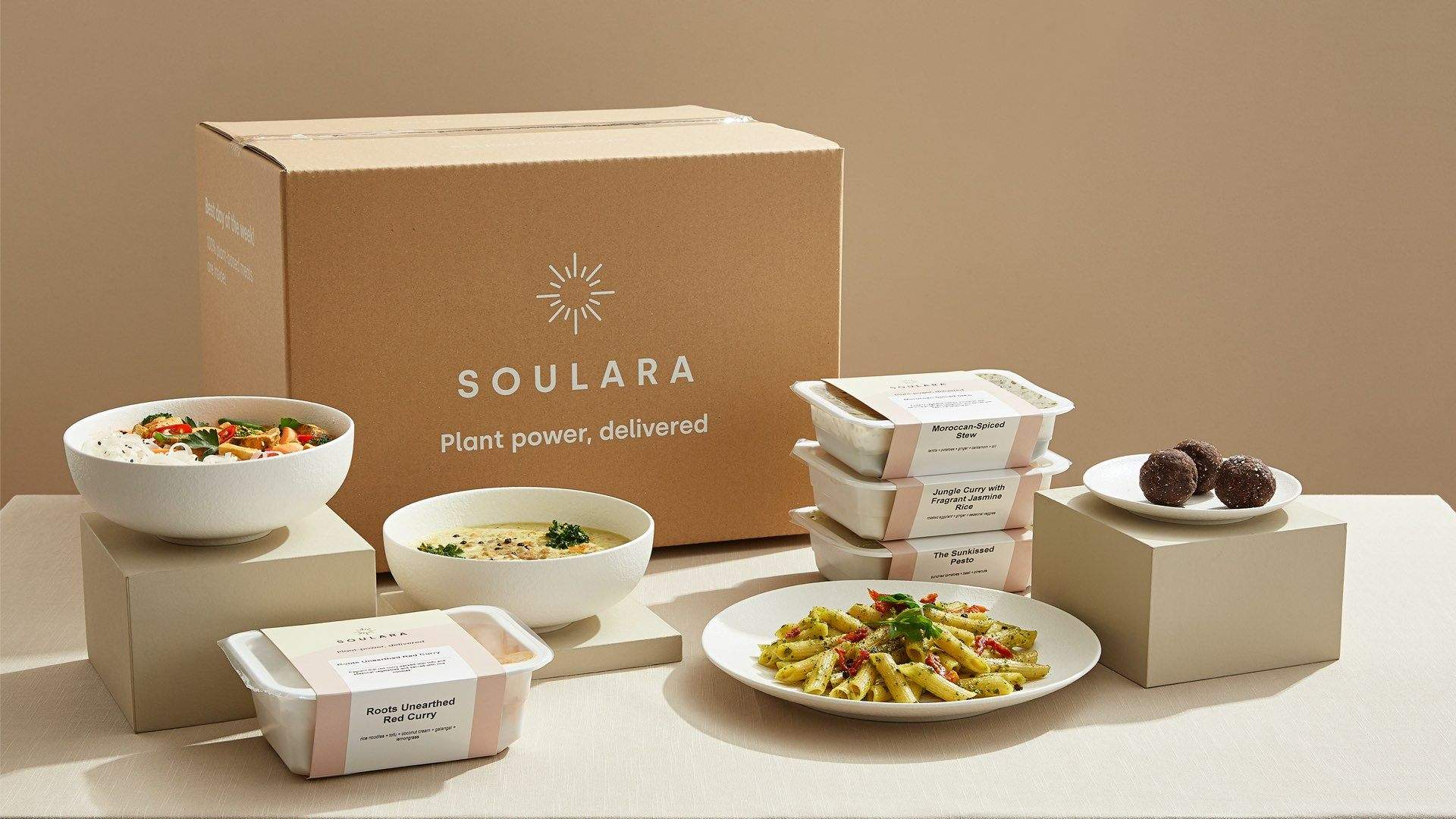 SIGN UP TO A PLANT-BASED MEAL DELIVERY SERVICE
As they say, you are what you eat — and a plant-based diet is just one way you can live your best animal-loving life. It also has a bunch of health benefits and is one of the biggest ways you can lower your environmental impact. So, really, it's a win-win-win. But, whether you're all in or trying it out a few days a week, making the switch to plant-based can be tricky. One way to cut out the guesswork is by signing up to an animal product-free meal delivery service like Soulara. Every meal is designed by nutritionists and prepared by chefs, packed with vital nutrients and delivered fresh, not frozen, so you can simply pop it in the microwave when you're ready to eat. You'll enjoy the likes of choc hazelnut and chia seed pudding for brekkie, tofu laksa for lunch, and shiitake mushroom carbonara for dinner. It's got bliss balls, kombucha and cold-pressed juice packs that you can tack onto your order, too. There are plenty of dietary requirement-friendly options, too, as well as for the calorie conscious. If you're worried about not getting enough protein, don't be; Soulara's high protein range offers veg-based meals with 25-plus grams of protein in each serve. To top it off, it's a pretty affordable option, with meals starting from $8.50 and, right now, you can also nab $60 off your first order, too — just sign up here.


GO CRUELTY-FREE WITH YOUR BEAUTY REGIME
Breaking into labs and freeing rabbits isn't something Hollywood made up. Yep, the world of beauty has an ugly side. So, if you want to go cruelty-free with your daily beauty regime, it's important to know what brands to opt for. One thing to remember is that vegan and cruelty-free products are not one and the same. Vegan means no animal products or animal-derived ingredients, such as beeswax, are used in the product, whereas cruelty-free means no animal testing was carried out in the making of your face mask, perfume, moisturiser or body scrub. If you're a hardcore animal fan, you want to be buying beauty brands that do both. The good news is more and more companies are shifting to creating more ethical products. Natural skincare brand Sukin is a great go-to as it's good for your skin, animals, the environment and, for the most part, your wallet. Otherwise, Aussie beauty retail giant Mecca stocks a bunch of vegan and/or cruelty-free products, from brands such as Frank Body, Josie Maran, Korres, Stila and its own Mecca Max — just be sure to check the label. Animal welfare organisation PETA Australia has a handy guide, too, which you can check out here.


ADOPT OR FOSTER AN ADORABLE ANIMAL
While more of us are working from home — or, at least, spending more time at home — it makes sense that we're increasingly wanting a furry, four-legged friend by our sides. So, if you've been thinking about adding a pet to your fam (and have considered it thoroughly), now might just be the time. Rescue organisations such as the RSPCA and Petbarn adoption centres work to find permanent and foster homes for pups, cats, bunnies and guinea pigs surrendered into their care. In 2019, the RSPCA found new homes for 2654 pets Australia-wide, and we can only assume this year the numbers will be even more impressive. If you can't commit to taking a pet in permanently (but still think you'd make a great fur parent), fostering is also a great way to help out animals in need. Rest assured that the usual procedures and standards still apply, so every furry and feathered friend ends up in a happy home — whether it's forever or just for a little while.


GET YOUR HANDS DIRTY
We're not suggesting you follow Fido into a mud puddle, but there are ways you can directly help out animals that aren't fostering or adopting. For one, you can get to work on your green thumb. If you haven't already heard, bees play a pretty big part in how the world goes round; however, due to things like land development and pesticides used in farming, the global bee population is in danger. Just by getting a little garden growing in your backyard, you can help bees to do their work transferring pollen, which aids the growth of certain fruits, plants and, in turn, provides sources of food for much wildlife. Or, you could skip the dirt and get yourself this nifty Bee Pollination Grow Kit. Another way you can help is through animal conservation work. After last summer's devastating fires, there are a lot of native critters that need your help, which can involve everything from volunteering in national parks and joining WIRES to simply putting water out for distressed animals.

LEVEL UP YOUR WARDROBE WITH ETHICAL LABELS
No one ever said fashion had to be all fur, leather and feathers, but according to PETA, more than one billion animals are killed each year for their fur and leather alone. It's 2020 and we're a far cry from medieval times. On top of that, now it's easier than ever to pick up ethical threads — so why wouldn't you? While ethical is a broad-stroke term, when talking about animal-friendly fashion specifically, you don't have to look too far. Global retailers such as Zara, Uniqlo, Dr Martens and Topshop sell a bunch of 'vegan' leather goods, as well as alternative animal-free materials. You'll find some Aussie labels doing that, too, including Nico, Kowtow and Tasi Travels. For a one-stop ethical clothing shop, head to Well Made Clothes, which has a wide range of vegan clothing and accessories. And leading the charge of animal welfare in the high-end industry is Stella McCartney, which uses alternatives for everything from leather to fur, silk, feathers and wool.

One of the biggest ways you can care for animals is to switch to a plant-based diet. To help make that part easy and fuss-free, Soulara delivers nutrition-packed meals straight to your door. And, if you need to, you can also pause or skip a week of your subscription at no extra cost. Better yet, Soulara is currently offering $60 off your first four deliveries — just sign up here.
Published on September 23, 2020 by Cordelia Williamson