DESIGN & STYLE
Melbourne Is Getting a 2000-Square-Metre Rooftop Farm and Cafe on Top of a City Car Park
Melbourne Skyfarm will boast a working farm, an education centre and an on-site cafe and bar.
Melbourne Is Getting a 2000-Square-Metre Rooftop Farm and Cafe on Top of a City Car Park
Melbourne Skyfarm will boast a working farm, an education centre and an on-site cafe and bar.
In a reverse manifestation of 'Big Yellow Taxi', one cement-filled corner of the city is about to get a very green makeover. A 2000-square-metre rooftop car park is set to be transformed into a lush public urban farm and cafe.
Located atop a ten-storey parking lot on the city side of the Yarra across from the Melbourne Convention and Exhibition Centre, the Melbourne Skyfarm project is the brainchild of urban farming company Biofilta, along with The Sustainable Landscape Company and local protection group Odonata. It's being built with the help of a $300,000 grant from the City of Melbourne Urban Forest Fund, as well as support from the MCEC.
An inner-city oasis inspired by the likes of New York's famed Brooklyn Grange rooftop farm, the groundbreaking green space will boast a working farm and orchard, a beekeeping set-up, an educational centre, and a 90-seat licensed terrace cafe and events space serving the fruits of the farm. When it opens in 2020, visitors will be able to get a close-up glimpse with regular guided tours, take expert-led workshops on a swag of nature-focused topics, or simply kick back with an after-work tipple while soaking up the view.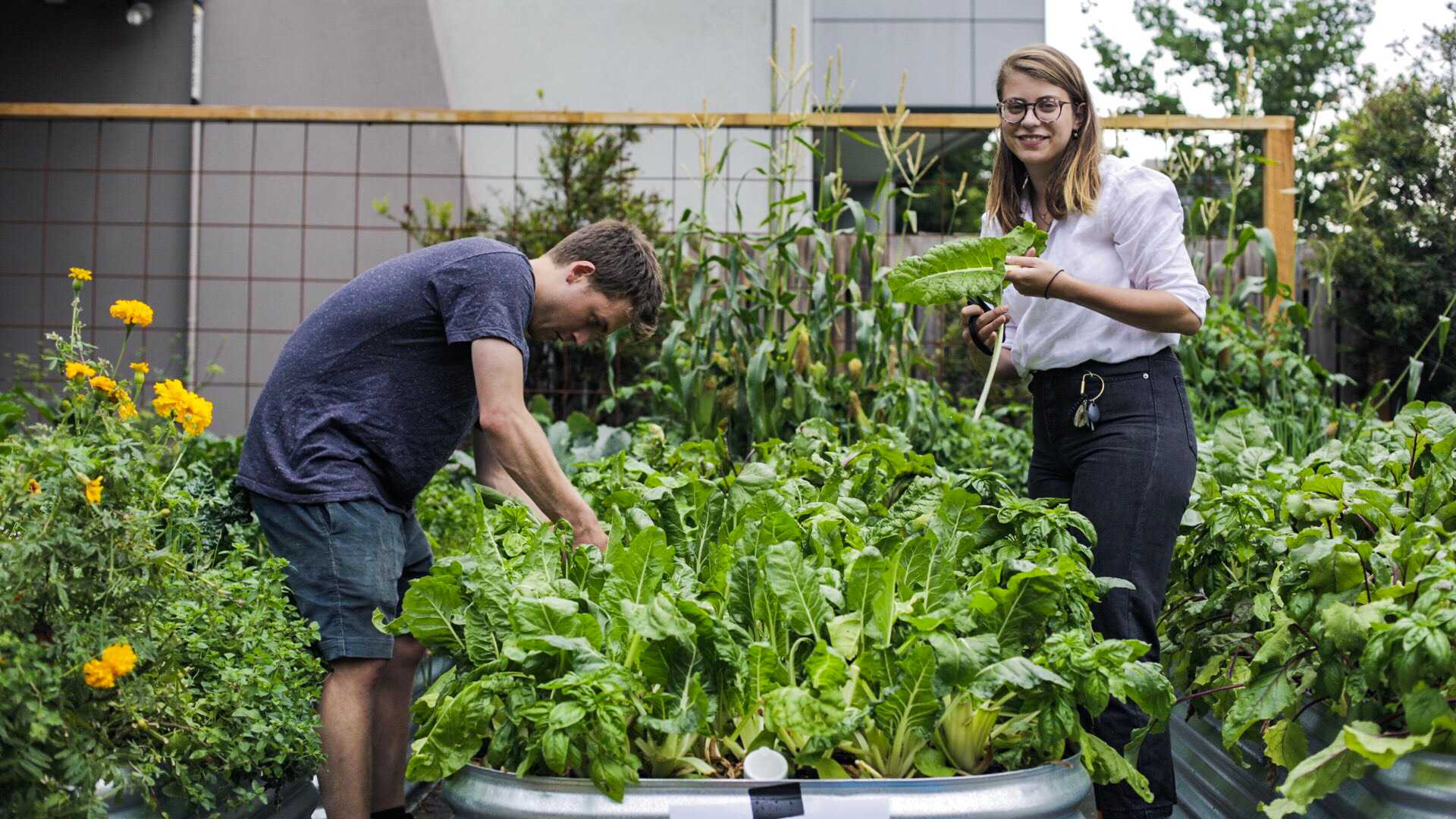 The farm itself will run on one of Biofilta's state-of-the-art, water-efficient systems, creating an expected haul of over five tonnes of fresh produce each year. Much of that will be given to local food charities, while a portion will be showcased — along with native ingredients and Victorian food and wine — throughout the menu at the on-site cafe.
A design hub and high-tech education centre will focus on creating sustainable solutions to the challenges faced by our natural world, exploring concepts like zero waste living, renewable energy, and urban biodiversity.
The farm will be located in the $450 million Seafarers Place precinct that's currently going up on the north side of the Yarra, just south of Clarendon Street near Wurundjeri Way. The project, led by developers Riverlee, will restore the wharf and historic Shed 5 site and turn it into apartments and and Australia's first 1 Hotel.
Melbourne Skyfarm is currently undergoing City of Melbourne planning approvals, but it's expected to be up and running by late 2020. If it sounds familiar, that might be because a similar project is currently underway at the new Burwood Brickworks, which is set to open later this year. A smaller urban farm led by Pastuso chef-owner Alejandro Saravia will also be featured atop the new 80 Collins development.
Melbourne Skyfarm will open at the Seafarers Place site sometime in 2020. We'll keep you updated on any further developments. 
Published on May 02, 2019 by Libby Curran