ARTS & ENTERTAINMENT
Happy Place
It's Melbourne's turn to explore "world's most Instagrammable exhibit", complete with a confetti dome, ball pit and room filled with 40,000 gold flowers.
Immersive and Instagrammable art has been all the rage in Australia for a few years now. Yayoi Kusama's Infinity Room has taken up permanent residence in Canberra, Sugar Republic's "dessert museum" keeps popping up, both multi-sensory playground Imaginaria and Van Gogh Alive have been touring the country in 2021, and Melbourne now has its own permanent digital art museum. And, after first hitting our shores in Sydney in 2020, Happy Place is about to jump back on the must-photograph list.
Dubbed the "world's most Instagrammable exhibit", the multi-room installation had already travelled across the US and Canada before its first Aussie stop, and now it's heading to Crown Melbourne from Thursday, December 2–Sunday, January 30.
Once inside the exhibition, you'll find many OTT rooms to explore, including a rubber ducky bathtub room, a cookie room that actually smells like freshly baked cookies, a room filled with 40,000 golden handmade flowers and a giant rainbow with a golden ball pit (no leprechauns though, sorry). If that doesn't have you reaching for your smartphone, there's also a mind-bending upside-down room and the "world's largest indoor confetti dome".
Happy Place will be operating under COVID-safe guidelines in Melbourne, which means that all patrons over the age of 16 will need to be double-vaccinated — and there'll be contact tracing in effect, as well as increased sanitisation measures.
A visit will cost adults $24.99 on Tuesdays, Wednesdays and Thursdays between Thursday, December 2–Wednesday, December 15; $29.99 on Fridays, Saturdays and Sundays between the same dates; and still $29.99 from Tuesday–Sunday between Thursday, December 16–Sunday, January 30.
Hours-wise, midweek sessions will run from 10am–7.30pm until Wednesday, December 8, and from 9am–7.30pm afterwards. Friday and Saturday sessions run from 9am–9pm, and the pop-up is open from 9am–6pm on Sundays.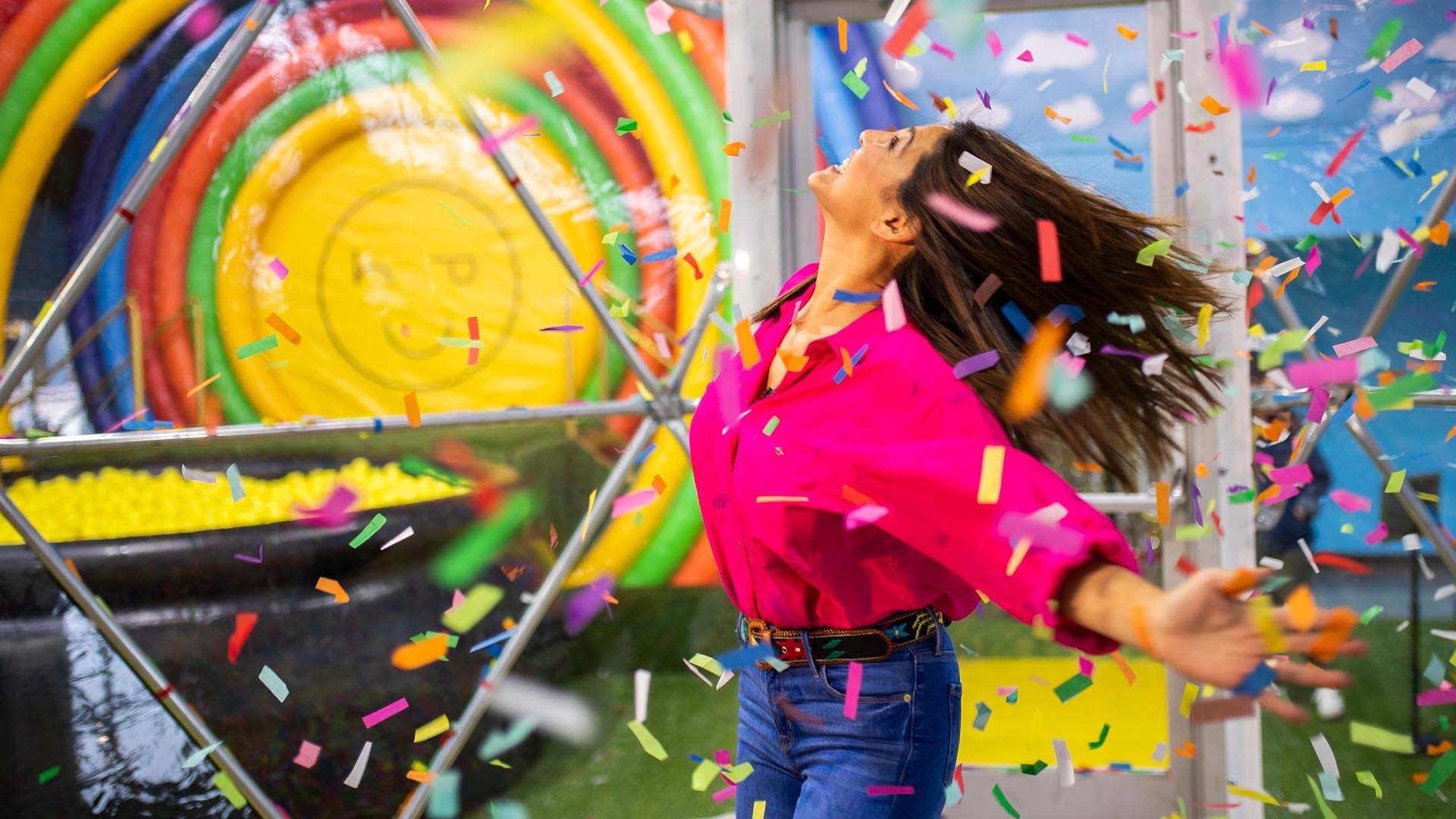 Food & Drink

Saturday, November 6 - Sunday, January 30

Port Melbourne Dog Beach

Design & Style

Monday, December 6 - Saturday, April 30

Grollo Equiset Garden, NGV International
Food & Drink

Friday, November 5 - Sunday, May 29

Crown Riverwalk

Food & Drink

Saturday, November 13 - Saturday, February 26

The Boatbuilders Yard

Food & Drink

Tuesday, October 26 - Saturday, April 30

Arbory Afloat

Design & Style

Monday, December 6 - Saturday, April 30

Grollo Equiset Garden, NGV International