MPavilion 2022
This year's vibrant MPavilion architecture commission will feature 250-plus free talks, workshops, performances and installations over four months.
When MPavilion hits Melbourne each year, it gives the city two gifts in one: a stunning new temporary structure built in the Queen Victoria Gardens, and a jam-packed lineup of events in and around the freshly erected space. Perfect for summer hangouts, the specially commissioned spot arrives when the weather is warm to add workshops, talks, performances and more to everyone's diaries. For its 2022–23 run, the time for all of the above is now.
This year's winning MPavilion design is a vibrant canopied structure driven by celebrated architect Rachaporn Choochuey. Now open in its short-term inner-city home, the venue designed by Bangkok-based architecture and design practice all(zone) marks the ninth MPavilion in the series. After a couple of years spent indoors due to Melbourne's pandemic lockdowns, it also aims to offer a celebration of outdoor living.
MPavilion 2022 will sit at Queen Victoria Gardens to host a season of events, before being relocated to a permanent home elsewhere in Melbourne after this year's lineup wraps up on Thursday, April 6. That gives the space four huge months to host an impressive array of festivities, starting with a dance party featuring John Gomez, Nick the Record and Dita, as well as a Thai Festival that includes a lantern-making workshop and Thai dances — all on this year's opening weekend from Friday, December 9.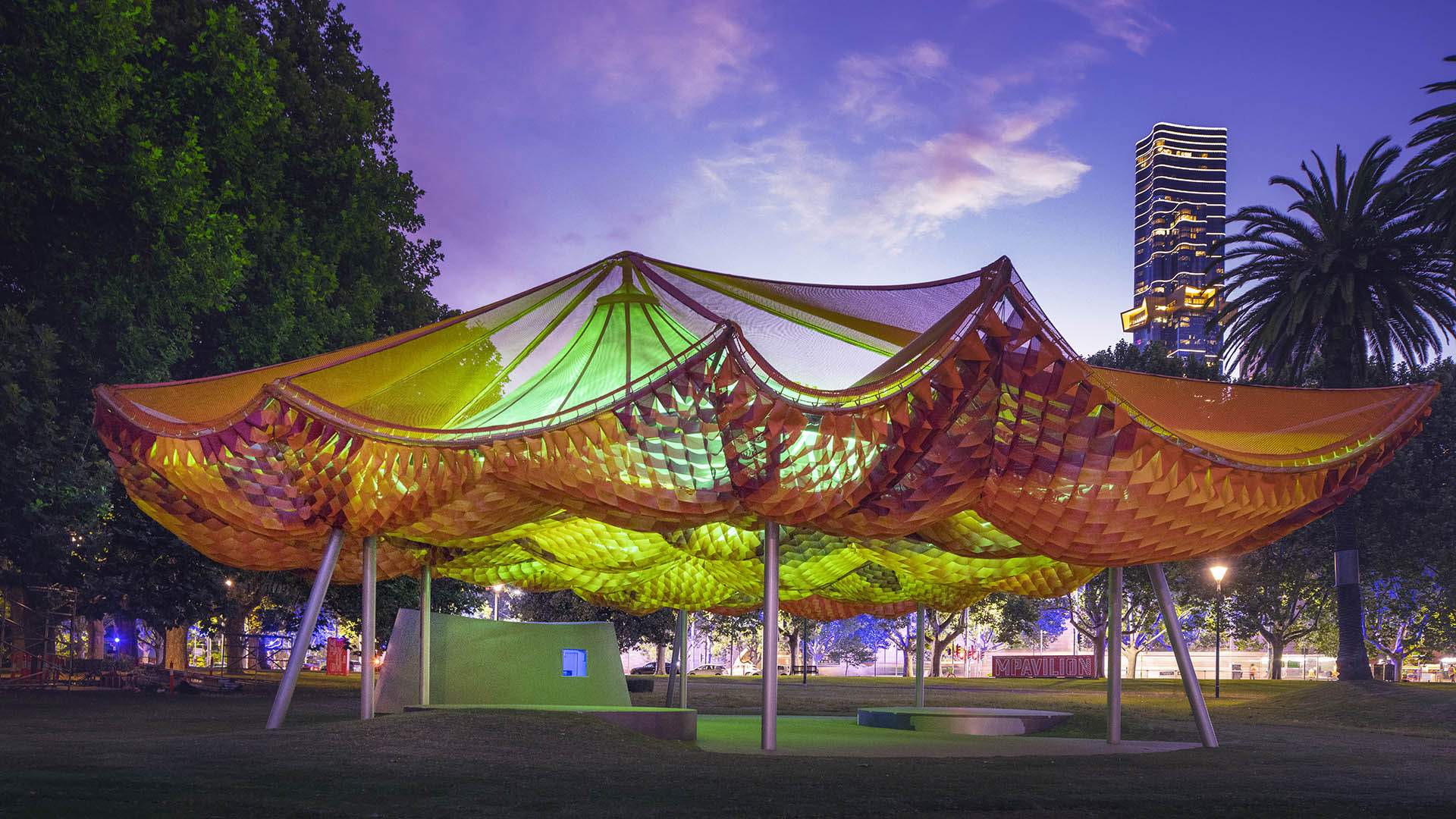 The venue's events program changes its theme regularly — like its hues — starting with 'Under One Roof' in December, which is all about championing shared experiences. From there, January and February turns the space into a 'Material Lab', focusing on humanity's use of different materials, while March and April have 'Unseen Design' in mind, aka spotlighting how the best design can be invisible.
Across a lineup that includes more than 250 free events and spans the involvement of 500-plus creatives, that means specific sessions celebrating Indigenous voices in architecture, getting Cheated Hearts to unleash its party tunes, and screening ten short films about the experiences of individuals of African ancestry living in Melbourne. Also on the bill: DJs aplenty, pilates in the park, a chat-heavy summer salon, talks about concrete's afterlife and recycled plastics, and a Strictly Vinyl party to close things out.
Also, in a first, the MPavilion Food Truck will make Queen Victoria Gardens its home all summer. Yes, that's your leafy picnics taken care of, complete with an MPavilion Pale Ale by Preston brewery Tall Boy & Moose. Across two sets of dates — from December 15–18 and March 30–April 2 — the food setup will collaborate with Parcs, too, with chef Dennis Yong creating a 'bootleg fish & chip'-themed menu that's all about sustainability.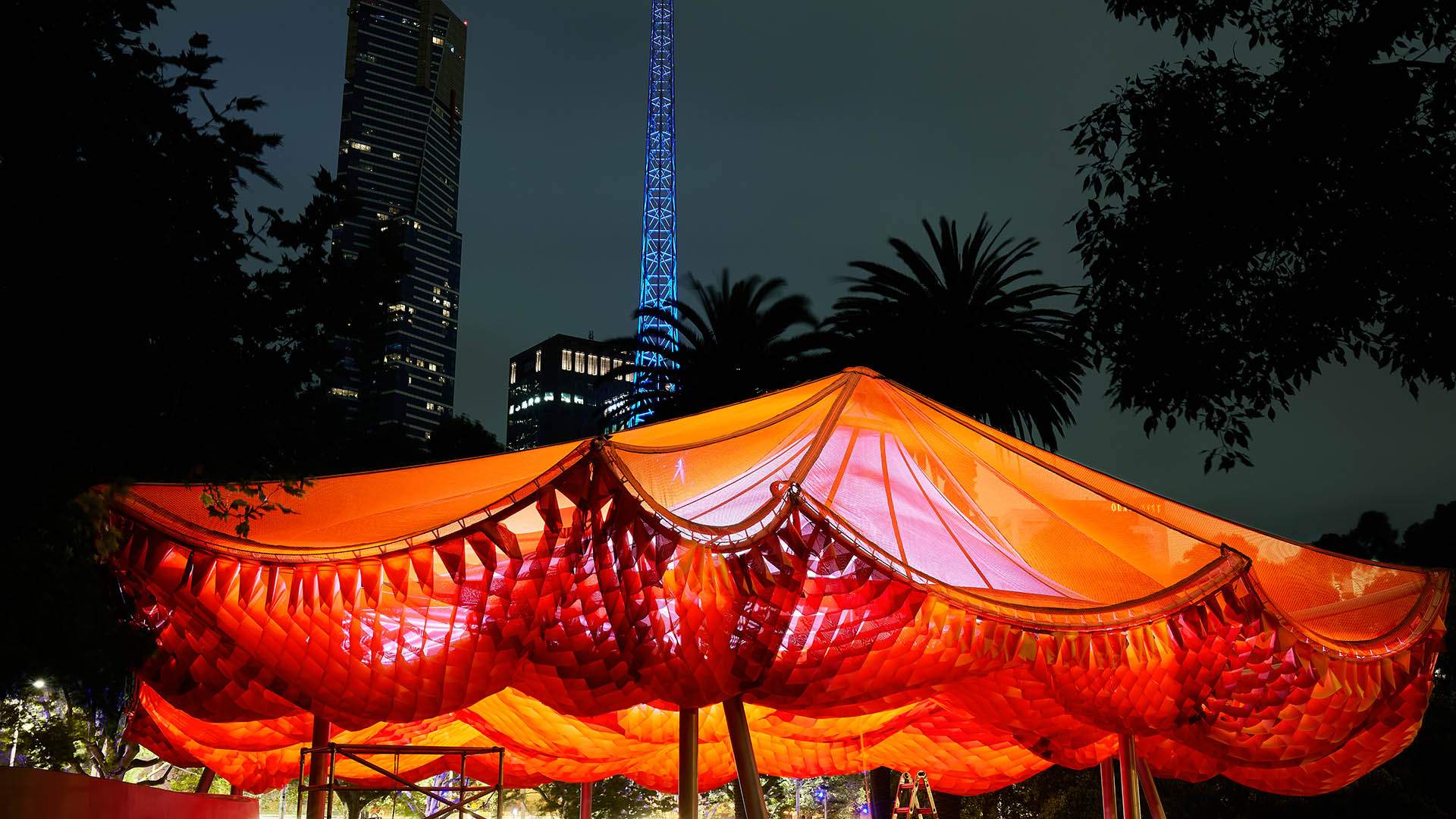 Images: Casey Horsfield and John Gollings.
Concrete Playground Trips
Book unique getaways and adventures dreamed up by our editors