Oktoberfest at The Bavarian
The Bavarian's Melbourne venues are celebrating Oktoberfest with parties, eight German-style beers, schnapps, giant pretzels, pork-heavy menus and Sunday sausage sizzles.
It's that time again: to wish that you're in Germany for the next month, or to do your best to pretend you are even while you're right here at home. That's the kind of response that Oktoberfest inspires, because we can't all always head over to Europe just for the annual brew-fuelled celebration. Melburnians can hit up The Bavarian's various locations around town between Friday, September 16–Sunday, October 9 instead, though.
On the menu: parties, German-style beers, schnapps, giant pretzels, pork-heavy menus, Sunday sausage sizzles and, at Knox, Oompah bands providing a soundtrack. So, everything you could want and need to mark the occasion. The venues will sport all the Oktoberfest trimmings — greenery, ribbons and bright tables cloths included — and staff will be decked out in dirndls and lederhosen. Yes, you're encouraged to dress up as well.
If you're most excited about the drinks, there'll be eight types of beers, plus tasting paddles to sample them all. Also, the final week of the fun — so, from Monday, October 3 onwards — has been dubbed Big Beer Week to ramp up the brews.
Fancy living your best Oktoberfest life all year round afterwards? You can purchase one of The Bavarian's one-litre steins to take home with you and— for $40, which includes a beer that you'll drink onsite first.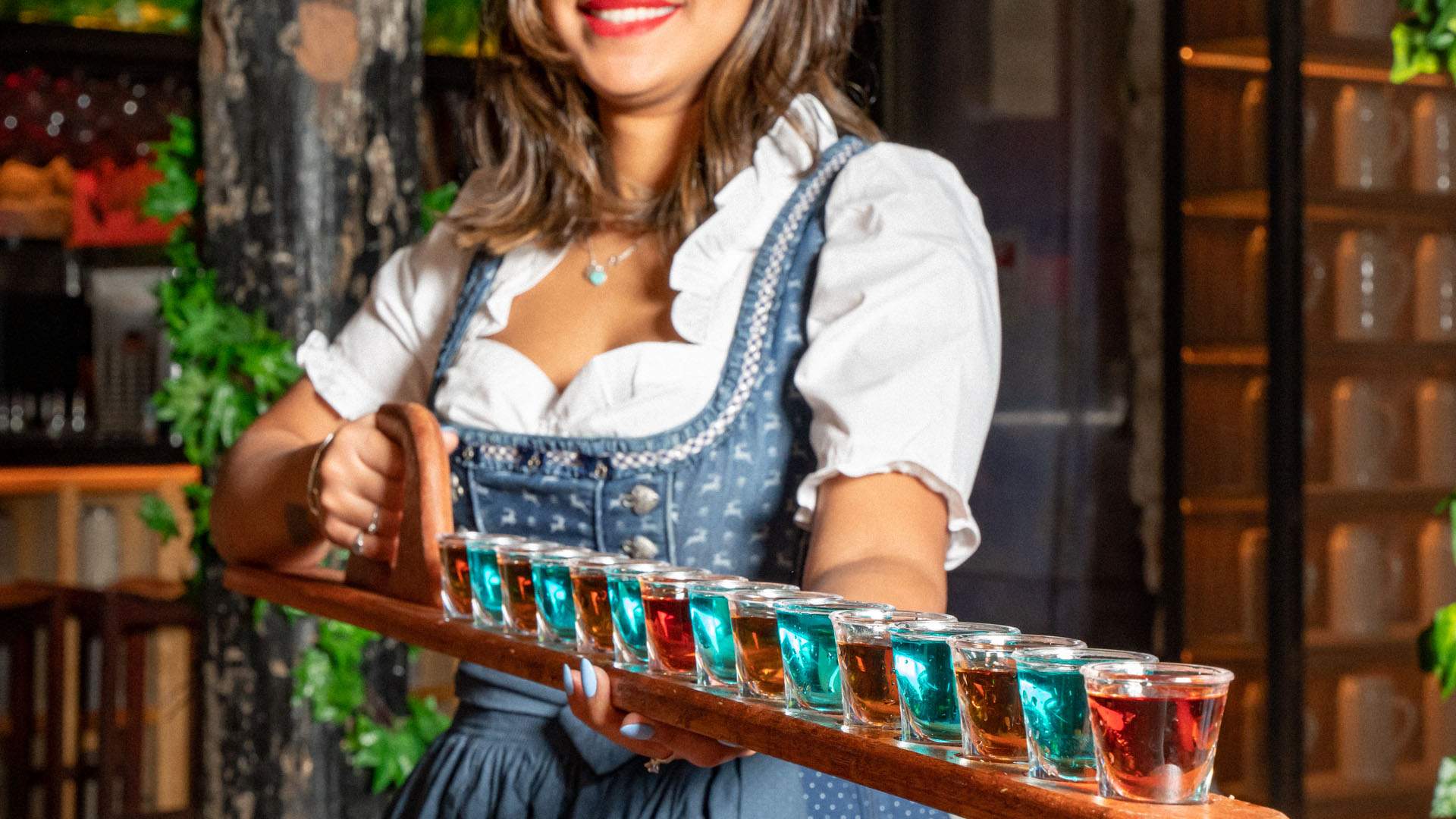 Food-wise, options start with the OktoberBoss set menu, which serves up a feast of pork knuckle, pork belly, sausages, schnitzels and sides (plus a schnapps on arrival) for groups of four-plus for $49 per person. If it's just you and one mate / your date, there's the Oktoberfest Mate set menu is for two-plus diners for the same price, spanning pretzels, pork belly, sausages, schnitzels and sides. Brews can be added to each menu for an extra $45 per person — and you can cap things off with an apple strudel for $7  a pop.
Love pretzels? A special lineup of giant versions is on offer for the first few days of The Bavarian's Oktoberfest shenanigans, from Saturday, September 17–Friday, September 23 — including ones topped with bacon, filled with cheese and covered in sprinkles (no, not all at once). Or, there's a black forest doughnut pretzel. The word for that is yum.
Snag fans can make a date with those sausage sizzles, which are available on Sundays in October. There'll be six types of traditional bangers, served solo in a roll (from $10) or via a sausage wheel on a stick.