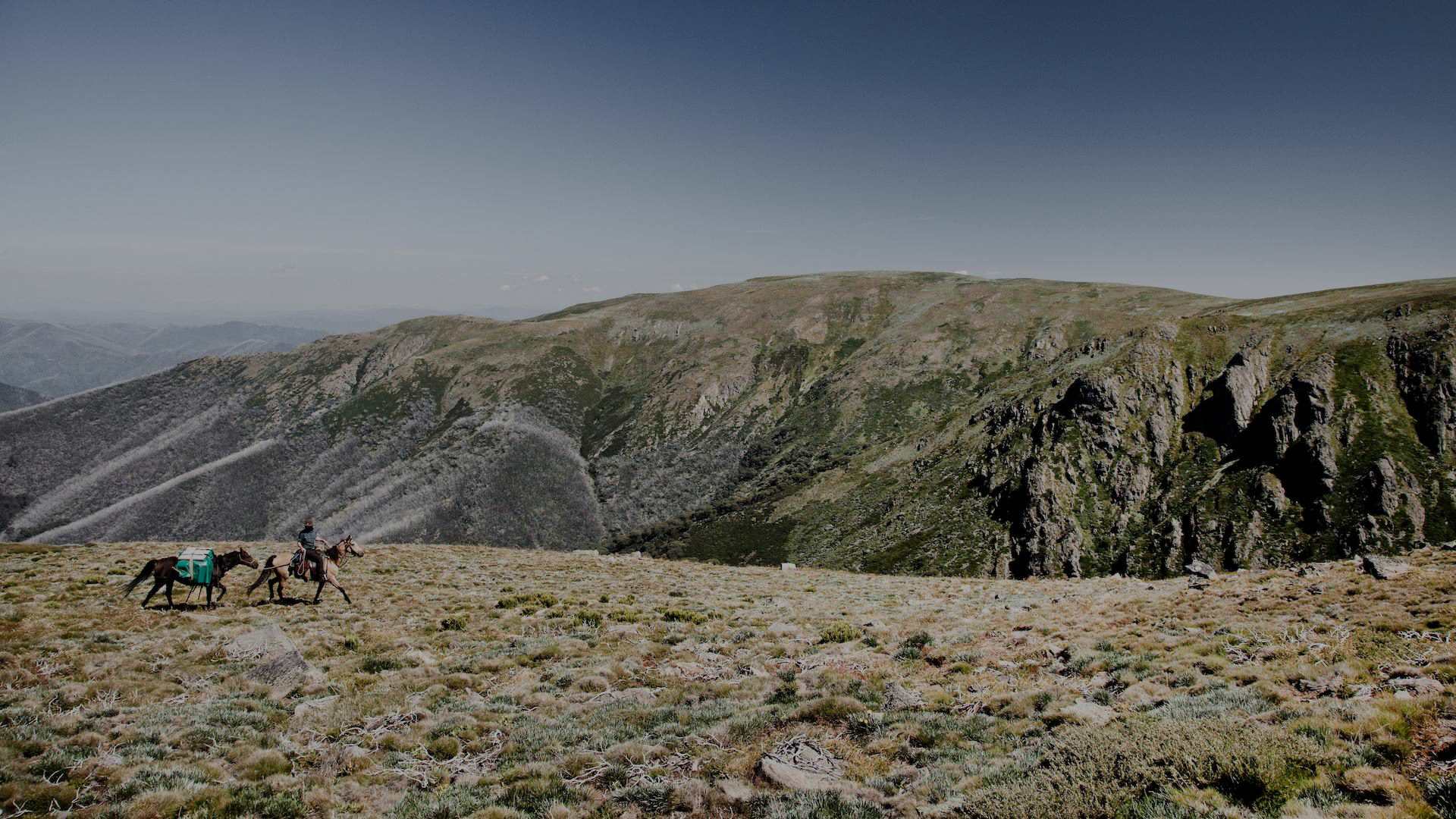 Explore this rugged stretch of backcountry — any time of year.
Only in Victoria's High Country
One moment you could be sipping sparkling with King Valley's prosecco pioneers. The next, you could be exploring mountainous peaks on horseback.
That is what one day could be like in Victoria's High Country. And the next day won't be any less exciting. Sure, it might be synonymous with snow-filled adventures, but there is so much more to this rugged stretch of countryside that makes it worth a visit.
From cellar doors and high-flying diners to art galleries and hot air balloon adventures, this pocket of regional Victoria boasts activities aplenty — for every type of traveller. So, whether you're after adrenaline-fuelled kayaking trips or wanting to brush up your knowledge on the local history — Ned Kelly, gold mining, Indigenous sites and all — you'll find it here.
WHEN TO GO
The High Country is a place you can visit any time of year — it just depends on what kind of trip you're planning. Summer sees the mountains covered in wildflowers and it's an ideal time to kick back with a few wines at one of the region's many vineyards. Milder temperatures in spring and autumn offer the perfect environment for outdoor adventures. And, when the mercury drops in winter, snow blankets the peaks, making it a go-to holiday destination for skiers and snowboarders.

GETTING THERE
While there are a few regional airports dotted around, the best way to get to — and get around — Victoria's High Country is by car. Jump on the National Highway (M31) and you'll reach the region in just under three hours. If you're as much about the journey as you are the destination, go on one of the scenic routes that take you through small towns and past impressive mountain ranges, rolling vineyards and mighty rivers. Once you're there, the Great Alpine Road is a must for those wanting to make a few interesting stops in between more popular towns.

SPENDING MONEY
Trips to the north east can go either way on the wallet. If you're on a strict budget, an outdoorsy trip is your best bet thanks to the many hikes and reasonably priced outdoor activities on offer. Plus, there are quite a few free and well-priced campgrounds around for those keen to rough it. Once you start forking out for guided adventure tours, fine dining dinners, snow sports, picnics on the side of cliffs and luxe accommodation, the bills start to stack up quite quickly. So, it's worth doing your research before hitting the road.
DON'T MISS
No trip to the High Country would be complete without stopping into a few wineries and cellar doors. A Taste of Wine Tours is a good option if you'd rather be shown the ropes than create your own itinerary. Sunrise hot air ballooning over King Valley is another must-do at least once, followed by a prosecco brunch at Brown Brothers Winery. If you're more into beer, be sure to visit one of Australia's earliest breweries, Billson's, located in Beechworth.
CHOOSE YOUR PERFECT ITINERARY
So much to do and so little time — it's always the way when you're on holidays. Let us help you fine-tune your itinerary of eating, drinking and adventuring and ensure not one moment of your precious annual leave is wasted.
Our food and drink guide has eight top-notch ways to wine and dine your way around the area, while our outdoor guide will have you exploring the region from all different angles (including soaring way above it). And for the less intrepid, our arts and culture guide highlights some of the local art galleries, historical tours and impressive museums to visit. Mix and match from the below to create your perfect itinerary for one memorable trip in Victoria's High Country.
WHERE TO STAY
Start things off in style by sleeping in the Provençal-style tower at Mount Ophir Estate in the heart of Rutherglen winemaking country. If you're after self-contained accommodation, 3 Black Sheds in King Valley is the perfect combination of location, luxury and looks — think chic warehouse vibes, wide verandahs overlooking the countryside and the region's top prosecco makers just a stone's throw away. Otherwise, Hotel Granya Farmstay, located right on the banks of Lake Hume, is also a good shout for a group getaway, and it's hard to go past the three luxury Kilnhouses on a working angus cattle stud in Ovens Valley. For more down-to-earth vibes (but still a little bit luxe), check out Mansfield Glamping where you can sleep under the stars, but in the comfort of a canvas bell tent and a plush queen bed.
FIVE MUST-HAVE EXPERIENCES
You now know where to eat, drink, adventure and sleep, but for even more excellent experiences, swipe through the top picks below.
Discover more and plan your next alpine adventure at Victoria's High Country.
Images: Tourism North East and Visit Victoria