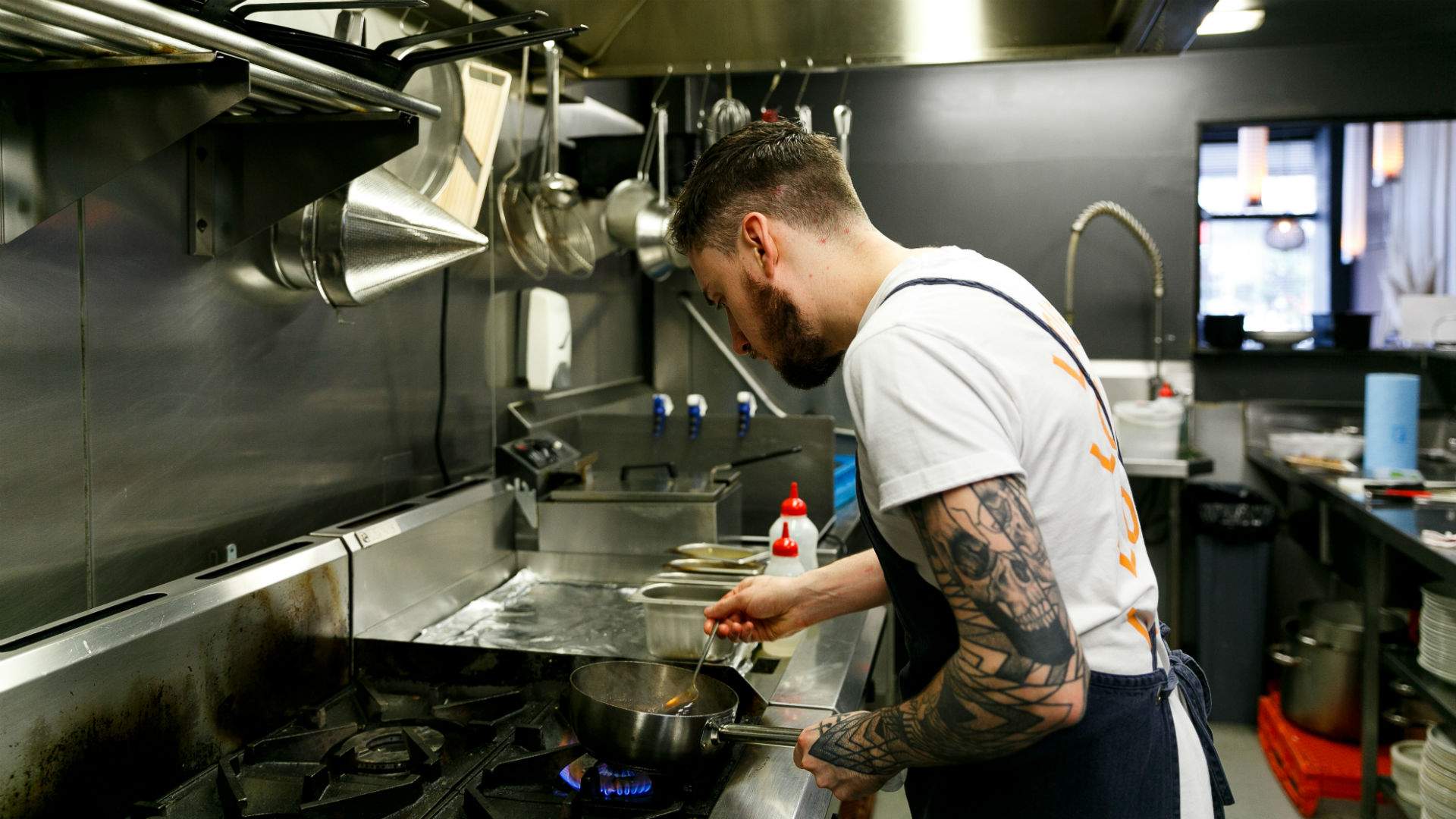 "
PERFECT PAIRING
PAUL TURNER'S BRAISED SHORT RIB WITH TRUFFLE BORDELAISE AND PARMESAN CRISP
Looking for a dish that'll really impress your dinner guests? This ultra-rich, melt-in-your-mouth beef short rib is it.
This month, a handful of Melburnians were given the unique opportunity to have top chef Paul Turner cook for them in an intimate setting. As part of Red Rock Deli's Secret Supper series, Turner — who you'll normally see behind the pass at Windsor restaurant Lover — hosted two spectacular three-course dinners.
Turner cooked up a bold and flavourful feast inspired by native Australian ingredients and Red Rock Deli's new limited-edition Deluxe Crisps flavour: parmesan and truffle oil. The meal started with burrata and maple glazed pumpkin served with buttermilk and saltbush, before finishing with roasted white chocolate parfait with grilled pear, chestnut, malt and wood sorrel.
In between, guests were treated to a melt-in-your-mouth braised short rib served with truffle bordelaise, nettle, goats curd and parmesan crisp. And, luckily for those that missed out or nabbed a seat and loved it so much that they want to eat it again, Turner has shared the recipe with us. Read on and bookmark this one for when you next want to cook a dinner that'll really impress your guests.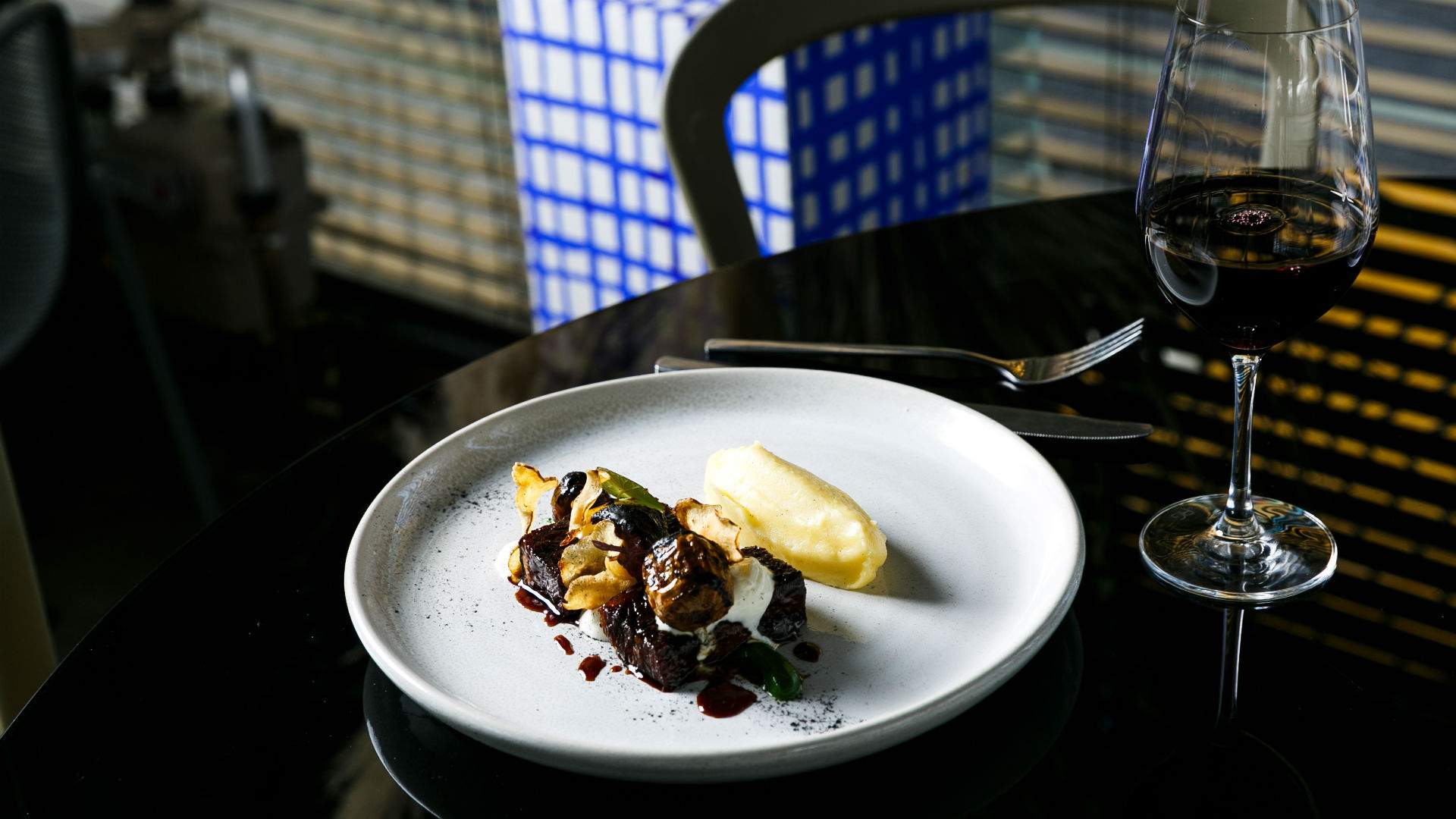 "
BRAISED SHORT RIB WITH TRUFFLE BORDELAISE AND PARMESAN CRISP
INGREDIENTS: BRAISED SHORT RIB
1L meat brine
1.5kg beef short rib
1 sprig thyme
300g mirepoix
200ml sweet soy
2L veal stock
INGREDIENTS: GOATS CURD
100ml goats curd
20ml cream
1/2 lemon zest
INGREDIENTS: NETTLE PUREE
2 bunches nettle
1 eschallot
40g butter
400g chicken stock
black pepper and salt
INGREDIENTS: MASH
1kg desiree potatoes
200ml cream
150g butter
20g salt
INGREDIENTS: PARMESAN CRISP
1/2 cup of parmesan
1/4 tsp freshly ground black pepper
INGREDIENTS: BUTTER ROASTED ARTICHOKES
8 Jerusalem artichokes
1 clove garlic
1 sprig thyme
black pepper and salt
200g butter
INGREDIENTS: TRUFFLED BORDELAISE
1 cup red wine jus
1 eschallot
2 sprig thyme
smoked truffle butter
chives
INGREDIENTS: SMOKED TRUFFLE BUTTER
2-5 slices (to taste) black truffle
200g butter
pinch flake salt
1 pack applewood chips
Click through the gallery below for the full recipe.
To discover more impressive recipes and to check out upcoming Red Rock Deli Secret Suppers in your city, head this way. 
Images: Parker Blain.
Illustrations: Barry Patenaude.