Food Artists Bompas & Parr Are Coming to Australia to Fill Melbourne with Edible Fruit-Flavoured Fog
Wander through oversized food sculptures and experience the world's first flavoured mist, all as part of Bompas & Parr's flavoured fruit weather installation.
Usually when we all encounter fog, it's hanging there in the sky, misting things up and reducing visibility. But when London-based, world-renowned food artists and multi-sensory design studio Bompas & Parr head Down Under for their first-ever Australian sensory installation, the fog will be considerably different. This mist will be fruit-flavoured, for starters, and it'll be edible.
If you're intrigued by weird, wonderful, creative and inventive experiments with food — and with the senses in general — then Bompas & Parr's name should be familiar. Sam Bompas and Harry Parr first garnered attention with their jellies, and then whipped up a 200-course dinner party, unleashed an edible fireworks display, barbecued using real molten lava and served up anatomical whisky tastings. Also on their resume: bespoke cocktails based on your DNA, a feast where diners had to kill their own meal and non-melting icy poles. Yes, tastebud-friendly mist mist fits right in.
We've all heard of pea soup fog, of course — but no, that won't be what you're tasting at Bunjil Place in Narre Warren in Melbourne. Rather, the consumable mist will form part of a flavoured fruit weather installation, and will swirl around oversized food sculptures laid out in a garden. And, there'll be three different varieties seeping through the air each and every day.
The aim: to unleash some 'fruit weather' upon the Victorian capital, and to highlight the City of Casey's food heritage. When you're not thinking about horror movies like The Fog and The Mist, you're bound to be contemplating food while you're wandering around these giant versions of it, all with mist seeping out of the bottom. Well, we expect so at least, given that the flavoured fog is a world-first.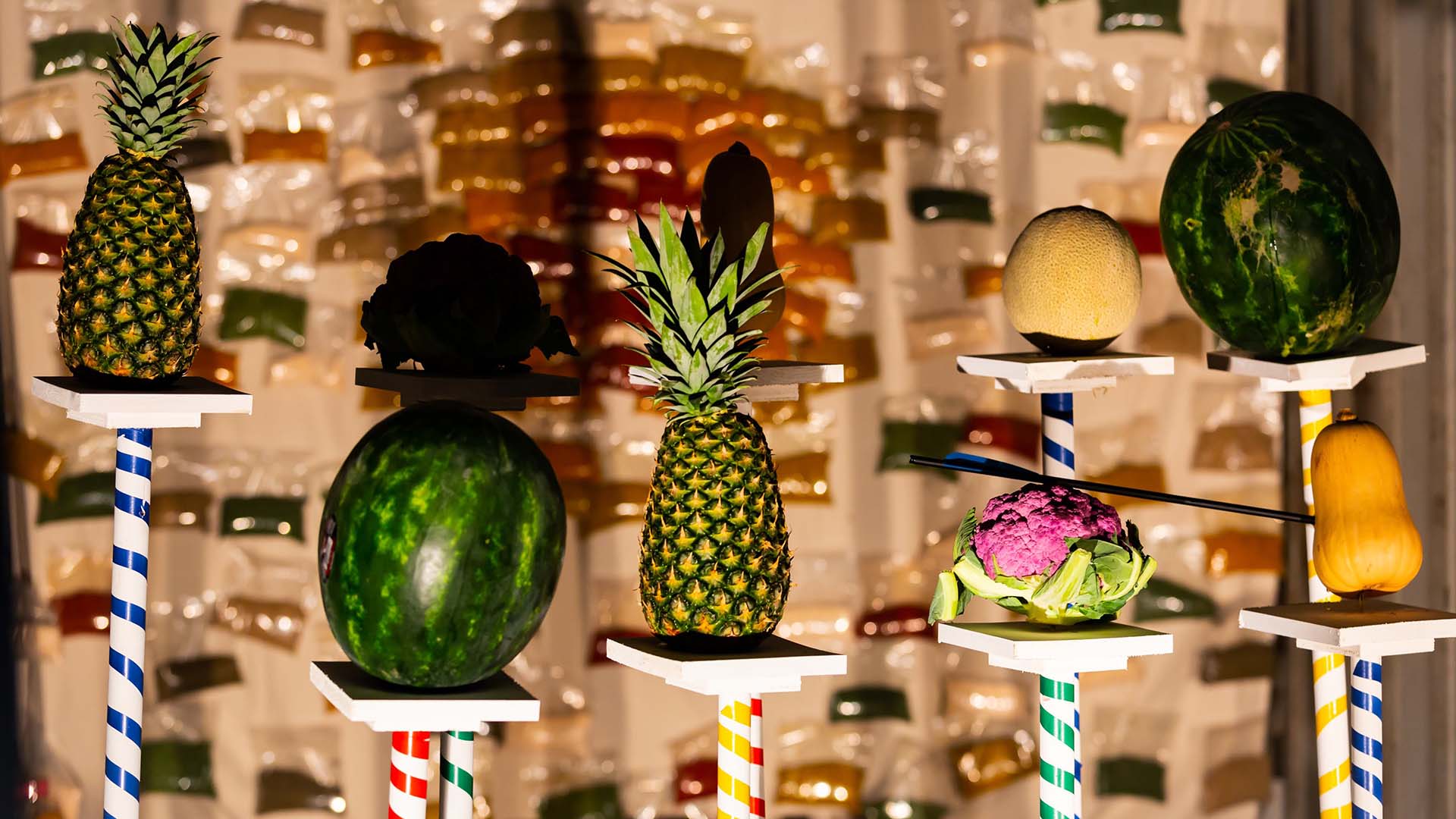 Everyone keen to experience this hopefully delicious haze will find it lurking around Bunjil Place thanks to a free event called Casey Cornucopia, which'll run from June 24–July 17.
Over that 24-day period, there'll be tours explaining how the garden installation came about, too — because it is really is the kind of thing that'll leave you with questions — plus parties, dinners and art. You'll also be able to hit up a food hub that brings together local farmers, growers, artisans, sustainability gurus and artists for a series of daily talks, demonstrations, samples and workshops.
Casey Cornucopia will pop up at Bunjil Place, 2 Patrick NE Dr, Narre Warren, Victoria, from June 24–July 17.
Images: supplied by Bunjil Place and Bompas & Parr.