FOOD & DRINK
Brunswick Is Getting a New Food Truck Park from the Minds Behind Welcome to Thornbury
It's aiming to be Melbourne's most sustainable food precinct.
After creating an instant hit with inner-north food truck park Welcome to Thornbury, the 300 Burgers Group is back for round two. The team is continuing its northside foray with a new venture in collaboration with famed Sydney-based brewery 4 Pines. Together, the duo has grand plans to create the most sustainable food precinct, bar and beer garden in town.
Nestled behind Sydney Road's Brunswick Mess Hall, 4 Pines Welcome to Brunswick will be a little smaller than its Northcote sibling indoors, but it'll still boast space for 450 visitors. Outside, however, you can expect a much roomier, park-like outdoor zone, decked out with loads of lush greenery and a solid spread of both sunny and shaded areas. And yes, it's all as dog-friendly as it sounds.
The food offering comes courtesy of a curated food truck rotation, with up to four vendors on-site each night, backing up menus from the Mess Hall kitchen. Regular appearances from favourites like Mr Burger, Woking Amazing, Sparrow's Philly Cheesesteaks and Nem n Nem will ensure there's always a spread, with vegan and gluten-free options aplenty.
Meanwhile, the beer lineup is set to feature entirely 4 Pines brews, with signatures like the summer ale, pale ale, pacific ale and kolsch starring alongside the brewery's seasonal Keller Door releases. That'll mean a constant rotation of beer styles, alongside a lineup of wines, spirits and cocktails.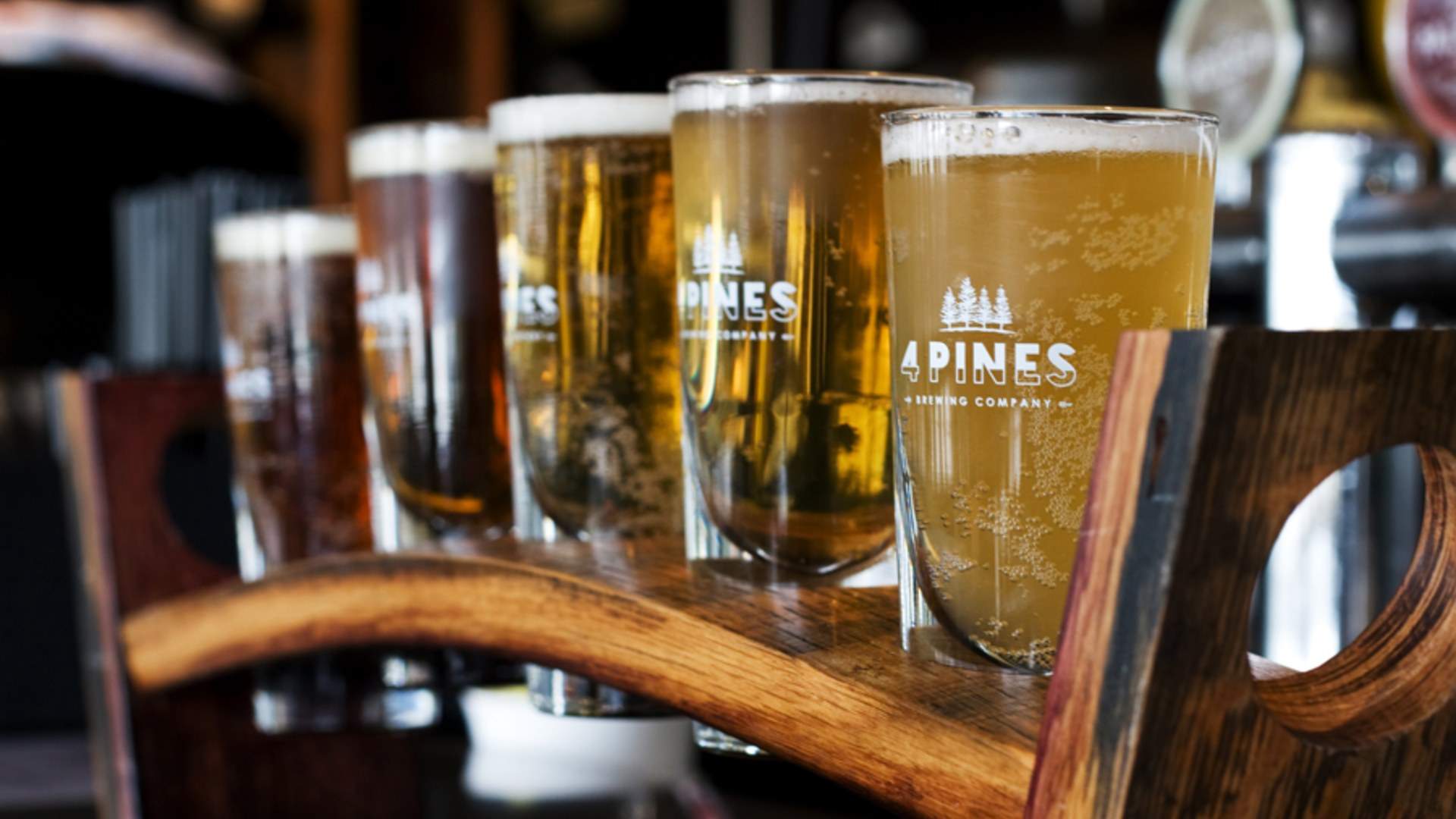 An environmentally sensitive design by Breathe Architects will be heavy on the recycled and reclaimed materials, though the planet-friendly ethos doesn't end there. "We want it to be the most environmentally-friendly pub in Melbourne," explains Co-Owner Scott Assender. As such, the venue is aiming to eventually produce all its own energy on-site and send zero waste to landfill. Visiting food trucks will be using only compostable packaging and an anaerobic digester will be used to transform any organic waste into energy and fertiliser.
It's certainly not the first time 4 Pines has shown a passion for the environment. Forty percent of the electricity used at its Brookvale brewery and headquarters is now solar powered and, last winter, 4 Pines released its first carbon positive brew The Upcycle Ale crafted using surplus bread donated by Brasserie Bread.
Find 4 Pines Welcome to Brunswick at 1 Frith Street, Brunswick, later this year.
Published on September 20, 2019 by Libby Curran