Nestled between Flinders Street Station and the Yarra, Melbourne's longest bar has been killing it as of late. First, they blew our collective minds by serving espresso martinis on tap. Then they launched their own Oktoberfest-style festival dedicated to supporting local artists. Now, Arbory Bar and Eatery is battening down the hatches on their latest awesome venture: a bona fide floating bar.
Moored on the Yarra's northern bank adjacent to the main bar, Arbory Afloat will be open for business from Tuesday, October 27 until Sunday, November 8, coinciding with this year's Spring Racing festivities. The seaworthy pop-up is licensed to serve up to 120 patrons, and has been decorated in a nautical style ''with an undertone of 1970's Palm Springs flair."
The menu will differ from the usual Arbory fare, with chef Nick Bennett keeping the focus on fresh seafood — think caviar, oysters and New England lobster rolls — alongside charcoal-roasted skewers, including crusted tuna, wagyu beef and miso marinated eggplant. Just make sure you leave room for the Floating Island dessert, consisting of a poached meringue floating on white chocolate anglaise finished with fresh raspberries. Just roll us overboard once we're done.
Above all, a floating bar needs a floating cocktail menu. The drinks list includes a selection of beers, wines and sparklings, plus a quartet of specially-crafted cocktails, including the Shrub Ahoy! (housemade strawberry shrub mix, Pampero Blanco Rum, soda and mixed berries) and the Nautical Rose (Lillet Rose, lemonade and fresh orange over ice.)
Arbory Afloat will be open daily from 11am until late. We'll be paying them a visit, if only so we can be like: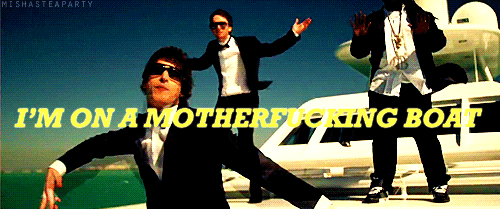 Published on October 23, 2015 by Tom Clift