EziStreat Is North Melbourne's New Hawker-Style Food Hall Serving Up Eats From Around the Globe
This former warehouse riffs on the buzzy food halls of Asia — only with a global lineup of street food, a beer garden and a vibrant collection of mural art.
If you're not one for decision-making, best look away now. But if you love being spoilt for choice at meal time, we reckon you'll be pretty chuffed with North Melbourne's newest culinary addition. Launching on Saturday, September 3, EziStreat is the suburb's sprawling new food hall, and is set to serve a globe-trotting array of eats every day of the week.
Opening in a former Macaulay Road warehouse, the 600-square-metre food precinct is a riff on the hawker halls of Asia, showcasing a diverse lineup of food vendors and celebrating cuisines from all corners of the world.
Founder Seyun (Yun) Kim set out to offer local food entrepreneurs a creative new platform to sling their wares, built on the concept of a shared economic model. He's joined at the helm by ​​Tomoya Kawasaki (owner of Chotto Motto and Wabi Sabi Salon), Bae Juice's Tim O'Sullivan and Jeff Chew of Hunter's Roots.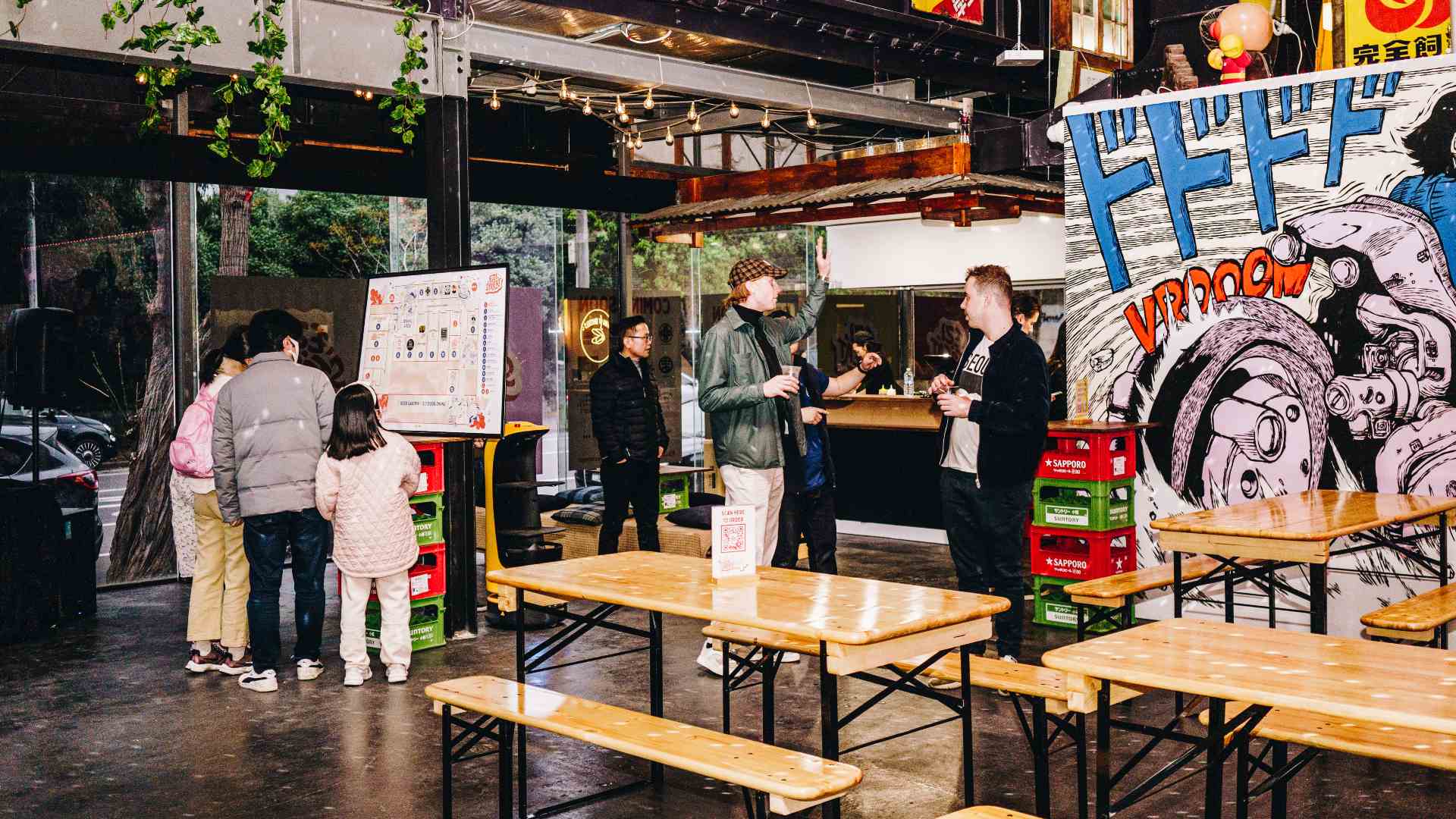 EziStreat's exterior has been decked out in vibrant artworks by Jeswri; inside, it's all food stalls, narrow walkways and communal tables, reminiscent of a buzzy Southeast Asian market. More murals come courtesy of TWOONE and Shawn Lu, and there's a pet-friendly outdoor beer garden, too.
In the starting lineup, you'll find coffee and Japanese baked goods from Taiyo Sun; Jymannuel's Southern Taiwanese hawker food; bento boxes and gourmet groceries from Japanese pantry Konbini; and Korean snacks, beer and soju courtesy of Sinjeon.
Drop by King of Mussels for a taste of midye dolma (a Turkish dish of stuffed mussels), swing past Shimbashi for gluten-free soba noodles and sate your craving for saucy Italian fare at Etto Pasta. The Parco Ramen team also have a home here at EziStreat, slinging their famous lobster ramen. And there'll be one stall operating as an incubator, hosting various pop-ups and emerging businesses on rotation.
Meanwhile, the precinct's bar is pouring a range of brews by Colonial Brewing, alongside locally-focused cocktails by drinks startup Home Grown to match your street food feast.
EziStreat will kick things off with grand opening celebrations on Saturday, September 3, featuring DJs, a creatives' market, ​​a 'meet the artist' session with Shawn Lu and a Colonial pop-up bar.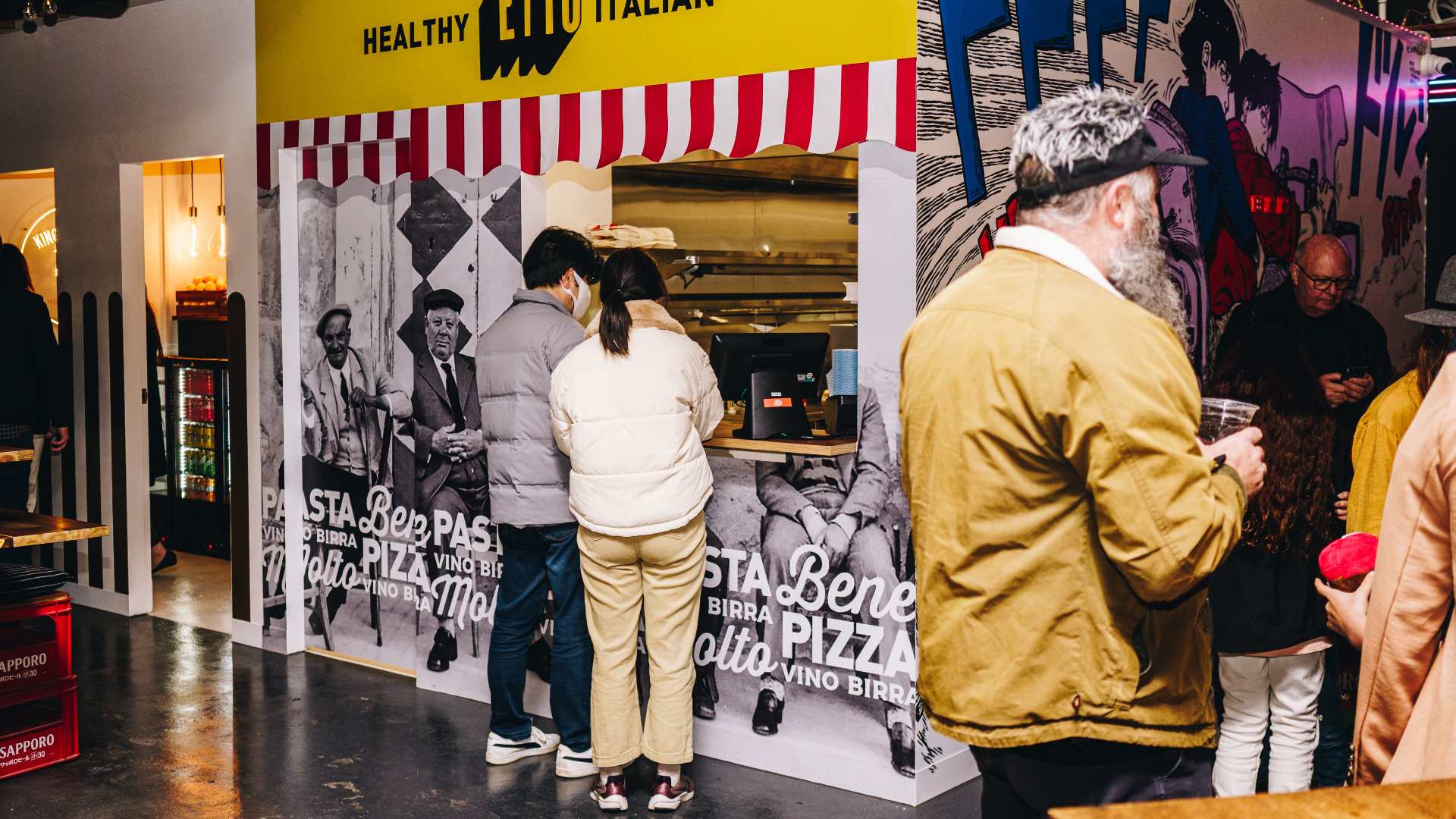 Find EziStreat at 275 Macaulay Road, North Melbourne, from Saturday, September 3. It'll open 5–8pm Monday and Tuesday; 12–8pm Wednesday, Thursday and Sunday; and 12–10pm Friday and Saturday. The cafe will be open each morning from 7.30am–2.30pm on weekdays, 8am–2.30pm on Saturdays and 8am–2pm on Sundays.
Introducing Concrete Playground Trips
Book unique getaways and adventures dreamed up by our editors