FOOD & DRINK
Whisky-Infused Cobbler Is the Next OTT Dessert You Can Treat Your Tastebuds to During Lockdown 
Fireball Whisky has teamed up with Sunday in Potts Point on the limited-edition rhubarb, pear and blood orange cobbler, which will only be available for two weeks — or you can make it at home.
Stretchier clothing, stomach-warming comfort foods, tastebud-tempting drinks: these are some of the small things that help make lockdowns more bearable. Only two of the above feature in the newest indulgent dessert that'll whet your appetite, though, but we think you might want to break out your cosiest outfit as well. There's boozy cobbler to be eaten, after all.
The indulgent dish stems from a collaboration between Fireball Whisky and Potts Point eatery Sunday, with the two teaming up on a limited-edition rhubarb, pear and blood orange cobbler. That might sound fairly standard, but the dessert comes infused with Fireball's cinnamon whisky and also includes a Fireball butterscotch sauce.
Basically, with each bite, you can avoid a familiar dilemma — because no one likes choosing between dessert and a drink. Sydneysiders keen to tuck in will need to order their own from Sunday, with the dish available for two weeks only from Friday, July 23. There'll only be 100 on offer each week, and you can either pick it up from the Morgan McGlone-owned restaurant or get it delivered.
If you're reading this from Melbourne's lockdown, you can also sink your teeth in. You will have to commit to a new baking project, however. Sunday has also shared the cobbler's recipe, so you can whip up your own and get eating at home.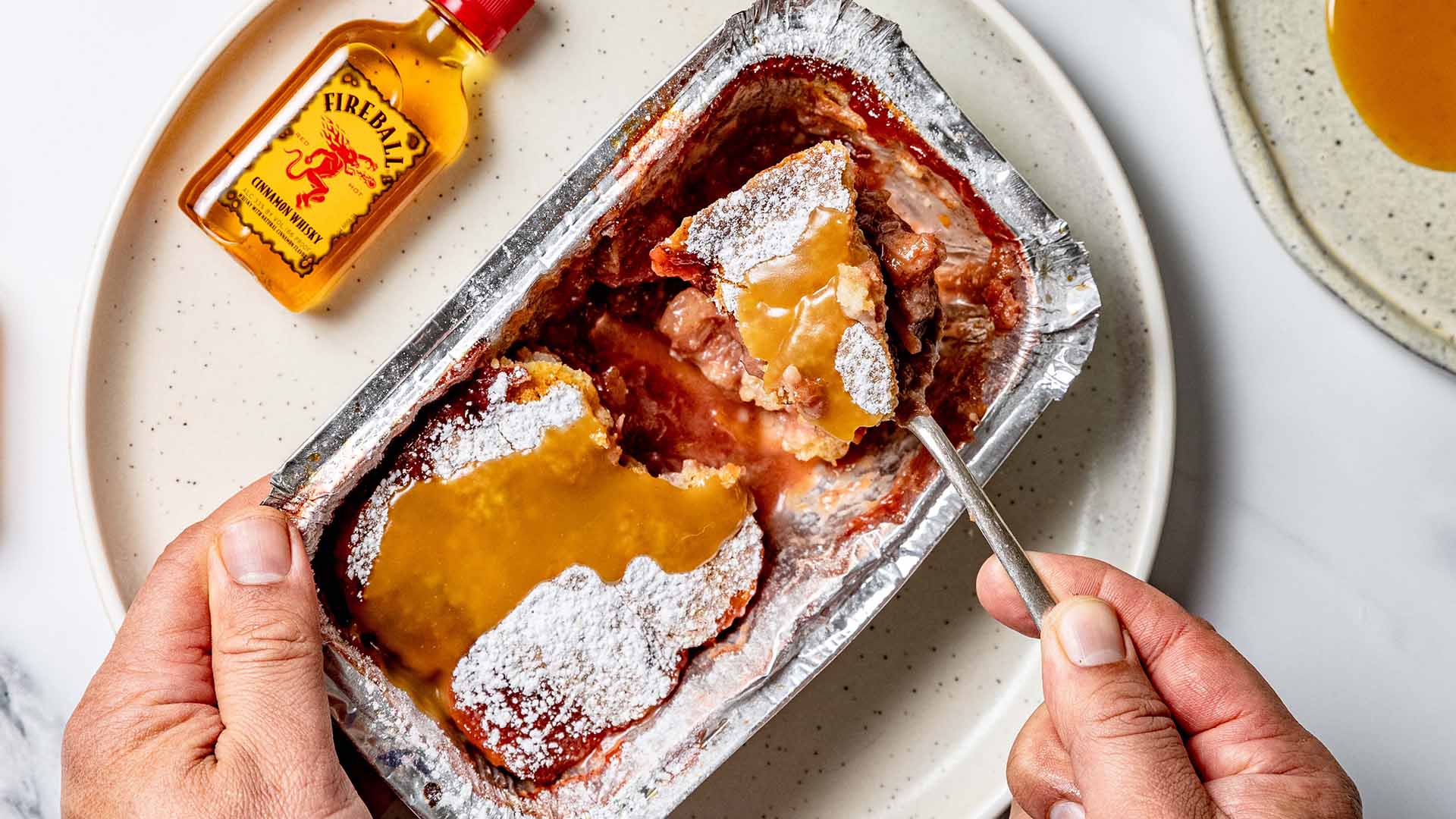 FIREBALL, RHUBARB, PEAR AND BLOOD ORANGE COBBLER WITH FIREBALL BUTTERSCOTCH SAUCE
Serves two
Ingredients
Cobbler filling:
60 millilitres Fireball cinnamon whisky
200 grams of rhubarb, peeled and cubed
Half a blood orange, peeled and diced
Half a pear, peeled, de-cored and diced
One eighth of a teaspoon of allspice
75 grams of brown sugar
One eighth of a teaspoon of vanilla essence
A two-gram pinch of kosher salt
Cobbler topping:
50 grams of butter
50 grams of self-raising flour
25 grams of sugar
One egg
One eighth of a teaspoon of ground cinnamon
Fireball butterscotch sauce:
90 millilitres Fireball cinnamon whisky
75 grams of brown sugar
75 grams of heavy cream
75 grams of unsalted butter, diced
Two grams of smoked salt
Method
Cobbler filling:
Place all ingredients into a heavy based pot, then bring to the boil with the lid on. Simmer for seven minutes, then set aside — and, once cool, place into a baking dish.
Cobbler topping:
Blend butter, flour and sugar inside in a food processor. Add egg and cinnamon, and keep blending until completely combined. Then, place mixture onto baking paper, roll into a sausage form and pop into the freezer until ready to cook.
Fireball butterscotch sauce:
Put brown sugar and cream into a saucepan, then bring to the boil. Reduce by a third, then add the whisky and reduce by another third. Let cool by 25 percent, then blend in butter and salt.
Overall:
Preheat oven to 180 degrees. Slice cobbler top into one-centimetre discs and place six pieces on top of the rhubarb mix, then and bake for 25–30 minutes. Allow to rest of ten minutes afterwards, then dust with icing sugar.
To serve, spoon cobbler onto a plate or bowl, pour the butterscotch sauce over the top, and add either vanilla ice cream or whipped double cream.
Fireball Whisky and Sunday's Fireball rhubarb, pear and blood orange cobbler will be available to order from Sunday from Friday, July 23 for two weeks —  for pickup and delivery.
Published on July 20, 2021 by Sarah Ward