FOOD & DRINK
Eight Grown-Up Easter Treats To Hunt Down Around Melbourne
You're never too old for this Easter hunt.
It's Easter. Time to stuff yourself with baby animal-shaped chocolates and cross-covered baked goods while feeling absolutely zero shame. To help you make the most of it, here are all the best grown-up holiday treats you should be hunting for this Easter.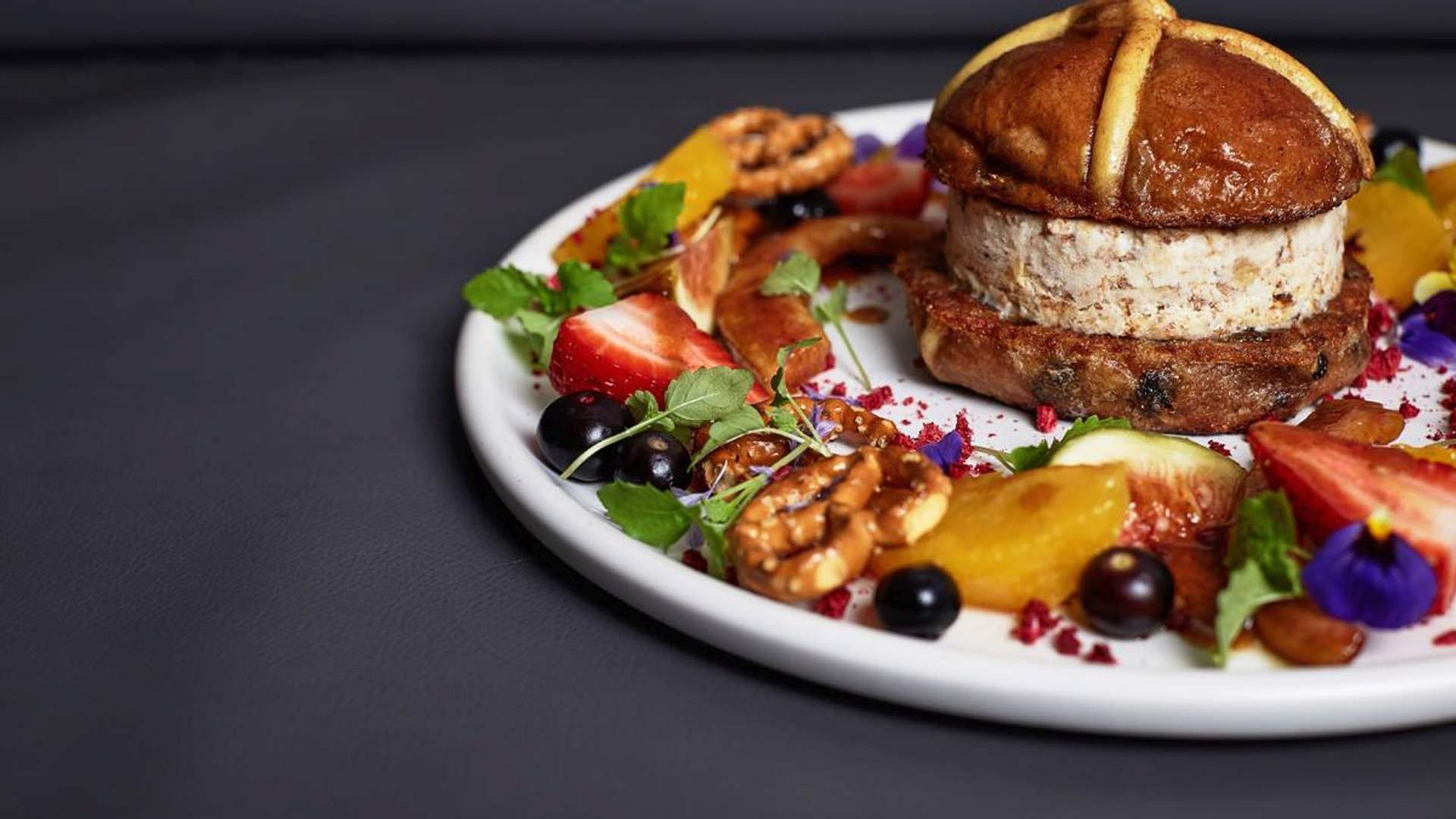 FRENCH TOAST HOT CROSS BUN AT RUSTICA SOURDOUGH
What better excuse than the Easter long weekend to go completely nuts at brunch? And who better to help you do it, than the much-loved pastry masters at Rustica Sourdough? To celebrate Easter, these guys have thrown together a few of your favourite things to create this supercharged sensation, available only at the Rustica Fitzroy store. Here, slices of the bakery's award-winning hot cross buns are given the french toast treatment, sandwiched around croissant-infused ice cream, and teamed with thick-cut bacon, salted pretzel, and some fresh fruit for good measure.

TRIPLE CHOCOLATE HOT X BUNS AT MÖRK
Normally we'd be more inclined to stick to traditional fruit hot cross buns, but we'd be absolutely bonkers to turn down one of Mörk's more adventurous versions. These triple chocolate bad boys (pictured here straight from the oven) are made on a chocolate bread base, studded with Madagascan chocolate pieces, candied orange, and sour cherries, and amped up with a soft chocolate ganache centre. We repeat: a chocolate ganache centre. Order yours here and pick up a four-pack of Mörk's chocolate eggs while you're at it.

If there's anything more satisfying than biting into a gooey, chocolatey Caramello egg, it's biting into one that isn't even bad for you in the slightest. Pana's epic raw, vegan, sugar-free, gluten-free and dairy-free caramel lava egg is making its annual Easter appearance, and cult followers couldn't be more ecstatic. We have no idea what's actually in it, but reccommend you order online for pick-up from their Richmond store to guarantee your guilt-free fix and avoid disappointment.

EGG IN THE NEST AT DANIEL'S DONUTS
If you're the kind of sweet-tooth who prefers your choccy eggs attached to big, fluffy doughnuts, then this seasonal creation from Daniel's Donuts is surely your ideal Easter fling. As with the rest of the Springvale store's much-hyped treats, this one's heavy on the trimmings, featuring one of those signature Daniel's doughnuts, a gloriously thick layer of Nutella, and old-school sprinkles, all topped off with a Cadbury milk choc egg. The best part? Daniel's is open 24-hours for all your late-night snacking needs.

DOWN THE RABBIT HOLE CAKE AT ADRIANO ZUMBO
Adriano Zumbo's patisserie takes the cake for the most creative and varied range of Easter treats in Melbourne, with this year's collection a mix of old favourites and clever new additions. Alongside the cult classic Hot X Bun Zumbarons, the salted caramel-filled truffles, and the mesmerising multi-tiered Easter Cake, you'll find an extravagant number called Down The Rabbit Hole. Falling into the "almost too pretty to eat" category, this one's a lavish assembly of carrot cake, cream cheese mousse, ginger lemon cream, carrot lychee gel, and a hazelnut sable glaze, finished with chocolate carrots, mini Zumbarons, and even more carrot cake.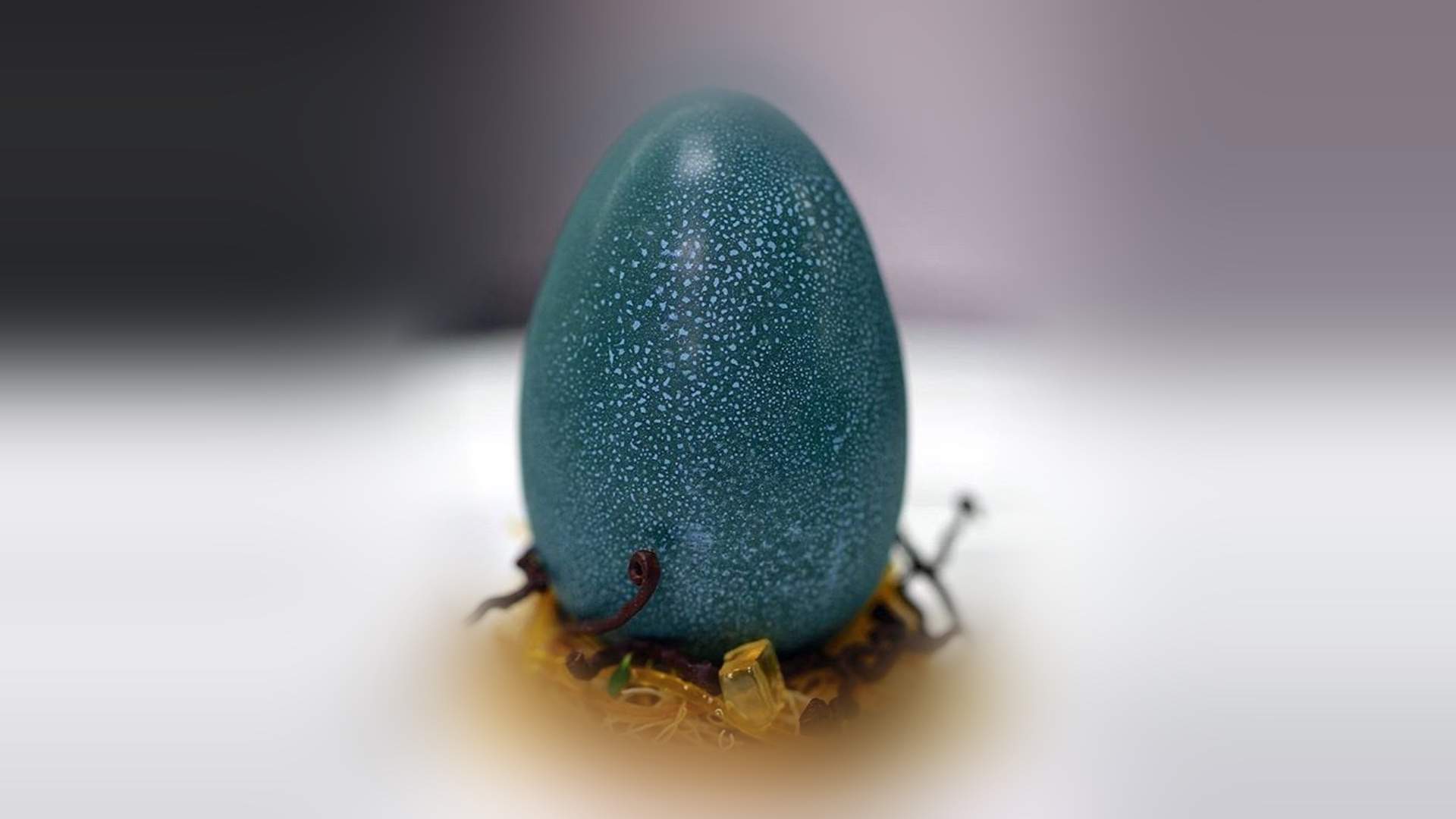 Those looking to really indulge this Easter will find the ultimate dessert situation at Dinner by Heston Blumenthal. This sweet stunner is known as Eggs in Verjuice and it's the same dish that had competitors sweating during last year's Masterchef finale — an intricate eggshell design that's hiding coconut panna cotta, verjuice, coffee parfait, and a citrus yolk inside. This weekend, it's being served up by Blumenthal's right-hand man, chef Ashley Palmer-Watts, as part of a five-course Easter degustation on both Good Friday and Easter Sunday. The lunch will set you back $160 per person and you can book your place here.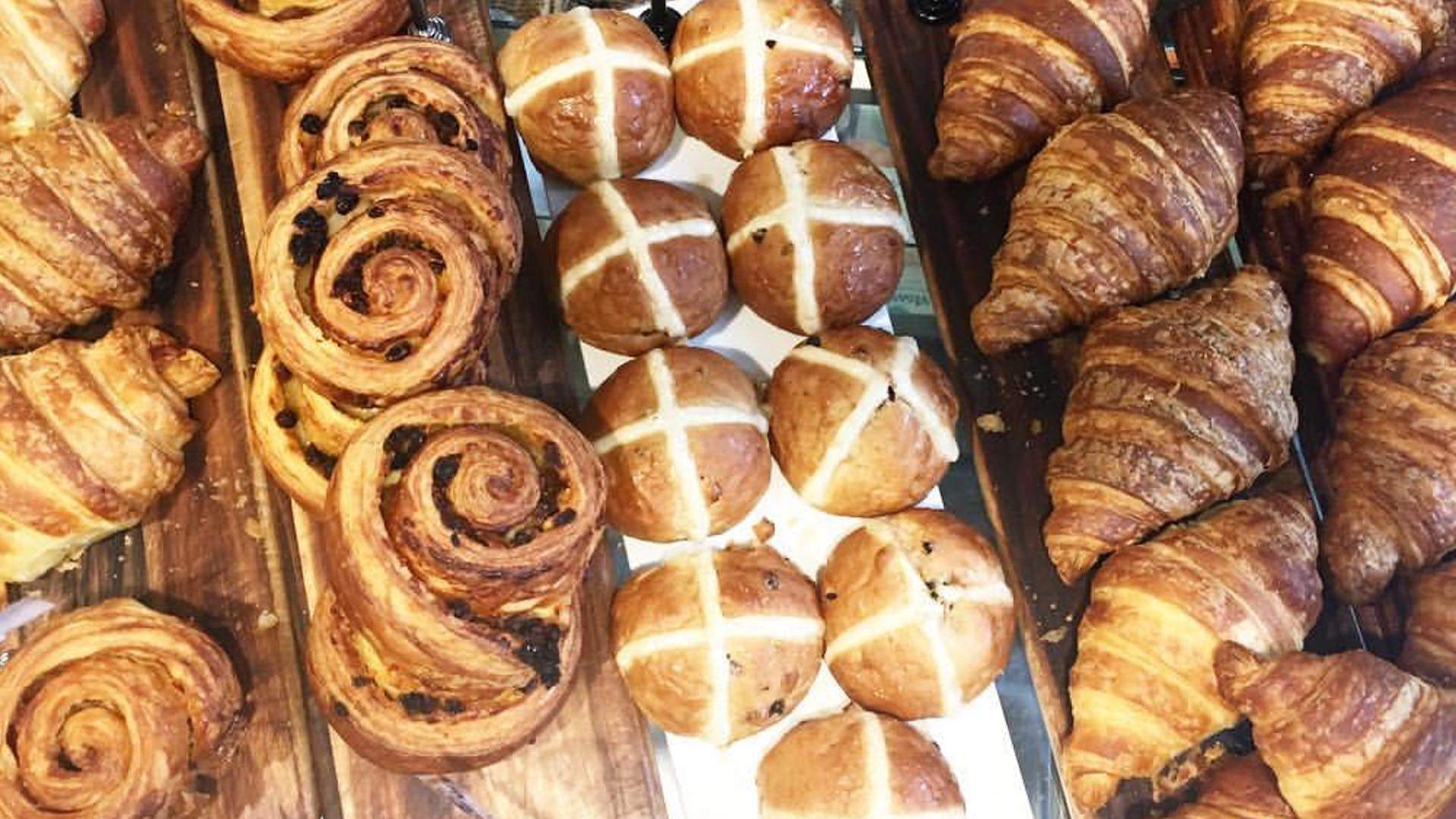 Easter hasn't always been a fun time for treat-seeking vegans, but since the arrival of plant-based livesaver Smith & Deli, it's now a whole lot easier for them to experience the joy of tucking into a hot cross bun. If last year's buzz is anything to go by, these beauties are set to sell like, well, vegan hot cross buns. They'll be flying from the oven all week, but won't last long, so so keep an eye on Smith & Deli's Instagram and be ready to get down to their Fitzroy deli at a moment's notice.

LUXBITE HOT CROSS BUN GELATO AT PICCOLINA GELATERIA
Summer might be over, but we're of the school that it's always gelato weather. If you're more interested in licking your Easter treats than chewing them, Piccolina Gelateria's limited edition hot cross bun gelato will be right up your alley. This year, the Hawthorn gelateria has teamed up with its mates over at LuxBite bakery, creating a special cream-based gelato that's loaded with spices, citrus, and buttery pieces of hot cross bun. You can grab one in-store, or delivered to your door by Uber Eats, up until April 23.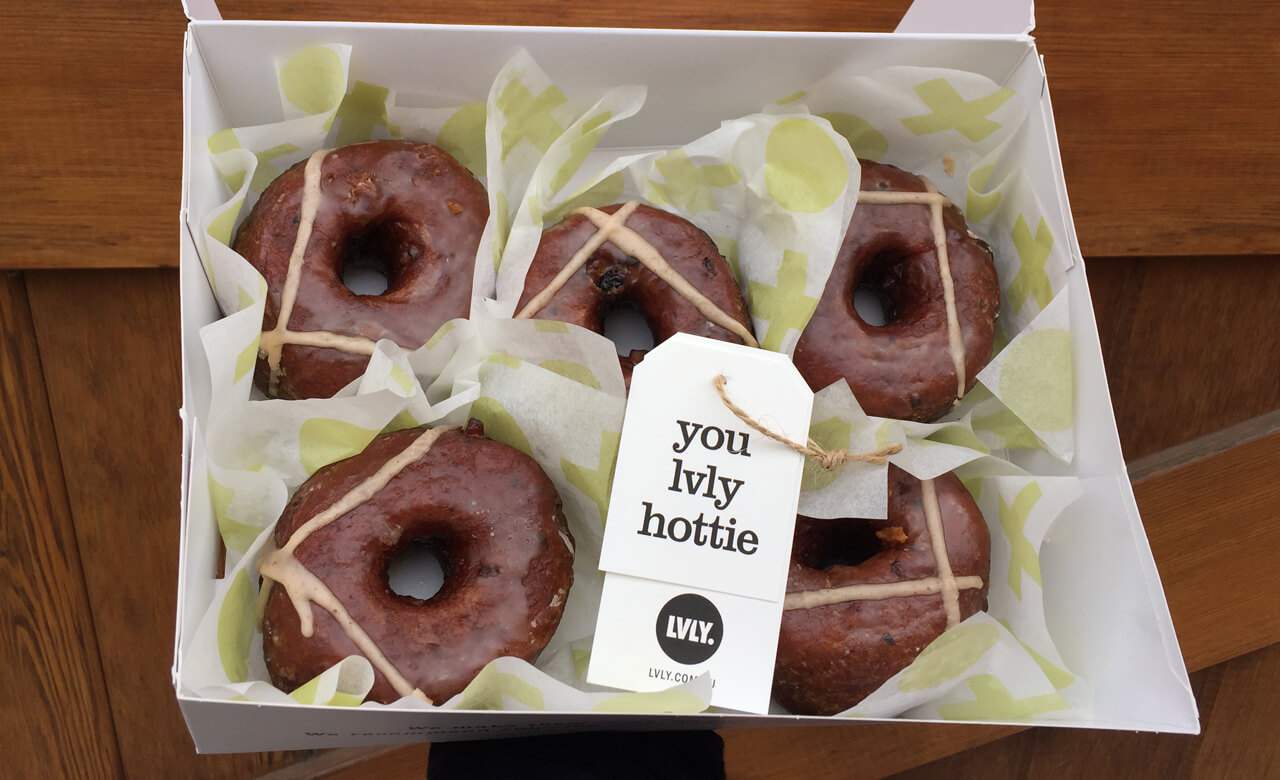 HOT CROSS DOUGHNUTS AT SHORTSTOP
These drool-worthy rings of spiced, doughy goodness are the latest creations from the ever-baking doughnuteers at Shortstop Coffee and Donuts. Brandy-soaked dried fruit is mixed through a sweet and spiced yeast-raised dough, before being fried, dunked in a honey glaze, and striped with a cinnamon sugar cross. You can pick one up at their CBD store or pre-order online up until April 17. If that's not an Easter miracle, what is?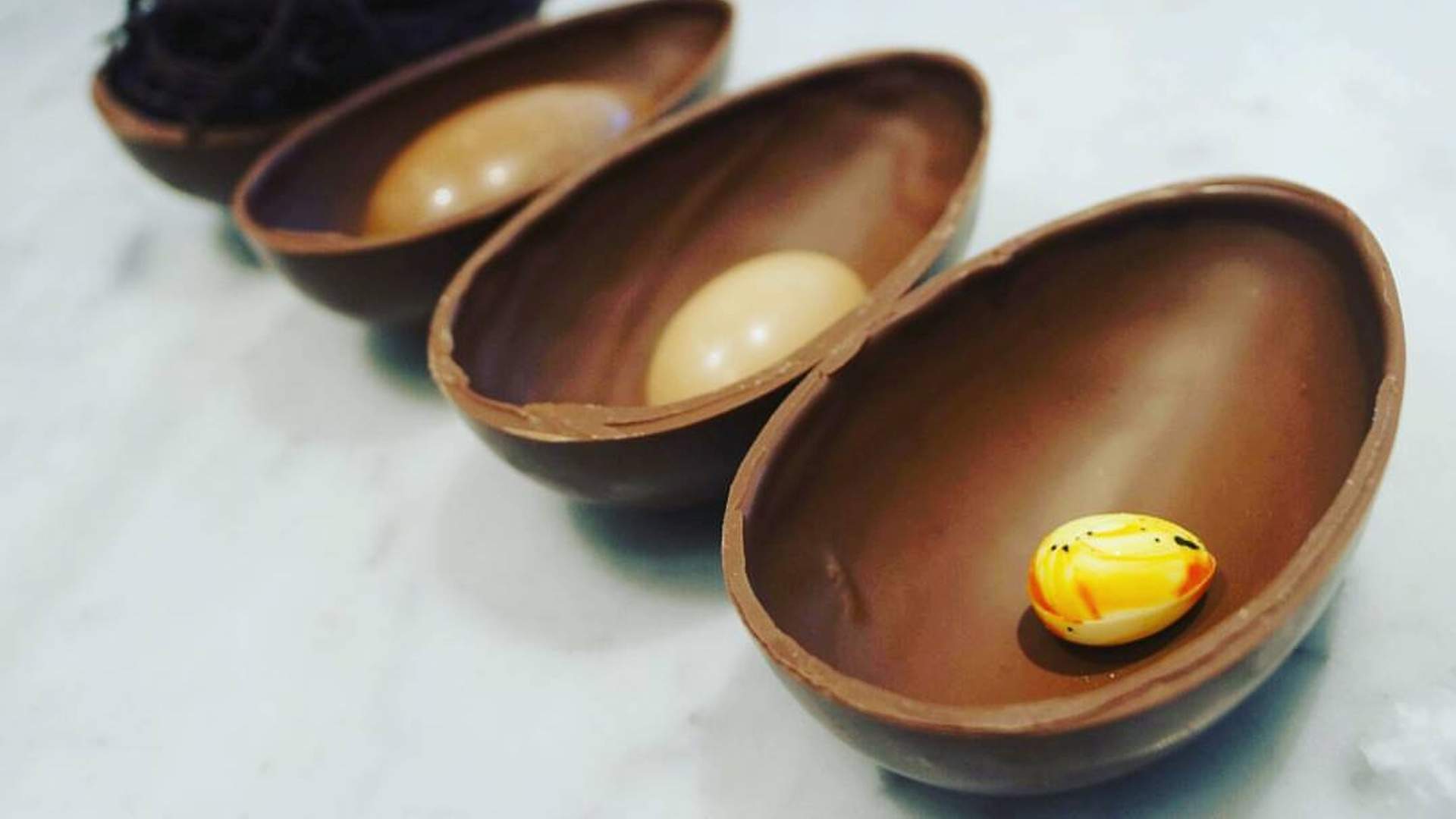 EGGCEPTION AT KAKAWA
The Sydney-based chocolatiers at Kakawa have drawn inspiration from a certain mind-bending DiCaprio film for their special Easter treat, a masterpiece of chocolate layers fittingly dubbed Eggception. This one's a fully edible babushka doll situation, that might just keep you going the whole Easter long weekend. It features one of Kakawa's signature tiny 'quail' eggs, nestled inside a medium choccy egg, sitting within a larger egg, with the whole exterior covered in a delicate hand-made chocolate hay. Melbourne sweet tooths can get their hands on one here.
Published on April 12, 2017 by Libby Curran