FOOD & DRINK
Eight Melbourne Picnic Packs to Level-Up Your Next Park Session
Lock in a sunny day, pick a favourite park in your bubble, pre-order one of these bad boys and get ready to picnic like a boss.
Eight Melbourne Picnic Packs to Level-Up Your Next Park Session
Lock in a sunny day, pick a favourite park in your bubble, pre-order one of these bad boys and get ready to picnic like a boss.
It's safe to say that here in Melbourne, picnics are having a moment. Restaurants and bars remain closed to dine-in customers and most home visits are still off limits, which means your social life is set to revolve around park hangs for at least the next few weeks. Under metro Melbourne step two restrictions, you can enjoy outdoor gatherings of up to five people (from no more than two households), as long as everyone sticks to their two-hour daily limit and stays within their five-kilometre travel bubble. Picnics are a go and we're here to help you make the most of those precious al fresco catch-ups.
Venues across Melbourne are coming to the picnic party, too, with hampers of nibbles and drinks, designed to level-up that outdoor social interaction time. You can order a box filled with sandwiches and scones, tee up a dessert feast or even get a grazing platter dropped straight to your picnic spot in the park. Whatever your craving, these eight picnic packs promise to add a bit of restaurant flair to your next outdoor hangs, with a range of pick-up and delivery options to suit whichever park you're headed to. Lock in a sunny day, pick a favourite park in your bubble, pre-order one of these bad boys and get ready to picnic like a boss.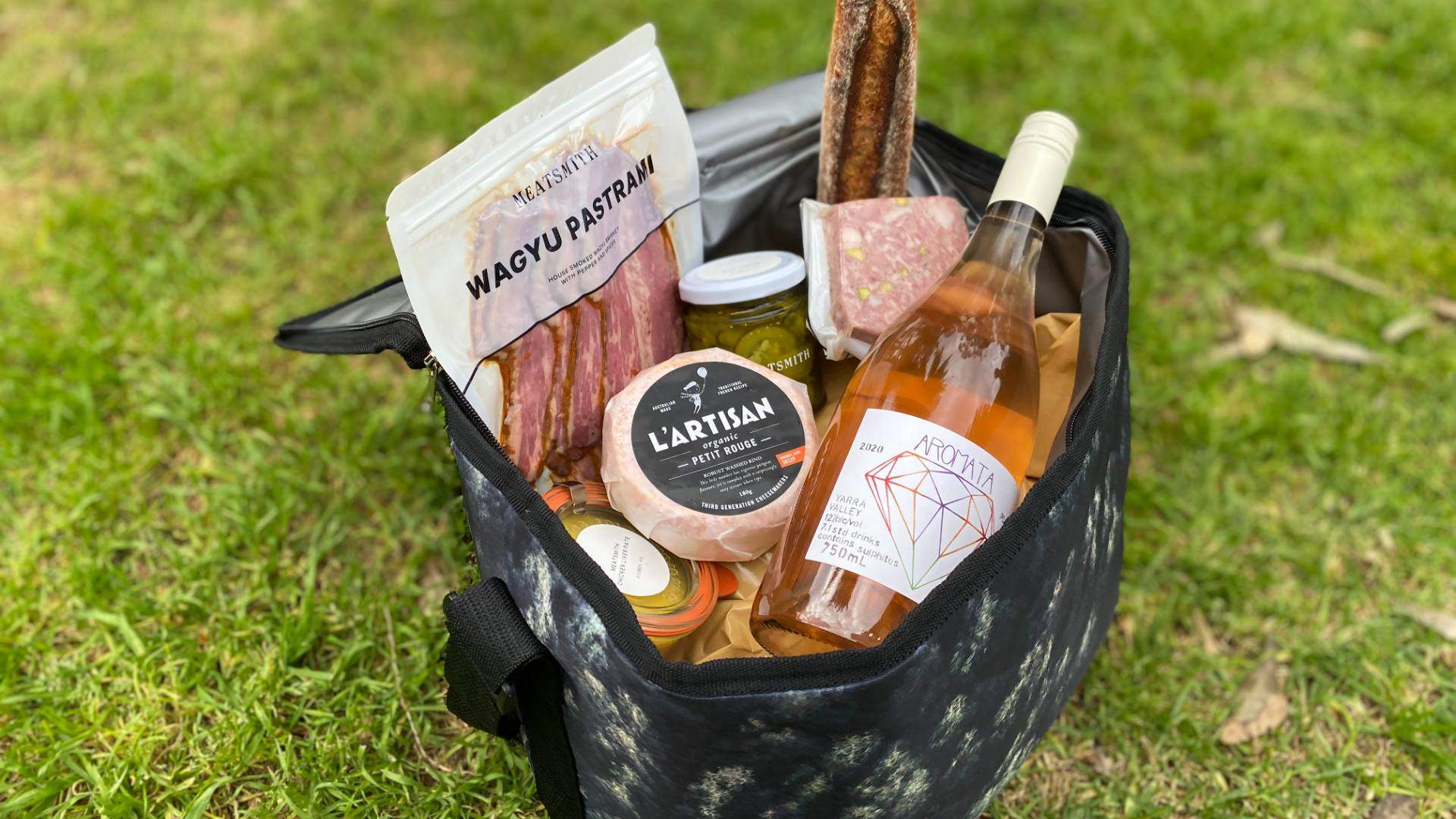 MEATSMITH, FITZROY, ST KILDA & BRIGHTON
If you've ever visited Meatsmith, you'll know its tempting selection of charcuterie, meats and top-shelf pantry goodies makes it mighty hard to walk out of there with only the things you came in for. But hey, you'll have no such issues when you order one of the store's new $85 gourmet picnic packs, neatly stocked with a little bit of everything needed for a premium park session. Think, wagyu pastrami, chicken liver pâté, L'Artisan's Petit Rouge cheese, a bottle of 2020 Arfion Aromata rosé from the Yarra Valley and much more, loaded into a Meatsmith cooler bag that's yours to keep. There's a stack of optional add-ons available if you want to pimp your picnic further, and home delivery is available to over 110 Melbourne suburbs.

COOKES FOOD
Fancy a premium picnic haul delivered directly to your spot in the park? Catering company Cookes Food can do just that, with its new trio of Park Life food packs. Choose from a brunch box ($120), a grazing platter ($140) or a Euro-style snacking lineup ($185), and settle in to gorge on delightful bites like spanakopita triangles, house-smoked ocean trout with dill horseradish cream, and baby tomatoes on the vine matched with buffalo mozzarella. Available Fridays and Saturdays, the boxes are enough food to feed two or three diners each, and two of the options even come with a bottle of wine included. If you prefer, you can get yours delivered to your door, or pick up from Cookes' St Kilda HQ.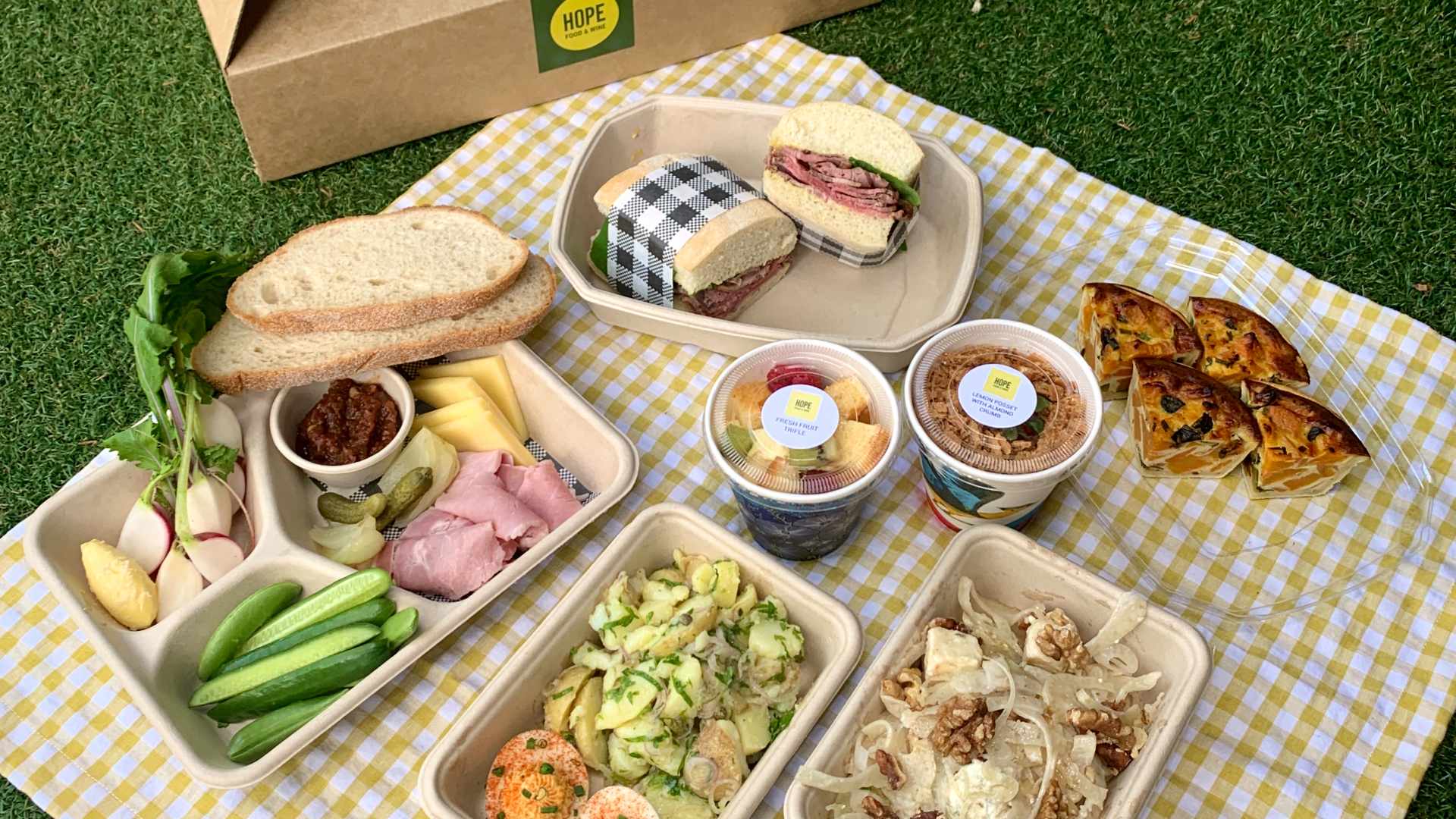 Epocha's contemporary European fare feels like the perfect fit for an afternoon spent lazing in neighbouring Carlton Gardens. But none more so than its two-person Hope Picnic Pack, available to pre-order for pick up each Saturday. At $70, this one's a chic affair, featuring a ploughman's platter, spring vegetable quiche, two crafty salads, and a couple of roast beef and mustard rolls. But you can really make it your own with some extras from the suite of available add-ons. There are Peroni beers and Pimm's cocktails, elegant snacks like oysters and a farmhouse terrine, and spring desserts including lemon posset with shortbread crumble. Just nab a nice patch of turf and your afternoon is looking pretty sweet.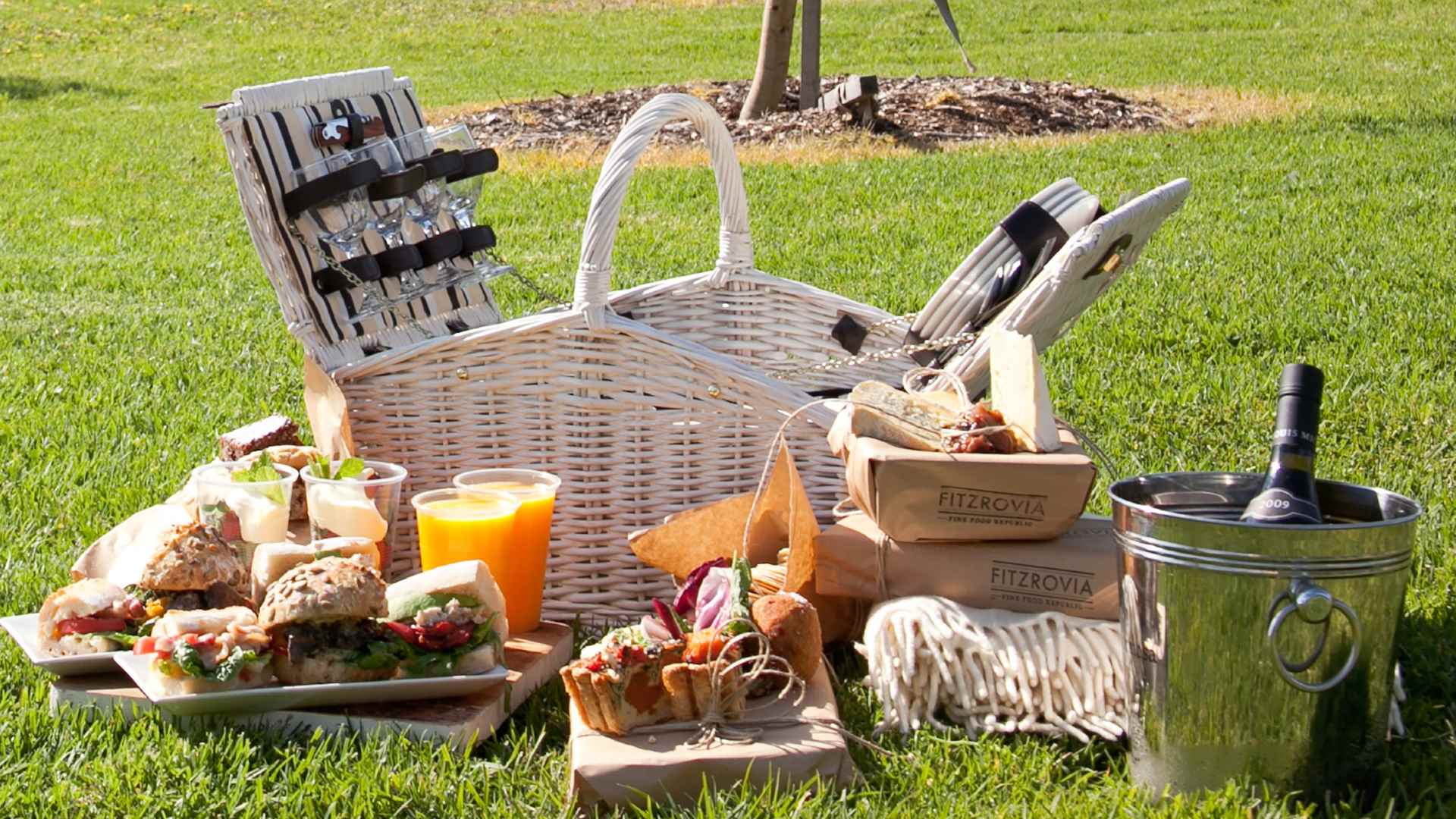 Located just across from Albert Park, St Kilda eatery Fitzrovia has long been a favourite pre-picnic pit-stop. And even during lockdown it's got you sorted, with a bumper picnic pack for two amongst its latest takeaway offerings. This five-course picnic lunch hamper comes in a proper wicker basket complete with cutlery, crockery and glassware, which are yours to use for the day (and return within 24 hours). The $150 hamper is loaded with a generous feast, running from starters and sides — perhaps a hot smoked ocean trout salad — to an assortment of mini sandwiches with fillings including roast chicken and mayonnaise. Throw in a selection of local cheese and desserts, and you'll be feeling like picnic royalty. Pick yours up from the venue.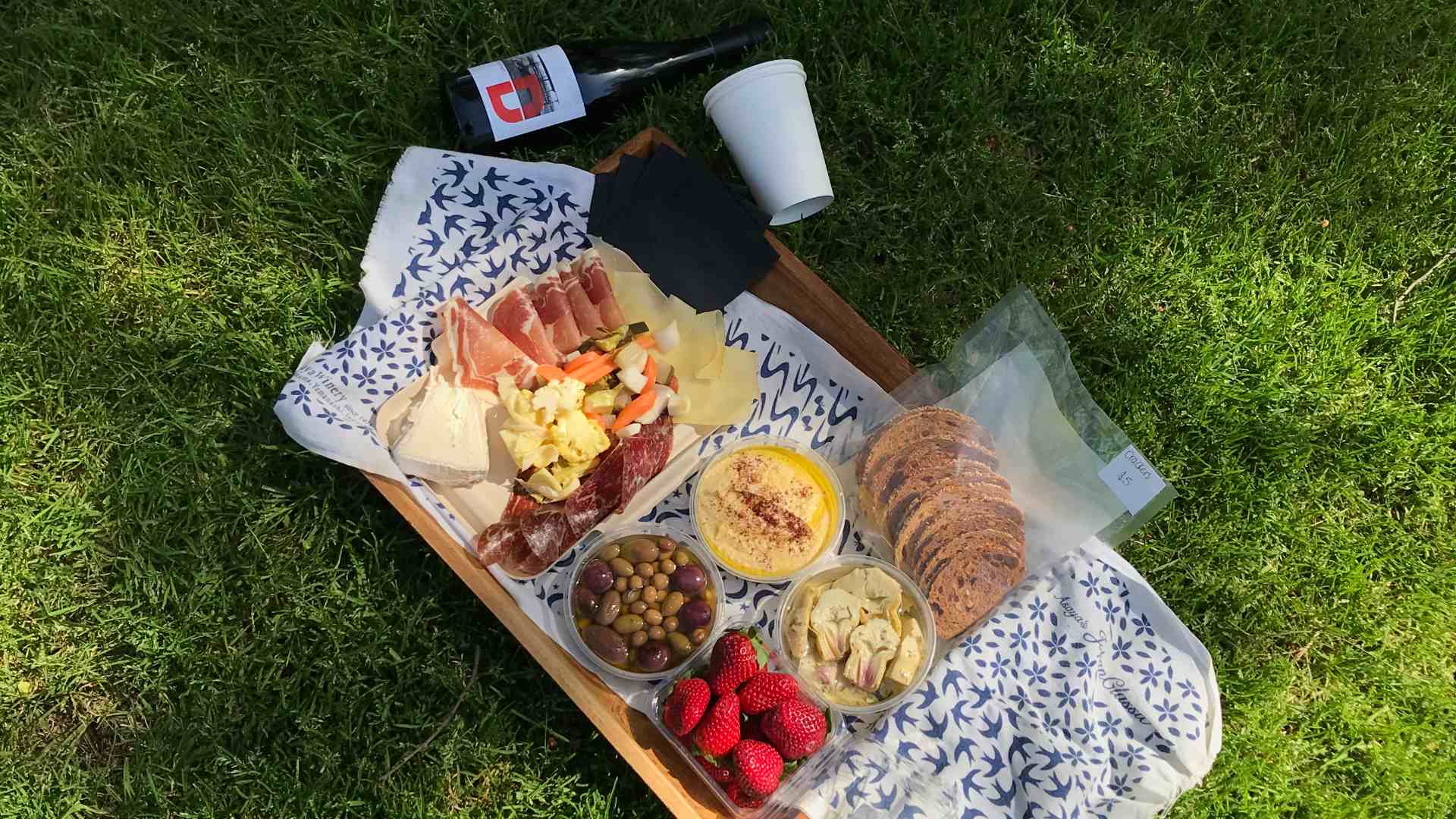 DENTON WINE BAR, CBD
With sunny weather in full swing and Fitzroy Gardens located just a quick hop away, Denton Wine Bar has been inspired to add a new park-friendly menu offering to the mix. Designed for two, these Picnic Packs make for a primo snacking session, loaded up with everything you'd find on the bar's classic wine bar plate — a couple of cured meats and cheeses, fresh fruit, olives, marinated artichokes and some house-made crackers, dip and pickles. There's a vegetarian alternative on offer, too. The eats clock in at $55, though an extra $20 will get you a bottle of Denton Shed wine. Or you can shop more libations from the bar's full range of wine, beer and pre-batched cocktails. Picnic Packs are available for pick up from Monday to Saturday.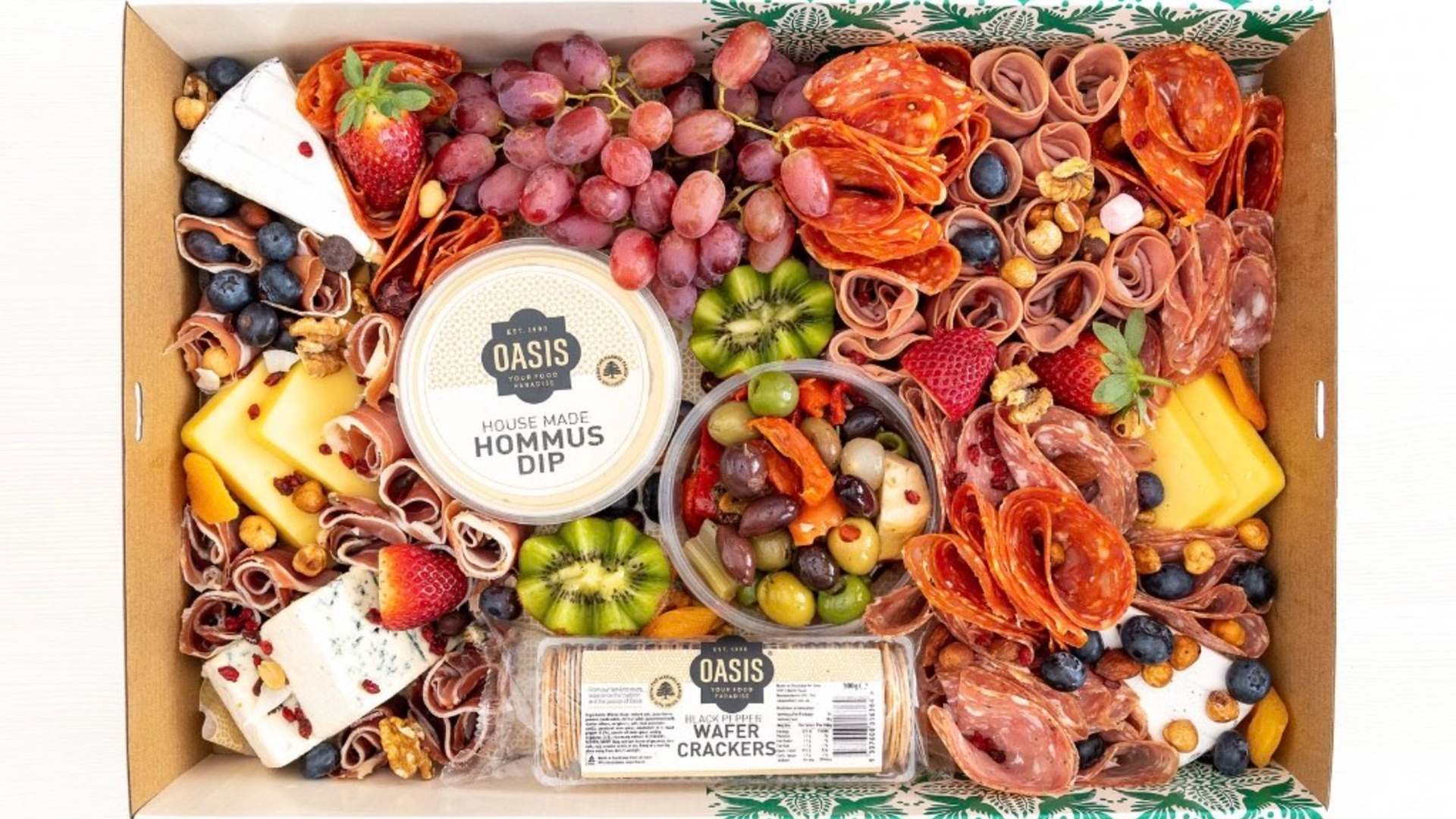 OASIS, FAIRFIELD & MURRUMBEENA
Modern Middle Eastern food store Oasis has been lifting iso spirits with its range of food boxes. And now that picnics are allowed, you'll find these platter packs also make for especially good park accompaniments. There's an option here to suit just about every kind of picnic craving, from various deli boxes packed with cheese, cured meats and antipasti (from $60), to dessert packs starring a wild assortment of house-made sweet treats and lollies (from $30). Or, you could go for gold and order a supersized combination pack, featuring the best of both worlds for $130. Delivery is available right across Victoria, though you'll need to check which days they're hitting your delivery zone.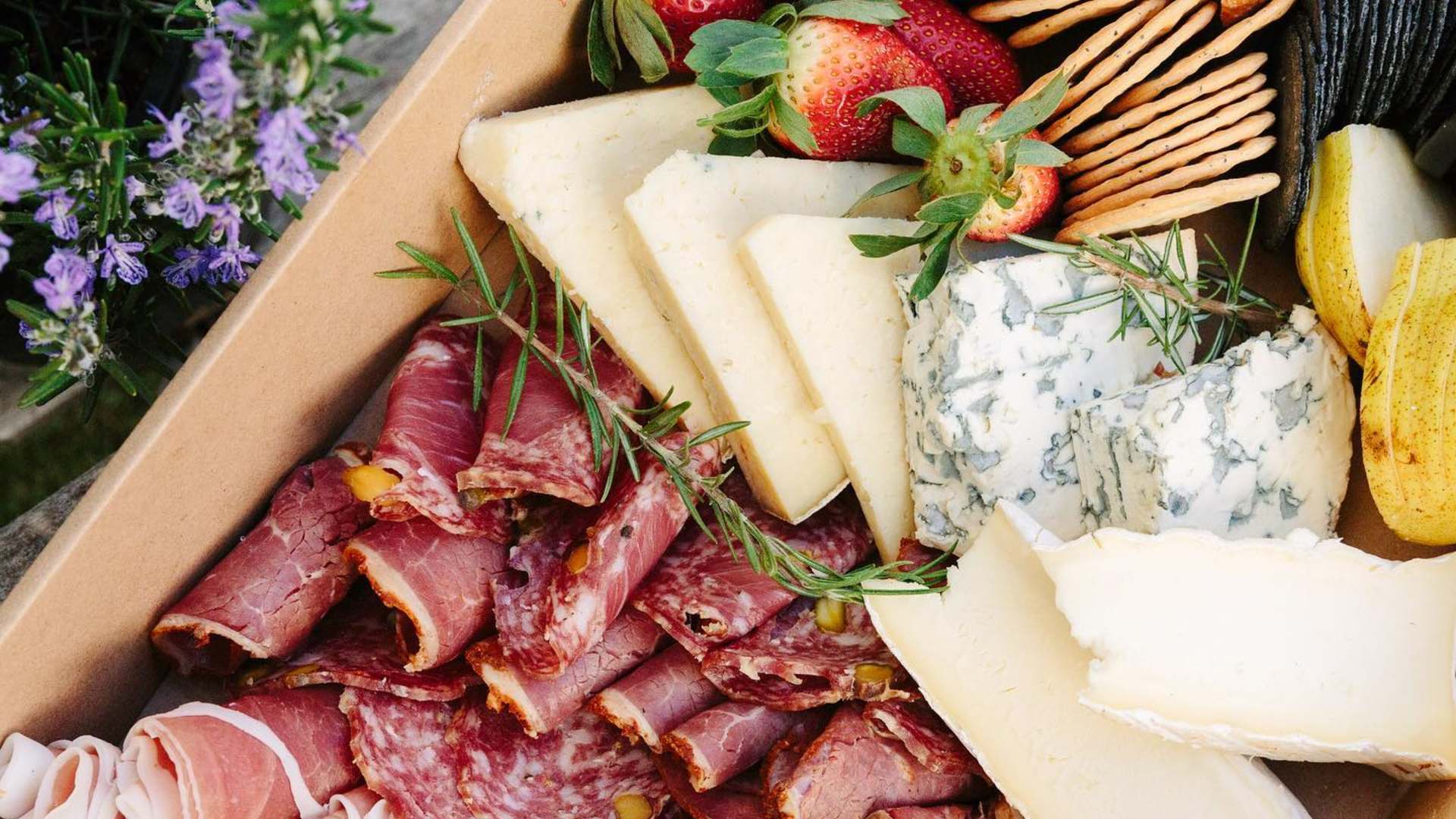 Como House & Garden's lush grounds might be closed for now, but its onsite cafe is open and catering to all your picnic needs. Available for delivery via Uber Eats, Deliveroo and Door Dash, The Stables of Como's Grazing Platter basically begs to be devoured on some sunny patch of grass, matched with some good company and a few easy-sipping drinks. At $65, it's packed with a snack-friendly assortment of cheese and cured meats from Savour and Grace, along with artisanal crackers, relishes and bread. After more of a High Tea scenario? There's also a homemade scone pack, complete with lashings of chantilly cream and Bonne Maman jam. Check the delivery apps to see if you're in the zone.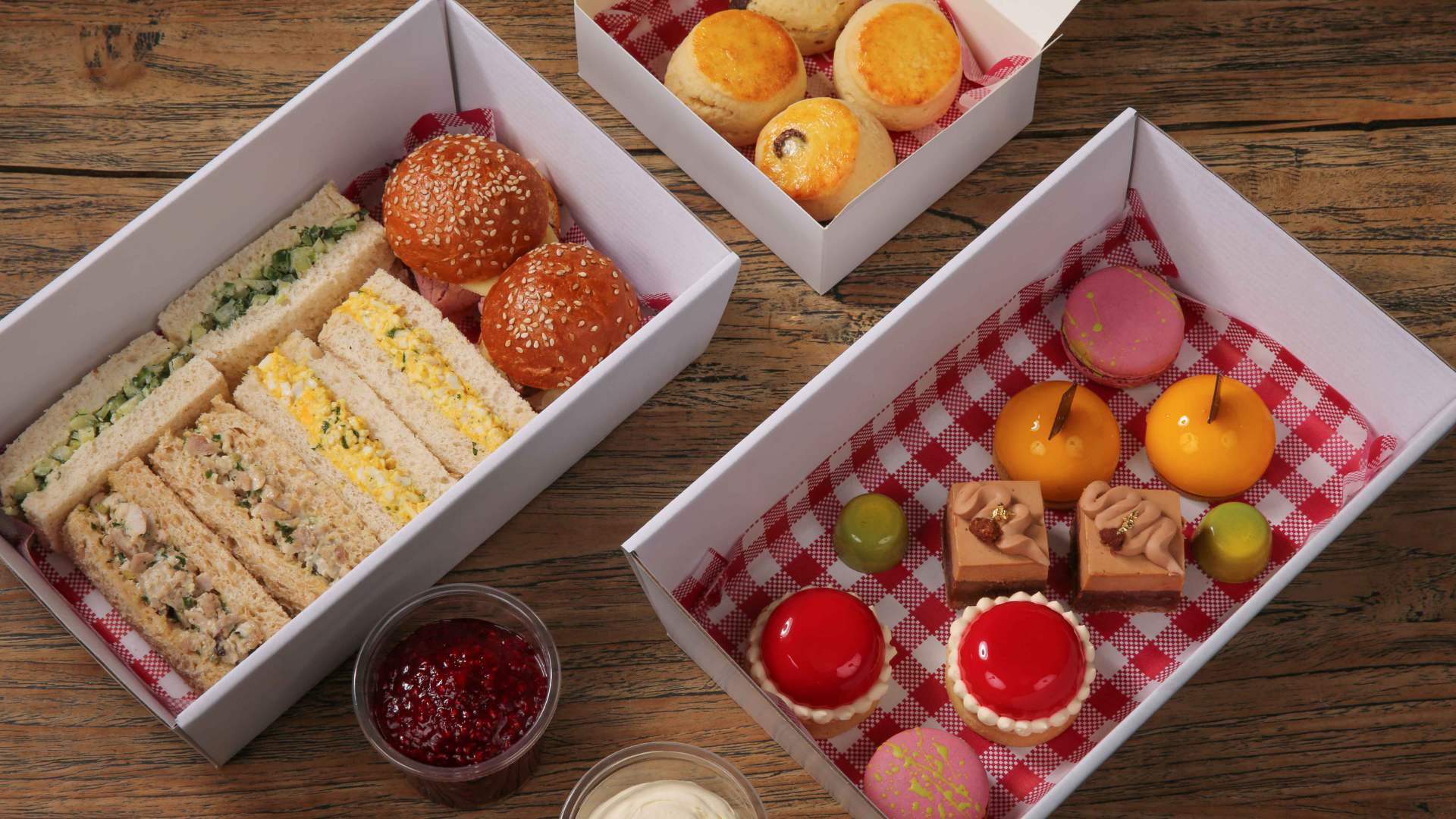 BIBELOT, SOUTH MELBOURNE
The patisserie masters at South Melbourne's Bibelot are serving up their own style of picnic feast, with a chic High Tea At Home spread available for pickup, or delivery to select suburbs. The price varies depending on how many picnickers are partaking (a classic two-person affair is $90), for a haul that includes an assortment of dainty sandwiches, traditional buttermilk scones teamed with house-made jam and cream, and plenty of signature Bibelot desserts. Maybe some handcrafted bonbons, or the raspberry and rhubarb tart? If you're after a bevvie to match, Bibelot is also slinging a tight range of Aussie and New Zealand wines to add on to any order, starting from $20 for a half-bottle of Thorn-Clarke sparkling.

Top image: Cookes Food picnic, by Kate Shanasy
Published on September 30, 2020 by Libby Curran