FOOD & DRINK
The Seven Best Hot Cross Buns You Can Get Delivered Across Melbourne
Order a box of spiced, chocolatey or fruit-heavy buns to your home.
The Seven Best Hot Cross Buns You Can Get Delivered Across Melbourne
Order a box of spiced, chocolatey or fruit-heavy buns to your home.
For many, it's not really Easter unless you've scoffed your bodyweight in hot cross buns in the lead-up. And, thankfully, you don't have to forego that tradition this year, either. A stack of local Melbourne bakeries are here to fix your cravings, self-isolation or otherwise, launching handy hot cross bun home-delivery services all across town.
Jump on the phone or the web to make an order and within hours you'll be tucking into some handcrafted Easter buns, plump with fruit, loaded with spices and slathered with lashings of butter. From the traditional glazed version, to some crafty new-world remixes, here's our pick of hot cross buns you can now get delivered straight to your door.
If you are going out to pick up takeaway, have a look at the latest COVID-19 advice and social-distancing guidelines from the Department of Health.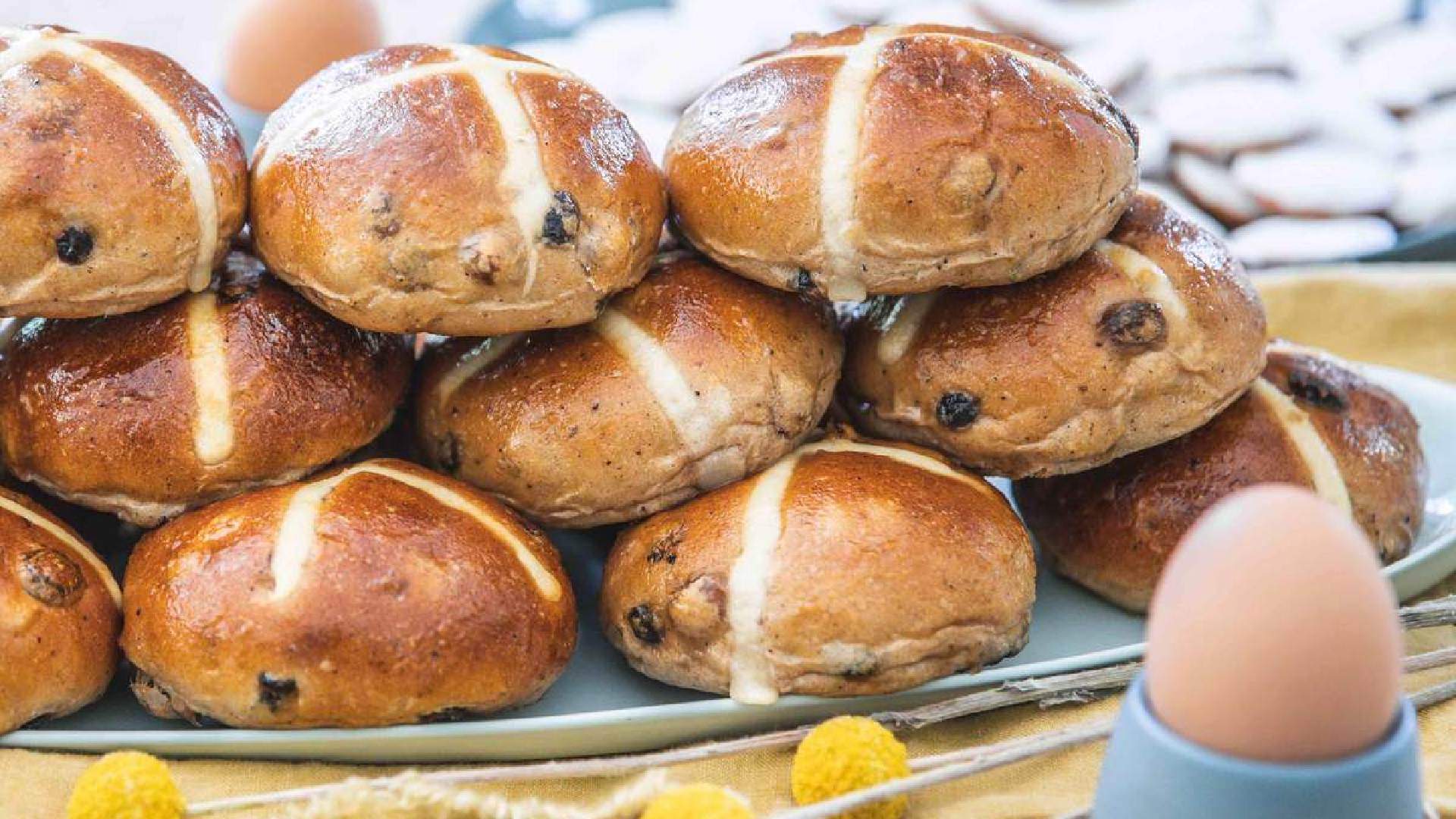 ORGANIC VINE FRUIT HOT CROSS BUNS FROM PHILLIPPA'S
With a handful of stores across Melbourne, long-running bakery Phillippa's is here to ensure all your hot cross bun cravings are fulfilled this Easter, even if you're stuck at home. Its chewy glazed buns are a perennial favourite, crafted with slow-fermented dough, house-made candied peel and loads of organic vine fruit. A box of six will set you back $18, with Australia-wide shipping available for a flat-rate of $9.95. And, if isolation's left you feeling a little creative, jump over to the website to find a couple of crafty recipes to put any extra buns to good use. Toasted hot cross bun ice cream might just be the Easter treat you've been waiting for.
How? Phillippa's hot cross buns can be picked up from the Armadale and Brighton stores or delivered. Order online.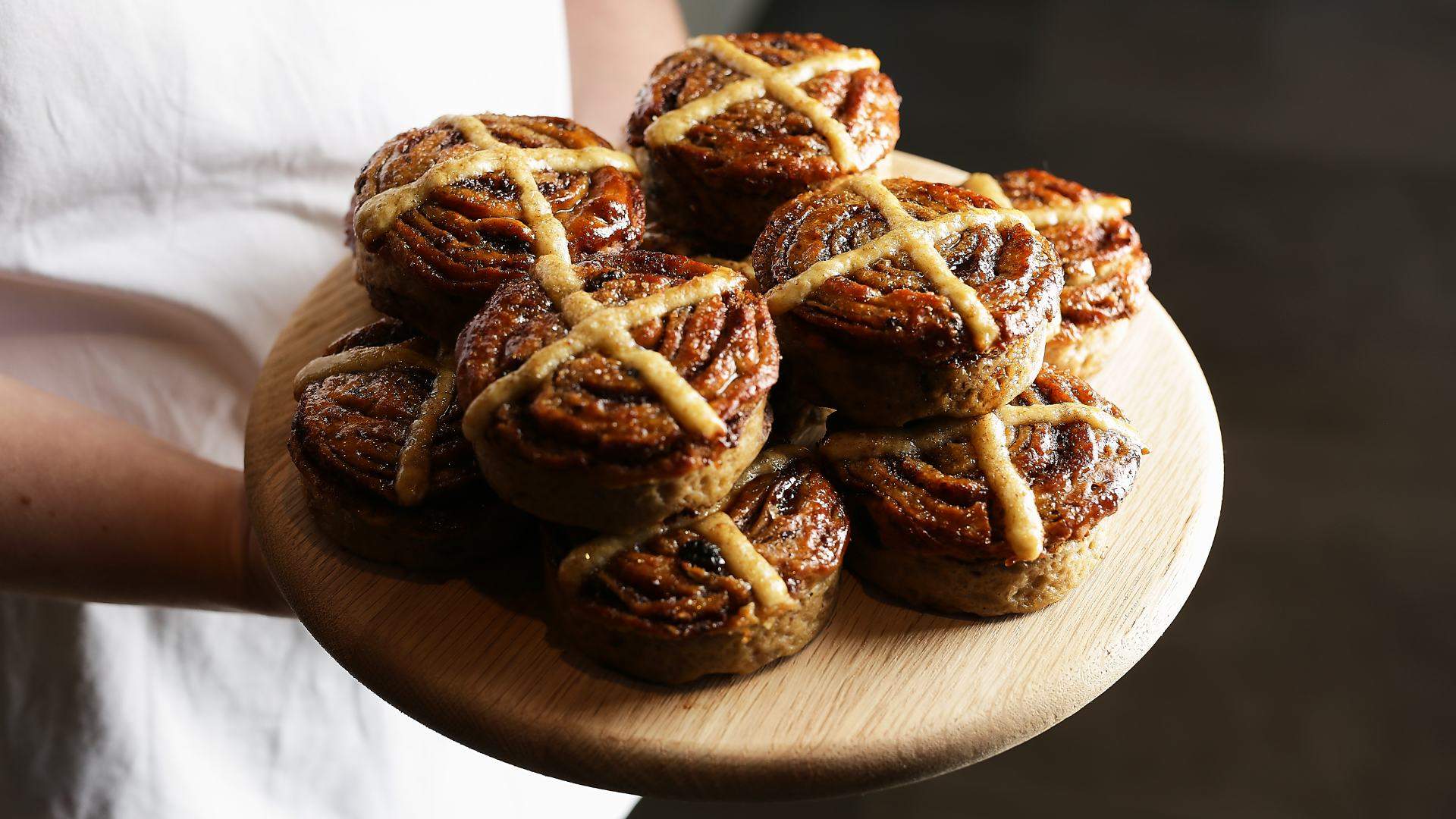 MORK X BUNS FROM MORK
Artisanal hot chocolate maker Mork has created its own indulgent riff on the hot cross bun, perfect if you're in the mood to shake things up a bit this Easter. A reworking of the brand's much-loved Swedish-style cinnamon bun, the 'Mork X Bun' takes the form of a sticky, spiced scroll held together with plenty of butter, chock full of dried fruit and boasting warm orange aromas. Topped with the requisite cross, of course. A box of six of these pimped-out treats clocks in at $30 via the online store, with $5 delivery available to a selection of Melbourne suburbs.
How? Pick up from the North Melbourne store with $5 delivery available to select suburbs. Order online.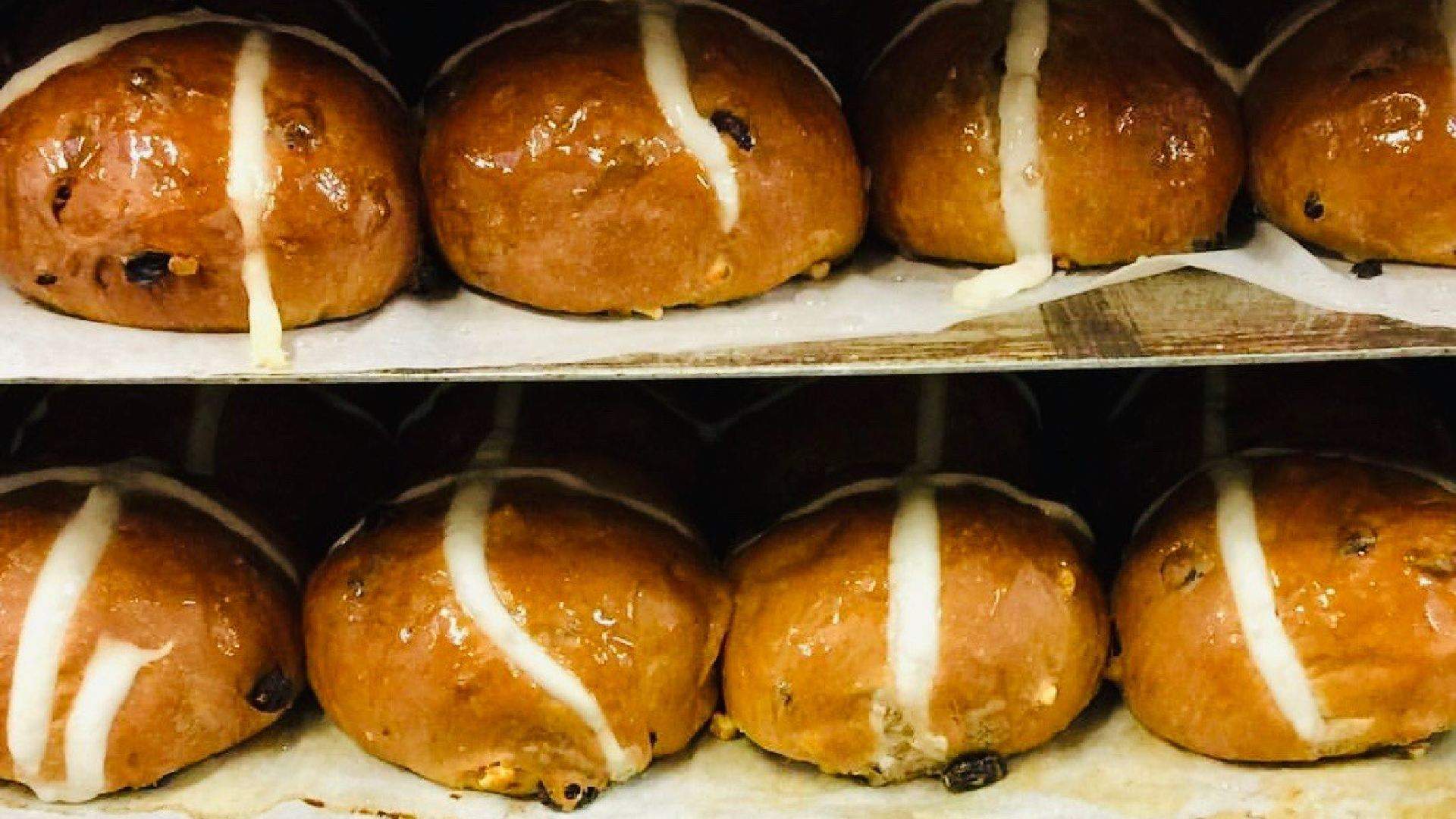 CLASSIC HOT CROSS BUNS FROM CAVALLINI
Fitzroy North's Euro-inspired bakery and patisserie is one that's sure to win over any Easter traditionalists. As always, it's whipping up batches of classic hot cross buns on the daily, fat with vine-ripened fruit and infused with plenty of aromatic spices. Only this year, you can get them dropped straight to your door, thanks to Cavallini's new free, contactless delivery service, available to surrounding suburbs including Collingwood, Fitzroy and Northcote. Order before 3pm and you'll receive your freshly baked buns between noon–3pm the next day. They're taking minimum orders of one dozen, though we're sure you're up to the challenge.
How? Call (03) 9486 3883 to order delivery for suburbs surrounding Fitzroy North. More details here.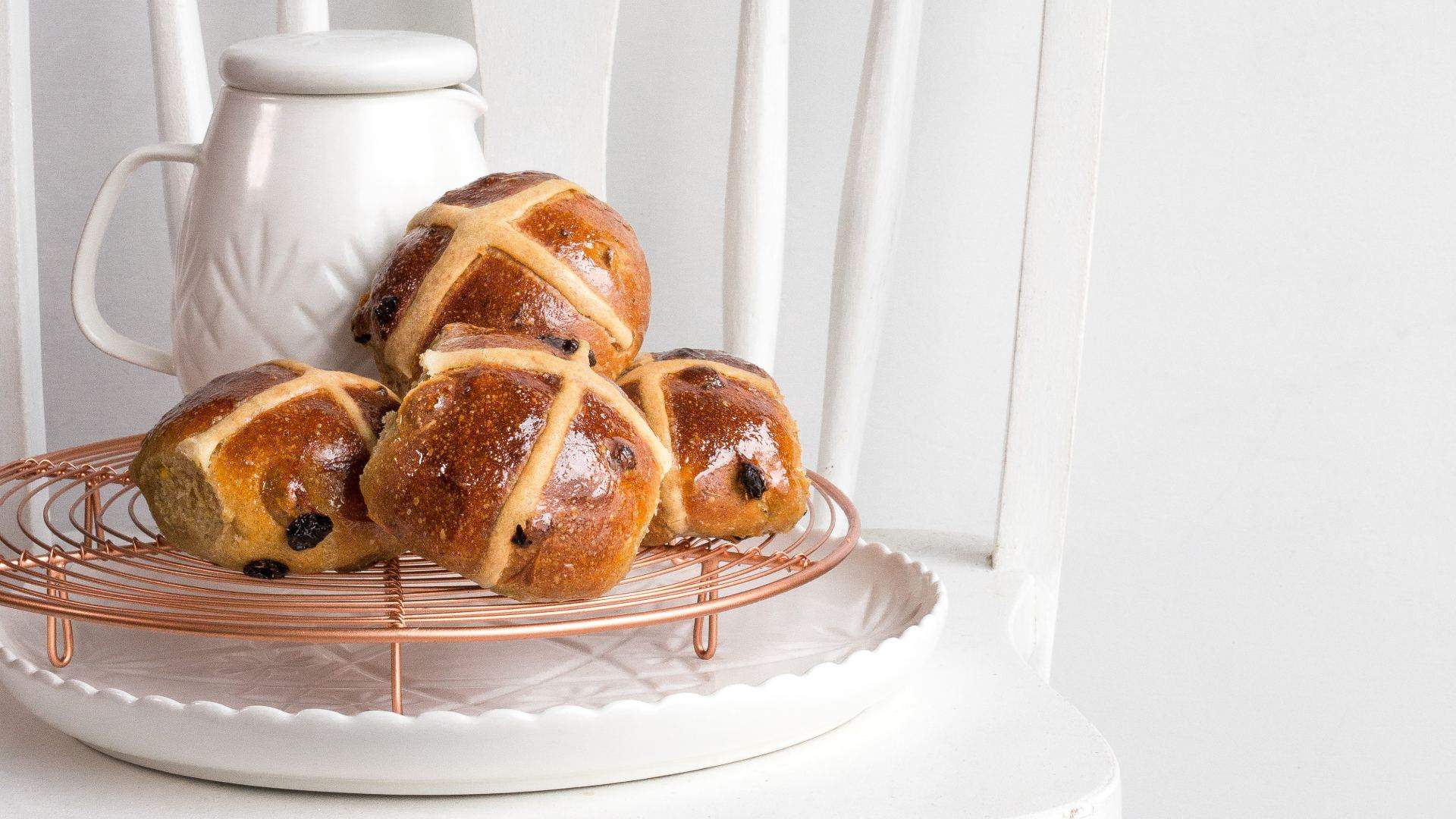 SOURDOUGH HOT CROSS BUNS FROM DENCH BAKERS
Having earned a cult following for its artisan baked goods, Dench has long been a northside staple. And its signature sourdough hot cross buns have fans coming back year after year, each batch stuffed full of Aussie vine fruits, made on organic flour and a secret blend of spices. Plus this year, Dench is also whipping up a lush choc-orange version, starring fresh oranges and couverture chocolate. Both are available now for delivery ($7.50 flat rate), with next-day drop-offs happening Tuesday through Sunday for orders placed before 9am. Six-packs of the traditional buns are included in some of Dench's curated 'Bread Box' packs, or you can customise your own order by shooting them an email at info@denchbakers.com.au. Minimum order is $35.
How? Order delivery via the Dench Bakers website.

The new kid on Melbourne's bakery block, Bread Club is getting into the Easter spirit by dishing up two styles of decadent hot cross bun. The traditional version is a 24-hour-long labour of love, fermented overnight and stuffed with currants, cranberries, citrus, ginger and spices, and lashings of Pepe Saya butter. And for the sweet tooths, the 'Choc XXX Bun' features a fluffy brioche-style base pimped out with cocoa and 70 percent Birdsnake chocolate chunks. A $5 delivery service on Fridays runs to north and west Melbourne, with more suburbs to follow soon. Takeaway in store is available daily. What's more, the pre-COVID-19 packaging should supply a few much-needed giggles.
How? Pick up from the North Melbourne store or pre-order for Friday delivery online.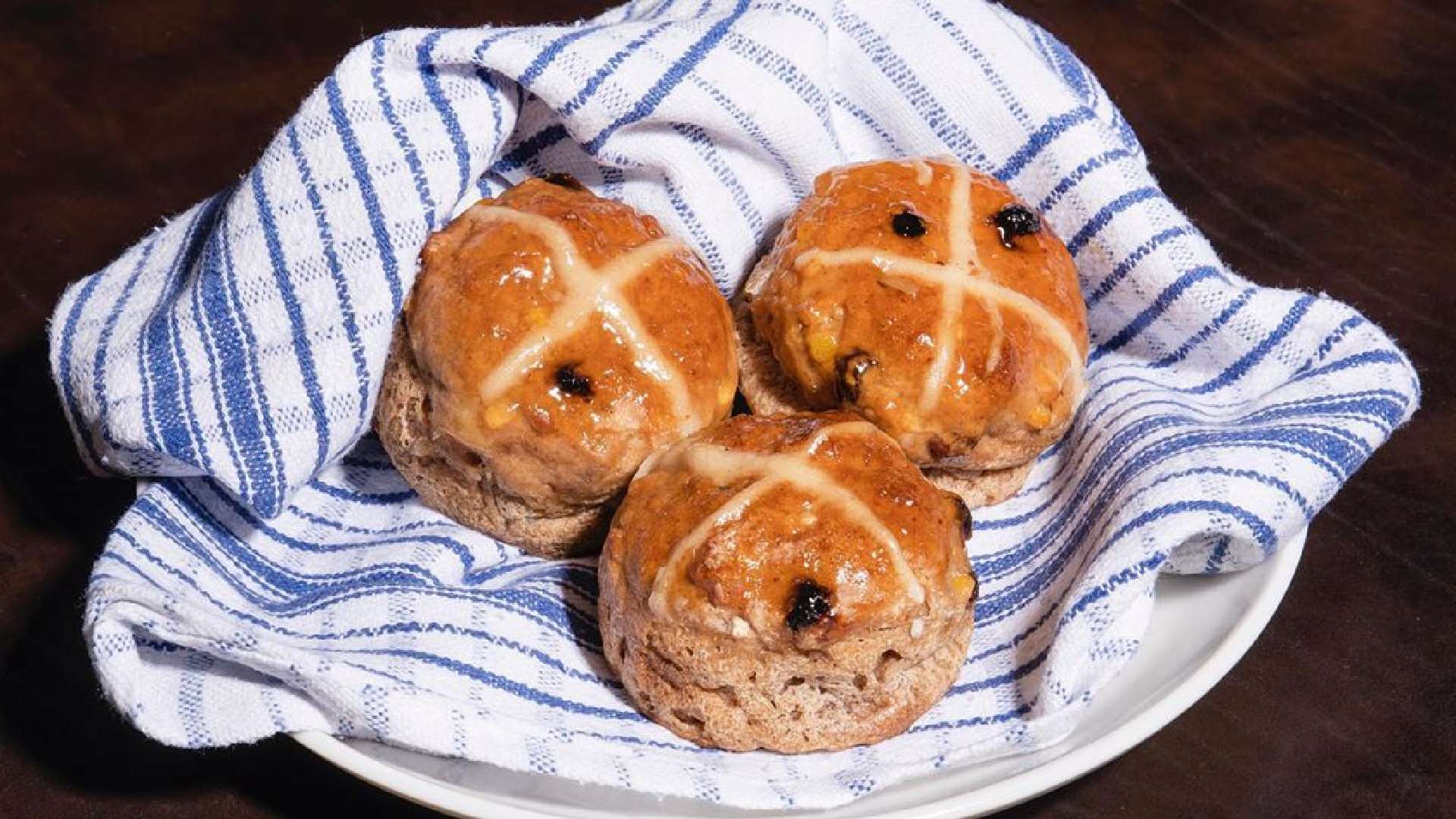 GLUTEN FREE HOT CROSS BUNS FROM CERES FAIR FOOD
Online organic grocer and carbon neutral food delivery service CERES Fair Food has a hefty selection of gluten-free goodies in its bakery range, year round. But come Easter, it's all about those dietary-friendly hot cross buns. This year, its slinging traditional, fruity buns, handcrafted daily by baker Gluten Free Precinct in Cheltenham. The seasonal treats swap out the regular flour for a blend of potato starch, rice flour, tapioca starch and organic flaxseed, and are available for $16.95 for a six-pack through CERES, with a delivery fee of $6.95 for orders under $75. To place an order, you'll need to become a CERES Fair Food member, though that's free and easy to do online.
How? Order delivery online via CERES Fair Food.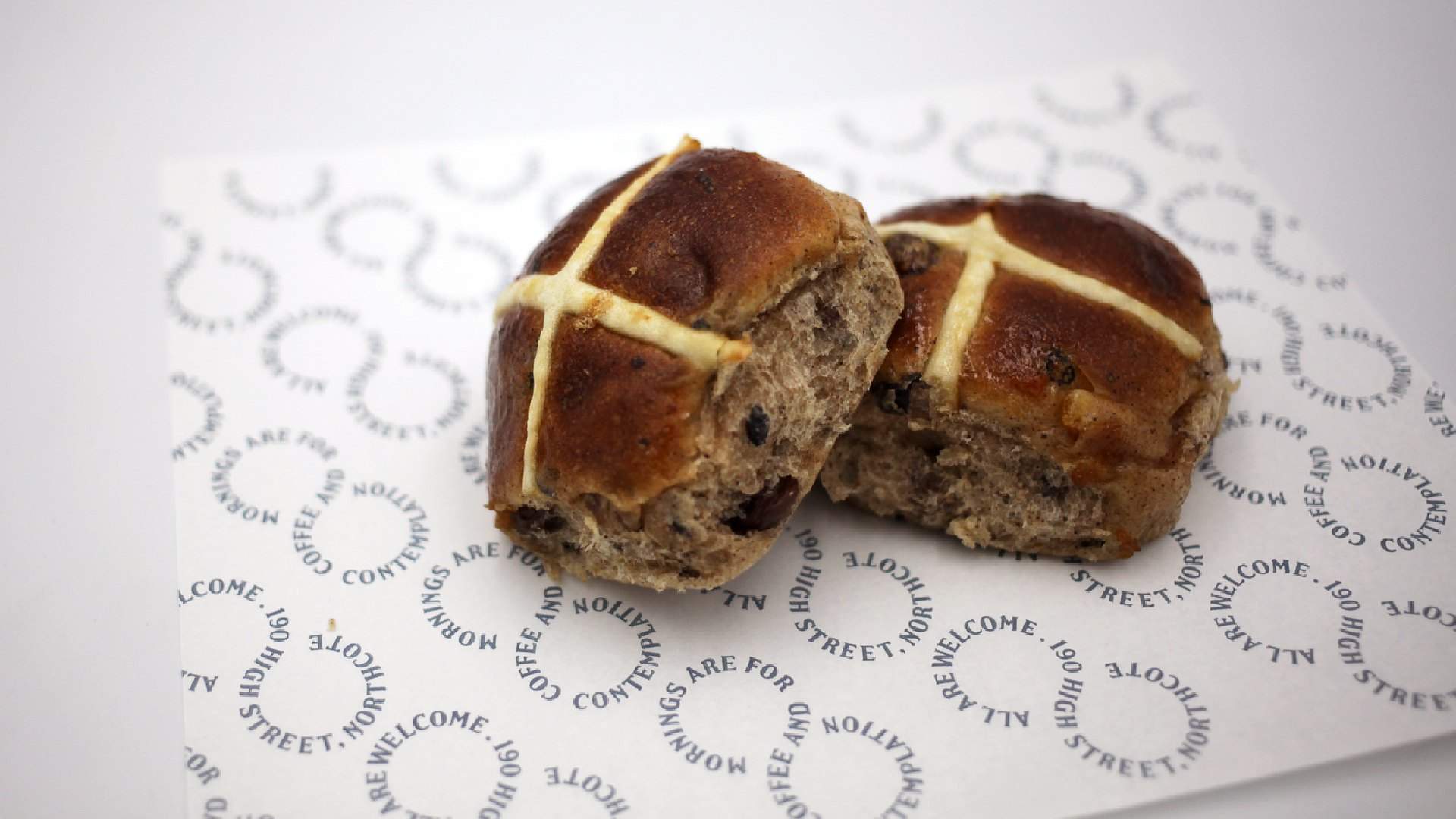 This Northside viennoiserie has kicked off a new delivery service, dropping off baked goods to doorsteps across Clifton Hill, Northcote, Thornbury, Preston, Fairfield and Alphington. And, yes, that includes All Are Welcome's traditional hot cross buns, loaded with fruit and candied orange, and spiced with ceylon cinnamon and jamaican peppercorn. A box of six of these beauties will set you back $20, along with a $5 delivery fee, with drop-offs now happening every Wednesday and Saturday. Follow the pre-order instructions on the website and order by 5pm the night before, to have fresh Easter buns in your kitchen the following day.
How? Order online via the All Are Welcome website.

Top image: Bread Club by Griffin Simm
Published on April 01, 2020 by Libby Curran