FOOD & DRINK
Melbourne is Finally Allowing Food Trucks in the CBD
No longer does a bowl of nachos necessitate a full-scale search squad.
Finding a food truck in Melbourne is like a cryptic little treasure hunt. First, you must do the research: following your favourite foodie on Twitter and deciphering covert announcements of their location. Then, you must painstakingly track down said truck through Google Maps, ducking and parkouring through alleyways and parks as if the eventual tacos are some prestigious prize for those with the best detective skills. Fast food has never been so difficult.
That is until now. After a ban was lifted by the City of Melbourne this week, today marks the first day food trucks have been allowed into the CBD. As part of a three month trial period, 12 local favourites will be permitted to operate in the main city grid over seven allotted locations. The participating vendors include a selection of Melbourne's best: Taco Truck, Gumbo Kitchen, Happy Camper Pizza, Mr Burger and Banh Mi Boys among others.
It's a daring move for Melbourne City Council — one that's bound to irritate city food vendors. A few months ago, they only had novelty parachutes of molten cheese to compete with, now they have a dozen established eateries. In fact, food trucks have already caused a headache for local merchants in Docklands and some of the inner suburbs. Due to mounting pressure, Yarra City Council even made a ruling last year that the trucks are not allowed to operate within 100 metres of existing businesses.
But fans of food trucks are used to walking 100 metres to get their fill. This new ruling will put an end to burger-hunting in the back streets of Brunswick and Richmond. No longer does a bowl of nachos necessitate a full-scale search squad. From now until early August, you may just stumble across your favourite meals on wheels after exiting the NGV.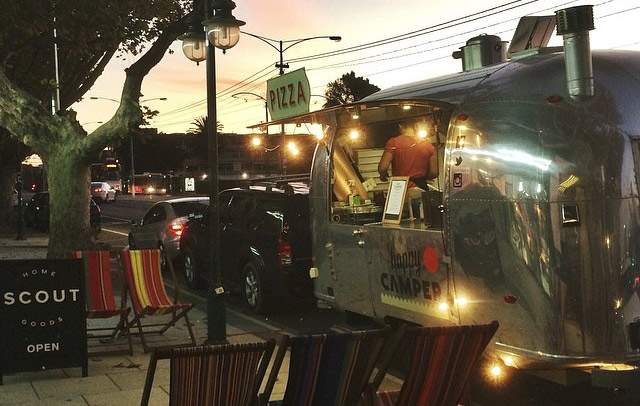 Food trucks will operate on a rotating roster at the following locations:
Outside National Gallery of Victoria, St Kilda Road
On the east side of St Kilda Road, near the Floral Clock and adjacent to Walkers Fountain; opposite the Victorian College of the Arts
Boathouse Drive, Melbourne, east of the bollards
Birdwood Avenue, near Shrine of Remembrance
Landsdowne Street, 50m north of Wellington Parade
Linlithgow Ave, adjacent to the King George V Memorial
East side of Birdwood Ave, outside Gate D of the Royal Botanic Gardens
Via Good Food. Photo credit: avlxyz via photopin cc.
Published on June 04, 2014 by Meg Watson