FOOD & DRINK
Queen Vic Market Is Getting An Elevated, Greenhouse-Style Pavilion
Moving on up, literally.
One of Melbourne's favourite inner-city shopping spots is moving up in the world, literally. As part of the site's ongoing redevelopment, Queen Victoria Market is getting an elevated addition. Say goodbye to ground-level shopping, and hello to an open-air greenhouse-style pavilion that'll be built on columns nine metres above the street.
Slated to begin construction in early 2017 and expected to be operational by the September, the Breathe Architecture-designed structure will temporarily house the market's traders while other parts of the precinct undergo a revamp. And it won't be small — measuring 200 metres by 16 metres, the $5 million effort is expected to stretch from the existing sheds down to the customer car park. In addition to boasting a constant temperature of 28 degrees, it'll also be the longest inner-city conservatory in the world.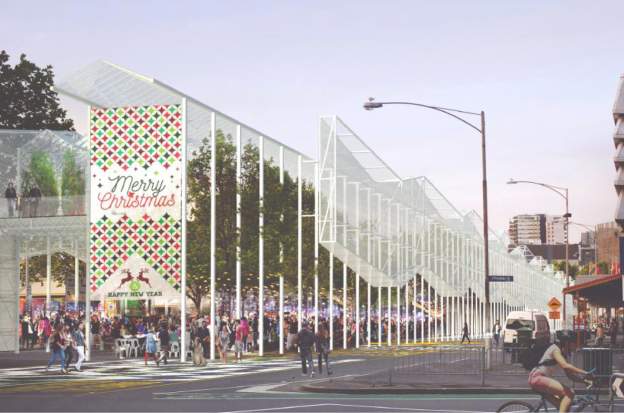 The pavilion forms part of the broader Queen Victoria Market Precinct Renewal project, which aims to restore the market's heritage while delivering modern facilities, and will span the next five years. As well as refreshing the existing sheds and fixtures, the $250 million revitalisation will also see the creation of a new 1.5 hectare open space called Market Square, plus another area that can host markets, festivals and more at the intersection of Queen and Therry streets, dubbed Market Cross.
And, while the brag-worthy sky-high greenhouse isn't actually intended to be a permanent fixture at present — in fact, it is designed to be dismantled, moved and even re-sold if needed — that may change. Lord Mayor Robert Doyle told The Herald Sun that he expects some traders will want to stay there once the rest of the project is finished. "I suspect this will be such a success and such a drawcard that when we get to the end of the renovation traders will tell us not to take it away," he said.
For more information about the Queen Victoria Market Precinct Renewal, visit the project website.
Via The Herald Sun.
Published on December 11, 2016 by Sarah Ward