FOOD & DRINK
Melbourne's Citywide Food Festival New Year Street Feasts Is Returning to Send Off 2021
The al fresco food festival will return for its second year, featuring eight outdoor dining precincts across the city.
Following a successful debut year in 2020, Melbourne's citywide al fresco dining festival is returning for another blockbuster New Year's Eve celebration this year. Those looking to leave 2021 behind them and ring in the new year with good food and wine will be able to nab tickets to NYE feasts in one of eight dining precincts as part of the second edition of New Year Street Feasts.
The event is a collaborative effort between the City of Melbourne and Melbourne Food & Wine Festival (MFWF) which has suffered a horror two years full of postponements and cancellations, with last year's New Year Street Feasts a bright spot among the tough times.
"We can't wait to see people lining Melbourne's streets eating and drinking, and being cared for, by our world-class operators as we ring in the New Year," MFWF CEO Anthea Loucas Bosha said.
Eight outdoor dining precincts will be created for the festival, appearing in top culinary spots like Flinders Lane, Russell Place and Little Collins Street, as well as Fed Square and Docklands. The festival brings nearby venues from each precinct together to serve up a jam-packed program of special menus and feasting experiences.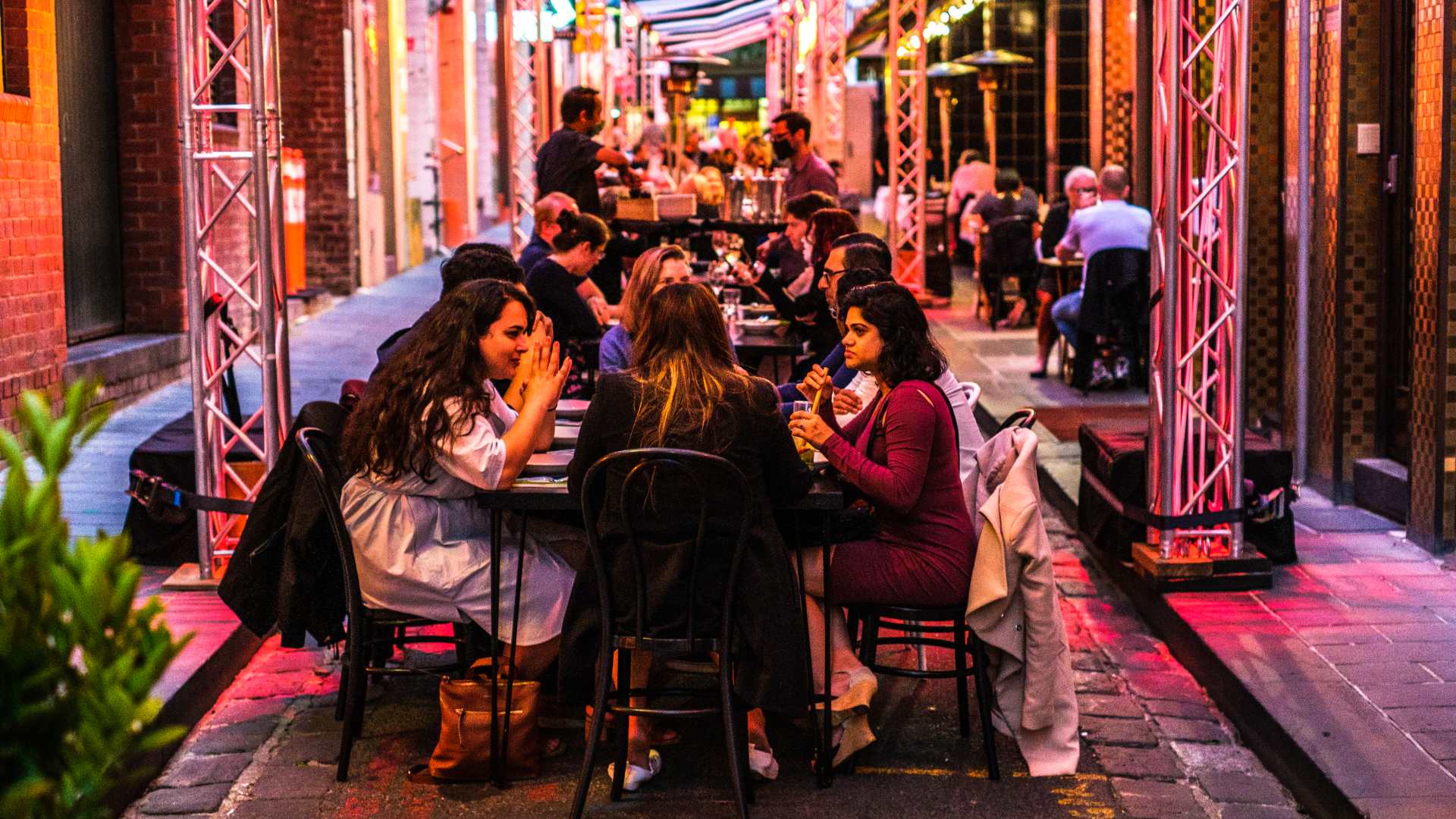 Last year's festival included a six-course Indian feast at Jessi Singh's Daughter in Law, a Spanish-inspired Bomba dinner complete with heirloom tomato gazpacho and buttermilk-braised lamb shoulder, and a Bar Margaux soiree featuring champagne cocktails and roast duck.
Diners at Dockland's New Quay Promenade may also be lucky enough to catch a glimpse of Australia's largest drone show which is lighting up the sky above Victoria Harbour twice on New Year's Eve. The swarm of 350 drones will rise for two seven-minute shows in conjunction with the 9.30pm and midnight fireworks as part of New Year's celebrations, before sticking around for twice-nightly shows throughout January.
Tickets for New Year Street Feasts will be available via the Melbourne Food & Wine Show website, while tickets for viewing areas to watch the drone show will be available via a Ticketek ballot. More information on New Year Street Feasts and the full City of Melbourne New Year's Eve event lineup will be unveiled on Thursday, November 25.
New Year Street Feasts will run at various locations across the city on Friday, December 31.
Top image: Chin Chin on Flinders Lane
Published on November 23, 2021 by Libby Curran