Queen Vic Market's New Munro Development Will Soon Boast Craft Beers, Sushi and a Chocolate Shop
The first hospitality venues coming to the precinct have been announced, including Brick Lane, Moonfishh and Only Mine Chocolate.
2022 marks four years since the Queen Victoria Market's new Munro development was officially given the green light — and, in the coming months, you'll have a few delicious reasons to stop by. Like craft brews? Sushi? Coffee? Chocolate? Impressive places devoted to all of them have just been announced among the precinct's first batch of hospitality tenants.
Beer lovers will want to make a date with Brick Lane Market, which'll hail from Brick Lane Brewing, unsurprisingly. The independent brewer will sprawl across a two-level space within the former Mercat Cross Hotel site, and serve up a menu that spans beer in a range of styles — of course — plus a locally focused, market-fresh food menu.
Then, there's Moonfishh's latest venue, which is set to immerse more than just your tastebuds. The sushi on offer will also use fresh and seasonal market produce; 'tis the place for it, obviously.
Caffeine fiends can get excited about Market Lane Coffee opening its third cafe — and also about St Ali and The Queen, a coffee and cocktail venue. By day, the latter will do breakfast and lunch. By night, it'll sling booze. And, clearly, specialty coffee roastery St Ali is behind it.
Also on the list: Only Mine Chocolate, with the bespoke chocolatier setting up its first city location. And, all these newcomers to QVM's Munro development will join wine bar and bottle shop ReWine, which is already trading onsite.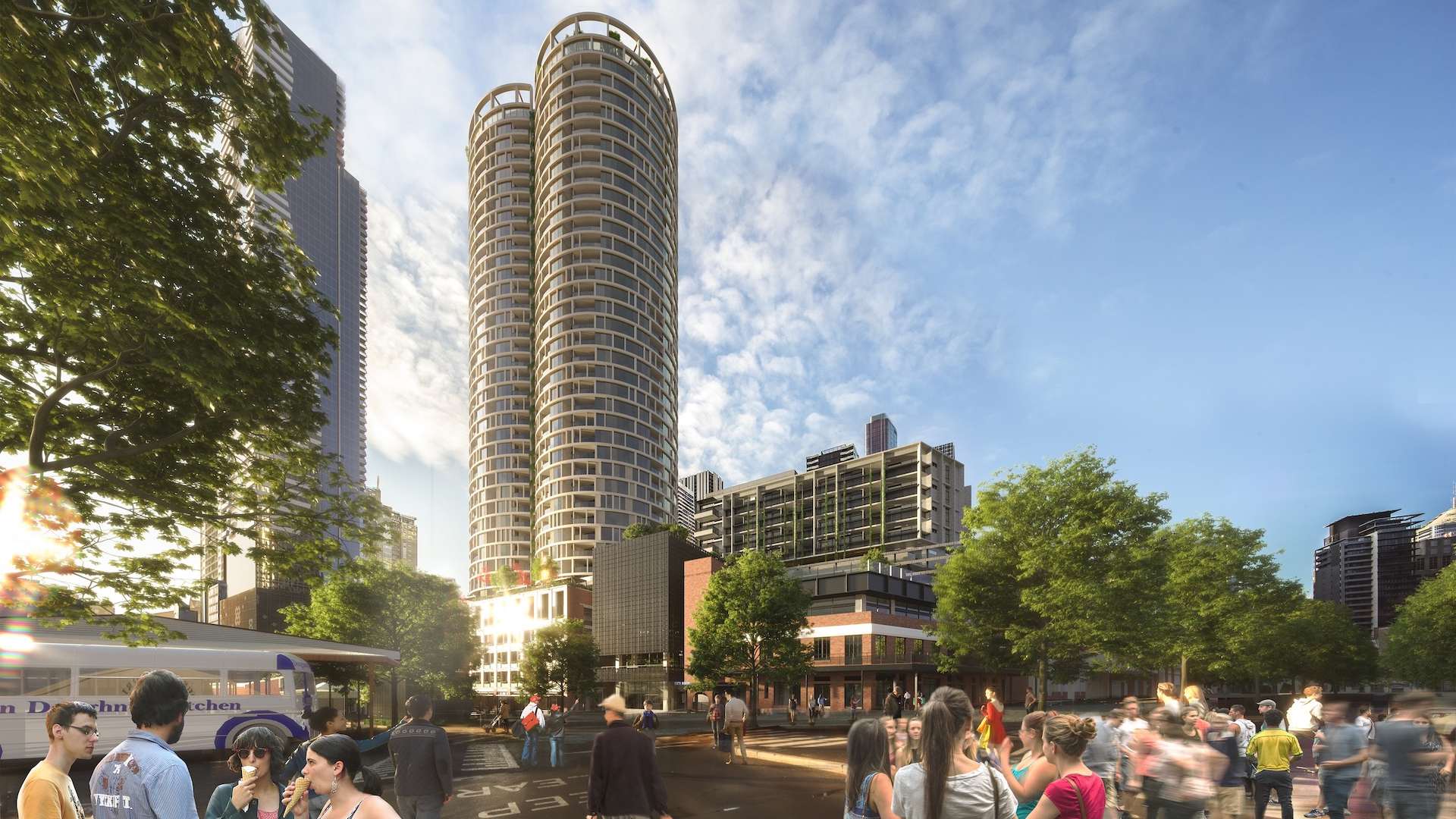 More tenants are still to be revealed, as are opening dates; however, whenever they swing open their doors — and whichever other spots do as well — the Munro development is a mighty big deal. Taking over the site that, up until 2017, housed The Mercat, the $500 million community hub will boast 1800 square metres of new retail and hospitality space, all on top of the Queen Victoria Market's existing setup.
It'll also span 2500 square metres of new open space, and include a new three-level library with a rooftop terrace and a boutique hotel, as well as affordable housing and build-to-rent residential apartments. And, since July 2021, a new 500-space market car park has been open onsite, too.
The Munro development makes up a significant part of the ongoing Queen Victoria Market renewal project, but that's not all that's been happening at QVM. Further upgrades to the Queen Victoria Market's historic sheds and food hall have also been announced, and a new two-year pop-up park for the precinct launched at the end of 2021.
Located at Queen Victoria Market, Munro development's just-announced hospitality venues will start opening in the coming months. For more information about the precinct, head to the City of Melbourne and Queen Victoria Market websites.