FOOD & DRINK
Small Time Is Brunswick's New Emerging Artist Hub, Gig Space and Pizza Joint
Find NY-style slices, beers, gigs and a musician development program — all under one roof.
Small Time Is Brunswick's New Emerging Artist Hub, Gig Space and Pizza Joint
Find NY-style slices, beers, gigs and a musician development program — all under one roof.
A buzzy new hub of creativity and New York-style pizza has landed in Brunswick, and it's out to kick some big goals for Melbourne's emerging music scene. Fittingly dubbed Small Time, the multi-faceted venue throws open its doors this Friday, acting as both a music accelerator, studio, performance space, pizza joint, bar and coffee window.
At its core is an accessible artist development program, championing up-and-coming local musicians of all genres. Under the Small Time Program, five onsite studios and workspaces will host up to ten artists a month, who'll enjoy guidance from mentors, produce their own tracks and gain access to a valuable network of industry players, in a process designed to help shoot them along the path to success.
The musicians will also feature throughout a diverse program of Small Time gigs — both ticketed and free — while Small Time TV will live-streams shows, interviews and expert advice on Facebook and YouTube.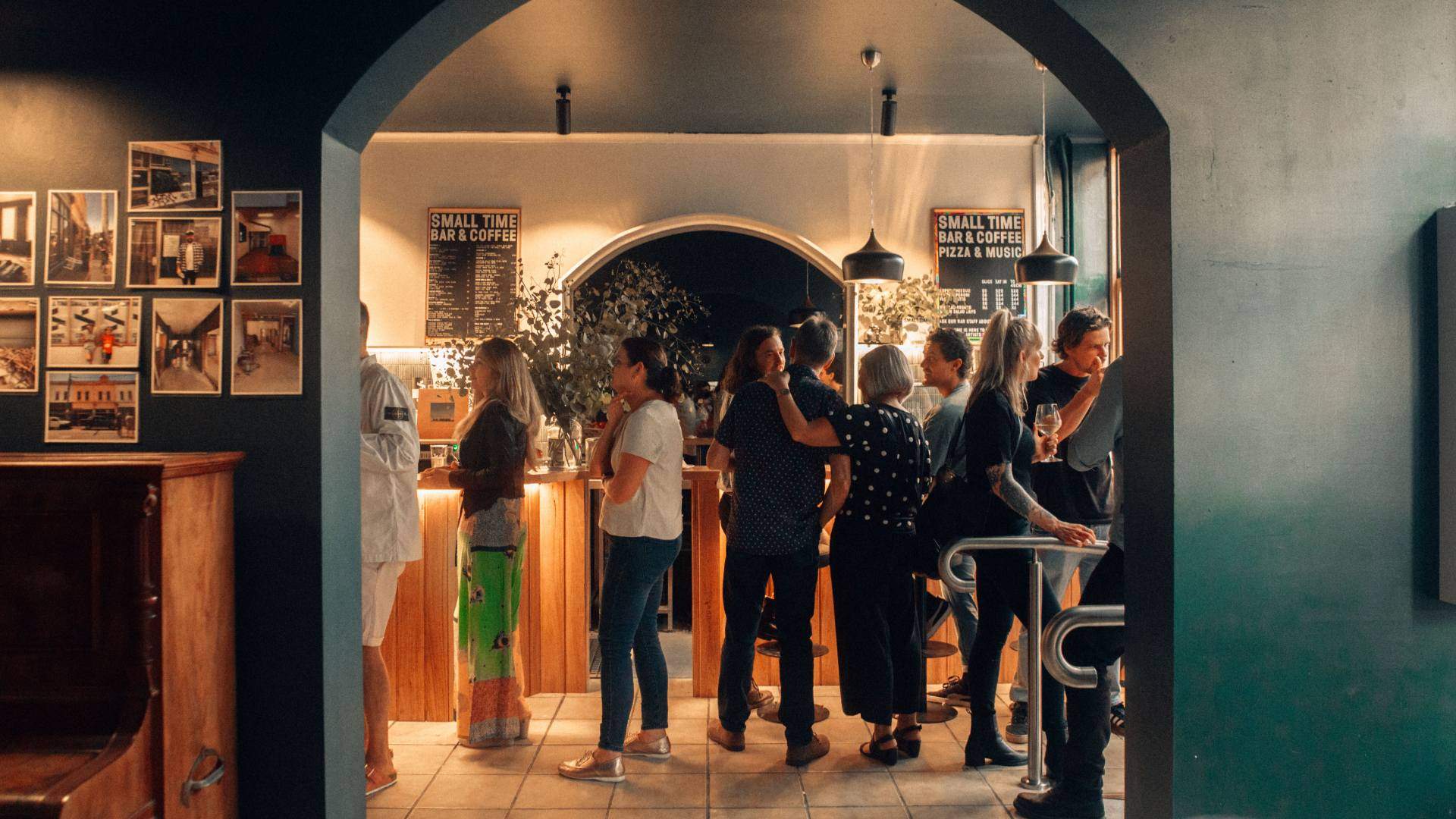 Punters can head into the Albert Street venue to catch a gig, or swing by independently to soak up the rest of the offerings. Playing a strong supporting act to the tunes, the kitchen's dishing up hefty 55-centimetre pizzas, available by the slice or the pie. It's a classic US-style menu, starring flavours like the Super Cheesus and Oh Pep! Peroni crafted with mozzarella imported from the States, and the plant-based Viva Las Vegans made with vegan cheese from Hello Friend Foods.
To match, there's a tight curation of local wines, beers including the collaboration Small Time brew by Abbotsford's Bodriggy Brewing Co and coffee from your mates at Allpress. These drinks and slices can be enjoyed in the main bar, lounge (where there's also a piano), in the Green Room or outdoors in the plant-filled patio.
Find Small Time at 271–273 Albert Street, Brunswick from Friday, February 28. It's open from 11am–1am Thursday–Saturday and 11am–11pm Sunday to Wednesday.
Published on February 27, 2020 by Libby Curran