FOOD & DRINK
Stan's Deli & Sandwiches Is Malvern's New Modern Take on the Classic American Diner
Roll in for Small Batch coffee and crafty sambos from a crew of hopso legends.
Melbourne has scored itself a new haven of good, honest food with the cheery arrival of Stan's Deli & Sandwiches in Malvern. A vision of green and white both inside and out, this modern riff on the classic New York deli and diner comes courtesy of some pretty familiar hospitality faces, with Guy Bentley (Leonardo's Pizza Palace, Leonards House of Love) and Todd Vanneste (Frankie's Tortas & Tacos) teaming up with Alex Gavioli (formerly Moby 3143 and Lenny 3206) and Aaron Trotman of wine label NON.
At the Glenferrie Road spot, Vanneste's Weekdays Design Studio has created a bright, smartly-dressed diner-style space for morning coffees and lunchtime sandwich pit-stops alike. And yes, Stan's is taking the concept of deli coffee to a whole new level, with Small Batch supplying both the house blend and a rotation of single origin offerings.
As for the food menu, it serves up a finely tuned celebration of simplicity, heroing straightforward flavours and featuring a stack of elements crafted in-house. You'll find 5 & Dime bagels loaded with the likes of whipped ricotta, lemon and dill, or with pastrami, bread and butter pickles, sauerkraut and mustard. The sandwich game is strong, including the roast chook sanga with Swiss gruyere, herb mayo and green tomatoes that are salted overnight. Pork and fennel sausage comes housed in a muffin alongside curried egg and cheese, while the eggplant parm sandwich features a mix of napoli, mozzarella, peppers and rocket.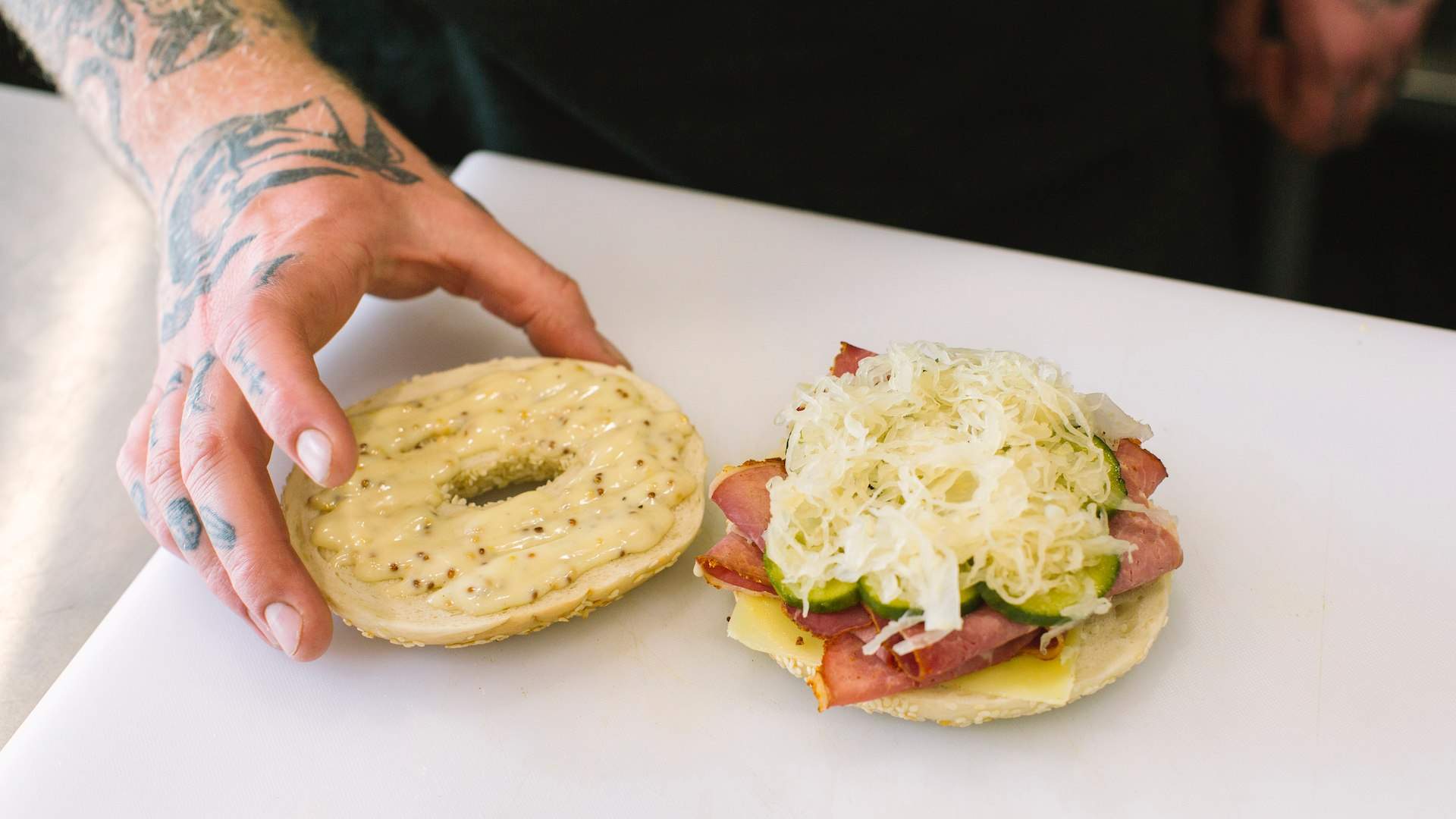 Everything is available to go, as well as to enjoy in — and while you're there you'll find a deli section stocked with the likes of Chappy's chips, Birdsnake chocolate, Nice Pickles, Strange Love sodas and NON's booze-free wines. Stay tuned for a line of house-made sauces, preserves and other goodies, hitting the shelves soon.
And, once Stan's liquor license comes through shortly, there are plans to host monthly dinner parties featuring fresh pasta and natural wine, and shining the spotlight on various regions and producers.
Find Stan's Deli & Sandwiches at 248B Glenferrie Road, Malvern — open from 6.30am–3pm Monday–Saturday and 8am–3pm Sunday.
Published on April 20, 2021 by Libby Curran