FOOD & DRINK
Tubs of Rainbow Paddle Pop and Bubble O'Bill Ice Cream Have Just Landed in the Freezer Aisle
And Golden Gaytime, too.
Thanks to our sweltering weather, abundance of beaches and all-round love of creamy, frosty desserts, Australia has given rise to many a great ice cream. But, one has always reigned supreme. That'd be the humble, colourful, swirl-filled Rainbow Paddle Pop, which tastes like caramel, summer, nostalgia and not having a care in the world (and every Aussie has the childhood memories to prove it).
Licking your way through a single Rainbow Paddle Pop on a stick is all well and good (and often messy and sticky). In fact, even though it's the king of Aussie ice creams, you probably no longer give buying a whole box of them a second thought. Plunging a scoop into a tub of Rainbow Paddle Pop ice cream is something new, special and completely different, however — and, thanks to Streets' new one-litre range, it's now on the menu.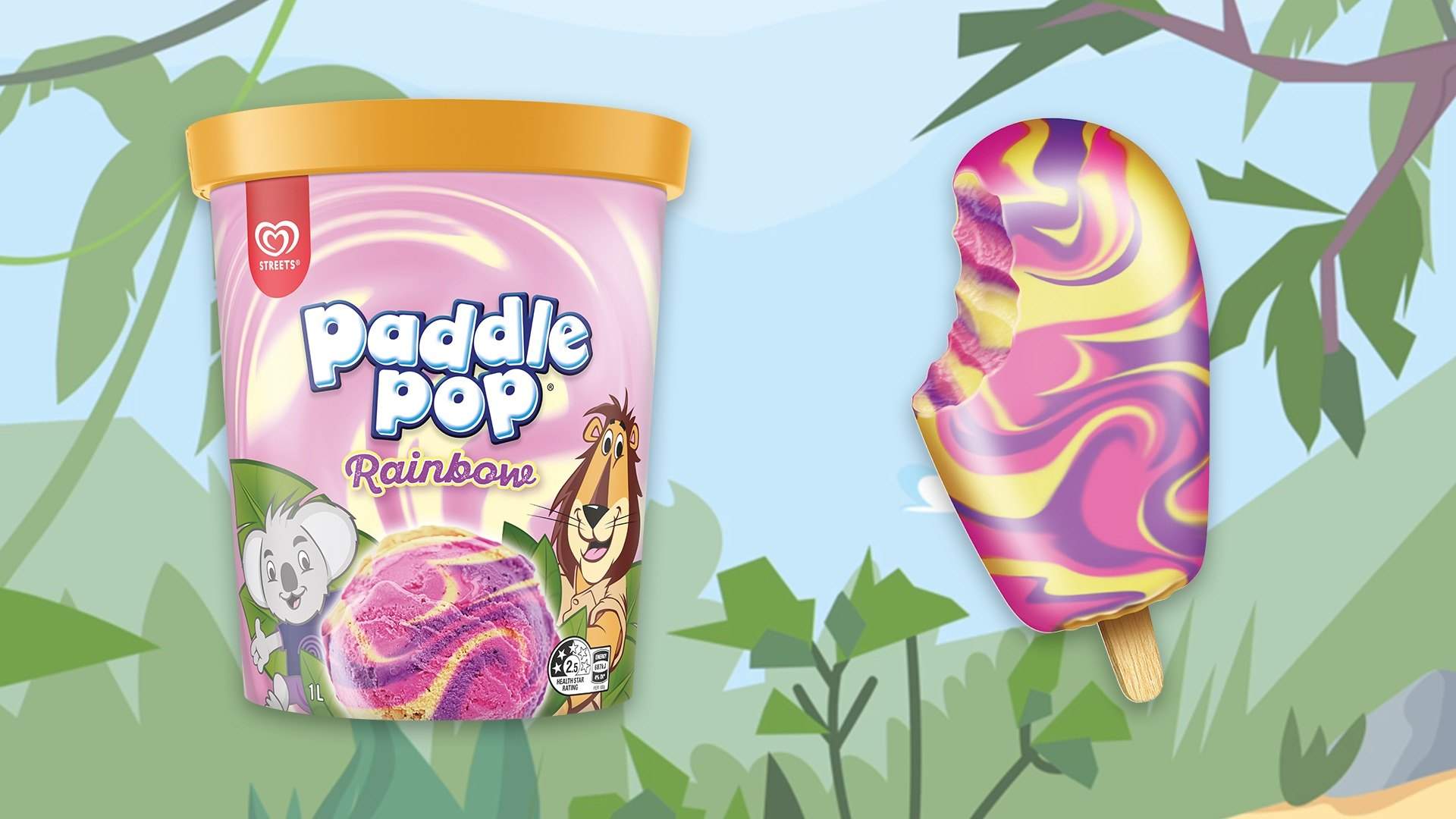 The ice cream company has rolled out tub versions of three classic Aussie flavours — so, if you're not obsessed with Rainbow Paddle Pops for some reason, you can also tuck into scoopable servings of Bubble O'Bill and Golden Gaytime. And yes, the Bubble O'Bill tub includes bubble gum-flavoured candy pieces scattered throughout its chocolate and caramel ice cream, because we all know that it'd be pointless without them.
Expect the new dessert line to be popular — announcing the tubs, Streets' Brand Manager Samantha Jarmul advised that "these are the top requests we receive from Streets' fans".
If that's your next at-home sundae sorted, you can pick up tubs for $8 each from IGA supermarkets. They'll also be available in Woolworths stores nationwide by mid-next week, and will then be on Coles' shelves from mid-August.
Streets' Bubble O'Bill, Rainbow Paddle Pop and Golden Gaytime tubs are now available at IGA supermarkets, will hit Woolworths stores by mid-next week, and will then be on Coles' shelves from mid-August — and will set you back $8 each.
Published on July 15, 2020 by Sarah Ward