Concrete Playground Talks Meat with Gavin Baker from Little Hunter
We learn about smoking and curing meats from a chef who earned his chops at the Fat Duck and with Justin Timberlake.
Concrete Playground Talks Meat with Gavin Baker from Little Hunter
We learn about smoking and curing meats from a chef who earned his chops at the Fat Duck and with Justin Timberlake.
---
Little Hunter, a newcomer to the Melbourne dining scene, has been creating quite a buzz. Their bread made with chicken skin and chicken fat (yes, chicken fat) is gathering somewhat of a cult following already. When they aren't serving up bread from our dreams, curing and smoking meat is their strong point. American-born Gavin Baker is bringing a Josper charcoal oven, one of only three in Australia, to the party and preparing meat like no other.
We chat to Gavin about meat, vegetarians and Justin Timberlake.
Smoking and curing are big for Little Hunter. Can you tell us a little about both of these processes?
Originally smoke was used as a preserving, curing agent. In recent times we have moved beyond this, probably in the past 100 years, and it is primarily used for flavouring. At Little Hunter we make our own bacon by double smoking it in our Bradley Smoker, and we use several different preserving methods. Brines and dry rubs that contain salt are used widely to cure meats, fish and poultry. We also use dry ageing as a curing method. Dry ageing creates a hermetic seal on the meat, allowing it to tenderise from the inside and without risk of contamination. Our New York strip and lamb are hung and dry aged for up to 45 days, to increase tenderness and flavour, and resulting in a superior product. We also use short-term curing on a daily basis. Our Chatham Island Blue Cod is salt cured for 20 minutes before cooking to firm the flesh of the fish, allowing it to hold shape while being cooked. The king fish is cured in a mix of sugar, salt and citrus zest, which adds flavour and firms the fish. Our bar staff also smoke ingredients in our cocktails. We smoke cherries and olives for garnishs in two of our cocktails.
What are the benefits from smoking meats?
The primary benefit of smoking meats is preservation, as it creates a layer of acidic film that deters micro growth. The secondary purpose is to flavour the ingredient that is being smoked. Speaking of flavour, can you describe the different flavours that you can get from the smoking process? We can get subtle and delicate flavours, for example, using dried herbs to smoke fish. Or more nuanced flavours can come from aromatic elements such as tea, which is used to smoke duck. We can also use pipe tobacco to lightly smoke vegetables. Pronounced flavours come from hickory or other hard woods, which can add a lot of flavour to pork and beef. Depending on what you are looking to do, which could be either complimenting or contrasting flavours, smoking can be used in many different ways to impart flavour.
Does smoking affect the texture or mouth feel of the meat, or simply the flavour?
Any cooking method affects all of these things, and smoking is no exception. Hot smoking fish imparts flavour but also changes the mouth feel and texture of the fish. Cold smoking fish imparts flavour but leaves the texture almost the same as uncooked fish.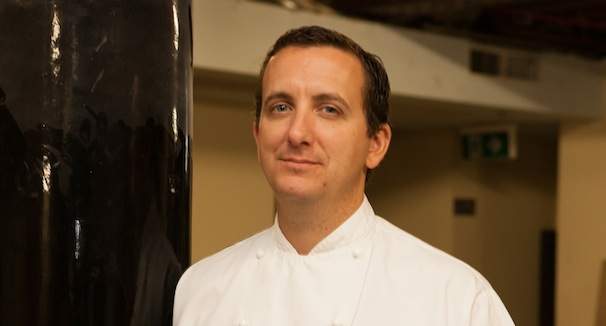 We hear you have a very fancy Josper charcoal oven, one of only three in Australia. Can you tell us what benefits this oven gives you over others?
The Josper oven is 100 percent wood or charcoal powered (not connected to the wall in any way). It allows us to cook at a controlled burn or temperature for long periods of time. Anything that can be cooked over a fire can be cooked in the Josper oven, giving us a full range of possibilities. It is engineered to conserve heat and in some ways is built like a Tandoor oven, with thick walls. As we are cooking off fire, the Josper imparts different flavour elements that you would not normally get from a traditional grill. The Josper also allows long cooking methods. It has all the benefits of wood and open fire cookery in a controlled environment, to produce superior quality food.
Are you a big meat eater yourself?
No. My wife and I are primarily vegetarian but I do have a deep respect for the animals and the cookery. I enjoy the process of cooking meat.
That's very interesting. As someone who doesn't eat all that much meat, do you think vegetarians would enjoy Little Hunter?
The vegetarians that have visited Little Hunter have enjoyed their experiences. Our non-meat-based dishes are produced with the same care as our meat dishes. If you are a conscious diner, vegetarian or otherwise, you have to respect the integrity that goes into the cooking at Little Hunter. We do offer a daily vegetarian main that isn't listed on the menu, and can be requested to our staff. This allows our cooks to be creative.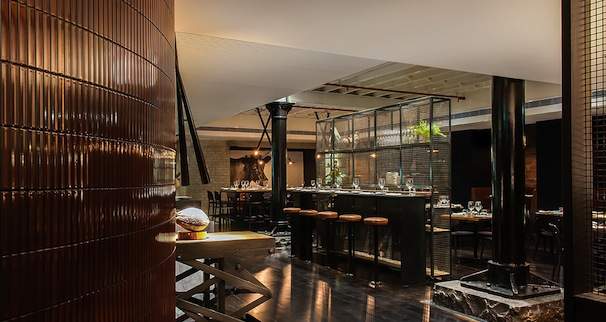 After such career heights like working at The Fat Duck and filming documentaries, what is it that really drew you to this new venture? What are you excited about for Little Hunter?
I like building teams, mentoring and fostering creativity, and watching people grow in their roles. I like settling down to cook and Little Hunter allows me to do all these things.
What do you want people to walk away with after eating at Little Hunter?
A feeling that they have returned to food.
I have to ask, what was it like managing Justin Timberlake's restaurant on the Sunset Strip in Los Angeles?
If you are looking for a concentrated version of what life is like in LA, then being the executive chef for Justin Timberlake's restaurant on the sunset strip is as close as it gets. It was an A-list hangout. It was a different experience for me, but enjoyable.
Published on April 04, 2013 by Amy Collins