The Best Rivers for Swimming In Near Melbourne
Skip the overcrowded sands of Port Phillip Bay in favour of floating upstream at these Victorian rivers.
One day, the Yarra might be swimmable. But, until then, you need other swimming spots to explore. So far, we've brought you unusual swimming holes, waterfalls and beaches. Now, we're looking at rivers. Here are five near Melbourne where you can cool off — be it in a dramatic gorge on the Werribee River or in a rock pool carved into a creek bed.
Just always remember to take care when swimming: currents are often stronger than they appear, and obstacles might be hidden beneath the water. Other than that, just remember your towel, some snacks and to take all your rubbish with you when you leave.
Recommended reads:
The Best Outdoor Swimming Pools in Melbourne
The Best Day Trips From Melbourne to Take in Summer
The Best Natural Hot Springs in Victoria
The Best One-Day Hikes Near Melbourne
WERRIBEE RIVER, WERRIBEE GORGE STATE PARK
If you're keen to immerse yourself in the wilderness — and go for a dip — without going more than an hour out of the city, Werribee Gorge should be top of your list. To reach the water, you'll need to follow the Werribee Gorge Circuit Track — it's a a steep, rocky 8.5-kilometre walk, which is challenging and dangerous at times, but comes with rather breathtaking scenery. Have a dip at Needles Beach or keep going until you reach the biggest rock pool, Blackwood.
You could find yourself swimming with platypuses — if you do, grab a snap and let Parks Victoria know. The platypus is a threatened species, so Parks keeps a record of all sightings. If you'd like to go canoeing or kayaking, there are designated launch facilities at the Werribee South Boat Ramp and Riverbend Historical Park.
How far? Werribee Gorge is an hour northwest of Melbourne.
POLLY MCQUINNS, STRATHBOGIE
Polly McQuinns — a deep pool on the Seven Creeks just east of Euroa — isn't just a swimming hole. It's a part of Australian folklore.
The legend goes that a local man, nicknamed Polly because of his inability to grow facial hair, drowned one night while crossing the river on horseback. His body was never found because, some say, the pool is bottomless, and so, today, Polly continues to haunt its watery depths. As long as you don't spook yourself out with ghost stories, hang about for a dip and a picnic.
How far? Polly McQuinns is two hours northeast of Melbourne.
POUND BEND RESERVE, WARRANDYTE STATE PARK
Even though the Yarra River isn't swimmable in the city, there are cleaner spots upstream. Among them is Pound Bend Reserve in Warrandyte State Park, which is only around 30 kilometres northeast of the CBD — making it the closest swimming spot to the city.
Here, you spread out on the rocks with a picnic and wade in the swimming hole encircled by bushland. Then, wander along Pound Bend River Walk, a 1.5-kilometre saunter upstream into koala territory. Just be sure to check the water quality before you go — it's not recommended you swim after rain, and you probably shouldn't put your head under. It's also a great spot to go canoeing or kayaking.
How far? Pound Bend Reserve is 40 minutes northeast of Melbourne.
MACKENZIE'S FLAT, LERDERDERG STATE PARK
The 40-kilometre-long Lerderderg River begins in the Great Dividing Range, before winding its way southeast to join the Werribee River. Its most spectacular feature is the Lerderderg Gorge, a 300-metre-deep gorge, whose sandstone and slate reveal 500 million years of geological history.
There are several swimming holes along it, one of the nicest being MacKenzie's Flat, where the gorge flows into a gentle creek. You'll find barbecues, toilets and grassy picnic spots.
How far? Mackenzie's Flat is near Melton, just an hour northwest of Melbourne.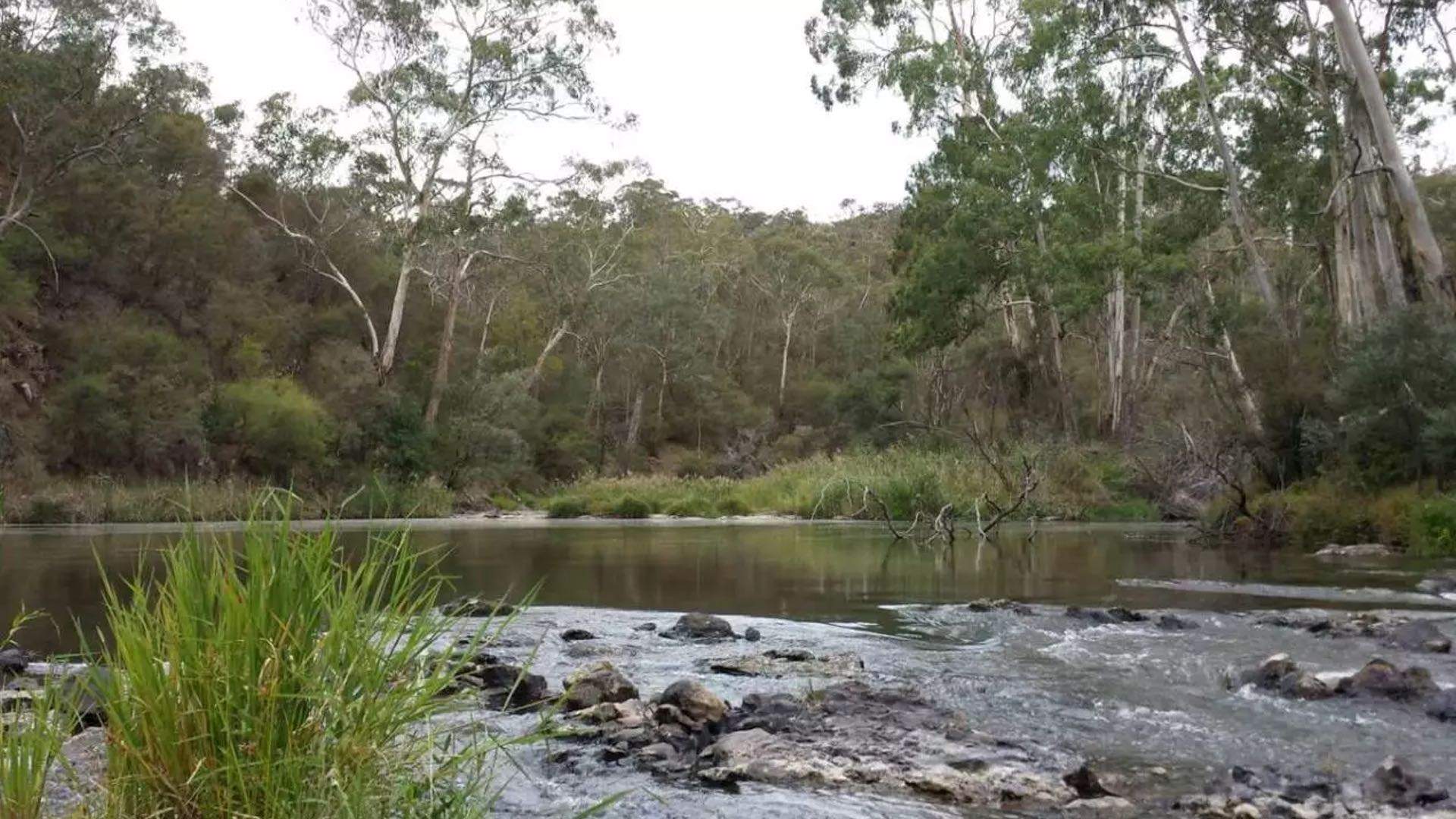 LAUGHING WATERS, ELTHAM
Only 45 minutes out of the city, hidden by rambling native bushland, this section of the Yarra River is perfect for lilo-drifting – where one lies on an inflatable and lets the gentle current move you along the deep river banks — and kayaking or canoeing.
The small rapids and rock pools are also worth exploring – just watch out for the yabbies! There are no facilities at Laughing Waters (including loos), so make sure you bring everything you need: food, water and the faithful shovel.
How far? Laughing Waters is just outside Eltham, about 45 minutes' drive northwest of Melbourne.
Concrete Playground Trips
Book unique getaways and adventures dreamed up by our editors