TRAVEL & LEISURE
Unyoked Is Offering Discounted Off-Grid Getaways for Hospital and Emergency Service Workers
So you can 'prescribe' your friend on the frontline a weekend in the wilderness — once travel restrictions have eased, of course.
Unyoked Is Offering Discounted Off-Grid Getaways for Hospital and Emergency Service Workers
So you can 'prescribe' your friend on the frontline a weekend in the wilderness — once travel restrictions have eased, of course.
While most of us were urged to "stay home" by our Prime Minister (and have done so by kicking back on the couch and doing puzzles), Australia's healthcare workers were called to the frontline of COVID-19 — and have been working nonstop since. We all can't wait for our next holiday, but those in our hospitals probably need the biggest break of all.
Helping out in a small way is Aussie startup Unyoked, which is offering 100 free getaways to Royal Prince Alfred ICU workers and has launched the Prescription to the Wilderness gifting initiative. The latter lets you buy a friend, family member or neighbour working on the frontline a stay at one of its off-grid cabins — once travel restrictions are lifted, of course — at a 20-percent discount. You just need to add in their place of work at checkout.
The idea came about when Unyoked founders Cam and Chris Grant got off the phone with their mate Dr Jack Purcell at the RPA, knowing that, right now, our emergency services and hospital workers are working round the clock in very tense environments. So, once the crisis is over — or at least dialled down — they'll need a (very) well-deserved break.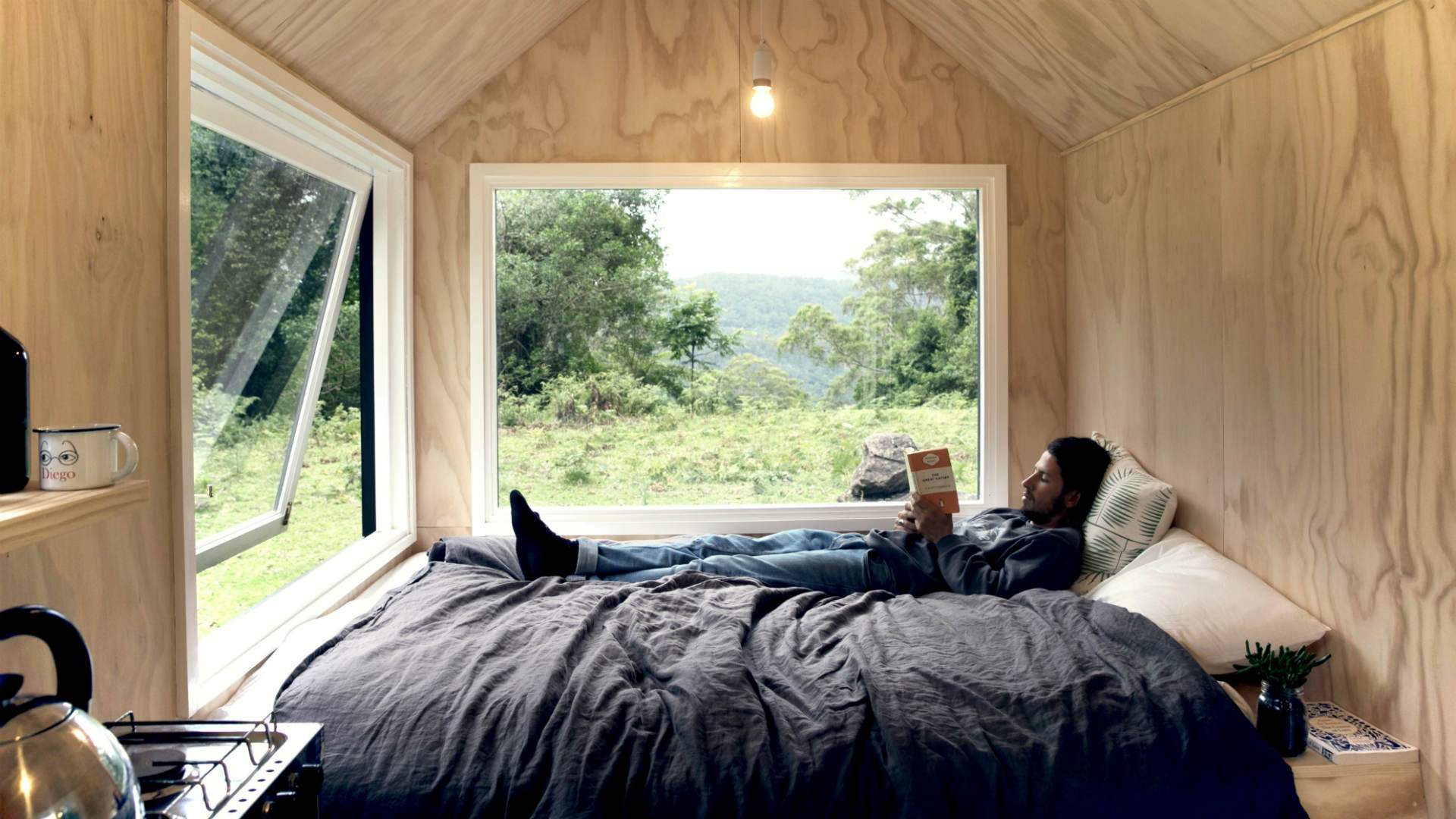 The discounted stays start at $178.4 for one night or $356.8 for two and can be used for any of Unyoked's 13 cabins across NSW, Vic and Queensland, including one designed by Matthew McConaughey. Unyoked's ethos is to connect back with nature to help unplug, alleviate stress and anxiety, which is something we're guessing many health workers are in need of right now.
All properties have been placed in secret patches of wilderness, in the middle of nowhere, allowing you to escape all the hustle and bustle of the city. The off-the-grid experience brings you the convenience and comforts of four solid walls, alongside the adventure, spontaneity and closeness-to-nature of camping.
Each cabin is designed to make you feel like you're part of the surrounding landscape, too. Think timber, oversized windows, solar power, composting toilets and a blissful lack of wi-fi. At the same time, though, simple comforts are taken care of, so you get a cosy bed, kitchen appliances, firewood, coffee, milk, herbs and the like. So, even if you're not working in on the frontline, you may want to consider booking yourself a remedial weekend away once allowed.
Unyoked cabins are located across NSW, Vic and Queensland. While you shouldn't book just yet, you can check them out here. 
Published on April 29, 2020 by Cordelia Williamson