Bio by DOC
The DOC team's latest opening is serving up creative pasta dishes, spuntini and even a tiramisu — all of it done without meat or gluten.
Across its stable of renowned Italian eateries, mozzarella bars and delis, the DOC Group (including DOC Pizza & Mozzarella Bar Carlton and Sydney, plus DOC Espresso Carlton) has earned a solid reputation for many things. That includes its signature pizzas and top-quality salumi selection; however, those classics are taking a backseat at the team's latest addition — a new restaurant dedicated to food that is entirely vegetarian, vegan and gluten free.
Bio by DOC has taken over the Carlton site once home to The Town Mouse, where long-time collaborators Studio Strom have added a refresh. Think: locally made custom furniture, a new green-coloured bar, a leafy back courtyard and some clever splashes of neon.
In the kitchen, veteran DOC Group chef Tomaso Bartoli is steering the new culinary concept, carefully intertwining the brand's trademark Italian sensibilities, but with all vegan and vegetarian ingredients. Not only is it a reminder that meat needn't be the cornerstone of a great food offering, but impressively, the entire menu is also gluten free.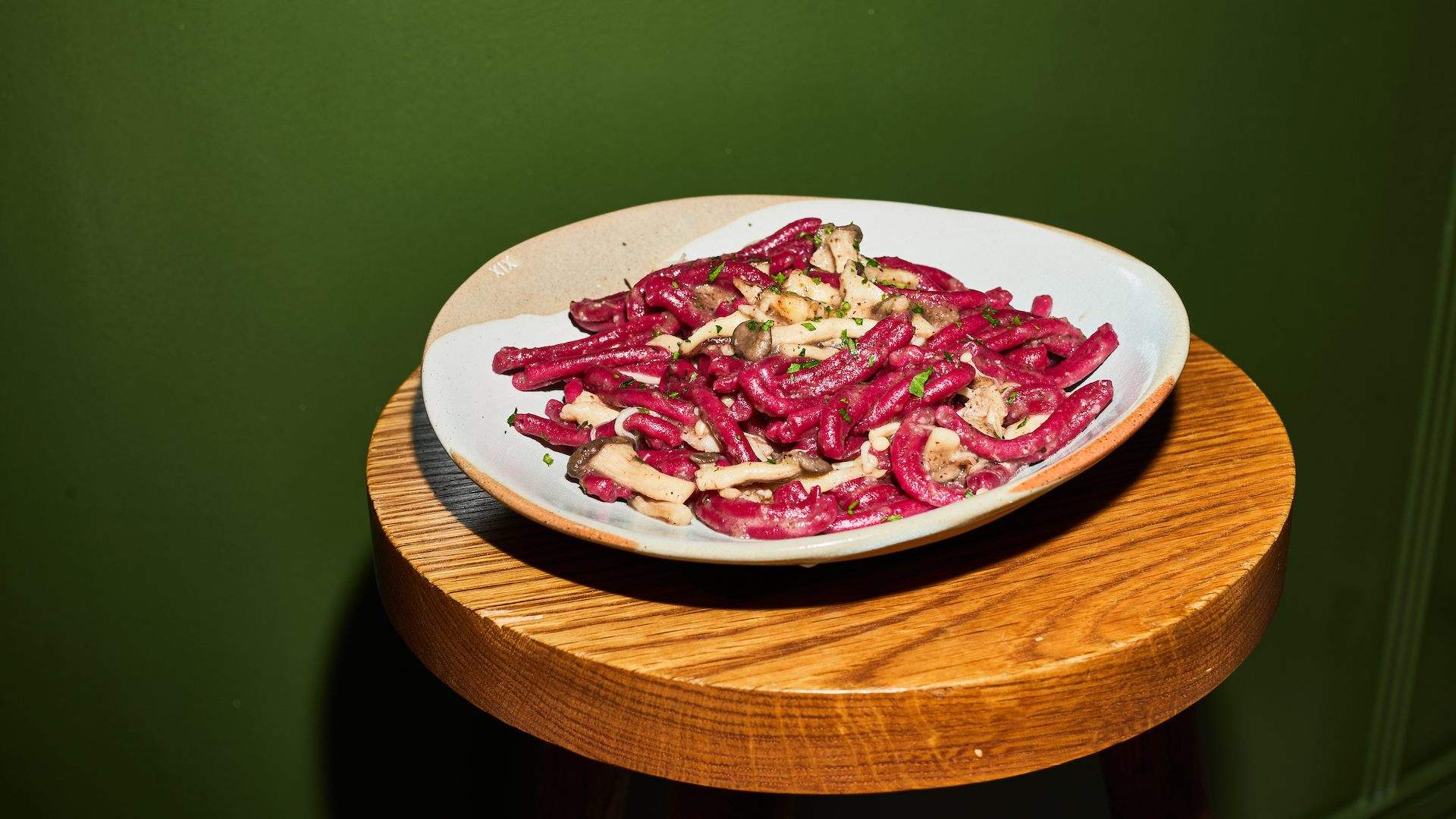 Snacks include the likes of mini eggplant parmigiana ($12) matched with burrata and a black cabbage pesto, plus a vegan-friendly tartare of grilled vegetables ($15) finished with capers, mustard and truffle paste. You can get your pasta fix with plates like the charcoal spaghetti ($26); a beetroot casarecce finished with mushrooms and truffle paste ($31); and a vegan lasagne layered with spinach pasta sheets, lentil ragu and bechamel ($27). There's more plant-based fun to be had over on the dessert list, too — expect dishes like a classic tiramisu reworked with cashew cream ($14), and sweet potato pancakes with popcorn ice cream ($16).
From the drinks lineup, the vegan cocktail offering features sips like a Japanese twist on the negroni, plus the Oasis — which uses rum, coconut water and a pineapple shrub. There's also a considered wine selection, showcasing both Italian vino and locally-grown varietals from the likes of Merli and Heathcote's Vinea Marson.