Green Acre
Brunswick's vegan-friendly pizzeria slings sourdough slices in a fairy light-lit courtyard.
With vegan options galore, locally made gluten free bases available and a solid lineup of Victorian beers and wines, Brunswick's latest pizzeria is sure to please the whole family (and friendship group too).
Located on Victoria Street, across the road from Small Axe Kitchen, Green Acre was scheduled to open right when the COVID-19 lockdown hit. Instead of hitting pause, though, co-owners Rob McKenzie (Hard Pressed Coffee) and Phil Gijsbers (Burnley Brewing, East End Wine Bar, Small Print Pizza in Windsor) ran a Small Print Pizza pop-up in the space until restrictions eased on June 1.
Now, the duo has unveiled the OG idea for the space: Green Acre. Designed by Sash Design and built using mostly salvaged and upcycled materials, the space has cosy leather booths, a fairy light-lit courtyard, polished timber tables and rustic golden light fittings.
Wherever you choose to sit, you'll be digging into stone-fired sourdough pizzas. Vegans will find joy in The Grass is Greener (roast zucchini, spinach, chilli and smashed peas) and the Shroom (flat and enoki mushrooms, truffle oil and rocket), as well as the various pizzas topped with dairy-free cheeses and vegan salami. Meat-eaters also have plenty to choose from, including the controversial ham and pineapple, a chilli chicken number and one topped with prosciutto and pear.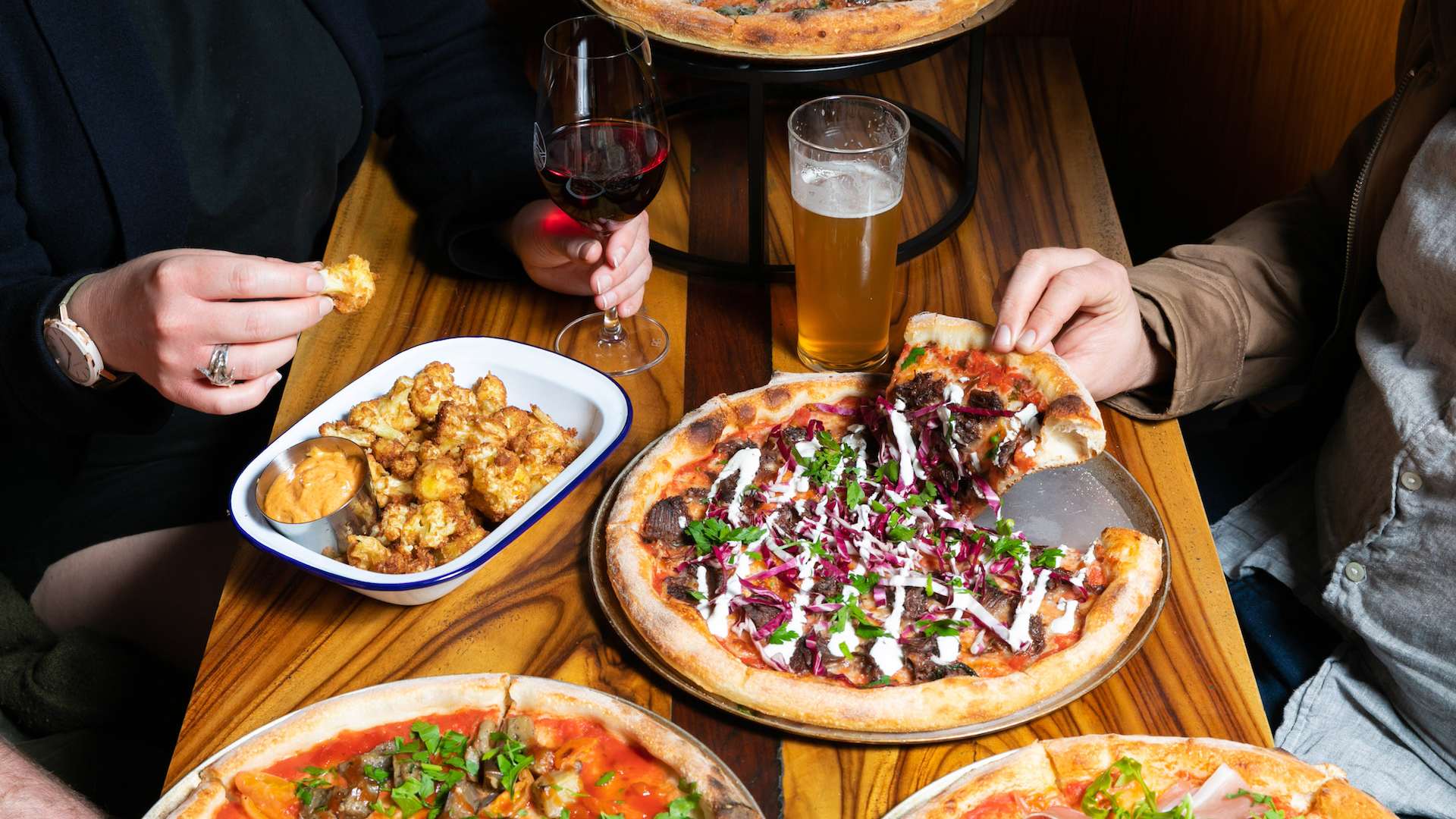 If you prefer your pizza topped with neither vegetables nor meat but, in fact, sweets, we suggest you go straight for the dessert pizza, which comes with Nutella, smashed Oreos and strawberries. Plus, pizzas are just $15 on Tuesdays.
As well as being built relatively sustainably, the pizzeria has a commitment to low waste and locally sourced produce. Wines are almost exclusively soured from Victoria — with a few numbers from across SA and WA — while beers feature Burnley (understandably) and other Brunswick locals, such as CoConsiprators and Foreigner.
While the duo encourages dining in where possible (to help minimise packaging waste), if you do takeaway, you can do so knowing your pizza box is made from recycled cardboard and can itself be recycled thanks to a piece of 'sacrificial' paper that catches the grease.