Le Bajo Milkbar
Combining a love of Japanese food fare and Australian milk bars, Le Bajo is North Melbourne's newest destination for fluffy shokupan bread and house-roasted coffee.
Years of travelling back and forth between Jakarta and Melbourne cultivated an affinity for Australian culture for Le Bajo founder and owner, Jason Gunawan. After successfully co-running Bali's famous Potato Head Beach Club, he was about to depart on his next venture before the pandemic hit.
Labuan Bajo was set to open on Flores, an Indonesian island known for its Komodo dragons, as well as a diverse sea life of manta rays and turtles. But as the project had to be postponed further and further, Gunawan was determined to not let nearly nine months of planning go to waste. He decided to bring part of the concept to North Melbourne instead, in a spacious garage home to a collection of old-school Mercs and Porsches.
Seeking the help of hospitality friends and northside neighbours, Gunawan reached out to Kantaro Okada, owner of 279, to open Le Bajo with him. "Forced to stay in Melbourne, I decided to work with Kan, who has been in the industry for a few decades. We swapped ideas and decided that, with a mutual appreciation for Japanese food and culture, we would open a sando bar," says Gunawan.
With a concept locked in, the team set to work sourcing old farm and corner store furniture — gathered in the midst of Melbourne's 2020 stage-four lockdown. Wooden countertops, chairs, glass cabinets and cupboards were given a new life. Inspired by the disappearing milkbars of Australia, Gunawan took the opportunity to make Le Bajo a place to reminisce about Australiana.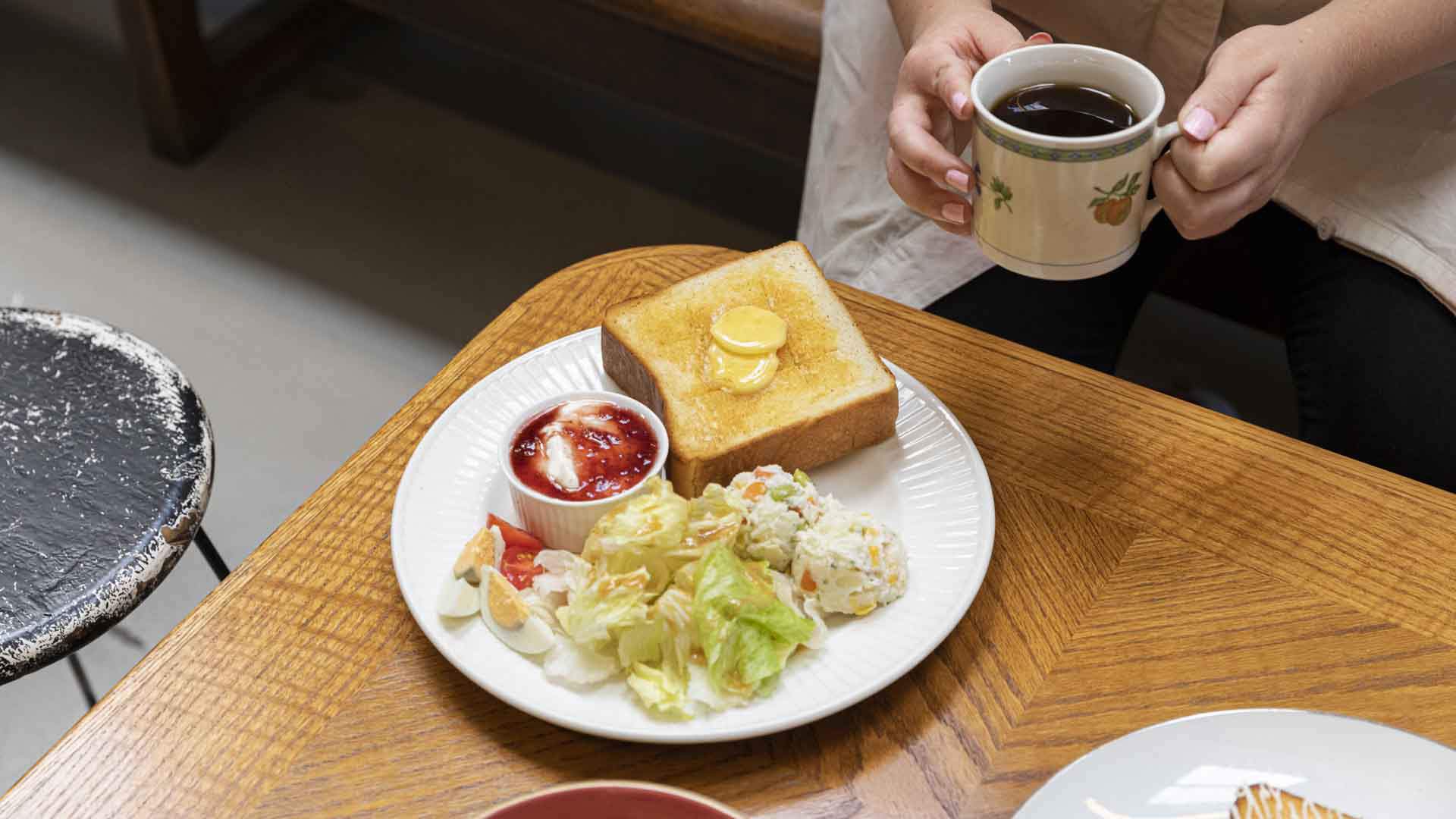 Retro hand-painted signs, lamps and thrifted ornaments fill the cafe, offering it an old-time aesthetic that feels both familiar and quaint. Lush plants also line the space, further transforming this industrial venue into a welcoming abode.
"We wanted it to be a friendly place that everyone is welcome — just like a milkbar," says Gunawan. "The vintage furniture gives the space warmth, so it doesn't feel like a cafe that just opened up; we want to feel like we've been here for 30 or 40 years."
And while the menu has its nods to Australian classics, such as milkshakes and milk coffees, the food at Le Bajo is otherwise distinctly Japanese. The team roasts its own coffee and bakes its own shokupan bread ($16 per loaf) — a much-loved fluffy milk bread that is cut thick for sandos and toast.
"Japanese people are very particular about every single component of their products," Gunawan says. "Every step: the produce used, the precise ingredients and even the packaging. We bake our bread in-house so it has a certain softness and sweetness to it — there's nothing like it."
One of the venue's most sought out items, the fruit sando ($7), is a triangle of vibrant fresh fruits and whipped cream wedged between two slices of cloud-like bread. For more savoury options, the spicy cod roe toast ($12) or spicy tako sando ($19.50) are two house favourites.
For a complete food experience, Gunawan recommends the morning set, a staple breakfast originating from Negoya — a city in the Chūbu region of Japan where many of the staff at Le Bajo are from. "This set is a combination of toast, potato salad, boiled egg, yogurt with homemade jam and a batch-brew coffee," Gunawan explains. "It offers a savoury and sweet flavour combination that you can mix and match across the plate."
To drink, Le Bajo has a rotating origin coffee menu, and proudly roasts its own beans for a batch brew. This coffee is light in body and tea-like, but packs a caffeinated punch. There are also Japanese sodas on offer, made with housemade peach and strawberry jams — making it a perfect palette refresher.
With the importance of community at the forefront following Melbourne's lockdowns, Le Bajo is also home to a coffee and car meetup every Saturday between 8–10am for car enthusiasts and coffee lovers alike.
"Melbourne is a second home to me, and I want Le Bajo to be a home for everyone — from our North Melbourne locals to travellers that come all the way from Geelong on the weekends to visit us. We are very grateful."