TRAVEL & LEISURE
A Weekender's Guide to Brisbane on a Shoestring
Where to eat, drink, sleep and play on a dime in Queensland's capital.
A Weekender's Guide to Brisbane on a Shoestring
Where to eat, drink, sleep and play on a dime in Queensland's capital.
---
in partnership with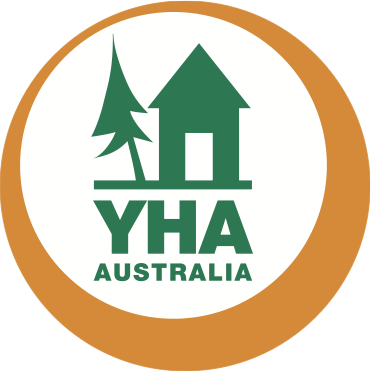 Sorry, everywhere else in Australia — there's really no place quite like Brisbane, what with it being one of the world's top ten foodie destinations to watch and all. It boasts sunshine and warmth almost all-year round. The Queensland capital is overflowing with great things to eat, drink and do. And finally, Brissie has all the charm of the big smoke while still remaining in close proximity to beaches, islands, mountains and bushwalks.
Actually, Brisbane has another trick up its sleeves: it's highly affordable. While Sydney and Melbourne keep moving up the various indexes that rank the world's most expensive cities, Brissie remains comfortable further down the list. That's great news for budgeters, meaning that it's possible to spend an ace weekend up north on the cheap. With some help from Brisbane City YHA, we've mapped out exactly how and where you should spend your time on a trip to Brisbane — without crying about the state of your bank balance.


STAY
If you're staying in Brisbane, you want to feel like you're staying in Brisbane. And the best way to do that is with a gorgeous view of the Brisbane River. Usually, that's a pricey affair, but bunk down at the Brisbane City YHA, and you'll get just that for a reasonable rate. Plus, you'll be within easy walking distance of the snaking waterway, too. In fact, by the time you wander down to the banks yourself, expect to be mighty familiar with the river, particularly if you've spent a few hours on YHA's rooftop. While hanging out in the pool and having a few drinks up there, you'll have one of the best views in the city. There are inbuilt binoculars onsite as well, so you can really make the most of it.
In addition to splashing or lazing around outside, you can play X-Box, pinball and air hockey in the games room, or get comfy in front of the communal big screen TVs. Note: Sundays are all about movies. On Friday nights, it's pub crawl and barbecue time, where you'll eat a grilled feast then have four beers at four bars for just $10 in total. Food-wise, you can also make your own meals in the top-floor kitchen, or opt for a bite and a beverage at the ground-floor cafe. When you're not doing all of that, rest up in cosy rooms with private ensuite bathrooms. In other words, it's far removed from your usual hostel experience.

DO
There are two parts to every excellent Brisbane trip: exploring the local sights and venturing a little further afield. Whether you dedicate a day to each or mix and match things up, you certainly won't be bored or lacking something to do.
For roaming the city, hopping onto the City Hopper ferry is a smart, scenic and free way to not only get to plenty of places but to also see Brisbane from the water while you're at it. Jump off at South Bank to wander through the parklands, get your culture fix at the Gallery of Modern Art and the Queensland Museum, climb the Kangaroo Point cliffs or take to the river by kayak or stand-up paddleboard. Disembark at Eagle Street Pier to mosey through the CBD, picnic at the Brisbane City Botanical Gardens, and if you're walking back towards North Quay, don't forget to see Australia's only permanent outdoor Yayoi Kusama artwork — one of Brisbane's best-kept secrets. Another option is to head to Stanley Street for a leisurely stroll around New Farm. No visit to Brissie is complete without fish and chips in New Farm Park, a free comedy show at Brisbane Powerhouse on a Friday night and a venture along the riverwalk.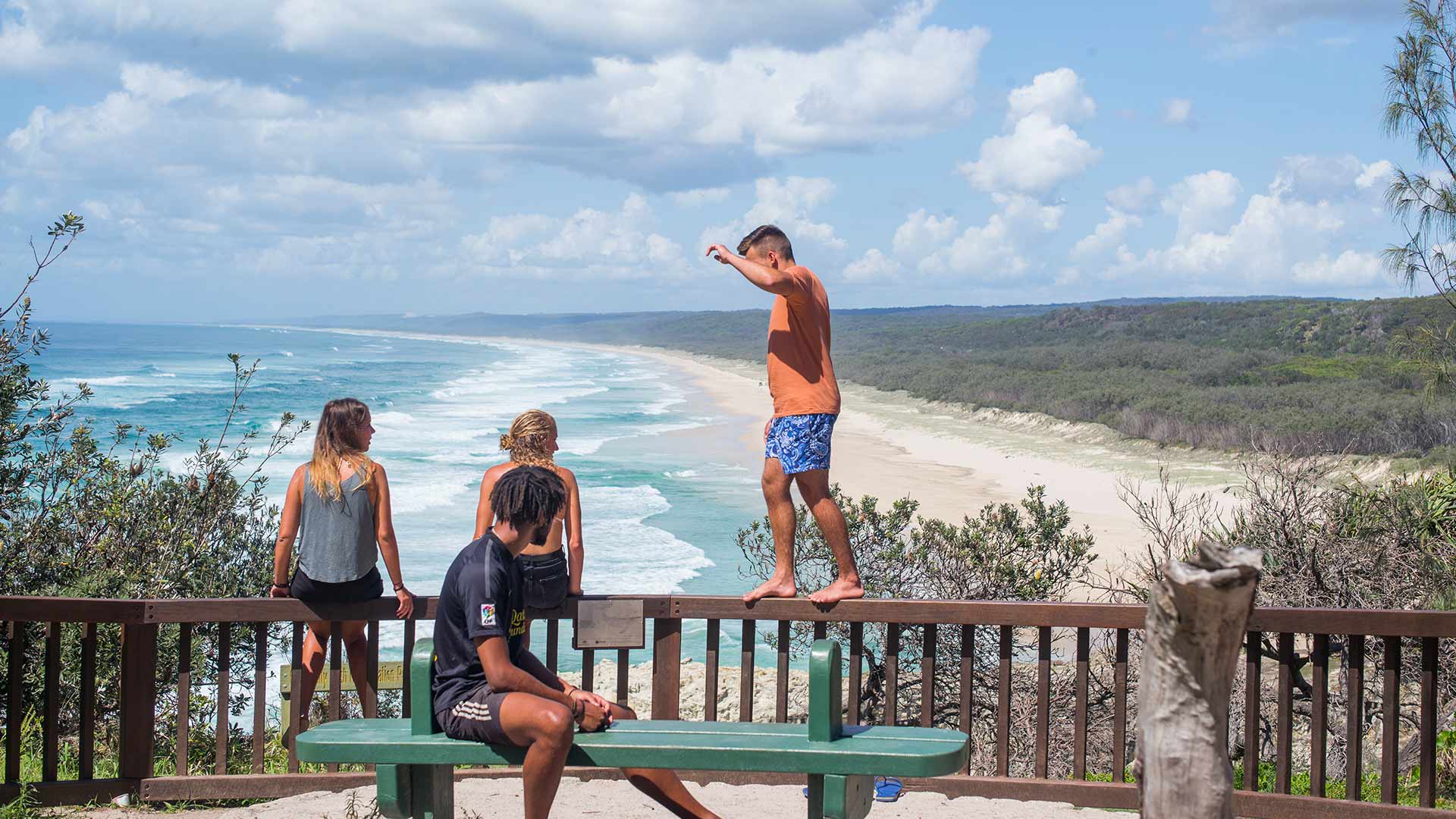 For feasting your eyes on more than the inner city sights, book in a day trip. There's no shortage of options, although spending a day on either Stradbroke or Moreton islands is the best way to soak in southeast Queensland's natural splendour. On Straddie, you'll want to snorkel at South Gorge, see the sun set at Adder Rock and complete the 1.5-kilometre Point Lookout trail — three things that even locals never tire of. The island also has a beachfront YHA if you decide you're having too much fun to return to the mainland. On Moreton, kayaking through shipwrecks, swimming in the blue lagoon and tobogganing across the sand dunes should be the first things on your agenda. If the time is right — from June to November — you can also enjoy a spot of whale watching.
Back on the mainland, if you're still keen on revelling in the great outdoors, then go climb a mountain. In Brisbane, Mt Coot-tha and Mt Gravatt both boast sky-high lookouts. Bushwalk around the base of both mountains, and even see a small waterfall at the former. You'll also find gorgeous treks and plenty of rushing water if you head down towards the Gold Coast hinterland, although you might need to include car hire in your budget. Still, a trip to the glow worm caves at the Natural Bridge is well and truly worth it.


EAT AND DRINK
All of the above activities are bound to make you work up an appetite but don't worry, you won't stay hungry for long in this town. No matter what your stomach is craving, we recommend a trip to Brisbane's new foodie precinct at King Street at Bowen Hills. Here, you'll find everything from Street Fighter-themed burgers, to an array of food trucks at the inner-city's first permanent food truck park, to free mini loaded fries, dagwood dogs and chicken wings over German beers each afternoon at The Bavarian Beerhaus. To take advantage of the latter, make sure you head by between 4–6pm.
If browsing and snacking is your idea of a great meal, then a trip to Hamilton's Eat Street Markets is also a must — and it's open from 4pm on Fridays and Saturdays, and from noon on Sundays. Entry is $3, and inside you'll find something for every price range, including cheese, oysters, doughnuts, Japanese pizza, crepes and noodles. The Boundary Street Markets in West End also offers another budget-friendly option, or you could just wander around the suburb and see which of its eateries take your fancy. Our tip: start at Fish Lane and keep walking until your stomach makes the choice for you (and prepare to make multiple pitstops).
Brisbane doesn't just deliver on the culinary front, but on the beverage front, too. Prepare to go brewery hopping. There's more than XXXX on offer — although the Milton brewery tour is a local favourite, and includes beer tasting at the end of it. Still in the inner-west, you can visit Newstead Brewing Co and Aether Brewing, plus Brisbane Brewing Co, Ballistic Brewing Co's new second home and Catchment Brewing Co all in West End. Find your way across the other side of the CBD where Green Beacon Brewing awaits, as does its share plates and pizzas.

Next trip to Brisbane, stay in the thick of it all at Brisbane City YHA. Rooms start at a mere $27 per night for a shared room or $70 for private rooms. All rooms are provided with linens, lockers and air conditioning, with the option to upgrade to in-room wifi. 
Plus, if you book between now and September, YHA is offering an exclusive 20 percent off stays for Concrete Playground readers, valid until September 30 — just use the code SAVE20 at checkout.
Published on June 08, 2018 by Sarah Ward