Australia Zoo Now Has Eight Cabins for Overnight Stays Among the Animals — Plus a Restaurant and Bar
Pair your next trip to the Irwin family's zoo with a sleepover — or a meal that heroes the plants that have long been part of First Nations diets.
Visiting a zoo, checking out all creatures great and small, then going home to slumber in your own bed: that's one way to get an animal fix. But menageries around the country have started offering more than just a day trip — with Taronga Zoo home to a wildlife retreat, as well as its own glamping experience; Melbourne Zoo letting folks stay overnight in its elephant exhibit; and Queensland's Australia Zoo now launching its own cabins.
If this news sounds familiar, that's because the move was first announced back in 2019, with an opening date of 2020 originally planned. Obviously, we all know what's been holding life in general up over the past few years. So if you're keen for a sleepover  among the animals at the Irwin family's Beerwah zoo, The Crocodile Hunter Lodge is now up and running.
Guests can choose from eight rustic cabins, complete with roomy decks that peer out over the site's bushland surroundings — and at the wildlife within it. Indeed, the zoo is calling the whole Crocodile Hunter Lodge setup a "multi-species habitat". As well as the cabins' various human visitors, red kangaroos, emus, echidnas and koalas that were affected by the 2019–2020 summer bushfire season also call the venue home.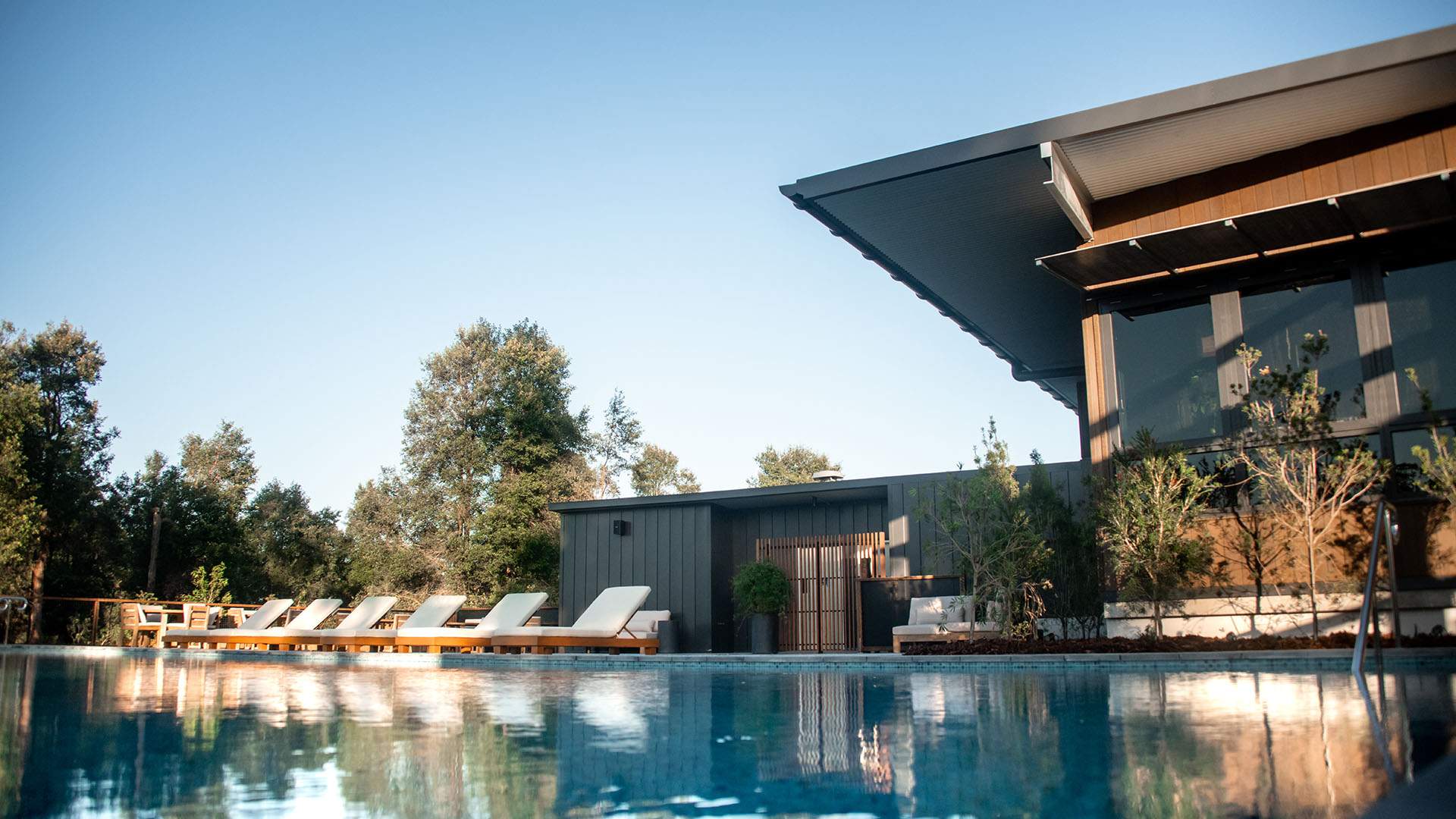 Fancy keeping an eye out for animals while taking a dip? The Billabong, the Crocodile Hunter Lodge's 25-metre infinity pool, also looks out over the native wildlife.
Unlimited Australia Zoo entry — where more than 1200 animals await — and a peek inside the Australia Zoo Wildlife Hospital comes with every stay as well, for every guest.
Back in the cabins, which are made out of timbers recycled from the zoo's famous crocodile viewing grandstands — which Steve Irwin built himself — you'll find a queen bed and two singles; a kitchen equipped with a fridge, microwave, cooktop and dishwasher; and  a lounge with a TV. There's a dining space on the verandah as well and, to munch on while taking in the breeze, each booking comes with a breakfast pack, too. And, you'll also score a welcome gift.
A stay doesn't come cheap, though, with prices starting at around $949 for an overnight visit for two adults.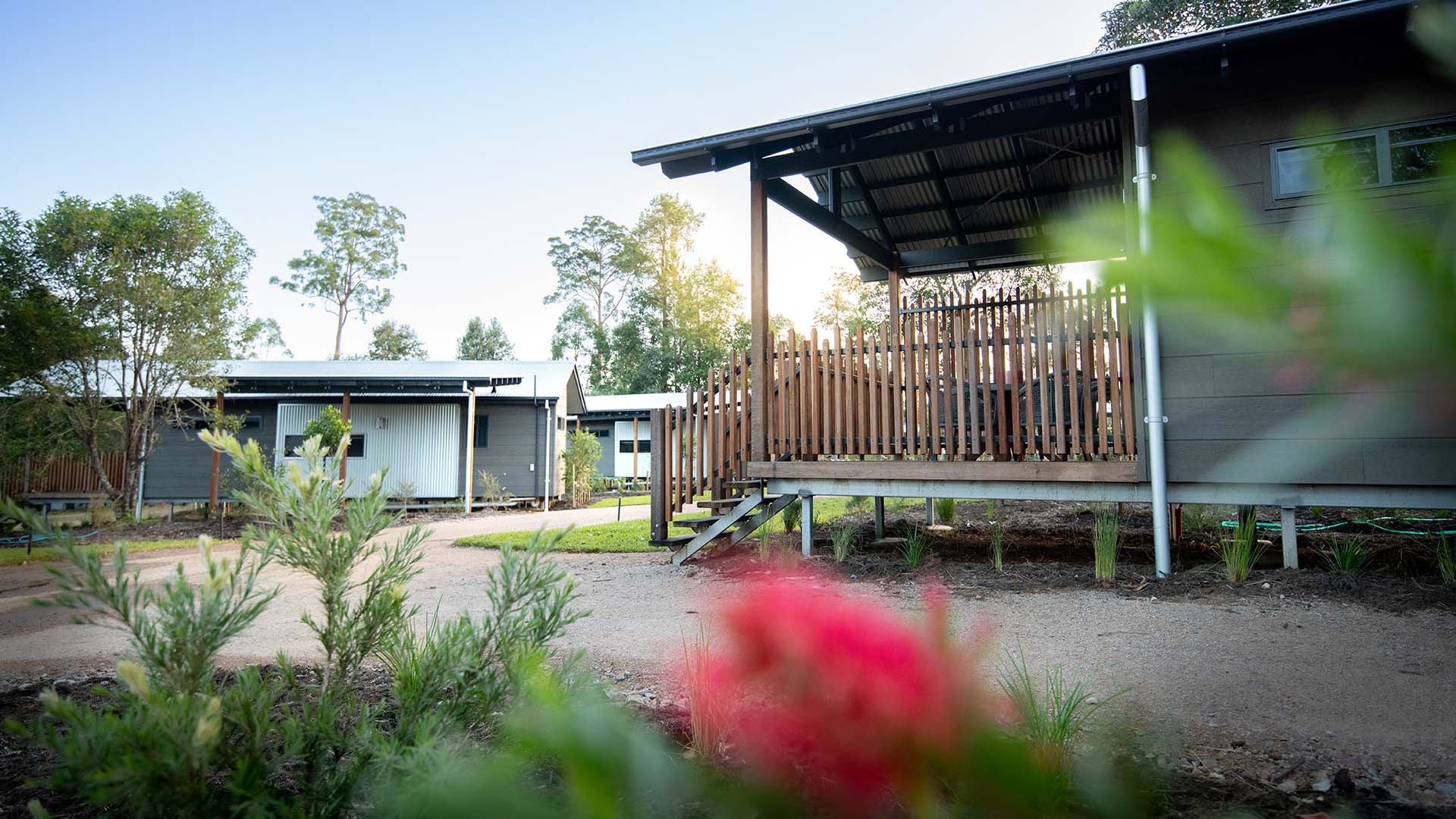 If you're keen on a restaurant feed, The Crocodile Hunter Lodge opened alongside the zoo's new Warrior Restaurant & Bar — and it's welcoming in lodge guests and general punters for breakfast, lunch or dinner, and also for group bookings in its private dining room. The focus inside its charred timber-clad walls: Aussie cuisine, locally sourced ingredients, and paying homage to Indigenous Australians and the plants that have long been part of First Nations diets.
Breakfast options include haloumi and corn fritters with poached eggs, corn and tomato salsa, avocado, fresh herbs and tahini yoghurt — plus cranberry and pecan granola, with Maleny cane sugar yoghurt, bee pollen and berry compote.
The lunch lineup features duck liver parfait with kumquat chilli marmalade and toasted brioche; salmon rillettes with toasted sourdough, capers, cucumber and, pickled shallots; and a selection of sandwiches. And, for dinner, there's pan-fried snapper, blue pumpkin and rosemary risotto with wattleseed crumb, and river mint-crusted Tasmanian lamb loin — among other dishes.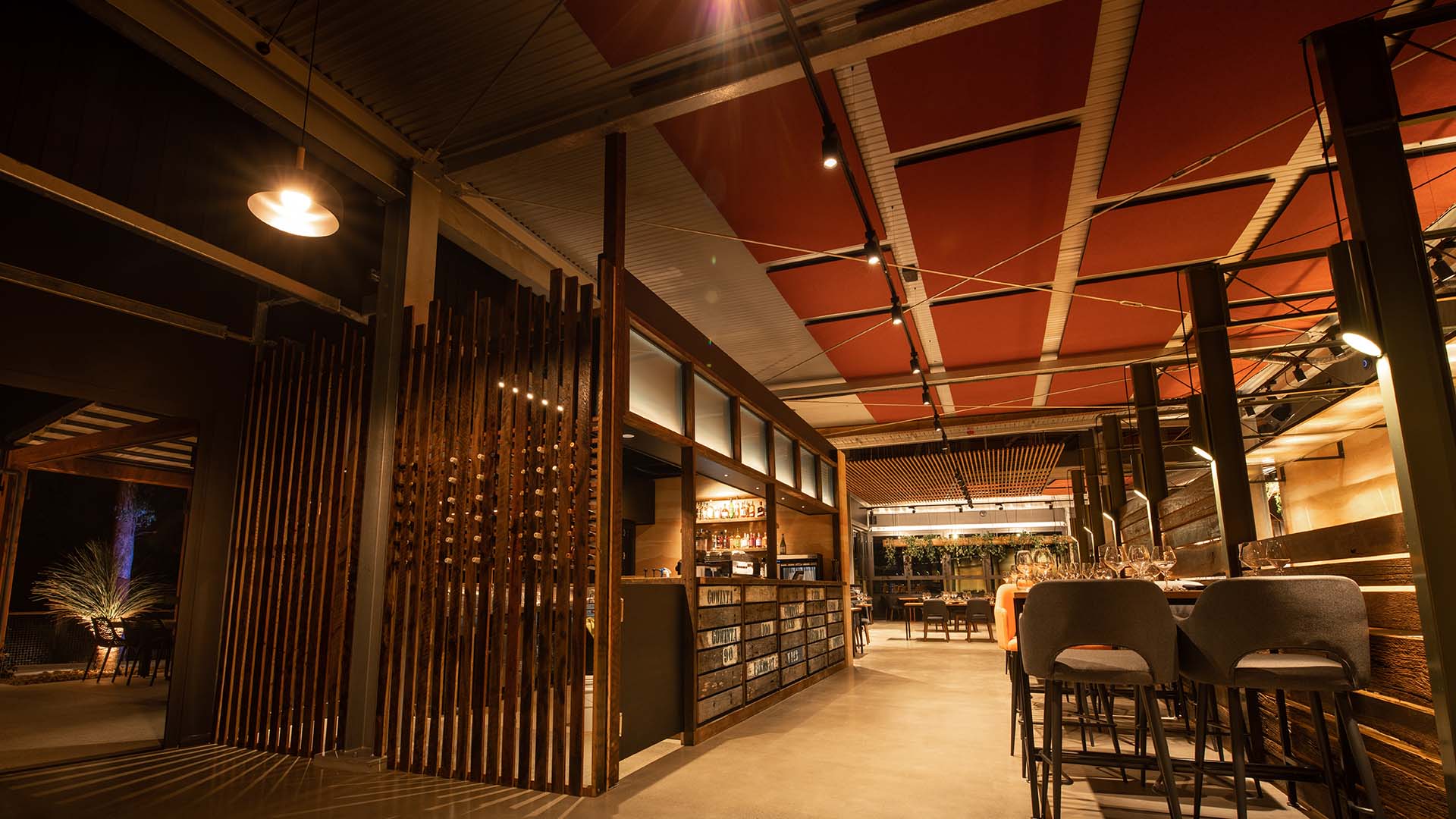 At the bar, a small snacks offering helps line the stomach — think plates with cheese, ham and quandong chutney — while the wine menu spans three pages.
Opening The Crocodile Hunter Lodge, Terri Irwin said that "Steve always had a dream that one day, people would not just visit Australia Zoo, but stay overnight, and have the immersive experience of listening to and being around wildlife after dark."
She continued: "it was so important for us to make his dream come true through the opening of The Crocodile Hunter Lodge. This stunning luxury accommodation is surrounded by our conservation work, providing a home to endemic wildlife species while further continuing Steve's important legacy."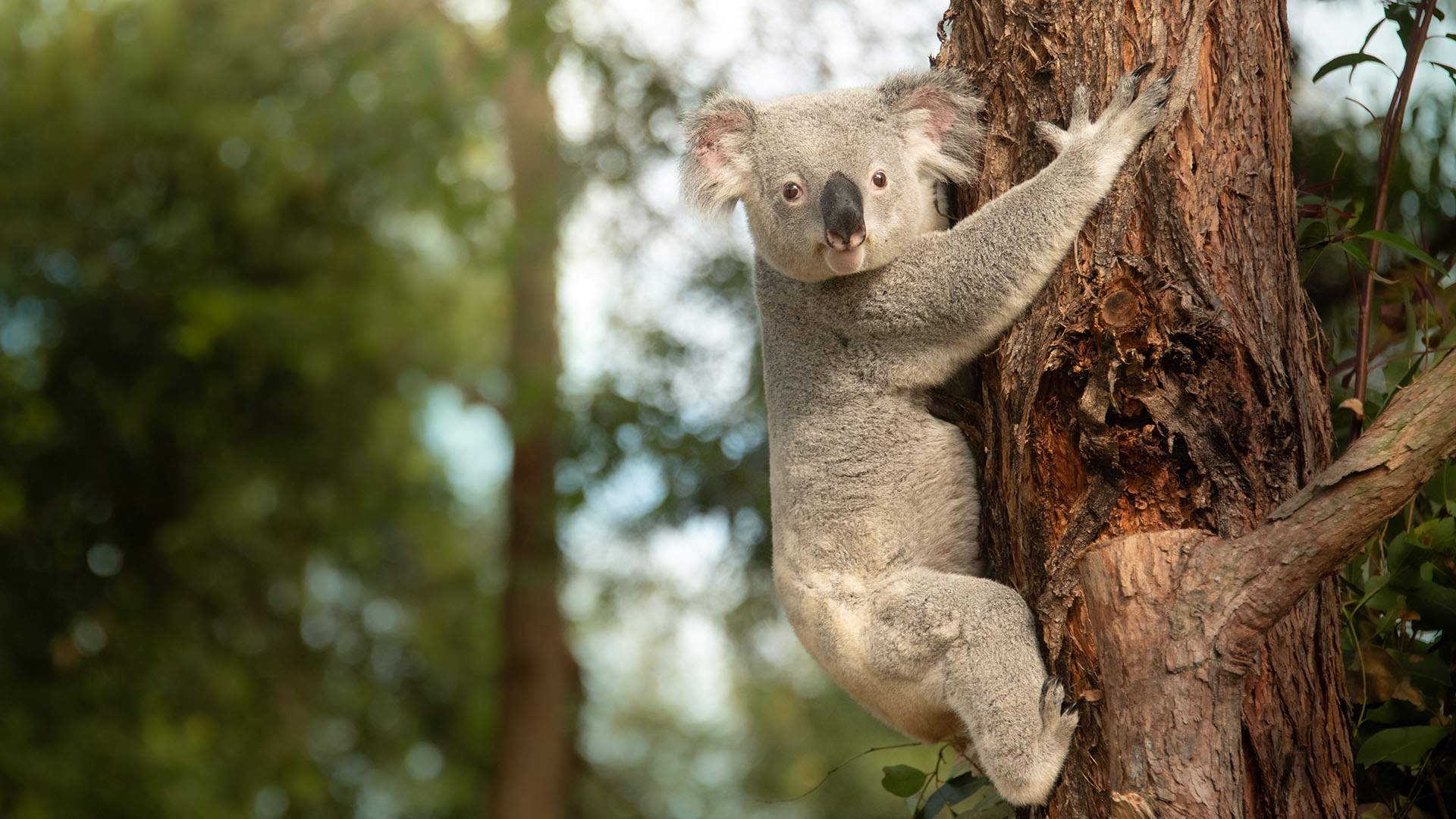 Sustainability and conservation is a big focus of Australia Zoo's new addition, with the grounds featuring more than 3000 native trees and shrubs, including greenery that provides food for species such as the endangered glossy black cockatoo.
"By building this luxury accommodation with lush bushland around for our animals, we are achieving Dad's vision of a world where humans and wildlife can peacefully coexist, making this planet a better and more harmonious place for future generations," said Robert Irwin.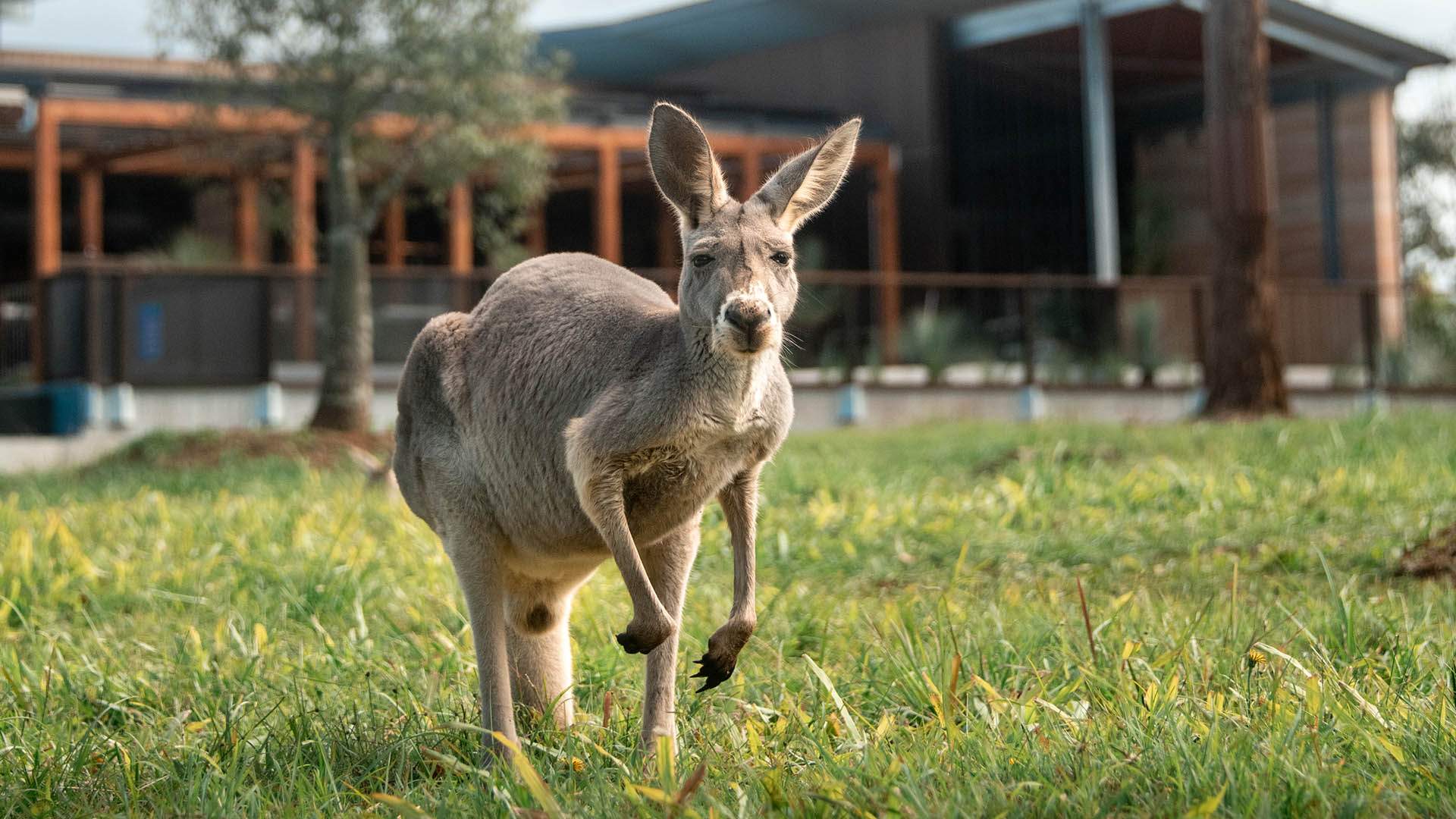 Find The Crocodile Hunter Lodge and Warrior Restaurant & Bar at 88 Irwin Road, Beerwah, Queensland. For further information, visit the venue's website.
Introducing Concrete Playground Trips
Book unique getaways and adventures dreamed up by our editors